EARTH MATTERS
installations with a view
When invited by Artipelag to curate an exhibition just outside Stockholm, the organisation requested a site-specific concept, related to the landscape, water and earth. Several scenarios promised potential yet it became clear that this was our chance to bring together designers and artists that are investigating new ways of producing ideas; innovative thinkers that are able to turn around our mentality, progressive people that develop a body of work that leads the way to another world in the making – creating a horizon of hope.
The extreme beauty of the galleries and its surrounding landscape can be seen as a friendly competitor to culture, a formidable aesthetic force to be reckoned with. Therefore we felt that as curators we should bend with this beauty, wave with its grasses, go with the flow of its waters. The installations are chosen to complement and commend the surroundings, merging emerging ecological design processes with the enchanting landscape.
Most of the works on display are made with human hands and forged from natural resources, where these contemporary alchemists are transforming matter to give new life to old recipes and create new perceptions. Landscaping the design like archipelagos and almost islands enabled us to bring together a generation of thinkers that lead the way to another world.
Text: Lidewij Edelkoort & Philip Fimmano
Photographs: Jean-Baptiste Beranger
EARTH MATTERS remains on view at Artipelag until May 3, 2015
EARTH MATTERS
a new exhibition
For too long we have ruthlessly consumed our Earth's assets and drained it of its resources. Forests become furniture, oceans are polluted and minerals are over-mined. For future generations it is crucial to consider a new reflection: a transformation from over-consumption towards sustainable development that is in harmony with nature, with increased respect for our environment and for each other.
Exhibiting contemporary design and its processes for the first time ever, Artipelag has invited curators Lidewij Edelkoort and Philip Fimmano to create a thought-provoking show that directly connects with this subject matter and museum's meteorological site in Stockholm's idyllic archipelago. As Edelkoort explains, "This young century has brought about a moment of reflection and radical change, making up for a century of ecological abuse, consumption, greed and violence. For the first time, a post-fossil society is emerging, using natural ingredients, offering alternatives and giving us hope for the future."
Areas such as design, art, photography, food and fashion are increasingly driven by a new creative energy that is inspired by natural materials and sustainability. From land to sea, from forest to mountain, a wealth of ideas sprout from the Earth, analyzing and cataloguing its components: transformed into new materials, recycled remnants, oxidised alloys and vegetal colours.
The exhibition EARTH MATTERS alerts us to consider how we over-consume Earth's resources, but also celebrates the beauty of our planet.
Exhibition dates: February 6 - May 3, 2015
EARTH MATTERS
dust matter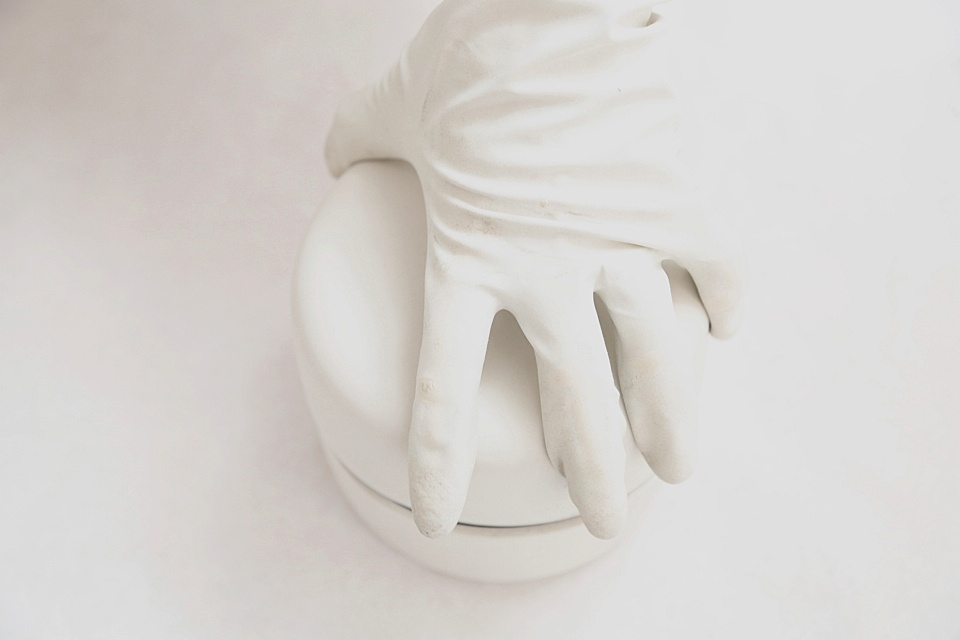 Lucie Libotte is a designer who uses material as a starting point for wide-ranging explorations. She is from Belgium and graduated from BA Textile Design at Central St Martins. She began exploring how we interact with textiles and how this changes our perceptions and ideas of our surroundings. In the course of her MA in Textile Futures, she discovered the importance of the fundamental origins of materials. As Libotte says : "I am interested in the materials origins as a representational system."

House dust is commonly perceived as dirty, intrusive and repulsive. We know it as fine grey dry powder consisting of tiny particles and waste matter collecting on surfaces or carried in the air. It is often associated with unkempt and neglected environments, where as a clean environment is considered as civilized and proper.

'Dust matters' aims is to re-evaluate this 'dirt', and convey the value of dust as an indicator of our environment, showing how it reflects our daily life and traces our journey through the world.
Focusing on the individual's private sphere as the research arena, Libotte collected samples of dust from various homes, observing and analysing the different inherent components. The physical value of those components was discovered to be substantial.

This value is brought to life with as an unusual coating layer on ceramic objects. Using "dust matter" technique, she created a range of bespoke vessels that display the different sampled environments, and ultimately tell a story of their origin location.

Dust Matters is definitely not a concluded project. In fact, Libotte considers it to be at an early stage of its progress. For its further development, she would be interested in finding a space not only to work but that could also simultaneously inform the making of new body of work. This would allow her to create a design piece(s) that relates to that space, both in regards to the dust properties and the historical narrative attached to the setting.

lucielibotte.com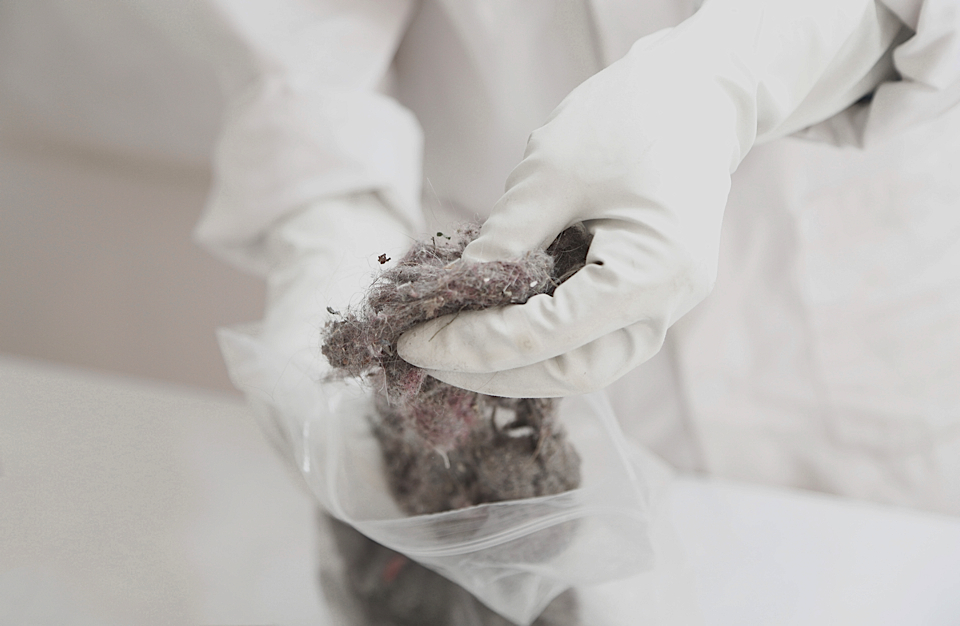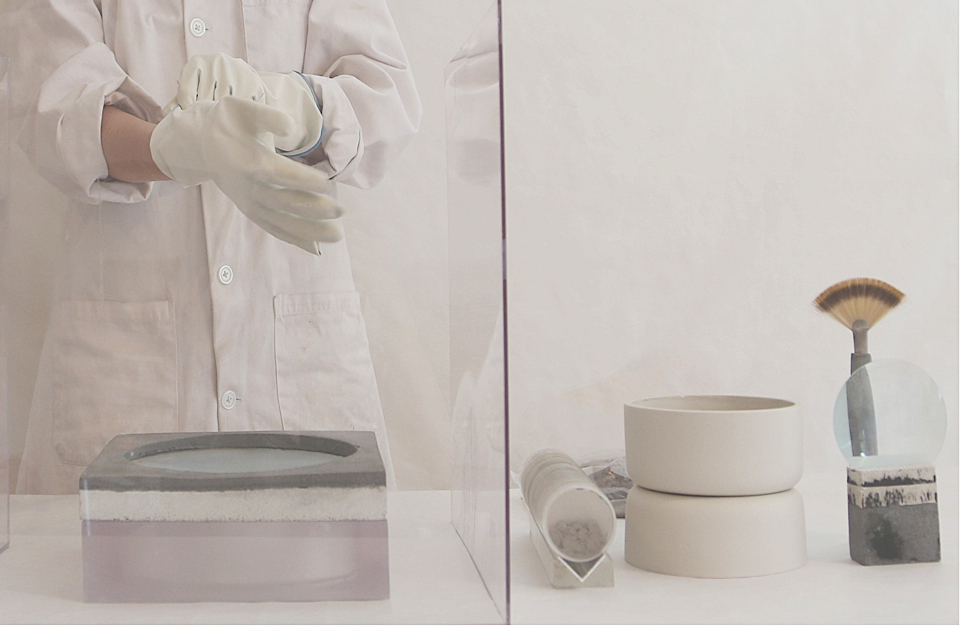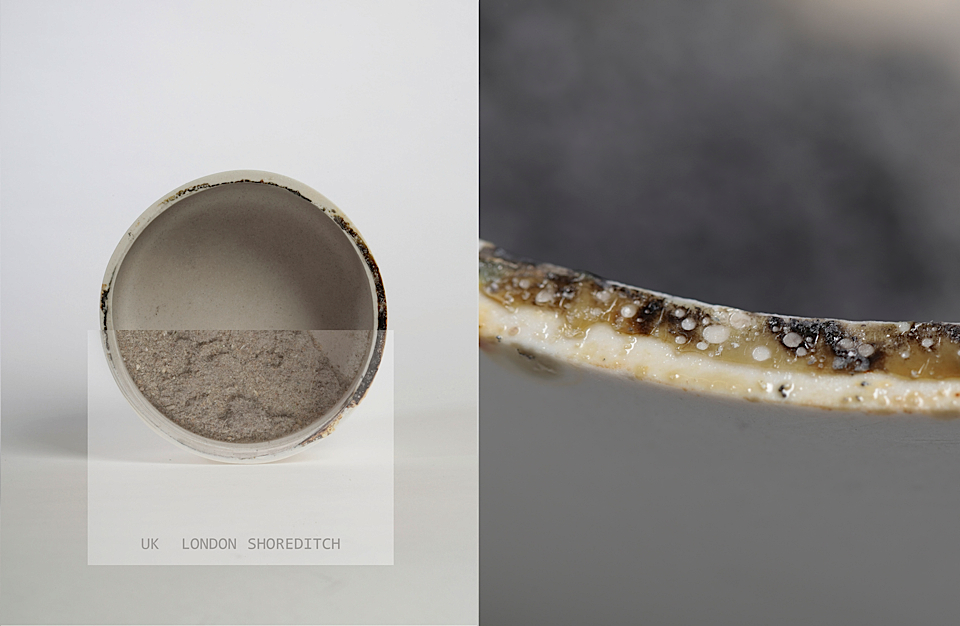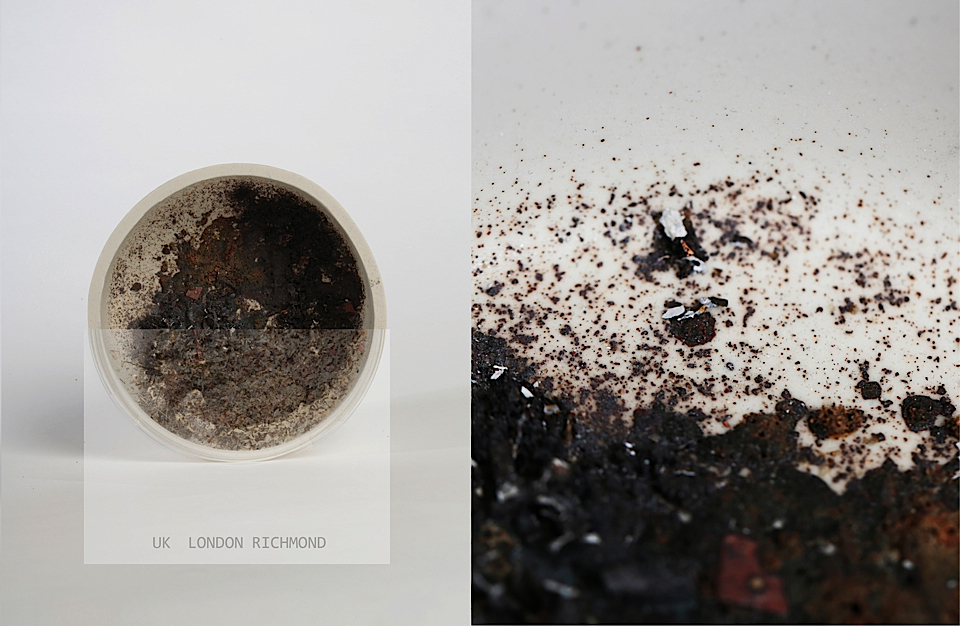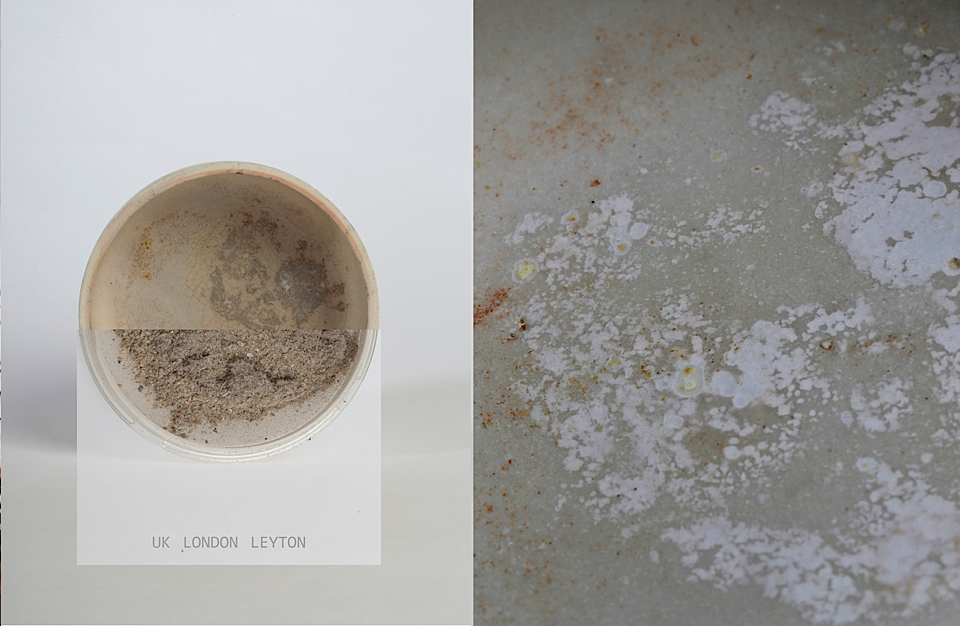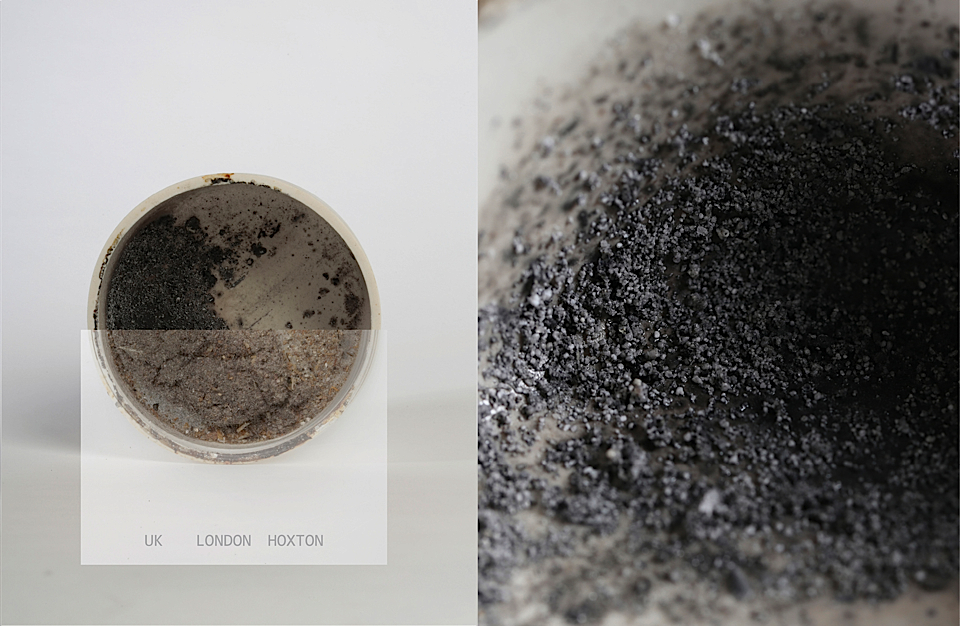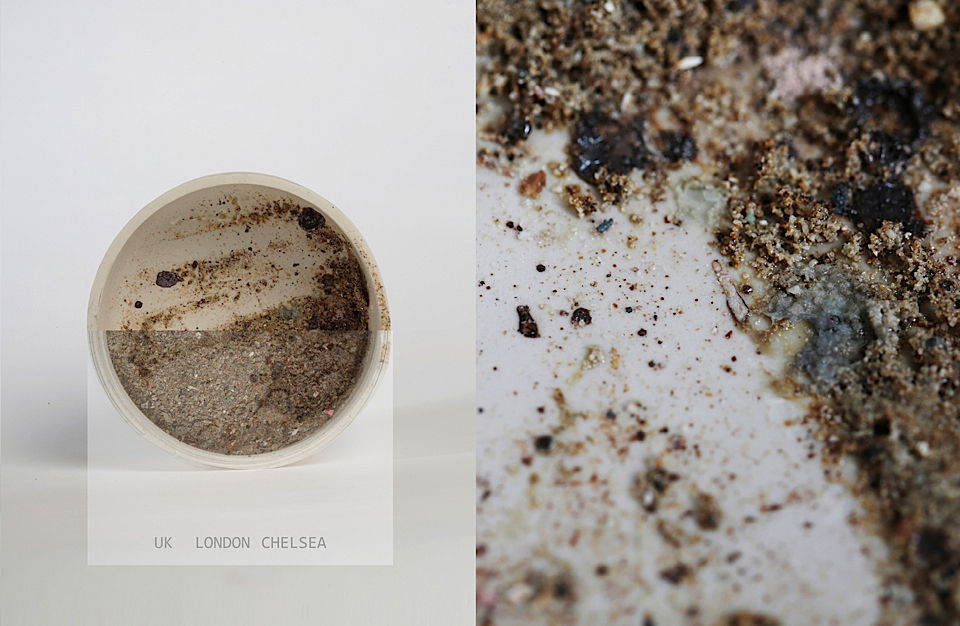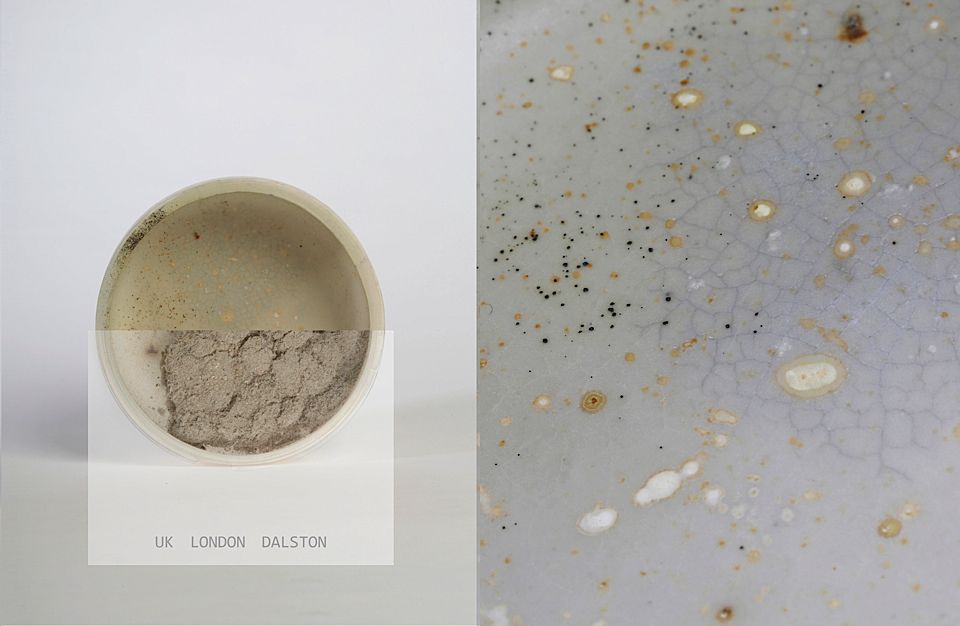 EARTH MATTERS
wood fossil
Italian designers Nucleo make objects that are at the crossroads between art and design. They often use fiberglass, pigment resin and carbon-fiber in their pieces, resulting in a very raw aesthetic, between minimalism and organic matter.
Using names such as the "Souvenir of the Last Century" bench and ladder (2013) and the "Wood Fossile" console (2012) and stool (2012) for their pieces created for Ammann Gallery in Cologne, Nucleo like to evoke memories and blur the line between manmade and earth-made.
They trap impurities and pieces of wood in smooth blocs of resin, whose texture and inclusions can be reminiscent of amber – itself a resin which has been fossilized by time and nature.
Found, up-cycled wood and neat resin create a tension between the polished material and the disappearing fossil, forming objects that are visible but not fully touchable, manmade but decidedly organic (as if reclaimed by the earth), "full of scars'' yet seemingly eternal.
Mathilde Leblond
Mathilde Leblond is a UK-based trendwatcher with a passion for creativity, beauty and the future. For Trend Tablet she contributes posts about some of the most arresting artists and creators which she scours the internet to find out about.
EARTH MATTERS
emily candela
Dimitra Sotirchos is a trendwatcher specializing in fashion, arts & culture. With an MA in Innovation for Trend forecasting, she is currently developing a visual arts practice studying Environmental Art at The Glasgow School of Art. She has contributed to AnOther magazine and Dazed Digital and is also involved with the electronic dance music In London and loves yoga, currently training in Ariel yoga.
Artist Emily Candela purposefully meddles with the ambiguous art of cosmetic medicine and hi-tech beauty trends through her edible artworks 'krustapseudicals'.T here is a growing obsession with mortality and the visible signs of ageing. Realities of an organic ageing cycle can be escaped through a galaxy of cosmeceutical dolls.
I spoke to Emily to find out more about her unconventionally beautiful crystalline objects.
Where does the interest in Cosmeceuticals and beauty as a material & subject come from?
I'm fascinated by the blurry line between what is living and what is not. I'm also interested in attitudes toward aging in the society I live in. Many beauty products promise a reversal or halt to the aging process that seems to respond to a desire, in effect, to be more crystalline than organic. To be frozen in time. I borrowed the prefix for krustapseudical from the Greek krustallos, for ice (which also lends its name to 'crystal').
What was your process for developing the crystals?
The krustapseudicals are crystallizations of beauty advice found in magazines. So they contain materials that are advertised as stalling the effects of aging on skin, hair or teeth - materials like vitamins, small amounts of minerals, proteins (via my own hair) and edible quantities of ointments for skin or lips. Other ingredients that go into the krustapseudicals are more poetic, reflecting the ideas or images associated with beauty and agelessness, such as gold and materials from the ocean.
I have developed several krustapseudical recipes; each one is concocted and then cast into the forms of real crystals. They have the consistency of jelly and feel rather 'organic' to the touch, even though they appear to be as solid as gems.
What message did you hope to convey through the crystals?
I'm not interested in producing a black-and-white critique of an industry or pointing out whether or not a certain type of product is marketed dishonestly. Rather, the project is about what the creations of the cosmetics industry tell us about ourselves and how we think about life and death.
But krustapseudicals are ultimately about the experience of putting something in your body. They convey what any type of food, pill or vitamin does: an experience of ingestion that may or may not come along with a response to what is in it, whether that response is critical, anxious, relieved, satisfied or repulsed.
You created exhibited the work at the science-meets-art event 'Does Dark Matter' in London, were they a culinary success at the exhibition?
What surprised me most was how trusting visitors were of me. More people ate the krustapseudicals than I had anticipated, given the semi-edibility of some of their ingredients. I went through hundreds on the evening.
What are you currently working on?
My art practice is now moving in the direction of involving more interaction with scientists. I'm happily turning in the lone-artist mode of working for one that's more collaborative. In fact, a current project involves me literally dispersing myself through the distribution of materials from my body. I'm also absorbed in my research into the interface of design and science, which I'm pursuing through an AHRC Collaborative Doctoral Award between the Royal College of Art and the Science Museum.
There is a trend for collaboration and power in artist collectives. What artist collectives in London do you hold in regard at the moment?
Cosmicmegabrain are working in a truly exciting way, ignoring the outdated boundaries between visual art, music, cultural research, theatre, and science. I'm looking forward to what they do next.
EARTH MATTERS
"the crystallized project"
Tokujin Yoshioka is the "Creator of the Year" at Maison & Objet, Paris. This award is given to the most influential artists, creators and innovators around the world.
Yoshioka is showing an installation called, "The Crystallized Project " at Maison & Object. The exhbition includes Venus, a crystallized chair; a series of crystal paintings which have been grown using the vibrations of sound and music; as well as a selection of works that have yet to be revealed.
Yoshioka's is deeply interested in the future. His work explores our relationship to natural phenomena.
He seeks to imbue everyday, material objects with an increased sense of purpose and legitimacy, in contrast to the increasing number of virtual communities, spaces and places. A poignant reminder that the natural world is also home to beautiful spaces and places that increase human connectivity and collaboration.
Text by Beth Lauck.
EARTH MATTERS
earthly origins
Nir Meiri's collection of sand-molded, lamps are not only exquisitely designed, but also environmentally savvy. The lampshades are reminiscent of primitive desert structures, while their overall construction resembles the burgeoning fauna of the Mediterranean seashore.
Meiri's use of sand as a primary ingredient mimics the tension of its wild nature — that of sand storms and vast deserts — and the delicacy of the lampshade's molded design. LED bulbs save energy, and sand remains an abundant raw material.
Born in Israel, Meiri's use of sand is directly linked to his origins. His lamps are a prime example of the abiding connection between land and identity; an invaluable link between who we are, where we come from and the world we inhabit.
EARTH MATTERS
the story
she is talking loud and clear.
she is protesting violently with frontal attacks.
she is flooding her tears on the world and shaking off
buildings and people like flies. she is spitting her anger in the air.
she has had enough and is tired of accommodating further abuse.
torrential floods, severe draughts, unpredictable climates,
erupting volcanoes and multiple earthquakes are the result.
the earth is hurt and emptied.
she feels gang-raped and shackled.
most fossil fluids and matter are taken from her
and most stones and metals are gone.
most material is transformed into buildings
and most forests have become furniture.
most boulders are carved into bathrooms.
most gems are dancing, adorning human skin.
most crystals have become chandeliers.
most water is spoiled and most food is spilled.
most fields are wasted and most jungles untangled.
we have taken it all and it is still not enough;
we have taken it all and transformed it into waste
which we give back to the earth
as a poisonous present and
as an unsolvable mass of matter.
this century is bringing a moment of reflection and radical change,
making up for a century of abuse, greed and violence.
for the first time a post fossil society is emerging,
giving man much hope and faith in the future.
resetting attitude and mentality towards
more respect for the earth and each other.
therefore fashion will be mining mental matter;
taking inspiration from earth and trying to give back its beauty and strength;
restoring her self-respect and reflecting on the huge gift
this planet was, and still will be for us humans.
a wealth of ideas will sprout from the earth,
analyzing all her entrails and components,
to be transformed into dimensional textiles and earthbound colours.
our entente with nature will be re-written and re-invented;
we will try to live together in a more harmonious way,
giving and taking, and caring for each other.
a more intimate and intuitive relationship will be the result,
based on primitive emotions and ancient rituals and archaic systems,
re-inventing animism.
- lidewij edelkoort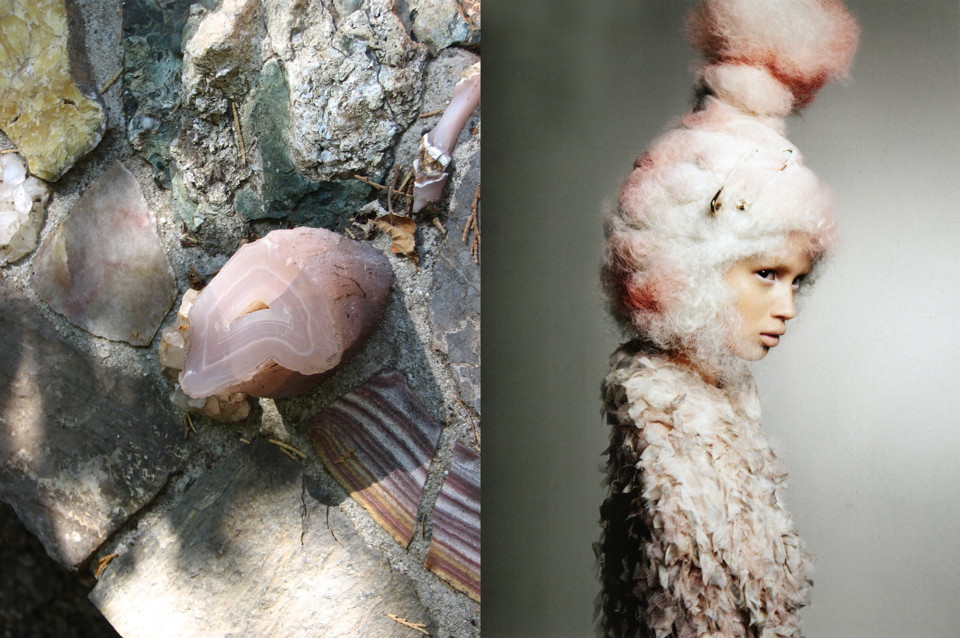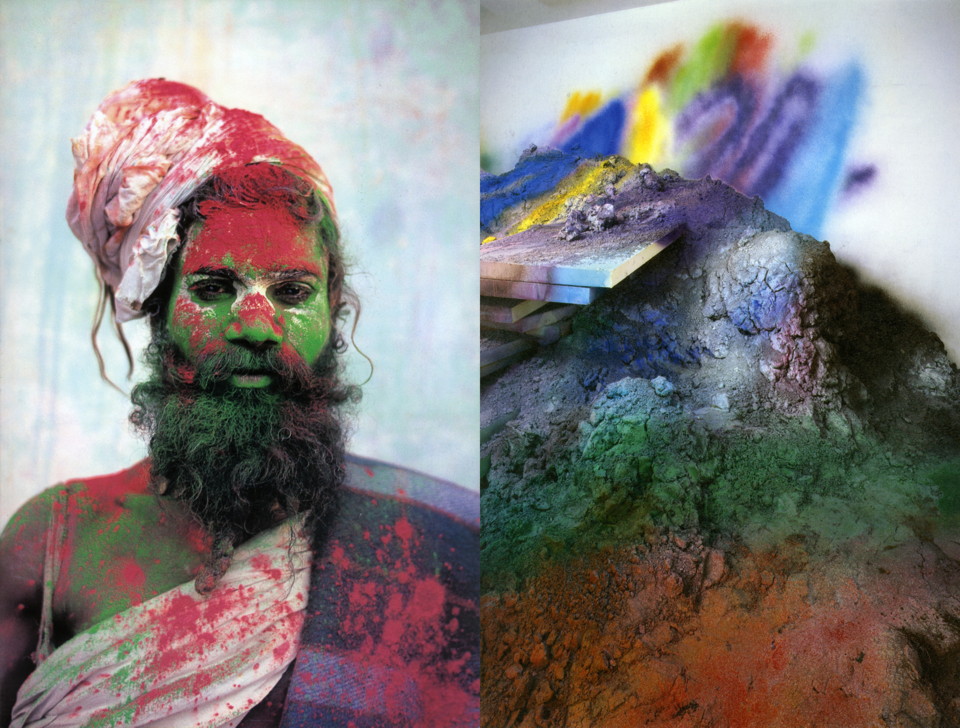 artwork by katharina grosse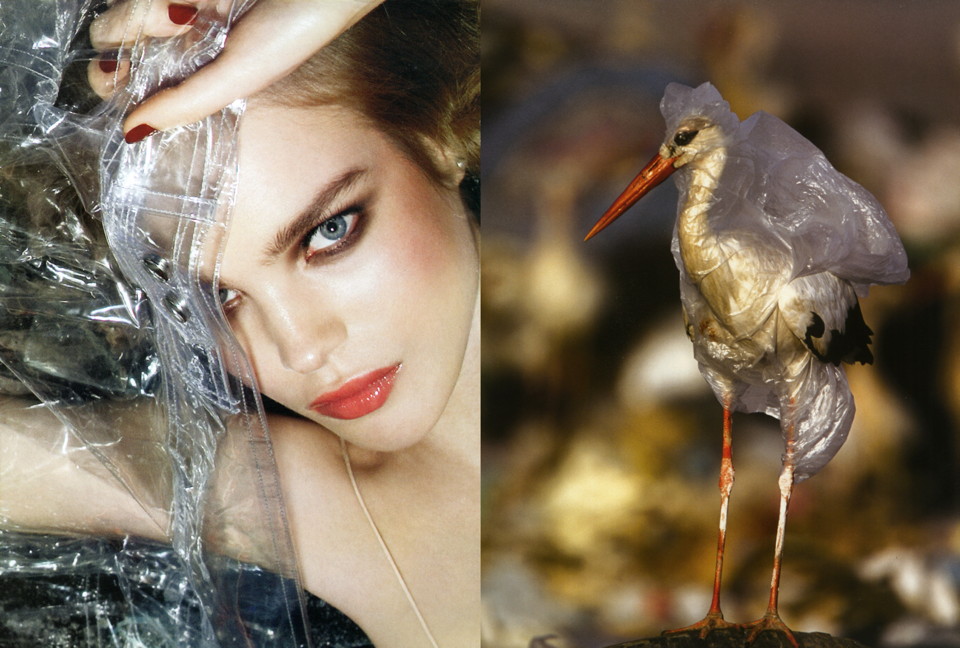 photo by bois/john cancalosi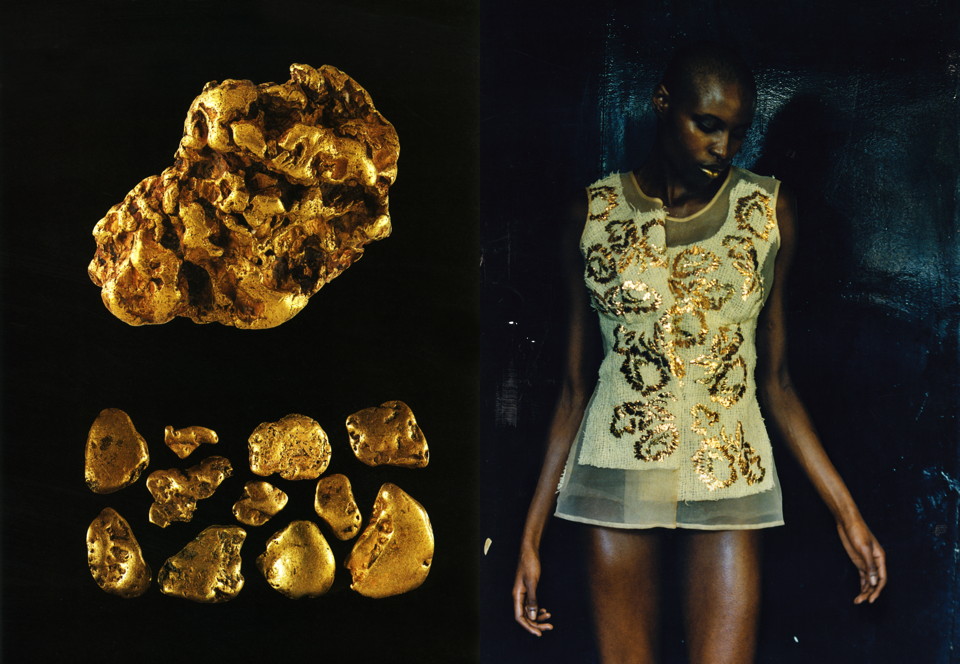 photo by john weinstein and lance grande