GATHERING
in situ at the salone 2015
During this year's Salone del Mobile, a selection of recent creations that reflect the "GATHERING" trend in design were exhibited by Edelkoort Exhibitions at Ventura Lambrate. Fashion was also displayed with intriguing pleated and layered pieces by 132 5. ISSEY MIYAKE, Barbara i Gongini, Jule Wabel and Min Nan Hui.
Set against Daniel Costa's black and white photographs of endearing vintage craft inspirations, "GATHERING" illustrated how contemporary design is part of a centuries-old domestic craft continuum. "GATHERING: From Domestic Craft to Contemporary Process" was originally commissioned by Design Museum Holon, the acclaimed institution celebrating its 5th anniversary in 2015.
GATHERING
Salone del Mobile 2015
"We live in an unstitched society that is suffering from the aftershocks of a severe economic crisis.
This prolonged period of hardship has made humans overly protective of their assets and openly egocentric in their ferocious defence, resulting in a world that is governed by greed and that has lost basic manners and human respect. This is, therefore, a time for gathering, for bringing people together again in order to restore society. Mending the fabric of our lives."
Lidewij Edelkoort
As part of 2015's Salone del Mobile, EDELKOORT EXHIBITIONS is pleased to present "GATHERING: From Domestic Craft to Contemporary Process". Set against black and white images created especially for the show, "GATHERING" features the works of international designers such as Anthon Alvarez, Bernotat&Co, Kiki van Eijk, Aleksandra Gaca, Meike Harde, Ditte Hammerstrøm, Pepe Heykoop, Vadim Kibardin, Christina Lilenberg Halstrøm, Lobermeyer & Merl, Rami Tareef and Floris Wubben, as well as Nendo for Cappellini and Patricia Urquiola and Tokujin Yoshioka for Moroso.
Lidewij Edelkoort believes that we are on the eve of a major revival of innovative industrial processes, stating "The design world is suddenly witnessing designers compelled to invent their own machines or reform existing engines in order to manufacture their designs – a fresh generation of inventor/designers interested in the process as much as in the final product."
Thus, this exhibition will present objects by designers using now industrialised trend techniques such as pleating, smocking, wrapping and layering, connecting contemporary creation to a long lineage of domestic handcrafts. The result of these designer's research and development processes gives birth to a new hybrid in production that brings together man and machine, opening up a range of options conceived through our living memories and unbridled imagination.
LAP (Lambretto Art Project)
Ventura Lambrate
Via Cletto Arrighi, 19
20134 Milano
Tuesday to Saturday, April 14 – 18, 2015
10:00 – 20:00 daily (open until 22:00 on April 15)
Sunday, April 19, 2015
10:00 – 18:00
GATHERING
kinfolk's community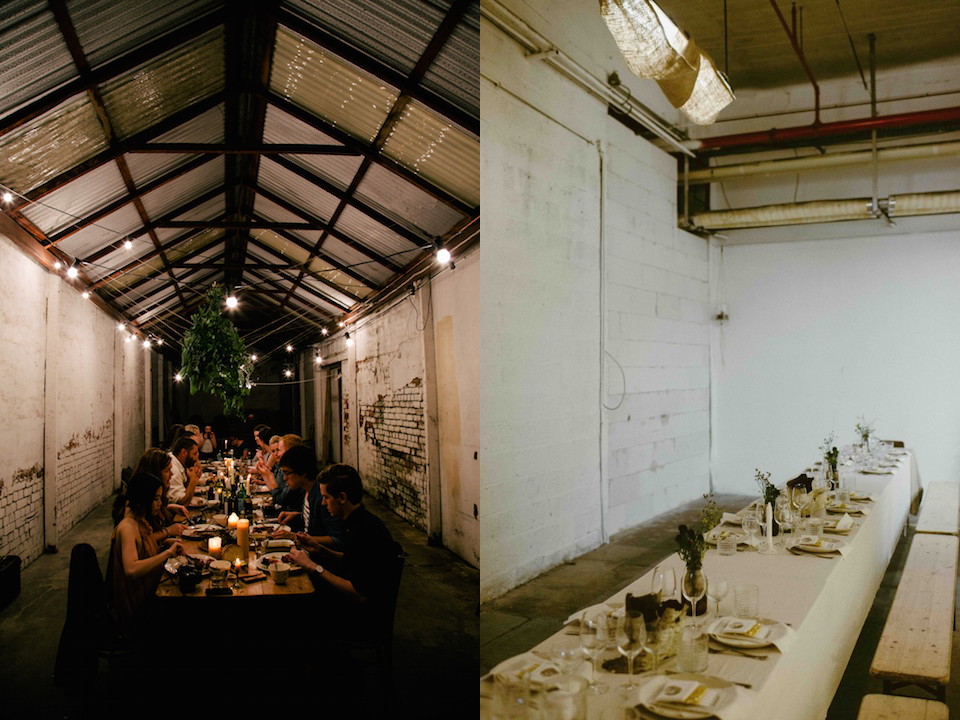 The well-known leading slow lifestyle magazine Kinfolk explores ways for readers to simplify their lives, cultivate community and spend more time with friends and family. One of the unique features of Kinfolk is its addition to the printed publication:  the magazine is known for their global 'Community Gathering' event series. These series of gatherings are an invitation to engagement: engaging with new skills, new relationships, and a refreshed understanding of the physical world around us - very much needed in these times of people staring into screens all day rather than experiencing life to the fullest.

The 2014 Kinfolk events consisted of two global gatherings held in over 25 locations worldwide. For the first gathering of the year, the magazine celebrated its summer edition, The Saltwater Issue, by looking to the sea as a muse. For the second gathering of the year, Kinfolk took inspiration from their autumn edition, the Imperfect Issue, for a series of wabi-sabi inspired events that centered on the acceptance of transience and imperfection.

With this second gathering, Kinfolk once again proved to be a leading magazine, able to set new standards in the industry. Kinfolk invited their hosts you to leave behind preconceived notions of what a 'Kinfolk gathering' should look like, and invited them to create down to earth, simple concepts inspired by their daily life and the world of nature.

Before, Kinfolk gatherings were sometimes associated with a certain level of style, focussing on looks rather than a human experience. The gatherings were highly visible all over the internet again and again because of the focus on the perfect Kinfolk atmosphere, post or picture. Kinfolk feared that guests were interacting more with technology than interacting with others around them.​
It is amazing how an atmosphere changes if people actively engage in the present moment rather than wasting time sharing it elsewhere. Being fully present and in the moment is something rare these days.
It fits the current timeframe that Kinfolk's priority is that the guests have a meaningful moment shared at the table, rather than merely a pretty occasion that has a lot of photos taken of it. After all: authentic community doesn't live behind a mask of perfection.

The new strategy became an instant success. During the gatherings guests and hosts in cities such as Barcelona, Istanbul, New York, Oslo, Sydney, Seoul and Berlin focused on other human beings in the room rather than their cameras and devices, creating moments in the spirit of this new approach by Kinfolk.

Arthur Groeneveld

www.kinfolk.com


A Guy Named Arturo, the alias of Amsterdam/Berlin-based creative consultant Arthur Groeneveld (1986), is an interdisciplinary one-man-show offering brand support, communications, art direction, trend forecasting, and creative research.

www.aguynamedarturo.com
GATHERING
peripheral consciousness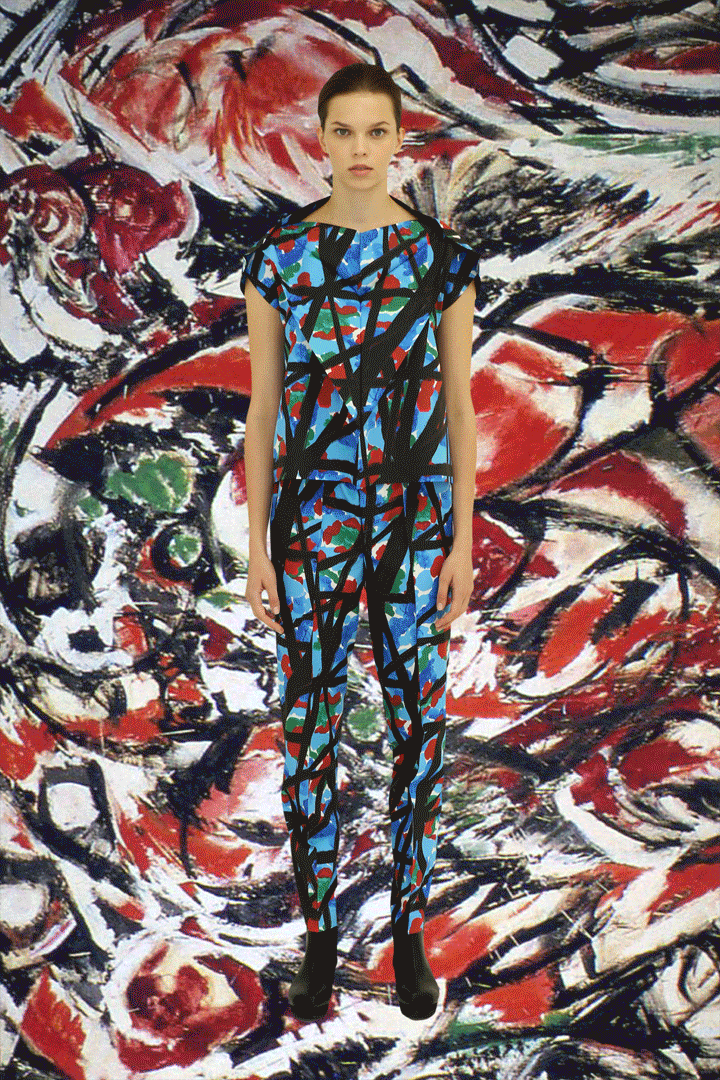 The format of this presentation is meant to touch on the thematic concepts of the 132 5. ISSEY MIYAKE collection while commenting on the peripherality of the collective image consciousness we share as a visual culture.
As our digital horizons expand and access to informational databases increases across the globe, so does our collective bank of referential imagery and shared cultural memory. Our wealth of parsed meta-citations (à la Google image search) can now be used (with increasing regularity) to paratactically form conclusions or summations about an object or idea.
Utilizing speed, SEO keywords and visual obscurity to flatten the concept of the foreground with its referential background, we can create a meditative space for the viewer to experience pieces from this collection together as one visceral, subconscious impression before they begin to seek out meaning in each of the images and thus the collection as a whole.
When looking at pieces from 132 5. ISSEY MIYAKE, images of modularity and modernity come to mind along with those of gestural enthusiasm, culminating in an almost scientific yet fervent exploration of form.
Paul Wagenblast

www.paulwagenblast.com
CREDIT : © Paul Wagenblast, 2014
Fashion Photography: Frédérique Dumoulin Models: Grace Bol @ Oui Management, Olga Butkiewicz @ WOMEN, Xiaomeng Huang @ Viva Paris, Olga @ SILENT & Sinara @ WM
Artworks cited by slide number: 
1."Celebration" by Lee Krasner; 2. "Mire g42 Kowloon" by Jean Dubuffet; 3. "Abstraction (1939-44)" by Ad Reinhardt; 4."Green Confluence" by Bryan Wynter; 5. Graffiti tags; 6."Untitled (Bat Cave)" by Tony Smith; 7. "Empress of India" by Frank Stella; 8. "Orange, Black and White Composition" by William Scott; 9. "Berlin Blues 4" by William Scott; 10. "R69-32" by Jan Schoonhoven; 11. Ocean waves; 12. "Ocean Park 115" by Richard Diebenkorn; 13."Uphe" by Tomma Abts; 14."Cold Stream" by Cy Twombly; 15. "Untitled (Roses) Gaeta" by Cy Twombly
GATHERING
the exhibition
On the eve of the major revival of innovative industrial processes, the design world is suddenly seeing several designers who are compelled to invent their own machines or reform existing engines in order to manufacture their designs – a fresh generation of inventor/designers interested in the process as much as in the final product, while viewing the machine as an ally rather than a constraint. These designers love their machines so much that they treat them as partners or assistants. Designers even publicly thank their industrial peers for helping them, thus restoring a lost relationship between the production process and the creative class. The result of this thorough process of research and cutting-edge development is the birth of a new hybrid form of production that brings together man and machine, opening up a new range of options conceived of by our living memories and unbridled imagination.
Bridging the gap between different age groups and genders, between rich and poor, and between craft and industry, these options offer made-to-measure and made-to-taste solutions for the public at large. In becoming one, man and machine create a bond that is a promise for all future developments in the 21st century. The hand and the engine gather together to create a new manual for the design discipline that is waiting to be explored, and making the exhibition "Gathering: From Domestic Craft to Contemporary Process" at Design Museum Holon into a moment to remember. (Exhibition on show until October 25, 2014).
Lidewij Edelkoort

www.dmh.org.

Purchase the exhibition catalogue
GATHERING
a work of hope
Art direction & design: DRAWING AND MANUAL - Art director: Yusuke Kobayashi - Designers: Yusuke Kobayashi, Takaharu Shimizu  - Sound design: Shotaro Hirata
132 5. ISSEY MIYAKE is a unique name that symbolizes an innovative process rather than a finished product. Never fully satisfied by his successes, Issey Miyake has taken his curiosity a step further. His life story has been landscaped by creative encounters with people from other disciplines such as artists, designers, choreographers, and photographers. In tune with his time and age, the master has now turned to science as a domain from which to derive inspiration and insight, transforming material into wearable pieces of abstraction.
132 5. is the product of a collaboration with the computer genius Jun Mitani, a scientist whose programs have given three-dimensional insight into the origami technique. Miyake worked closely with textile engineer Manabu Kikuchi and pattern innovator Sachiko Yamamoto from his Reality Lab., converting mathematical algorithms into sculptural origami models before cutting flat patterns to make dimensional garments. Ten key abstract shapes were selected to formulate the 132 5. vocabulary, from which the designers imagine each collection every season. Miyake considers this new venture to be an expression of industrial design and has presented the project in galleries, far from the fashion runways, explaining his concept personally to the attending journalists and press.
"I've been thinking about the challenges we'll have to deal with in the 21st century," Miyake says. "Most of us feel some kind of uncertainty, with the population increasing and resources decreasing… It's important to make clothes for long-term use now, not just one season.
We can't keep throwing things away. We have to face these issues. Many people repeat the past. I'm not interested. I prefer evolution."
The brand is indeed evolutionary in its application of pop-up methodologies but revolutionary in its ecological awareness, as well as its efforts to sustain Japanese artisanal knowledge. Miyake describes this new strategy as a "work of hope," a collection that reflects his deep concerns with the environment. The Reality Lab design team has been working with PET textiles from Teijin Frontier, a company that has perfected the bio-chemical technology to advance molecular processing, improving the fabric's quality while reducing CO2 emissions by 80% and avoiding the usual deterioration when these materials are recycled several times. Each season the collection has enhanced the development of these high-tech textiles by achieving softer and more fluid qualities, as well as new variations in weight and tactility. 132 5. therefore embraces the ideas of "re-generation" and "re-creation" which are so important to Miyake.
Philip Fimmano
132 5. ISSEY MIYAKE is on show as part of "GATHERING: From Domestic Craft to Contemporary Process" at Design Museum Holon until October 25, 2014
GATHERING
from domestic craft to contemporary process
EDELKOORT EXHIBITIONS returns to Design Museum Holon this July 2014 with the new exhibition "GATHERING: From Domestic Craft to Contemporary Process." In a world first, GATHERING will feature a survey of the ground-breaking 132 5. ISSEY MIYAKE collection by the legendary Japanese designer and his Reality Lab.
Works will also be presented by more than 70 contemporary designers from around the world including Anton Alvarez, Dror Benshetrit, Tord Boontje, Erwan & Ronan Bouroullec, Kiki van Eijk, Frederik Färg, Richard Hutton, Arik Levy, Bertjan Pot, Inga Sempé, Fredrikson Stallard, Patricia Urquiola and Tokujin Yoshioka.
Disdain for a boring global market coupled with a fear of the virtualisation of society has inspired designers to create work that is linked to the humanisation of the making process and the contextualisation of a more responsible lifestyle. Craft has therefore become one of the major movements of our time and can be understood as the repetition of skills that belong to our common past, exuding a sense of belonging and continuity.

Lidewij Edelkoort explains the show's context: "We are an unstitched society suffering from a lasting socio-economic crisis that has made us ferociously protective and egocentric. It is time for mending and gathering, thus restoring the fabric of society: picking up the pieces and bringing them together in a patchwork of possibilities; a quilt of substance, able to absorb shock and fear. In this exhibition, we see traditional crafts are mirrored by the layering and weaving of different entities and characters into a single product; the entwining of one material with another gives colour to the human condition.
Flexible three-dimensional patterns develop enlightenment, adding dimension to the future. The pleating and folding of matter into sharper form brings innovative architecture to life and helps design plan for society."
Curators Lidewij Edelkoort and Philip Fimmano have brought together contemporary design themes that reflect traditional domestic crafts in an attempt to remain connected to authenticity: pleating, draping, layering, ribboning, smocking, wrapping, folding, needlework, felting, knitting, quilting and baking. However, the designers in GATHERING apply new technologies and techniques to completely transform their actions. Their interventions celebrate the possibilities that lie in front of us, ever more creative than in the recent past. These designers use three-­dimensional craftsmanship which reinvigorates design, lending body and beauty to archetypical chairs or giving form and volume to lighting structures.

GATHERING: From Domestic Craft to Contemporary Process
Featuring 132 5. ISSEY MIYAKE - July 3 - October 25, 2014