miss kō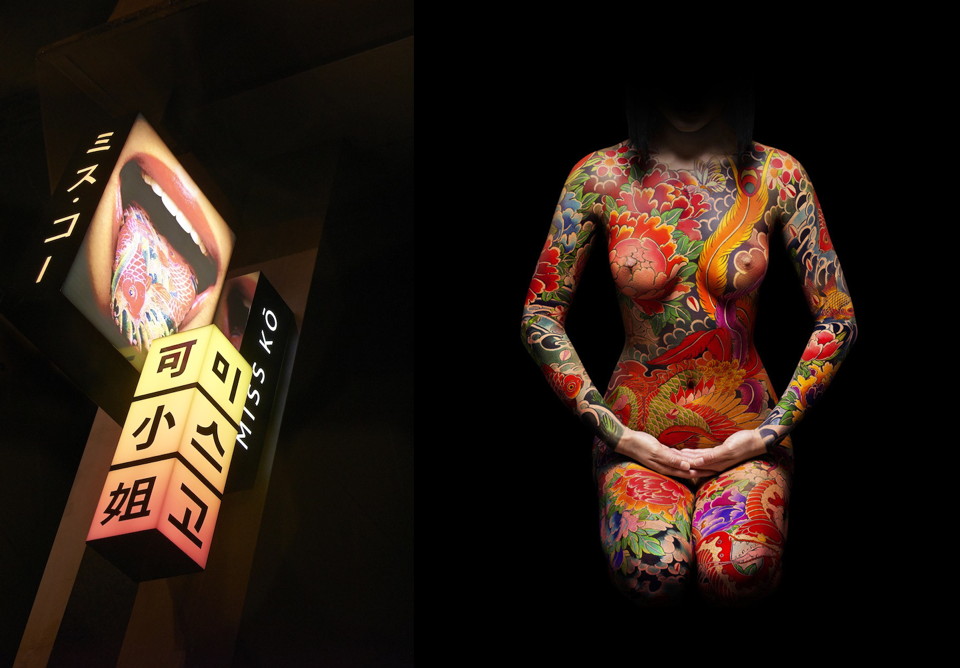 Along the very fashionable Avenue George V, in Paris, at the epicenter of the Golden Triangle, Philippe Stark has created Miss Kō. The place looks like a video game, an immersive world in which every detail recounts the story of an imaginary heroine, Miss Kō – an Eurasian who has travelled extensively. She is bewitching and sensual, revealing herself with a body entirely covered in tattoos beautifully created by Horikitsune, the only European to have trained as an apprentice in the traditional Japanese art of Irezumi. Miss Kō is branded by the British firm GBH who created a simple logotype made with nine grains of rice representing the Asian countries which inspired the creation of the Miss Kō menu.
Miss Kō is a mystery, a dream, feverish, crazy and strange. This fantasy created from scratch by Stark and his team is a crazy collage inspired by Blade Runner. The vision is a globalized future in which Asia is the new centre of gravity. Like an alley, stretched across 500 m2 of space, leading to the spectacle of a frenetic / noisy place with a massive screen bar and a spectacular fresco by David Rochline. Lush and fantastic, the monumental fresco – 15 m long-  is poetic and looks like a futuristic manga, a real visual curiosity.
One of Miss Kō's most unusual and hypnotizing features is a 26 m long double bar running the length of the restaurant entirely made from hundred of monitors broadcasting Asian channels, punctuated by the fluid passage of a dragon designed by Label Dalbin. The furnishings are a balanced mix of contemporary items and Far East inspiration.
Jean-Philippe Bourdon, the talented lighting designer uses neon to erase the notion of a ceiling and spotlights the focal points of the staging. The result is rich, smooth and colorful. Orsten Karki designed  Miss Kō 's original soundtrack. An Asian fusion food re-mix & re- twist  : sushi, jiaozi, bo buns, spring rolls and yakitori always served with contrasting flavours and textures. Sashizzas, one the house's specialties are an hybrid pairing Japanese pizzetas and tuna sashimi and it tastes great !
For Philippe Stark "Miss Kō is a place of freedom, humor, creativity, art, friendliness, openness. Miss Kō is a breath of madness, it's truly insane. A street out of Blade Runner: a cement parking-garage wall with Formica chairs, TV screens that spew out hundreds of images of live news coverage from Asia, a kitchen that smokes and smoulders."
Miss Kō is an object of curiosity, from the décor to the menu, everything is designed and well done in its Asia+ Blade Runner + Entertainment Style. Miss Kō fascinates, if you are in Paris don't miss the show !
Cecile Poignant