M°BA 13
"Fetishism in Fashion" the seminar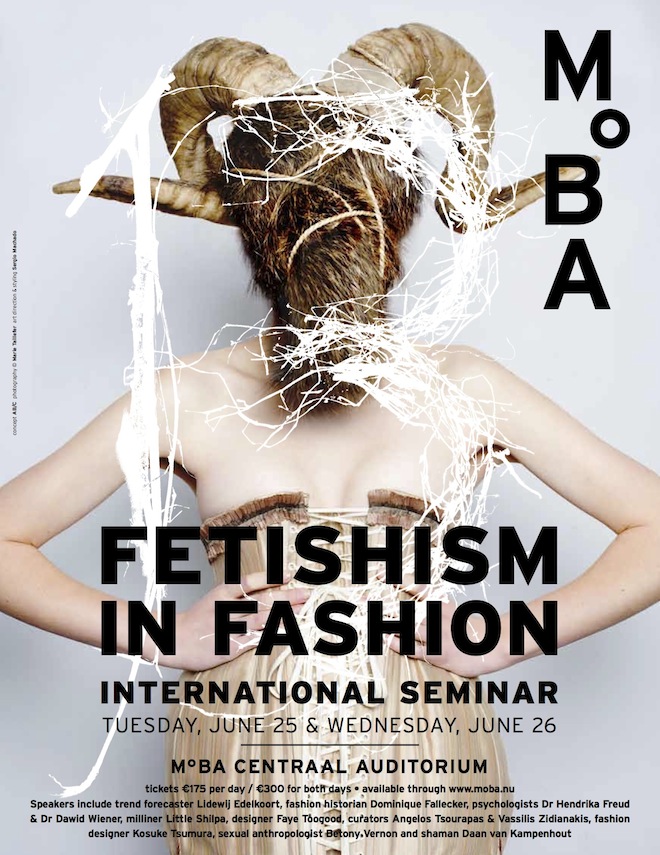 On June 25th and 26th, M°BA will host one of the biennale's highlight events, an international seminar to delve deep into the fetishisms in fashion.
Creative thinkers and designers from around the world will discuss fashion, design, branding and culture, in an informative and inspiring 2-day symposium.
Lidewij Edelkoort will headline a selection of acclaimed speakers including:
fashion historian Dominique Fallecker (France), psychologists Dr Iki Freud (Netherlands) and Dr Dawid Wiener (Poland), photographer Ruud van der Peijl (Netherlands), milliner Little Shilpa (India), designer Faye Toogood (UK)
curators Angelos Tsourapas & Vassilis Zidianakis (Greece) fashion designer Kosuke Tsumura (Japan) and sexual anthropologist Betony Vernon (United States), concluding with a special ceremonial session by shaman Daan van Kampenhout (Netherlands).
Tickets: € 175 / € 300 for both days
M°BA 13
"Fetishism in Fashion" the book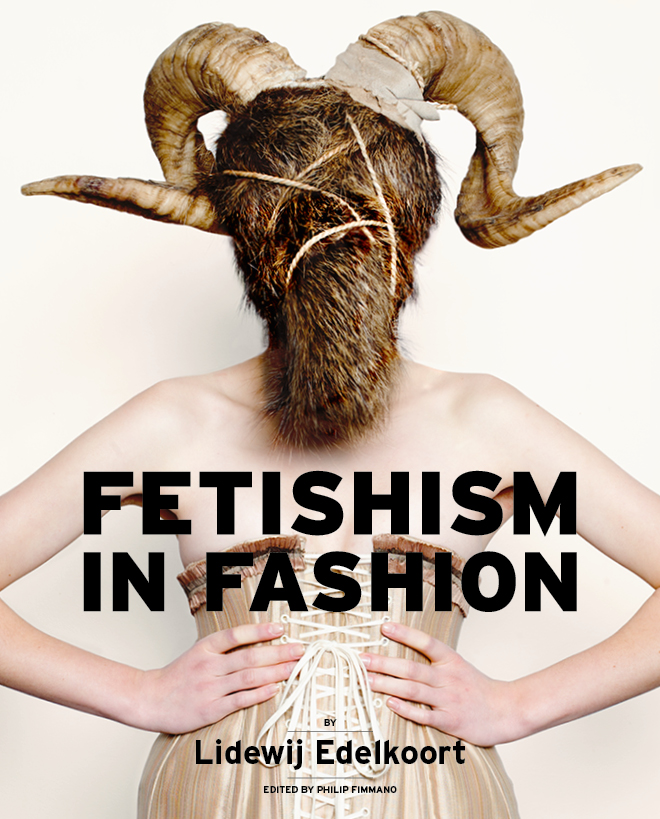 Lidewij Edelkoort delves into the world of contemporary fetishism to reveal a daring and instinctive future for style and culture. Fetishism in Fashion investigates topics including the evolution of taste from birth to adulthood, the elevation of shoes through ever-higher heels, the psychology of branding, the effects of infantilism, the power of black, the fetishizing of objects, and our interaction with skin and the body.
Essays and interviews include contributions by Andrea Branzi, Sylvia Chivaratanond, Malu Halasa, Susan Piët, Henk Schiffmacher, Valerie Steele, Faye Toogood and Betony Vernon.
More than fifty fetishes are illustrated by inspiring visuals from Leigh Bowery, Roland Fischer, Pieter Hugo, Erwin Olaf, Jenny Saville, Sølve Sundsbø, Marie Taillefer, Ari Versluis & Ellie Uyttenbroek, Marcel van der Vlugt and Carsten Witte.
The boundaries of design are stretched in the work of Iris van Herpen, Bart Hess, Pepe Heykoop, Formafantasma and Alexander McQueen.
Bolder, crazier and more outlandish fashions are on the horizon, making this book a key reference in a new era of experimentation and intense creativity, unveiling the intimate ties that bind us.
Release date: mid-June, 2013 Order a copy now
RRP €39 (plus €6 postage & handling) Published by Frame, Amsterdam.
M°BA 13
heartwear celebration
An amalgam of people on a trip to Africa 20 years ago decided to create a foundation and has since worked together for two decades to design, produce and sell azimuth collections from different backgrounds; Benin, India and Morocco are the eclectic countries chosen because of their cultural resources in terms of dyeing, weaving, braiding and recycling and moreover thanks to their grace, their optimism and their joy of living, painfully absent from our countries, remedy against the gloominess.
This year, Heartwear will present its anniversary collection during M°BA 13 at Judith ter Haar's Arnhem famous boutique, Jones.The collection reflects the maturity of the Heartwear brand and its creators' determination, a collection that quotes twenty years of designs and deep indigo textiles.
From minimal polka dots to extra-large banana leaves, from African sailors' stripes to the batik flowers of the islands, form large tint areas to the black-spotted wax, all these patterns gather and mix together to become a living memory of savoir-faire. Like a cadavre exquis, you are invited to assemble, transform, and collect these proposals with excess.
To make you happy, make us happy and especially to help sustain another twenty years for Heartwear's tribe of weavers, dyers, tailors, sewing shops, potters, woodsmiths and aluminium recyclers.
Long Live to handcraft!
Lidewij Edelkoort
Heartwear will be on sale at Jones in Arnhem from June 8 to July 21, 2013
A sale will also take place at Studio Edelkoort in Paris from June 1 to 9, 2013
M°BA 13
The World of WearableArt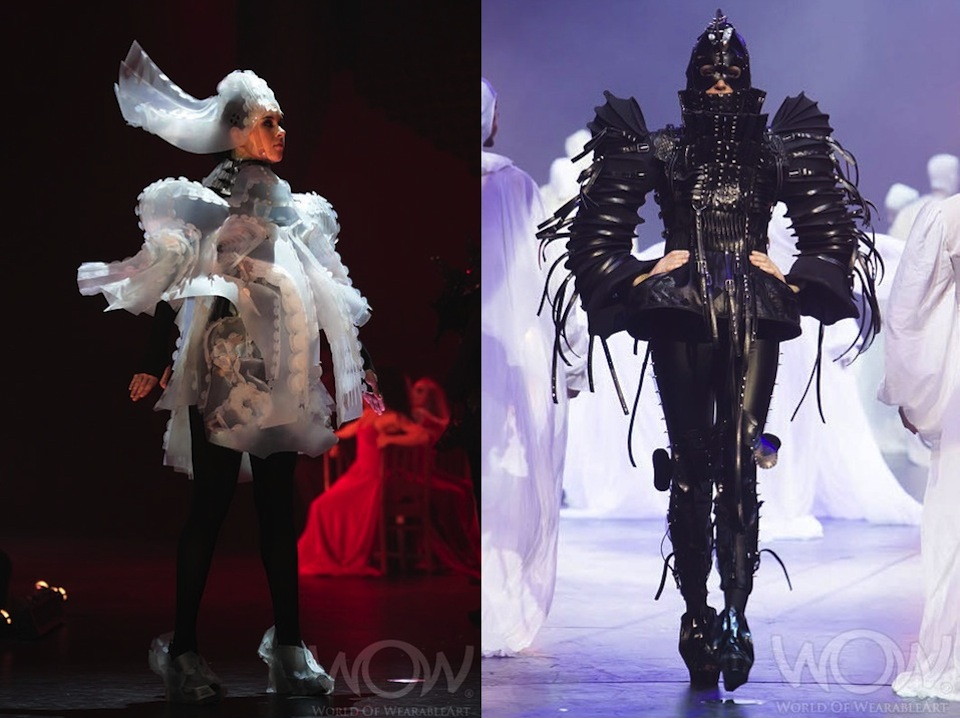 Right : Delight of Light Yuru Ma & Mengyue Wu, Donghua University Shanghai, China . Left: Second skin Haley May & Fiona Christie, Wellington, NZ.
From M°BA's Blog : The borders between creative disciplines are fading away. Designers are playing with our imagination and experimenting with different ways of constructing objects. Fashion creations are turning into art pieces (and art sometimes becomes fashion). There is always a new field to discover and combining this with existing expertise will bring us a new way of thinking and a new way of approaching global issues.
The World of WearableArt® is an annual design competition and show, held in Wellington, New Zealand and attracts more than 50,000 visitors across the two-week period.
During the event, more than 160 garments from all over the world are exhibited. WOW® is more than an art exhibition, more than a fashion show and more than a design award show.
WOW® is where art, fashion and theatre collide and the only boundaries are the limits of the human imagination.
Design entries open 1 December for the 2014 World of WearableArt® competition.
M°BA 13
view on fetish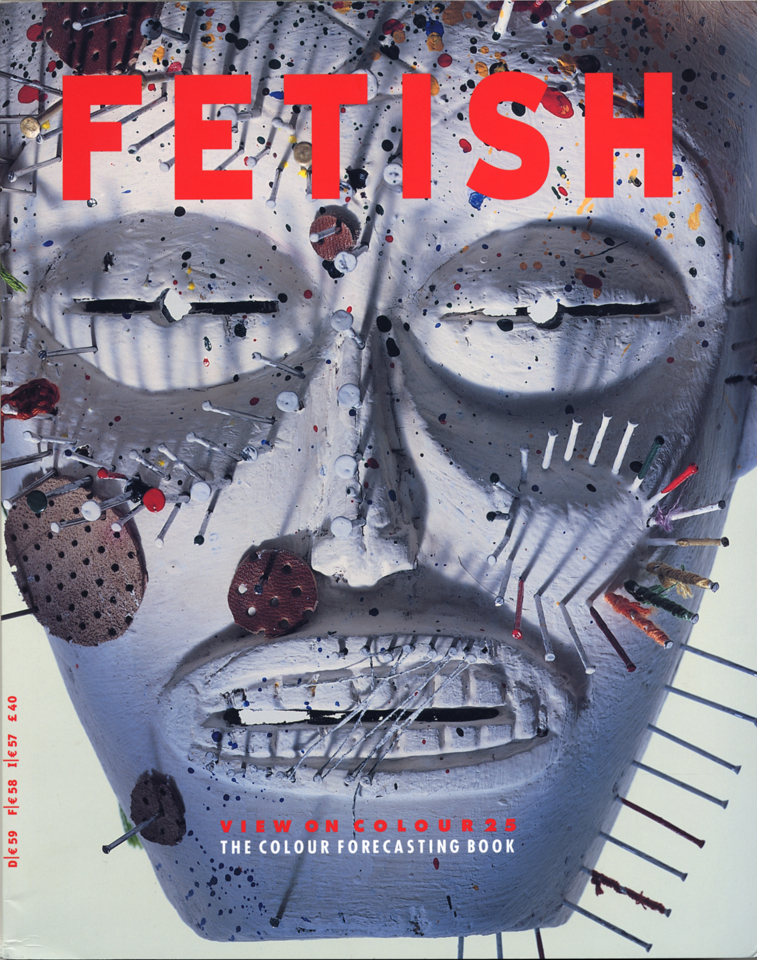 A magic potion invaded the FETISH issue of View On Colour, feeding on all the forms of fetishes and materials inhabited by the force of nature: shells, stones, wood, blood and earth -- exploring variations of gris-gris and amulets as contemporary accessories, establishing a profound link between the wearer and the forces they represent, with fur, skin, bone, minerals and metals.
Voodoo mobiles inspire new and archaic forms for vehicles while voodoo beauty rituals make use of heady concoctions of natural ingredients like mud, minerals, roots, nuts and fruits; eradicating flaws and bewitching age. Our hairdos are primitive and wild, almost animalistic, further exploring the sculpted quality of our hair, coupled with new and unusual extensions.
Mirror, mirror… on our furniture, is giving a unique perspective to inner space, while dramatic gothic tabletop is using mediaeval matters for pitchers and goblets. Clothes are exploring fetishism with inspirations derived from shamanism, alchemy, astrology and black (and white) magic.
We explore the ritual of the circus, inspiring a new generation of clownesque clothes and cosmetics. Some people are born magicians, jokers and jugglers, keeping their balls in the air and educating us with intriguing insight, as witnessed by all the elements of this visionary trend magazine. A hundred and forty pages of unbridled creative energies that are instinctive and therefore unable to be tamed…
Away from the mainstream, Abracadabra!
Lidewij Edelkoort
Buy a copy of View on Colour #25
M°BA 13
talent search
To celebrate MoBA throughout 2013, we are pleased to announce the launch of our new blog fetishisminfashion.com
This blog will take a fetishistic look at the intimate links that may exist between a piece of clothing and ourselves, the passion that a pair of shoes can generate, the elating feeling the tactility of a textile can bring, our profound relationship with a brand or our loyal adoration of a designer.
Most importantly, we are on the hunt for fresh faces, outsider brands, young designers and fetishistic creativity from all around the world - this blog is your platform! Log on to tell us about your own fashion fetishes and to share with us new fashion talent. The sky is the limit so please engage with us and above all, enjoy!
Lidewij Edelkoort
M°BA 13
fetishism in fashion
Every two years, MoBA (Mode Biënnale Arnhem) displays the current state of affairs in worldwide fashion and design. Now in its 5th edition, this biennial has the unique quality of being a cultural event which both the fashion industry and a broad public flock to. From June 8 to July 21, 2013, along with fellow curators, we will unveil a vision of unique fashion through exhibitions, seminars, workshops, pop-up stores and films.
As an avid lover of fashion and textiles, I have decided to analyse and to dissect our collective obsession with fashion through the idea of FETISHISM. The content will range from our fundamental need to cover ourselves to the eccentric extremes to which our desires can take us on the quest for beauty.
Lidewij Edelkoort