SENSITIVE SCIENCE
catherine wales
Project DNA is the three-dimensional accessories collection from London- based designer, Catherine Wales. At the helm of the world's third industrial revolution, Catherine's debut offering cross-pollinates high fashion, technology and science to re-evaluate conventional methods of garment construction and push the boundaries of digital fabrication within the luxury market.
Inspired by identity and the visual structure of human chromosomes, Project DNA is created almost entirely with individual and interchangeable ball and socket components that allow it to be built in a number of directions. Produced using white nylon with a 3D printer, the eight-piece collection encompasses a scaffolded corset, a blossoming feathered shoulder piece and a waist bracelet complemented by four transformative headpieces that hide key areas of the face; including a guilded horn and a mirrored mask, and a cut out visor helmet.
Catherine's futuristic collection is completely unique and can be used both editorially to stimulate conceptual thinking and scientifically to develop the capabilities of luxury fashion prototyping within the 3D space.
As an expert pattern cutter, Catherine originally approached Project DNA with a view to sustainably solve the current complications surrounding garment sizing and manufacturing restrictions.
In this way, the collection embraces technological developments in order to cut down wastage and better support consumer demand.
Catherine Wales has been working in luxury and fashion for over 15 years. Her solo work channels her recent MA in Digital Fashion from the London College of Fashion. Prior to turning her sights to the digital world, Catherine trained and worked with some of the most prestigious fashion labels in the world, cutting designs for Jasper Conran, Jean Charles de Castelbajac, Oswald Boateng, Emanuel Ungaro and Saint Laurent, where she worked with the renowned Hedi Slimane and former design assistant, Simon Spurr.
Sophie Hérolt Petitpas
Sophie Hérolt Petitpas is a french journalist free lance found of design and lifestyle. Sophie is also passionate by astrology and its mythical and symbolic aspects. Curious and sensitive, she loved linking and describing her trend hunting with the eyes of mythology in her blog.
SENSITIVE SCIENCE
mer ka ba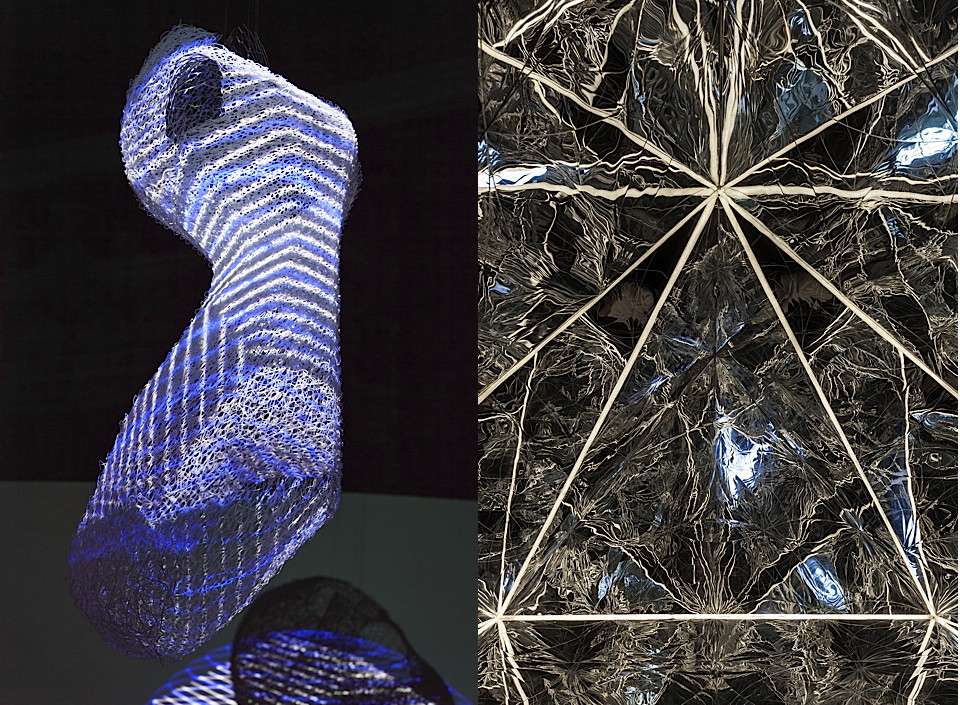 Pythagoras said "God geometrizes"and the archetypal language of sacred geometry, which is inherent in nature's design, is a key in understanding the universe from the microcosm (which is within), to the macrocosm (which includes everything that surrounds us).  The diverse patterns and designs found in this geometry enforce our sense of interconnectedness and our relationship to the dimensions of all things that are created.
The design collective threeASFOUR has revealed a new dimension of sacred geometric depths in their work MER KA BA: a selection of their Spring/Summer 2014 Ready to Wear collection set against architecture and video projections at the The Jewish Museum.  The New York based trio of fashion designers Gabriel Asfour, Adi Gil, and Angela Donhauser, have created a collection of 3D printed, laser cut silk and origami folded dresses that reflect their origins from Lebanon, Israel and Tajikistan, respectively.  With past collections borrowing themes from the Zodiac calendar, Buckminster Fuller and Middle Easter talismans, their exhibition is a fully immersive environment that reflects their many influences.  The title of the show taken from Egyptian hieroglyphs mer (rotating light) ka (spirit), and ba (body), when put together, are symbolic of the energy fields that the body transitions through as it ascends to a higher plane.
threeASFOUR's collaboration with architect Bradley Rothenberg and Studio Christian Wassmann invites visitors into a moody and textural space modeled after the sacred geometries commonly found in synagogues and mosques.
The designers explored new mediums in their mirrored structure and projections which borrow from the five Platonic solids.  When you take a step back, the structure reflects on itself to form a 3-dimensional 6-pointed star or hexagram, which is known to represent the union of the material and spiritual worlds and the balance of masculine and feminine energies - symbolic of the balance of creative expression from this idiosyncratic trio.
The exhibition threeASFOUR: MER KA BA will remain on view through February 2, 2014.
On November 10th at 6pm The Jewish Museum will present an interactive performance conceived by threeASFOUR in relation to the exhibition, combining avant-garde fashion and ancient bread-breaking rituals.
Alexandra Conn
Alexandra Conn is an artist, illustrator and designer working in book publishing, fashion and beauty in California and New York. You can follow some of her adventures here.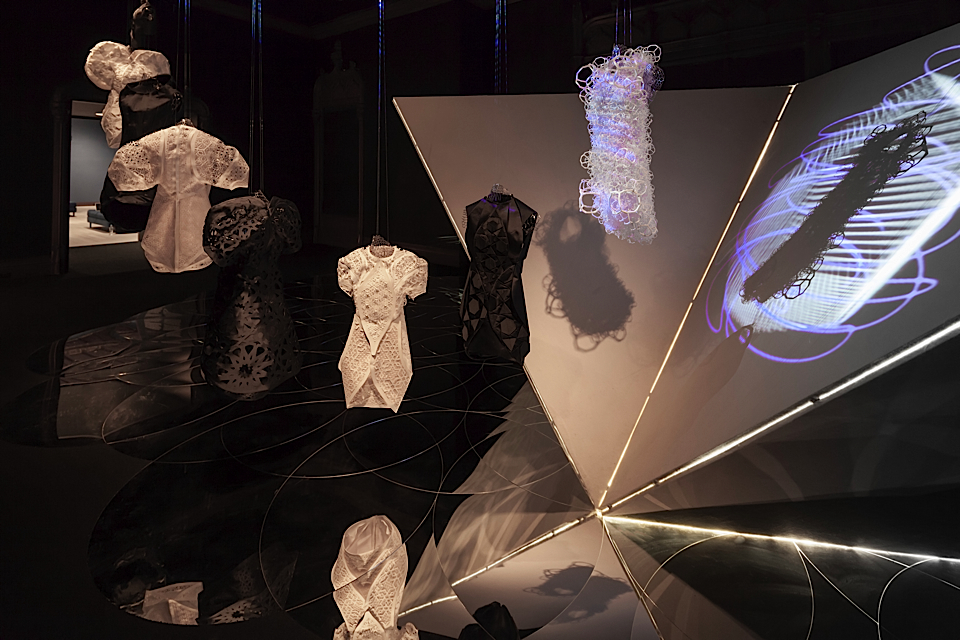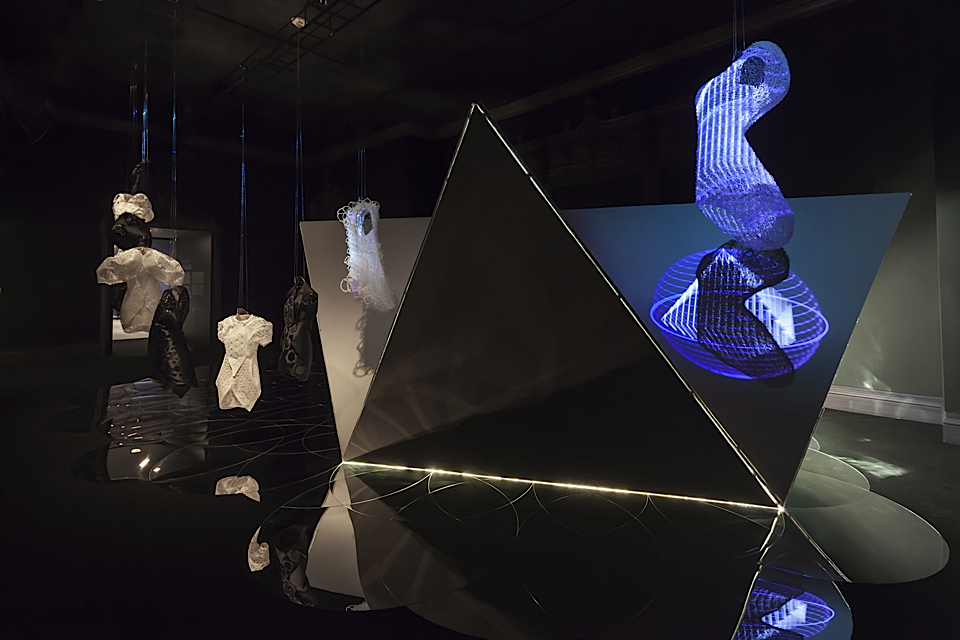 SENSITIVE SCIENCE
peta bush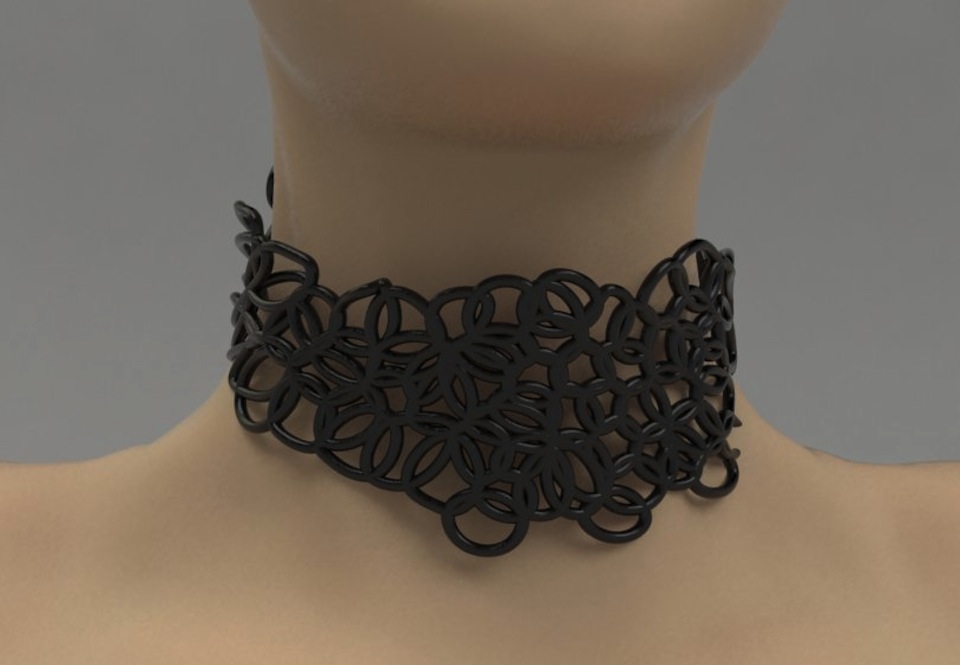 Peta Bush is a contemporary jewelry designer from London who has turned her design focus to wearable health devices.
Bush became interested in health devices when she discovered many were still so unappealing. "Why is everything still so beige? How can we make these objects more desirable?" This is the problem she is working to solve using a people-centric design process.
Bush imagines a more colorful future and dynamic new form factors. Putting anything on your body is an expression of who you are, and how you feel. Glasses started out as a purely medical device, but are now a style object – even for those who don't need them. "We wear objects as adornment, to feel good," says Bush. Why not look at a neck brace or a walking stick in the same way?
The health device ideas pictured here are designed to work with acupressure points on various parts of the body. Future devices are being designed to support and immobilize.
Bush brings a feminine sensibility and twist to an industry which has been designed mostly by men, focused on function. As a contemporary jewelry designer, she hopes to make these devices more aesthetically appealing  – just in time for a growing market of aging boomers. Wearable technology as an industry is exploding, and is projected to exceed $6 billion by 2018.
Listen to an interview with Peta Bush. You are also invited to discuss design ideas directly with Bush on twitter during the global chat on creativity – #ideachat, taking place on Saturday, October 12th, from 9 am - 10 am EDT, or 3 pm to 4 pm CEST. The #ideachat topic for October is "Why Do Design and Aesthetics Matter?"
Angela Dunn
Angela Dunn is a writer on future technology and trends. She is currently helping launch the startup Permamarks.com, a personal archiving and curation tool. She also hosts a popular monthly salon of global innovators on Twitter called #ideachat.
Dunn has always been curious and interested in how trends converge. She started spotting and creating trends early in life as a club DJ, and later launched many trends as the owner of an avant-garde nightclub recognized internationally. In recent years, Dunn's has provided foresight on digital, social and mobile trends. Her work has been published by leading organizations in the healthcare industry. You can follow her on twitter @blogbrevity and also at Permamarks.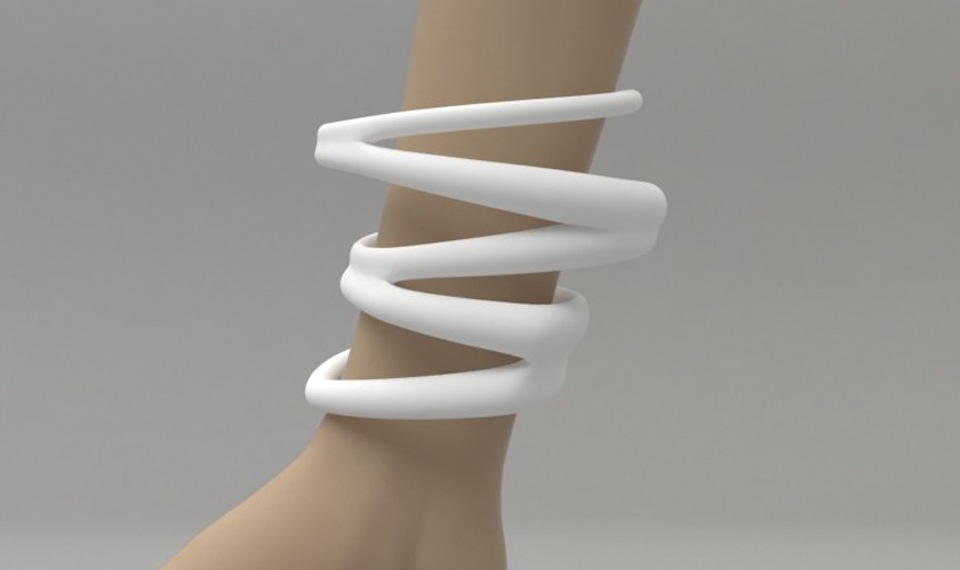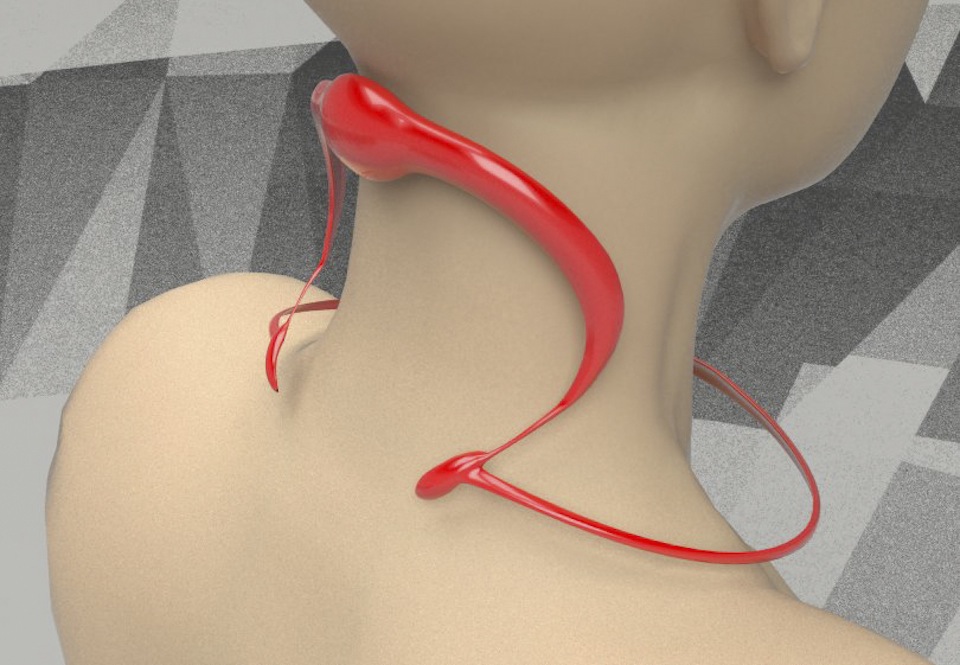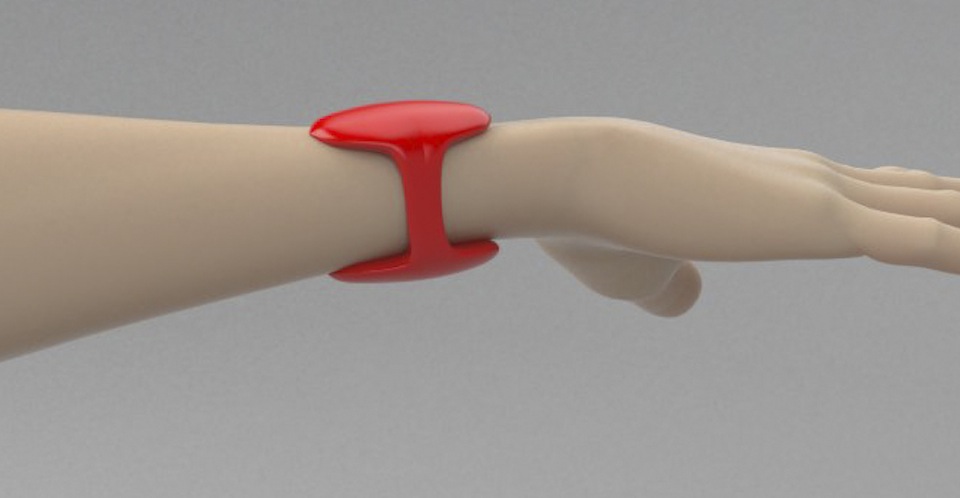 SENSITIVE SCIENCE
smart highway
Designer and innovator Daan Roosegaarde and Heijmans Infrastructure presented the first prototypes of the 'Smart Highway' during Dutch Design Week, selected 'Best Future Concept' by the Dutch Design Awards. For good reason. Using the latest technology, the studio's concept is to build roads that are more sustainable, safe, and intuitive.
Rather than focus on the car to innovate the driving experience, the focus of the project is to innovate the highway. Designs such as Glow-in-the-Dark Road, Dynamic Paint, Interactive Light, Induction Priority Late and Wind Light seek to make roads that are interactive, energy-saving, and adaptive.
These designs will be realized within the next five years, with the first iterations by mid-2013 in the Netherlands.
The 'Smart Highway' project is truly the Route 66 of the future.
Text by Ryan Moritz
SENSITIVE SCIENCE
water graffiti
Mixing water, technology, and public art, the Water Light Graffiti project is at once fluid and beautiful while at the same time transitory and digital. The project was conceived at Digitalarti, a lab dedicated to the digital art community at large. Welcoming artists, organizers, galleries, and collectors, the site and quarterly print magazine invites the public to share experiences, information and digital tools.
An artist in residence at Digitalarti Artlab, Antonin Fourneau created the Water Light Graffiti project. As described by the artist, the project surface is designed of thousands of LED lights which are illuminated by contact with water.
To activate the lights, one can use a paintbrush, spray bottle, sponge, or just about anything damp. The artist writes, "Water Light Graffiti is a wall for ephemeral messages in the urban space without deterioration. A wall to communicate and share magical in the city."
Subject Cécile Poignant - Text Ryan Moritz
SENSITIVE SCIENCE
landscape abbreviated
Landscape Abbreviated is a art installation by the young artist Nova Jiang for Wave Hill, the public garden & cultural center located in the Bronx. She created a little kinetic maze, with a floating garden, control by machines. His goal was to create a experience where a simple intervention could create an unpredictable paths.
I especially love this «modern» adaptation of a maze with a software that randomize the path so accordingly change your way of thinking to find an exit. It's a beautiful metaphor of the serendipity, have exterior effect that forcing you to think differently.
This installation is quite little, but imagine a street, even a city where the nature drives your behavior and not this opposite like today.
Thomas Bouillot - New Grids By Thomas
SENSITIVE SCIENCE
hearing grass
Thomas Bouillot is studying advertising/brand communication, he has already worked in several french and american design/advertising agencies for few internships.
He is interested in blending design, technology and strategy. He also interested in the international cultural difference, the New Hollywood period, Beatnik books, Arduino, triathlon…
In spring 2011 he launched "New Grids" with the aim to introduce people some design work and planning thought.
Thomas will regularly share with Trendtablet's friends his best found.
Feld is a german studio specialized in «digital crafts», they design some digital objects connected to the physical world, or like here to the nature.
We see more and more works that connect nature and technology, it's like a will of find another way to the eternal debate digital vs craft/traditional. Both are necessary, and when both are connected, they can bring us great experiences.
In this project, an arduino based computer is connected to the grass, for translate into a heart beat the growing phenomenon. An original way to realize when your plants need attention or when they're in good mood.