SENSITIVE SCIENCE
Body Electric by Clara Daguin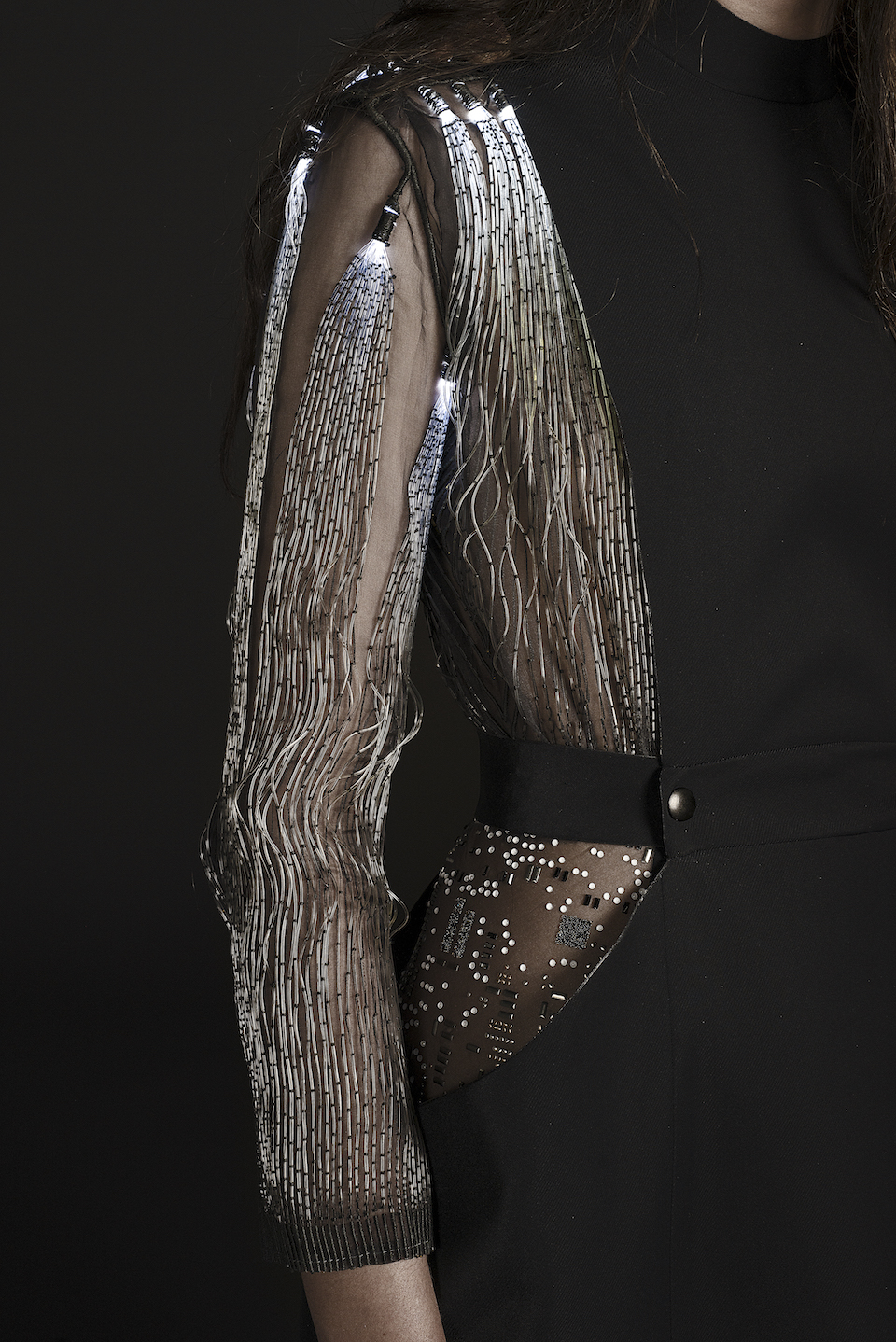 As one of the ten Hyères International Festival young designer finalists this year, Clara Daguin presented her Body Electric collection this April. In addition to a Masters of Fashion Design at ENSAD in Paris and a Bachelors of Fine Art in Graphic Design from CCA in San Francisco, Clara has previously worked for Margiela, Alexander McQueen, Hussein Chalayan or Iris van Herpen. She grew up in the Silicon Valley and thus has integrated its culture into her creative process.

She believes it is essential to keep manual savoir-faire alive while embracing technology as both a creative inspiration and a solution-provider. Noémie Balmat sat down with her to learn more about her creative process and get her thoughts on mixing fashion with technology.

Could you describe your creative process?
It all begins with a thought or feeling, and a need to express it. It is paramount to begin by synthesizing the idea into a single concept, a sentence that can serve as a reference if the research leads me astray. Visual inspiration and experimentation with materials work in parallel with finding silhouettes through moulage. The technical/sometimes electronic aspect is very much a part of this exploratory phase. Sometimes it appears in the piece as a texture, or it can inform the shape of the garment directly. In the « body electric » collection the strict uniform pieces are marked by cut-outs which act as windows to reveal technical embroidery. The patterns of the complex garments underneath are directly based on the cut-outs of the uniforms. All in all it is mostly an evolution, developing aspects that resonate, pushing aside discordant elements to create a coherent whole. And of course hoping to surpass one's original intentions and be surprised by the end result, because that is what's most exciting.

How did you learn to code/the technical parts of your work?
I have always made clothes, but my first professional interest was graphic design. I learned code to make websites, the interactive aspect was what really pulled me into that medium. When I began studying clothing and fashion design I participated in a workshop with the MIT high-low tech group where we transformed basic IKEA chairs using simple sensors and motors, circuits and code to alter our relationship to them.
This idea of integrating circuits into things other than computers peaked my interest and I continued with a class called « augmented objects ». After that I was obsessed and every chance I got I experimented with different sensors and simple ways to integrate electronics into clothes and textiles. It helps that my father is a computer engineer, that I grew up in the Silicon Valley and that I am visually inspired by all things technical!

What did the Hyères festival bring you?
It allowed me to create a new collection, to work with a panel of professionals who helped showcase it beautifully, and brought visibility to my work. I have been asked to share the pieces for various photo shoots, a music video, to exhibit at D'Days and Tranoï Paris and Premium Fashion Tech Berlin among others, and am collaborating with an artist on a soirée for Lacoste. What is great about Hyères is that it is really a jumping off point for meeting interesting people, and these new connections branch out to new projects and collaborations.

Noémie Balmat

Photos: Alice Brygo
 - Make up artist: Roussi Li, Vincent Brière 
- Models: Lydia Ragot (brunette), Elise Speicher (long red hair), Flora Marchon (short red hair)

claradaguin.com

Interested in the future of fashion through innovation, Noémie Balmat has a valuable four-year experience in international advertising agencies and works with brands as a fashion tech consultant. Currently working for Soon Soon Soon as an Innovation consultant, she launched Clausette Magazine in November 2014 to gather cool projects linking fashion & innovation in one place. Sensitive to the technological and scientific evolutions, Noémie often speaks at international events, such as the Hyères International Fashion Festival.

clausette.cc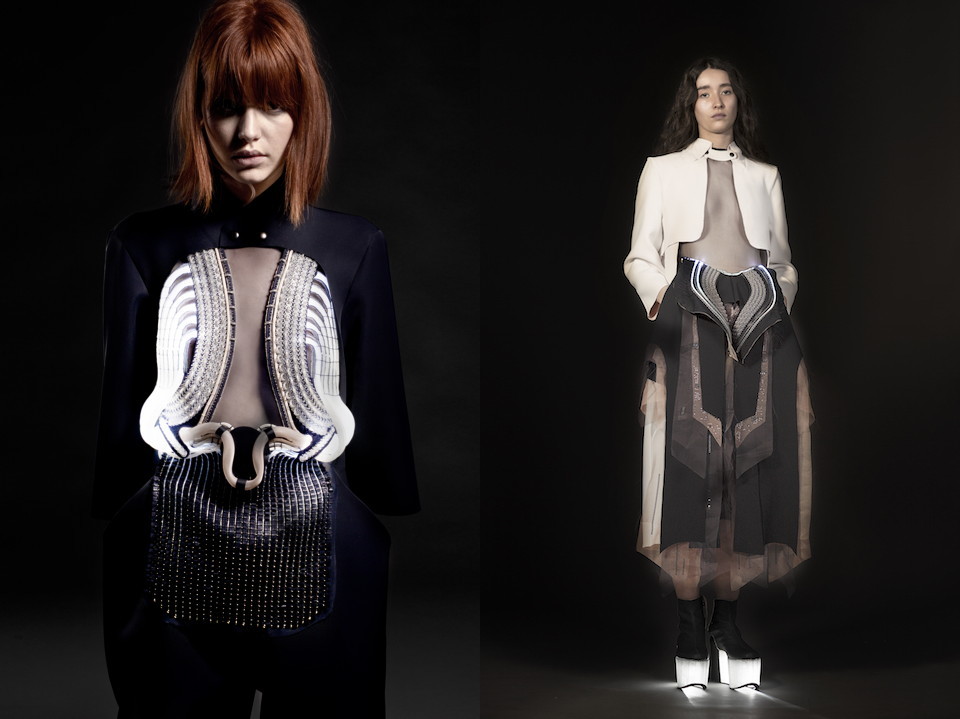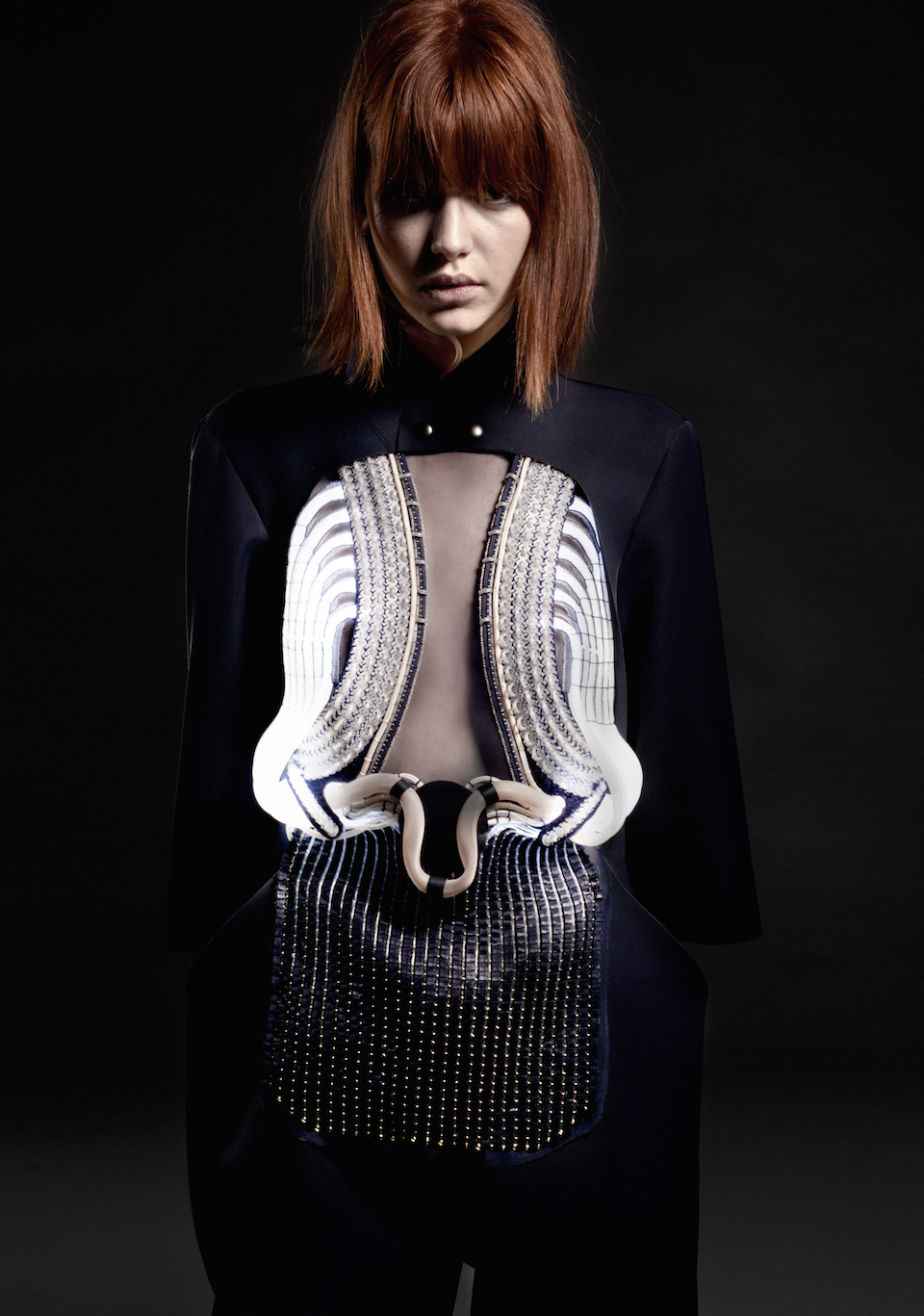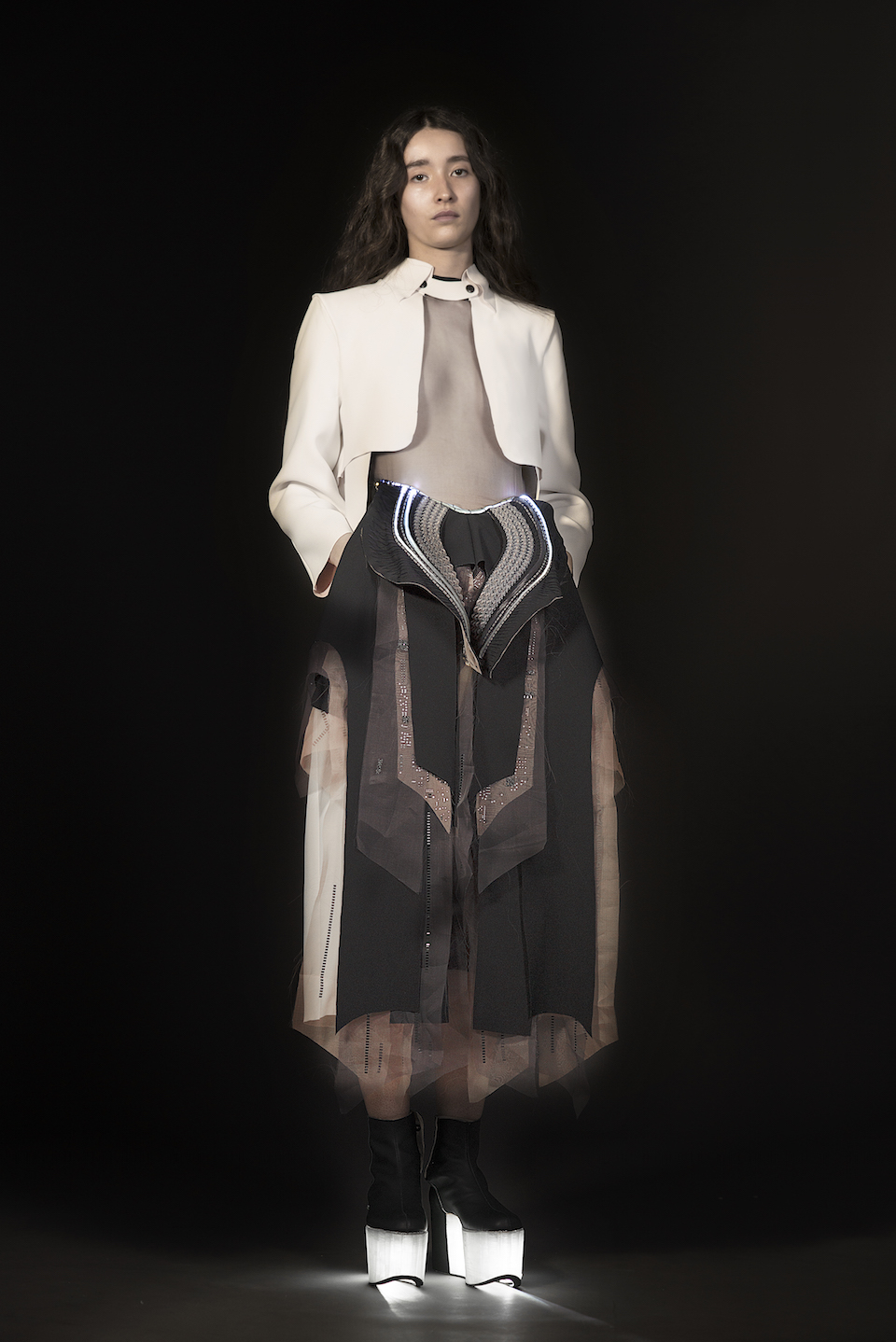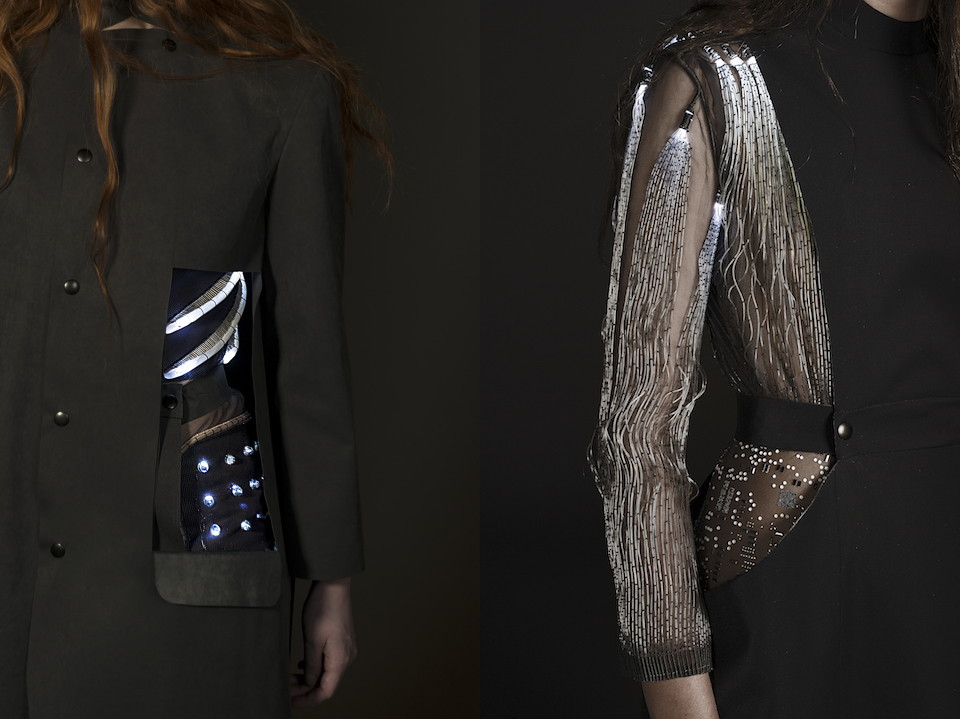 SENSITIVE SCIENCE
bioplastic fantastic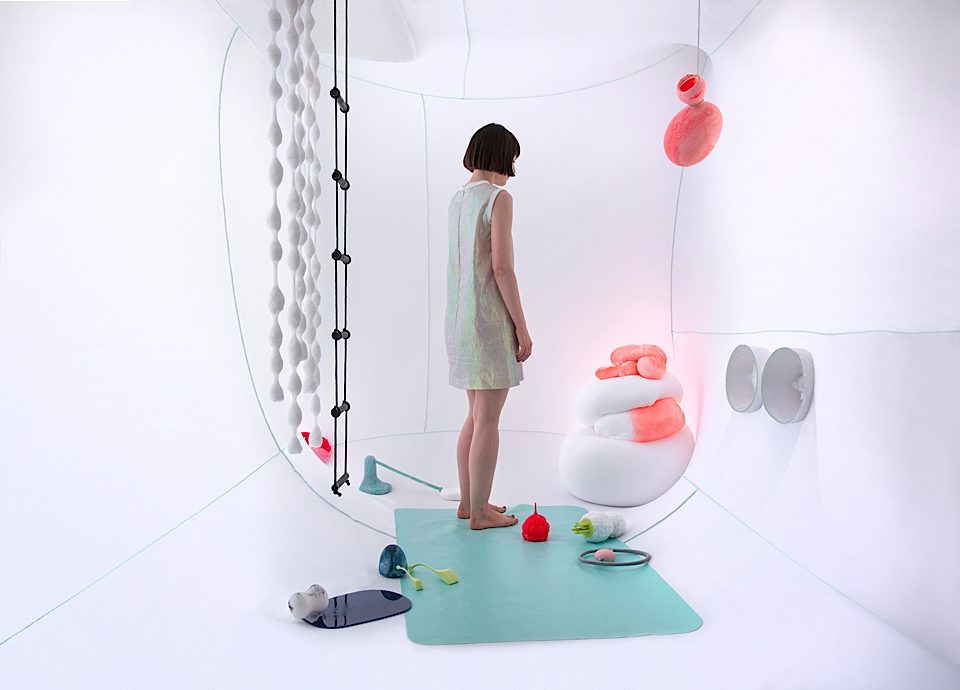 Bioplastic Fantastic is a speculative project by Johanna Schmeer, an artist acting on the border between art and design. Seven products presented by her complement the demand for nutrients and energy needed for humans to survive. Enzyme-enhanced bioplastics, powered by artificial photosynthesis, serve as the building blocks for the final product. Where did the idea of this futuristic project come from?

Everything started with research in three areas, the scientific background, analysis of how values and diverse circumstances in society shape technological products, and aesthetics / material study. Help from scientific advisors at Imperial College's Centre for Synthetic Biology and Innovation allowed a broad exploration of synthetic biology, material science, and artificial photosynthesis topics. The project included workshops under the "designing biology" slogan. Interactions with the product based on a fictional scenario became a contribution to the formation of the final product.

Johanna Schmeer used the potential that lies in interactive design, which is becoming ever closer to the body and biology. It is more than likely that, soon, biochemical processes will take place in and on our technological devices. The concept of something halfway between a product and an organism is based on recent scientific research results of "biological" cells made from polymers and enzymes. Bioplastic Fantastic explores interactions which might emerge from the mix of material innovations with biology and nanotechnology. The designer investigates the topic of future design of domestic products made from enzyme-enhanced bioplastics.

Seven "biological devices" are used to produce food and energy needed for human survival, thanks to artificial photosynthesis. Products that simply need to be exposed to light to produce water, vitamins, fibre, sugar, fat protein, and minerals through biological processes.
The idea of a self-sufficient lifestyle which the designer proposes is a kind of conceptual utopia designed in opposition to the technocratic Silicon Valley lifestyle model. The biologically influenced aesthetics of this project reinforces the core idea that they are not machine-like or lab-like. Artificial sensuality, powered by biology, is the answer for the loss of the natural sensuality of traditional food.

The project asks the big question, to provoke discussion of a future design that is reaching forward to the more sensual and human solutions, perversely by using the latest scientific breakthroughs in bio- and nanotechnology, that don't fulfil the ice-cold technocratic vision.

Agnieszka Polkowska

A designer by education and a trend watcher by calling. Head of Trends at Pop Up Grupa creative collective based in Warsaw. Author of No.1 Polish blog dedicated to emerging trends in fashion and design. Agnieszka Polkowska is also a doctoral student of Academy of Fine Arts in Gdańsk in the domain of experimental design and trends. This is also the field to which she dedicates her scientific work. Since she's both a recipient and designer, she feels that her experience makes her a right person to share reliable analyses with the world.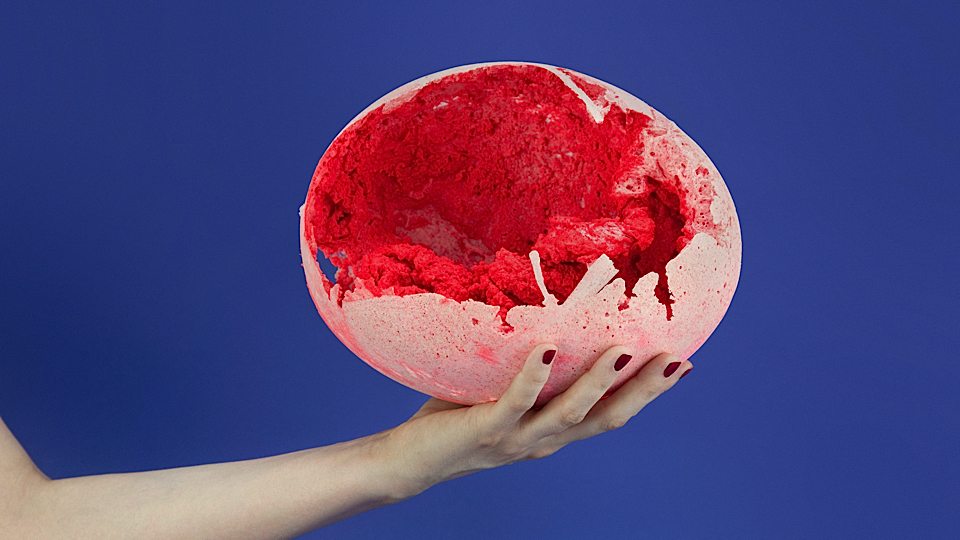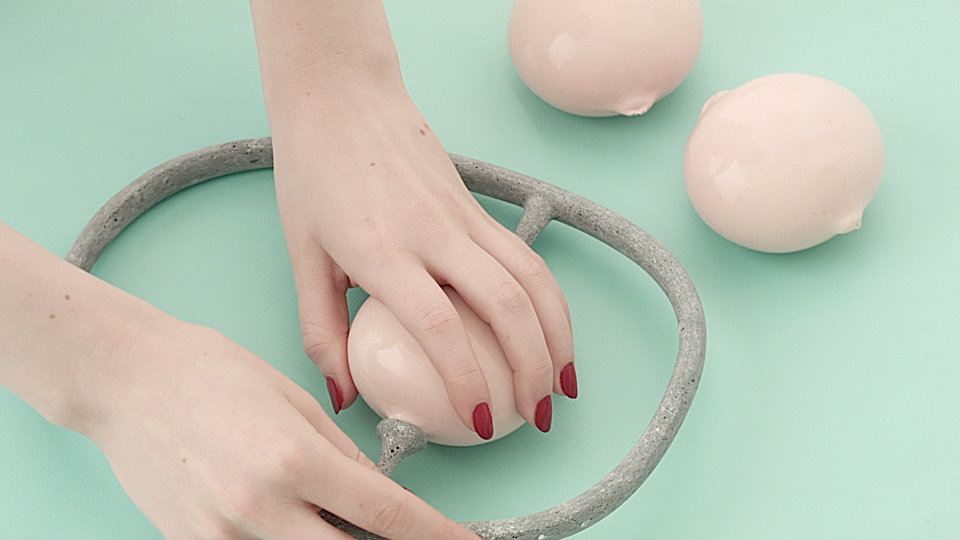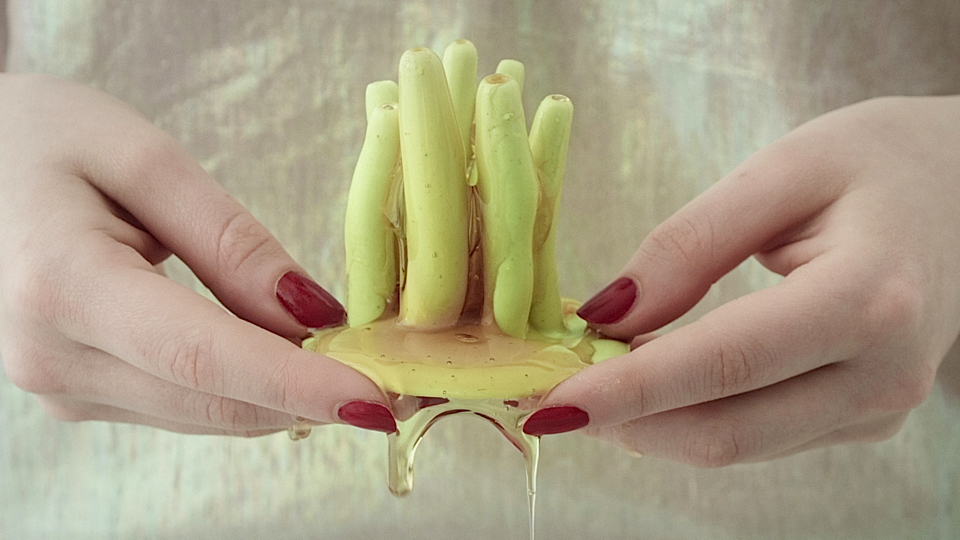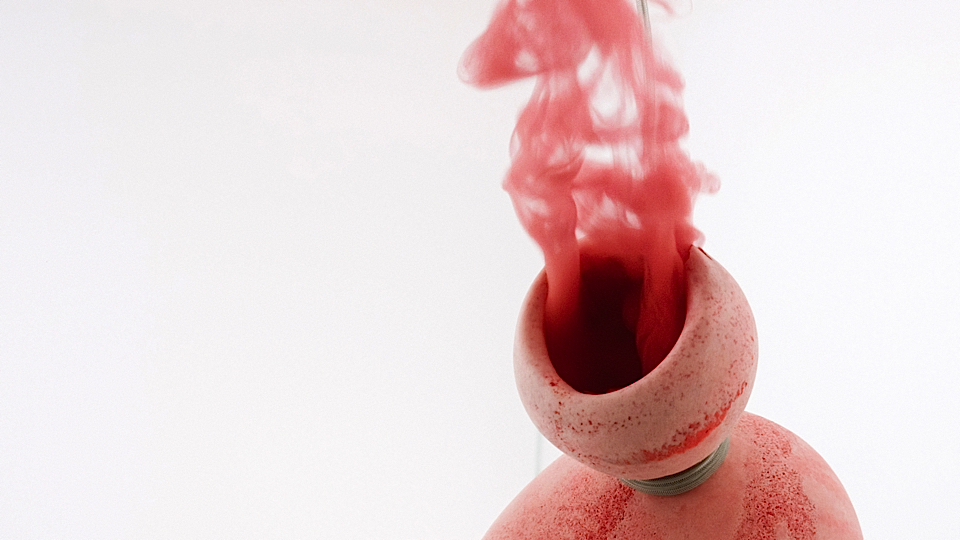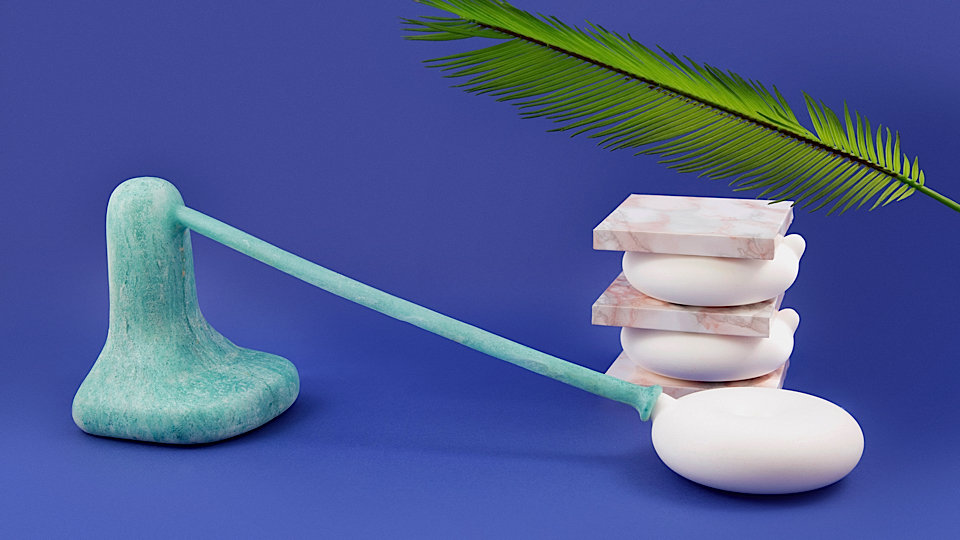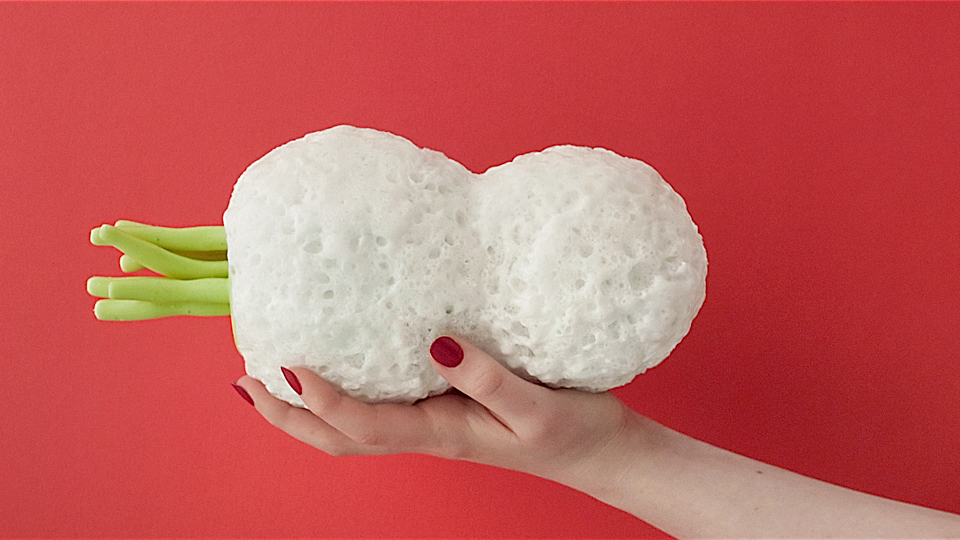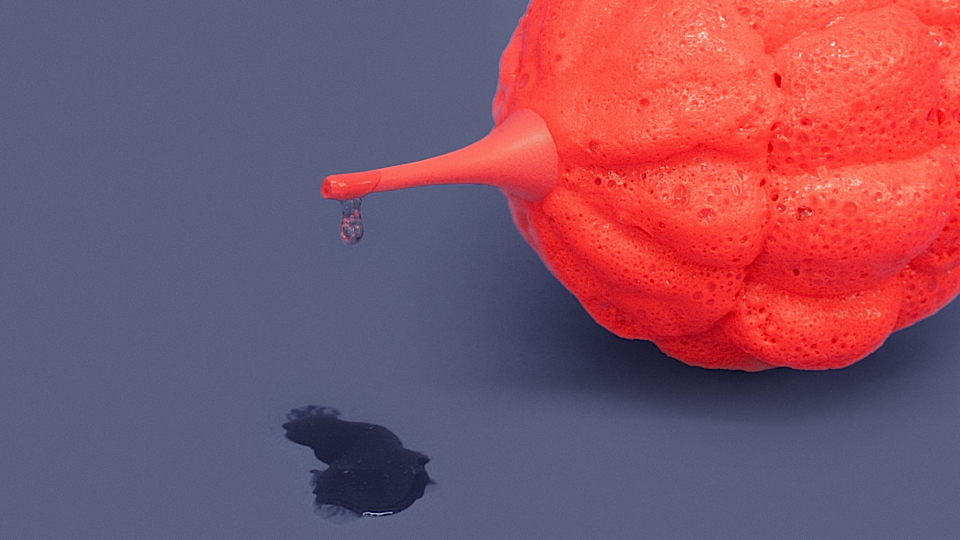 SENSITIVE SCIENCE
fungus inhale vaccination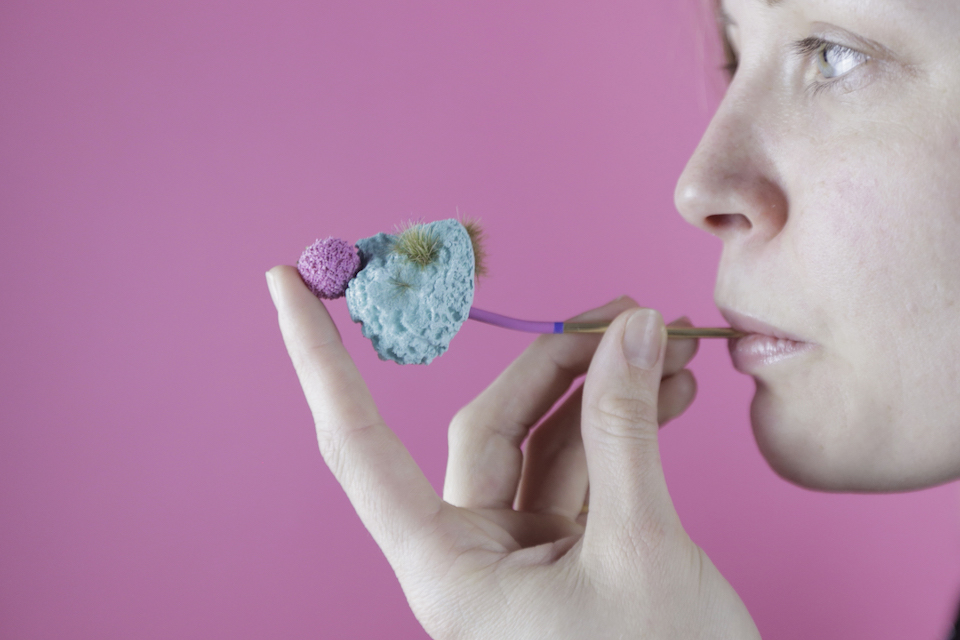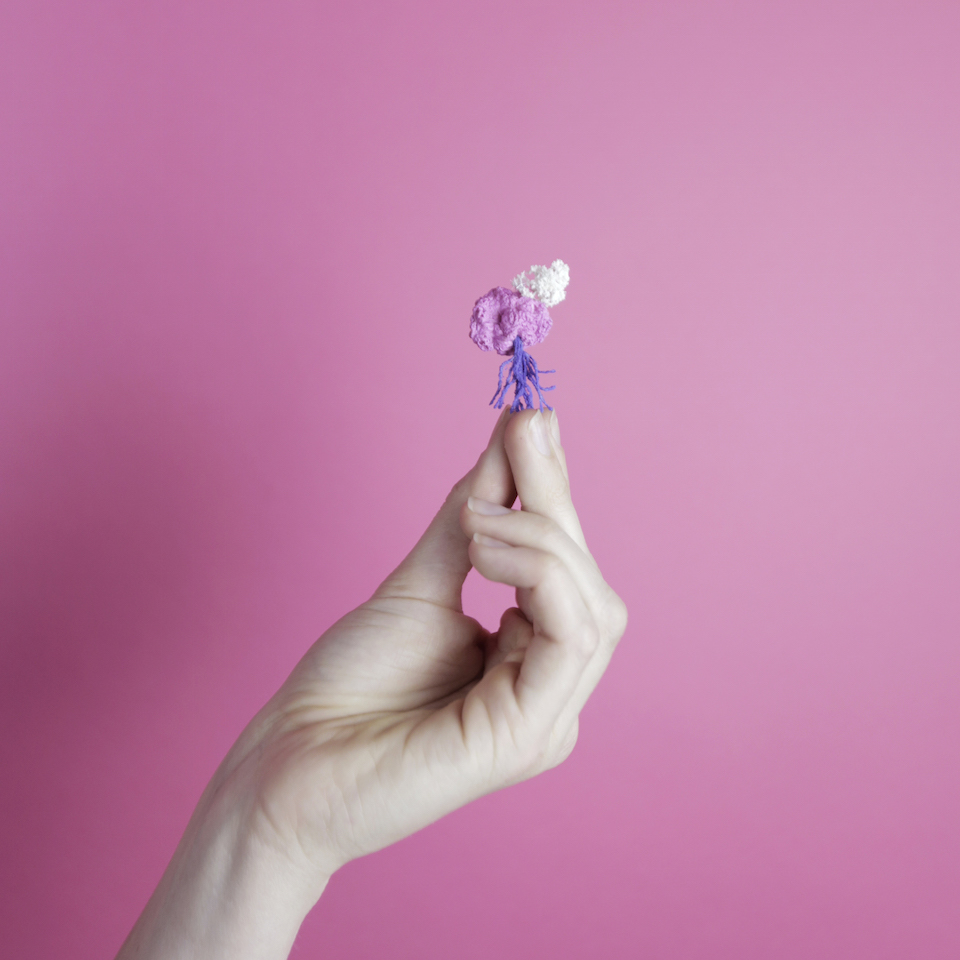 SENSITIVE SCIENCE
living things
SENSITIVE SCIENCE
abstract
SENSITIVE SCIENCE
a talk with mathieu lehanneur
SENSITIVE SCIENCE
poetic innovation
SENSITIVE SCIENCE
vocal vibrations
SENSITIVE SCIENCE
smart replicas
SENSITIVE SCIENCE
curves
SENSITIVE SCIENCE
blossom
SENSITIVE SCIENCE
catherine wales
SENSITIVE SCIENCE
mer ka ba
SENSITIVE SCIENCE
peta bush
SENSITIVE SCIENCE
smart highway
SENSITIVE SCIENCE
water graffiti
SENSITIVE SCIENCE
landscape abbreviated
SENSITIVE SCIENCE
hearing grass