STUDIO EDELKOORT
Interview with creative director Gert van de Keuken for ISAL magazine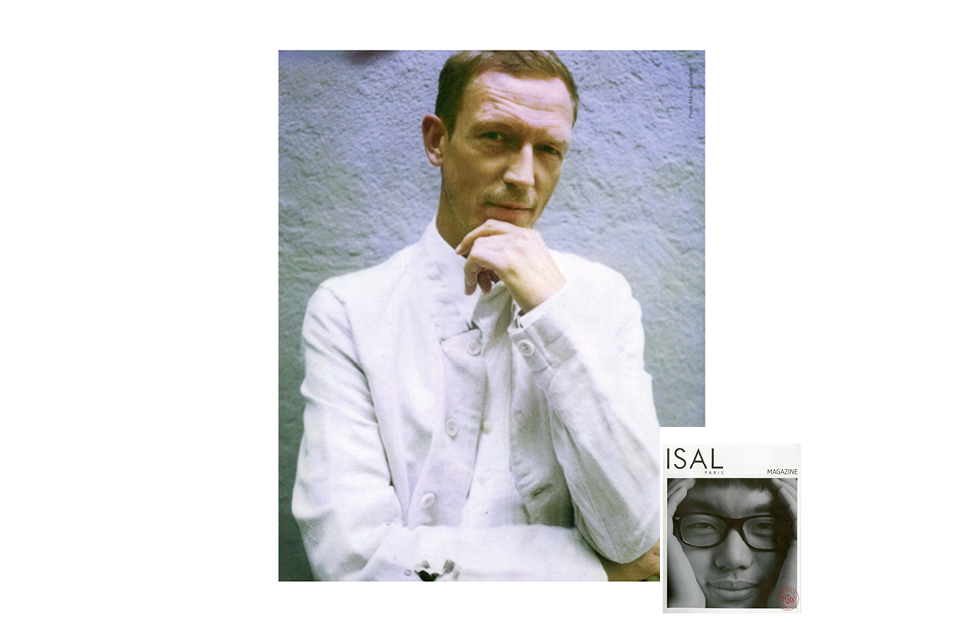 marie taillefer
Tendance humaniste
He likes people, to be with them and to listen to them. Passionate about dance and music, he could have also been a gardener or a cook. But in the end of the 1980s, as an art sutured, Gert van de Keuken was introduced to "the priestess of trends" , Li Edelkoort; an encounter that changed his professional life ever since…

In a jacket of a color between the Klein blue and the overall blue, a pair of trousers in camel color rolled up to his ankle and a pair of sandals, with an economical gesture and well-chosen words, the creative director of the hottest trend studio on the planet tell me that he works "by feeling". With his team, they meet very specific demands of their eclectic clients from automobile, mobile phone, design and fashion business…

We are the "archeologist of the future," he says to me. Much more than "the trend", we have to find answers to materials, colors and consumer behavior.

This "instinctive" method, with a Dutch way of strictness though, won't exist without the "experience", warns Gert. The "generosity" and "honesty" go their studies came from the personality of Li and made them succeed.

"we only allow ourselves to say things that we truly feel; we are not adapting ourselves or giving expected answers to our clients. There is no compromise". says the right-hand man of the visionary.
With the consumers getting more and more involved and informed, industries started to look for "meaning" after 2000; there comes the need to "iconize" things.

The culture should be in the center of all these concerns, because "culture sells well, and it only takes you to look at the success of the museums (…); Culture has the freedom of expression and brings progress in innovation"., announces Gert.

To educate, develop curiosity and experiences, this humanist ideal can serve to a creative energy that will eventually push the exchange between culture and industry.

The need of design, to "put a mark on things" and to put it on a pedestal, is a kind of fetishism. This idea was developed in "Fetishism in Fashion", an exhibition directed by Lidewij Edelkoort as MoBA (Arnhem, Holland). "More than just a trend, it's a big topic that will be going on for 10 or 20 years", stressed Gert.

We imagine that this will lead to a new way of producing and "marketing" things. The "it-object" will become an idol to which we will turn all our desires.

In a society where everything is diluted, and where the younger generations have the adaptability and a propensity to work on multiple things at the same time, we sense a real need to express ourselves. We are no longer fighting for wearing a jean or having a piercing, but for higher intensity. All these are quite positive, he says.
STUDIO EDELKOORT
"Etats d'Esprit" by Tollens

Following a collaboration to renew their colour chart, Tollens/Materis asked Studio Edelkoort to elaborate further with a high-end colour collection: 'Etats d'Esprit'.
In close synergy with the Tollens team, Studio Edelkoort created the 'Etats d'Esprit' global concept and colour ranges, taking into account Tollens' identity as well as consumers' needs and interior trends.
Studio Edelkoort also worked on naming the collection and contributed to the communication strategy for the 'Etats d'Esprit catalogue for press and interior professionals.
photos by Grégoire Gardette




STUDIO EDELKOORT
our values
Studio Edelkoort is a creative and operational consulting office working on an international level. Based on trend forecasting, brand's legacy and market study, Studio Edelkoort develops for its clients made-to-measure services where thought and analysis nourish intuition and creation:
• Elaboration and advise on brand & product identity and development strategy
• State of affairs, brainstorming and prospectives
• Trend studies and concepts' development
• Colour and fabric inspiration
• New language
• Graphics, packaging & communication
Studio Edelkoort's field of action serves both global and local customers. Our forecasting ranges from short term (6 months to 1 year) to long term (3 to 5 years and beyond).
Studio Edelkoort's know-how and services are acknowledged in diverse industries: textile and fashion (menswear & womenswear, sportswear, denim and lingerie), accessories (shoes, watches, eyewear, jewelry, leather goods), design and home (paint colours, kitchen goods, bath and tiles, construction materials, furniture), paper (stationary and packaging), automotive (concept vehicles and interiors), beauty (cosmetics, make up, perfume, spa and skin care), food & beverage (product development, packaging, flavouring, advertising)...
Gert van de Keuken and Sophie Lattes, heads of the creative department in co-ordination with Sophie Carlier, collaborate with a highly qualified team of resourceful individuals: designers, graphic developers, artists, stylists and consultants.