DESIGN COLLECTION
överallt furniture collection; ikea x african designers
Courtesy of IKEA

There are only a few places on earth where design is so different from each other than Afrika and Sweden. Afrika is well known for its bright, cheerful colors, natural raw materials, and beautiful patterns, where Sweden is known for its more minimalistic, solid designs and their earth tones.

Now, these two worlds come together in the Överallt collection by IKEA, which launched last week at the Design Indaba conference in Cape Town. The collection features products by designers from five African countries. In the Överallt collection, stories can be found around African social events like dining, sustainability, identity and outside/inside living spaces.

Architect and designer Issa Diabaté from the Ivory Coast designed a simple chair that reflects the African approach to living outdoors and indoors. South African textile designer Laduma Ngxokolo contributed rugs featuring the geometric pattern that adorn his celebrated knitwear. Designers Renee Rossouw and Sindiso Khumalo created textiles based on the African environment. Senegalese fashion designer Selly Raby Kane designed a basket, made from textile fiber designed to look like braided hair and Kenyan design office Studio Propolis designed a range of products for flexible cooking and dinging, in the spirit of utility and flexibility.

"This is how design makes the world smaller and brings people from

different cultures closer together"

Courtesy of IKEA

Courtesy of IKEA
DESIGN COLLECTION
at kazerne
For the second time in a row, Lidewij Edelkoort exhibited her design collection to the public. Over the duration of two years, since the last time the works where on show in the Institut Néerlandais in Paris in 2013, the collection evolved and expanded significantly. The exhibition has been realised in collaboration with Kazerne Eindhoven in the Netherlands who hosted Edelkoort's collection from June 2015 until February 2016.
Dutch design from the perspective of autonomous design.
Edelkoort was one of the first to recognise the phenomenon of autonomous design in the mid-1990s. She then picked up the trend, drew attention to it and made sure that it became widely recognised. She also made the artists she stimulated and inspired aware of the power of this form of design, challenging them, in particular, to incorporate more of their own individual personalities into their design work: a set of individual characteristics which would speak through their work, express their feelings, and enabling public and users alike to value or understand their work without the need to be experts or connoisseurs, simply because they could feel it. Examples of this are the 'Smoke Collection' from Maarten Baas, 'Big White Pot and Red White Vase' from Hella Jongerius and the 'Knotted Chair' by Marcel Wanders. It was Lidewij Edelkoort who took Dutch design as autonomous art and helped transform it into an internationally recognised concept. And throughout this period of time she assembled her own collection of design, art and objects, creating a portrait and timeline of design at the turn of the century. An open-ended collection.
Lidewij Edelkoort: 'Composed of work from the most important designers working around the turn of the century, many of them with links to the Netherlands, the collection shows how attitudes to design have changed and are coming of age. The evolution of autonomous design is a focal point. The works of a number of local heroes is on display, alongside world-renowned talents, celebrating the creative spirit of the city of Eindhoven, and representing a feather in the cap of education.'

'I am honoured to be the first guest curator to present an exhibition at Kazerne; I find it particularly satisfying to be able to show my own art and design collection here in Eindhoven, where I spent seventeen years working in education and presenting exhibitions. This exhibition demonstrates what has been achieved here in Eindhoven, and how these achievements have then gone on to influence the world. The collection also shows really well what great creative spirits are capable of, and I hope it will inspire new generations of creatives to dare to go further, to seek genuine renewal and to make the necessary leaps forward.'
The Edelkoort Collection is ready to travel to you.

To receive further information contact Willem Schenk at willem@edelkoort.com

www.kazerne.com
DESIGN COLLECTION
new acquisitions
Thanks to a generous donation by Rodirgo Almeida, The Edelkoort Design Collection is  pleased to acquire the Exù Asanà chair.
Exú is an African divinity, its name meaning "sphere" and representing the movement of life's energies.
There are several types of Exús and in this case, the Exú of Oxum (goddess of beauty) embodies both the positive and negative side of beauty. Infused with soul, this Brazilian object is woven and strapped together, embracing a collage of materials so synonymous with Almeida's work.
The Edelkoort Design Collection is proud to welcome its first work by Brynjar Sigurdarson. This totem reflects Brynjar's renowned use of mixed materials and a sensibility that harks back to his native Iceland. Stick (2012) previews a future when design objects will acquire a soul of their own.
"Sticks have no defined function. Sticks are part of our childhood and the element of play is always present around them. Sticks also have a strong reference to tools and weapons. They are often used as an extension to our bodies as well as a support, like the walking stick. At SPARK, we use a stick to turn the lights in the ceiling on and off, and also to reach objects that are placed high on the gallery´s walls…"Sigríður Sigurjónsdóttir
biano.is
DESIGN COLLECTION
expression in the zeitgeist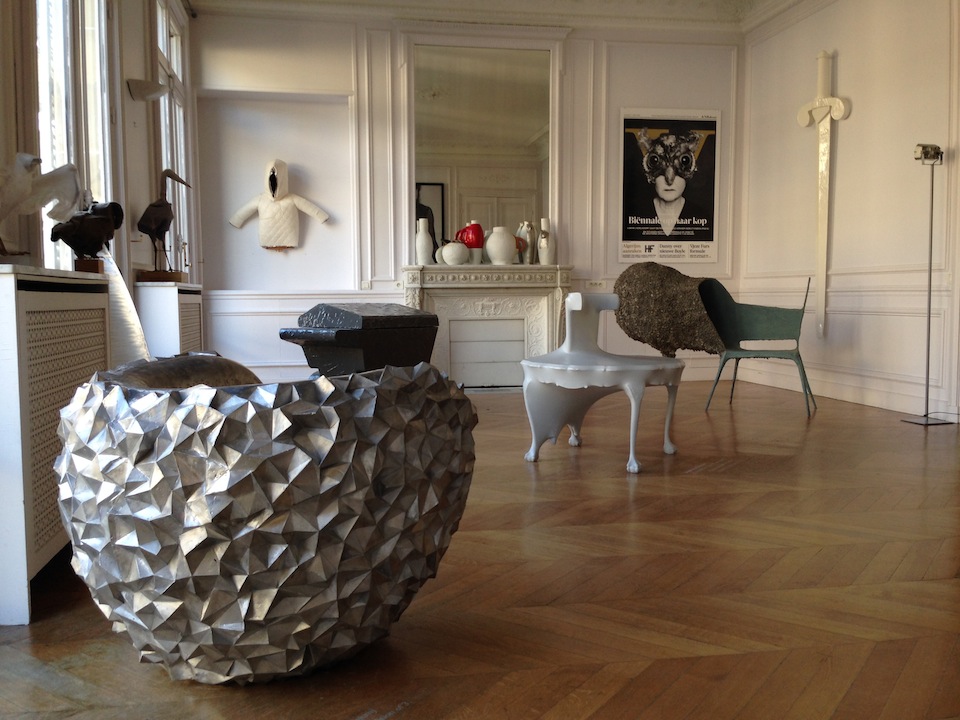 If expression is in the zeitgeist of design, with a period of eccentric design knocking on our doorstep, the autonomous design market has exploded over the last decade to define a new notion in form: that of a purely aesthetic function. Though design has always incorporated the importance of beauty in its being, the post-Bauhaus world we lived in still placed function at the forefront and encouraged us to feel a pleasurable guilt when considering a piece of design furniture which had much more visual punch and a minimum sense of utility.
From Miami to Basel to Tokyo, the world is obsessed with design and the discipline is gaining importance every day. The auction houses of the world make the prices of autonomous pieces escalate and the one-of-a-kind or vintage industrial is the new object of desire for collectors. Design takes its rightful place next to art and is fast becoming the discipline of this century.
With this growing enthusiasm for form, people will therefore conceive their houses and studios in an artistic way with connoisseur connotations. Their home becomes an atelier, a gallery or even a private archive. The consumer will become the curator of his own life, creating a museum house and living a cultural lifestyle.
Lidewij Edelkoort
THE EDELKOORT DESIGN COLLECTION
remains on view at the Institut Néerlandais in Paris until October 27, 2013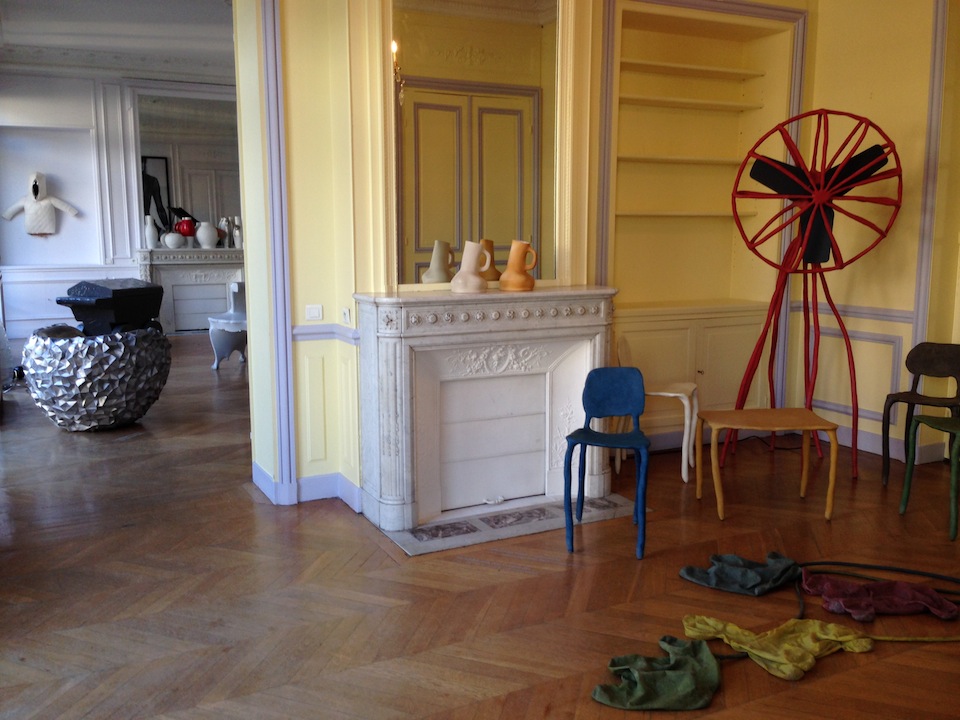 DESIGN COLLECTION
the edelkoort design collection
'7 Pots / 3 Centuries / 2 Materials' (1997) by Hella Jongerius - photo: Thomas Straub
In collaboration with the Institut Néerlandais and in conjunction with Paris Design Week 2013, design guru Lidewij Edelkoort will exhibit the private collection she has been curating over the past seventeen years. This will be the first time her unique collection has been exhibited publically, offering an intriguing look at the first decade of design in the 21st century.
Edelkoort has collected design that has sparked important trends, as a new generation came to terms with technology within a post-millennium context, often exploring material values and craft. The installation will present unique pieces by leading contemporary designers; including autonomous works by Maarten Baas (Netherlands), Fernando & Humberto Campana (Brazil), Nacho Carbonell (Spain), Studio Job (Belgium), Julia Lohmann (Germany) and Bertjan Pot (Netherlands).
Exhibited in the Institut Néerlandais' private salons, THE EDELKOORT DESIGN COLLECTION will feature works never before displayed in France, including ''Pump It Up', the graduate project by Nacho Carbonell, a natural pigment edition of 'Clay' furniture by Maarten Baas, the first hand-blown 'Glassworks' by Dick van Hoff (Netherlands), and '7 Pots / 3 Centuries / 2 Materials', the seminal craft-design masterpiece by Hella Jongerius (Netherlands).  Also on display will be a charred baby grand piano, the first in a series by Maarten Baas for his famous 'Smoke' collection.
* A catalogue will be published on the occasion of the exhibition, including colour photography and several essays about contemporary design written by Lidewij Edelkoort. A book signing will take place on September 10 at 20:00, where guests may have their copy signed by Lidewij Edelkoort, along with other fashion and design publications by the author.
* Lidewij Edelkoort will present the 2015 interior & design trends in a seminar at 14:00 on Friday, September 13 (French). To purchase tickets and receive further information about Trend Union, please contact  corinne@trendunion.com
September 6 - October 27, 2013
Download the English press release