the algae dome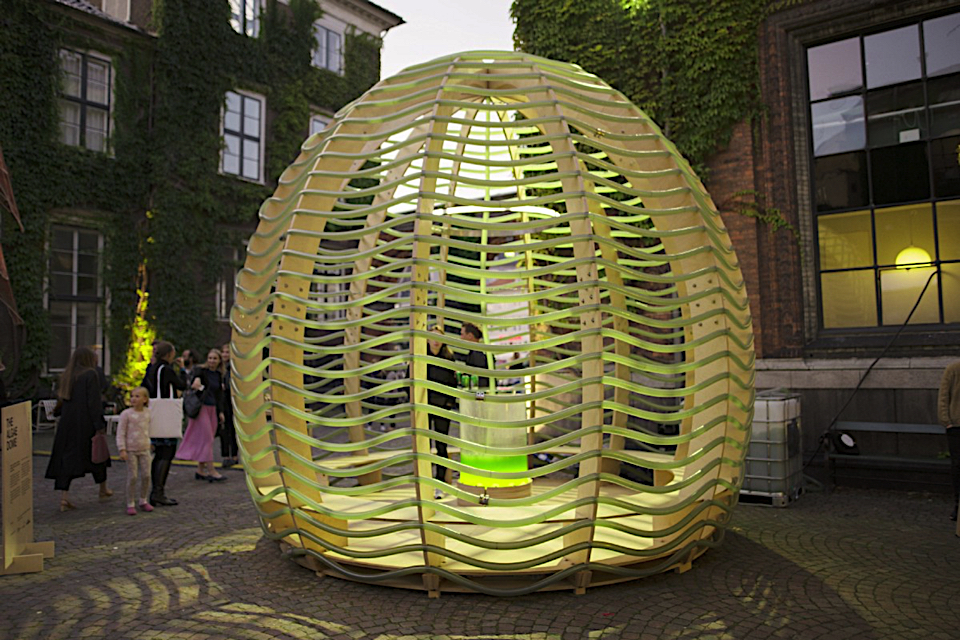 SPACE10, a highly active and progressive future-living laboratory and exhibition space located in the heart of Copenhagen, investigate innovative solutions to the future challenges of urban living. Through their work, they explore the sociological impact of future issues, alongside the artistic practice involved in resolving them, by creating sustainable systems that work on a global scale.
SPACE10 have previously been recognised by Trend Tablet for The Growroom – a forward thinking green multi-tiered spherical garden designed to sustainably grow enough food for an entire neighborhood. This concept and idea provided the backdrop for their latest and most innovative idea, The Algae Dome.
The Algae Dome is defined as  as a "food-producing architecture pavilion" – a closed system containing a species of micro-algae, which runs through the 320 meters of tubing entwined around the pavilion. This bioreactor is at the heart of the of the Algae Dome's pioneering design, which offers a sophisticated yet simple formula to combat malnutrition, greenhouse gas pollution, and end deforestation. In order  to further explore the potential that this bioreactor model has in contributing to a sustainable food and agricultural industry sustainability, for their latest project SPACE10 have teamed up with bioengineer Keenan Pinto, and three architects, Aleksander Wadas, Rafal Wroblewski, and Anna Stempniewicz. The four-meter-high, open structure of The Algae Dome is capable of growing what could be the super-crop of the future, and was exhibited during the CHART Art Fair in Copenhagen. The closed system enables high productivity of micro-algae, microscopic algae that are typically found in freshwater and marine systems. Over the couse of a three day display at CHART, The Algae Dome was able to produce more than 450 litres of algae, illuminating it's exciting potential.
According to SPACE10, the benefits of the so-called superfood are manifold. Not only is algae rich in nutrients, containing twice as much protein as meat- it is also packed with vitamins, minerals and essential amino acids, and it contains 50 times more iron than spinach. In addition, it can also reduce carbon dioxide and other greenhouse gases in the atmosphere, improving air quality during the process. Moreover, algae is the fastest growing plant organism, and can grow just about anywhere – even in polluted water.
The team behind the Algae Dome propose that in the future, different species of micro-algae could be harvested to supply the demand of our ever-growing population, such as a nutrient-rich replacement for soy protein in animal feed, in the development of biofuels, as well as as a method of treating industrial wastewater.
In creating the Algae Dome, SPACE10 hopes to provide a prototype for the development of food-producing architecture, and to trigger new conversation: how we can grow large amounts of nutritious food within our cities, while reducing our impact on the planet. Hopefully it is only a matter of time before they can follow the success of The Growroom's model, and release the pavilion as an open source, in order for us to see it's potential in our reality.
Magnus Høst
Photos by Niklas Adrian 

Magnus Høst is a freelance creative consultant and editor based in Copenhagen, Denmark. Magnus helps brands connect (or re-connect) with consumers through visual storytelling. His consultancy and multidisciplinary approach is based on trend forecasting, an understanding of contemporary culture and lifestyle.