espanyolet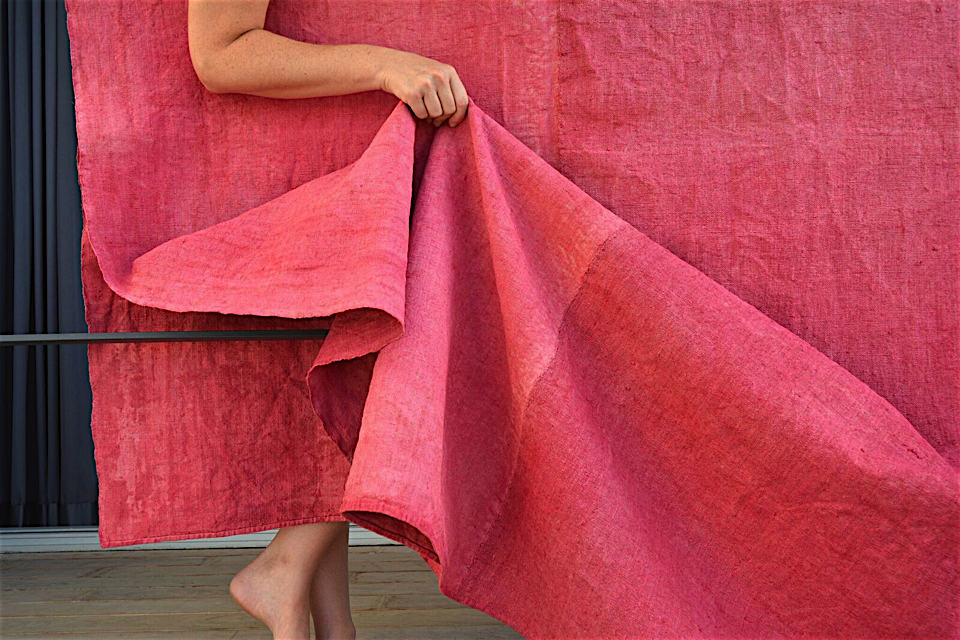 During a sabbatical year in 2014, Melissa Rosenbauer & Thomas Bossert, who met while working in New York City, spent time in Bali where they learned about textile dying and printing techniques, and "rediscovered the joys of working with our hands," as their website states. Full of inspiration from their travels and encounters, they decided to settle in Mallorca in 2015 to launch their slow batch, hand-dyed textile and handmade ceramics business. When it came to deciding on a name for the business, their first instinct was to call it Cloth and Clay after the two materials that drive their passion and creativity. But as they looked out at the view around them, with the fading Majorcan light reflecting off of the glowing terracotta buildings, lush vegetation and blue sky, it seemed fitting to call it espanoylet, after their new neighborhood which was providing so much of their color palette inspiration. Goldenrod, almond blossom pink, sea wash greens and deep charcoals, all pay homage to the beauty and richness of the Majorcan landscape

For the range of bed covers, pillows, and blankets, espanoylet sources only quality vintage linen fabrics from across Europe, such as Spain, France, and Romania, each of which has its own weight, weave pattern, texture, and natural color, so the dyes and process are adapted to fit each style. For example, Melissa says, "the vintage French linen is very fine and with an "optic white" color so it lends itself to our lighter, finer & more delicate colors like almond blossom pink. On the other hand, some of the vintage Spanish linens are highly textured, rustic, and irregular so we can play a bit more with stronger color." Once the hue is determined, the dye is mixed with algae giving it a gel-like effect that allows them to paint directly onto the fabric with brushes rather then dipping, creating their signature painterly style that offers more interesting gradations, tones, and textures. One favorite color palette of the designers is Marsala.
Originally they were looking to capture that vibrant pink of bougainvillea which surrounds not only their studio, but much of Mallorca. What happened was that during the curing process which is done outside, the sun faded the color, creating a more eroded, muted effect that they ended up loving even more because it worked better with the fabrics. From here they began adding other colors to the batch like chocolate brown, grey or yellow, creating a range of pinks from a deep coral pink to light peach, and which has become one of their most popular colors.

The ceramics were added soon after the fabrics. Thomas hand forms each of the unique boards which are perfect for serving cheese and ham for an aperitif, as well as just looking gorgeous while sitting on the the table. There are two lines in the ceramic collection so far: Agua which borrows from the vintage lined texture of the textile line and is painted with turquoises, blues, and greens, and the Tierra line, which is black-volcanic ash-like clay that evokes the rocky soil of the island.

Blaire Dessent

Blaire Dessent is an art, design and lifestyle writer and the founder of The Vitrine, a project based business with a focus on producing pop up shops, events and editions with contemporary artists and designers. www.blairedessent.com and www.thevitrine.com.