the growroom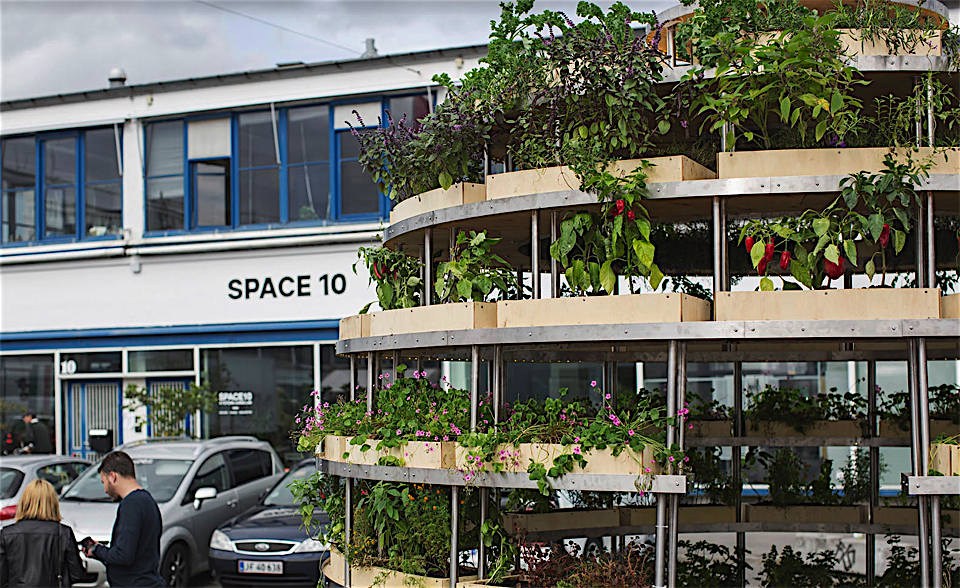 Around the world, food is now being cultivated in dense urban areas. Urban gardening and farms are transforming inner city spaces such as rooftops, streetscapes, and building skins into generative ecologies that support and cultivate sustainability and wellbeing for people and pollinators alike.
An excellent example of such as initiative is SPACE10, a future-living lab and exhibition space in the heart of Copenhagen. Launched in late November 2015 in close collaboration with IKEA, SPACE10 investigates the future of urban living by detecting major challenges that will impact people on a global scale, exploring possible solutions. It is a hub for visionary designers, artists, technologists, makers and creatives from around the world, working to create opportunities for a better and more sustainable way of living in the future.
In the Summer of 2016, SPACE10 teamed up with the two Danish architects Sine Lindholm and Mads-Ulrik Husum to create The Growroom – a multi-tiered spherical garden designed to sustainably grow enough food for an entire neighborhood. This green sphere empowers people to grow their own food much more locally. Filled with herbs, veggies, and edible plants from floor to ceiling, The Growroom is an artistic exploration of the incredible potential of urban farming. To grow food locally reduces both food miles and pressure on the environment, while having to potential to educate children about where food comes from. The Growroom was first exhibited at the CHART ART FAIR and later at Vice's Munchies Festival in Copenhagen's meatpacking district during late Summer 2016. People from Taipei to Helsinki expressed interest in the original version of The Growroom and requested to either buy or exhibit it.
Based on the high demand, SPACE10 has now decided to release open source plans, as the creatives behind this project did not want to create a new way of cultivating local food simply to manufacture and ship the green pod across entire oceans.
Digital fabrication has made state-of-the-art factory tools accessible to the general public. A new generation of technologies such as 3D additive, subtractive manufacturing and laser cutting is available to the public in fablabs and makerspaces in most major cities. This means that most people, in theory, could produce almost anything themselves. In the future, local and on-demand, customised production could become the norm, and with The Growroom as an open source and produced from only one material, it is accessible and affordable for most communities. The 17-step process only requires plywood, rubber hammers, metal screws and some patience.
Magnus Høst
SPACE 10

Magnus Høst is a freelance creative consultant and editor based in Copenhagen, Denmark. Magnus helps brands connect (or re-connect) with consumers through visual storytelling. His consultancy and multidisciplinary approach is based on trend forecasting, an understanding of contemporary culture and lifestyle.