weaving connections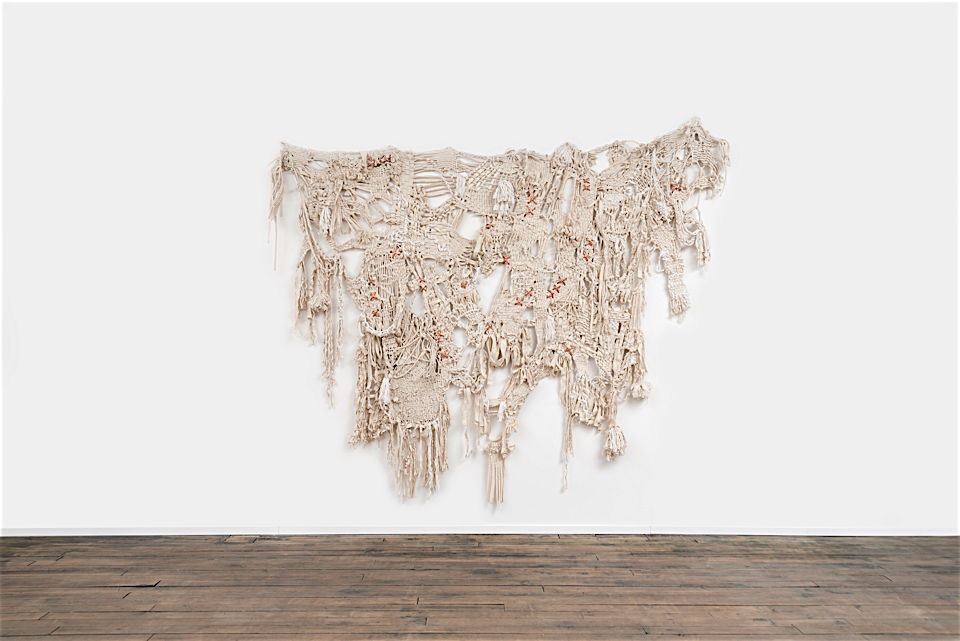 Tanya Aguiñiga is a Los Angeles based artist, designer and craftswoman. For more than a decade now Tanya has helped lead the way in a flourishing movement of using fiber and weaving in art and design. She is a multi-talented artist who is pushing the boundaries of what art and materials can be. She regularly creates large scale, woven installations for museum and gallery exhibitions as well as for interior design projects, and she continues to produce a line of woven accessories which are sold around the country.

At the core of her practice however, is a consistent connection to community, to her roots, as well as with those around her. As she says in her biography, "she investigates how craft disciplines connect our lives through culture, tradition, material, function and community."

Whether a public performance enacted to bring attention to the unfair practices in the fashion and textile industries in Los Angeles, a private commission for an upscale hotel, or an installation for a museum exhibition, her work conveys a sense of warmth, strength, color, and connection The twisted, sculpted, structural threads create an open network, a sense of give and take between viewer and artist. Her use of felt, a laborious, time consuming technique involving hours of wetting, patting, and shaping, is also about the importance of process, of connecting to materials and to the object.

Tanya has worked with artisans in Chiapas Mexico to help them develop their craft to create better economic opportunities, and in a series of Border Art Workshops from the early 2000s, she worked with underprivileged children and families living near the San Diego-Tijuana border, where she herself grew up.
Her most recent project is Ambos (Art Made between Opposite Sides), created to "re-contextualize borders and generate a localized hub for international collaboration." Throughout the month of August 2016, Ambos took over an empty storefront at the border between Tijuana and San Diego and held creative workshops, artist interventions, collaborative events, and performances meant to draw attention to the sense of connectedness along a border, as well as honor the 30-year old artisan market which is under threat of closure. One event, titled Border Quipu/Quipu Fronterizo, took as its inspiration the ancient Andean/pre-Colombian communication and organizational system called the quipu that was made through weaving and knotting. The Border Quipu engaged the daily commuters who make their way across the border by asking them to take two strands of string and tie them in a knot. These were then tied to others and so on to create a large-scale border wall-hanging Quipu. Ambos recently presented some of the artwork made during August at the Mexican Consulate in Los Angeles.

Not bound by conventional categories of practice, but open to explore the possibilities of many, Aguiñiga seems to move fluidly between each project as if they are all seamlessly interconnected, establishing an artistic practice that continues to innovate.

Blaire Dessent

Blaire Dessent is an art, design and lifestyle writer and the founder of The Vitrine, a project based business with a focus on producing pop up shops, events and editions with contemporary artists and designers. www.blairedessent.com and www.thevitrine.com