bari ziperstein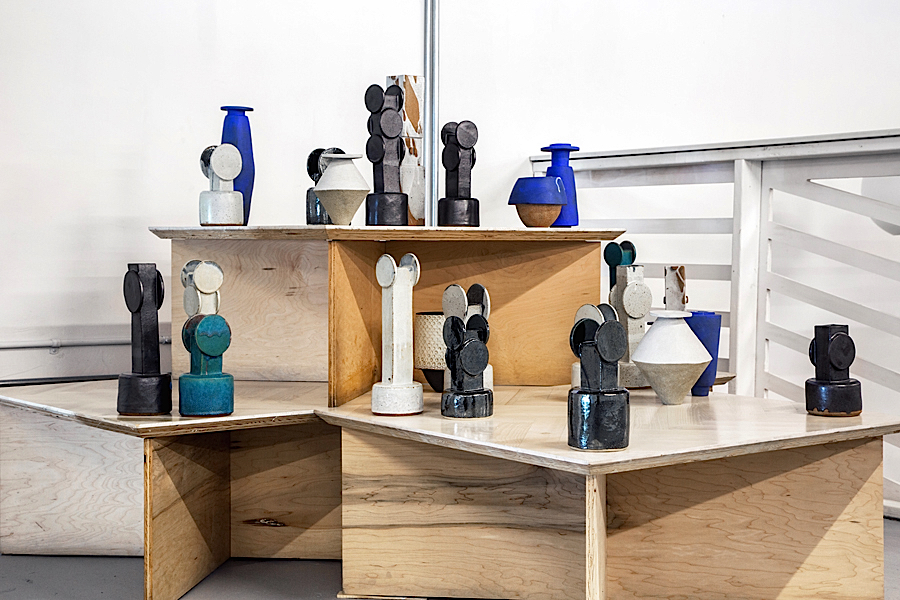 Bari Ziperstein is part of a vibrant and growing community of Los Angeles makers; Multi-talented and multidisciplinary artists, designers, craftspeople, architects and overall creatives who are experimenting and challenging the definition of what their individual fields can be. Ziperstein's primary medium is clay, but she moves fluidly moves between making art, design and objects. She studied fine art at Cal Arts in Los Angeles, and regularly exhibits her work in galleries in public art projects. About five years ago she began to focus on her line of design objects called BZIPPY, which features her signature style of building modular, brutalist style vases and lamps that are as sculptural as they are functional, as well as a line of architectural jewelry and accessories. In the same 6-months Bari might have an exhibition in a gallery, participated in a design project, and had a booth in the Echo Park craft fair, yet all of these pieces fit together under one cohesive artistic and creative practice. Here Bari discusses her connection to LA, growing up scouting flea markets with parents who collected vintage objects, her formative education at Cal Arts, and her interest in suburban house fences.
There is a growing movement of creative people across Los Angeles who are establishing successful careers, a sense of community, and having fun across multiple fields: visual art, architecture, design, fashion, craft. How has living and working in Los Angeles affected your work?
I've been living in LA since 2002, while attending Cal Arts for grad school. Los Angeles has always been a place for me to try to understand and I am surrounded by inspiration daily from my former commute to the studio across the city: it's politics and diverse neighborhoods divided by class, its shifting architecture, the hand painted signs of local business, to the extreme desert landscape.
When you were at Cal Arts and studying fine art, did you have an interest already in making jewelry or housewares or did that develop later through other interests and experiences?
My history with objects has always been there – but making specific design products for a design audience started to run parallel with my fine art practice about 5 years ago. It seemed like a natural progression where my fine art was teetering between those worlds for so long.
While at Cal Arts, I was deeply invested in large-scale site-specific sculpture and conceptual art. But running parallel was my childhood history of being raised by a father who was an obsessive collector and a mother who loves to shop. My father, Robert (Zippy) collected ceramic cookie jars, boomerang 1960s lamps, and always dressed head to toe in vintage – usually adorned with a fun bakelite pin. Traveling the country and visiting flea markets with my parents is where I first learned about aesthetics and ceramics.
Has experimentation always been a part of your approach?
Yes, it has – I can get bored so easily and it's a challenge to always stretch my engineering and technical skills (and I) often fail many many times before achieving what I want. When in the studio, the design works have a collage aesthetic where they combine ceramic, walnut, and rope in unexpected ways.  The rope acts as a drawing material in space – allowing me to form a visual line with this very soft material.
There is a strong architectural element that runs through your work as a visual artist and as a designer. References to totemic structures, geometric forms, a feeling of protection are seen in many of your vases for BZIPPY, in the Breast Plates series as part of your jewelry line and also part of your visual art project titled, "Decorative Protection." Can you talk a bit about the influence or interest in architecture in your work?
My artistic practice draws attention to the way various built environments, ranging from architectural to consumer-oriented constructions, relate to desire and aspiration. It's within these ideas that the works play with the huge subject of architecture and start to break it down – in terms of shifting its scale and allowing the architecture be disembodied from it's original influence.
Having recently moved to the East side of LA, closer to my studio, I'm focused on the iron fences that populate my new neighborhood. Those very decorative, protective fences were the focus of my fine art research for many years – looking at how specific 1980's home décor advertising from LA urged residences to install 'non-prison looking bars' for their homes. My new home doesn't have decorative bars on the property, so now the question is how does my family become a part of a new neighborhood with out becoming the women in the AD who sees safety only behind iron gates? The research is no longer on paper, it's in the lived experience as a LA resident in a diverse community.
I love your term primitive futurist to describe your series of Terracotta pots, in which there is a strong influence of ancient forms and patterns, particularly pre-Colombian. Can you talk about this term a bit and inspiration behind this series?
It's a term that I co-opted from my mentor, filmmaker Pat O'Neill's, sculptures – where there is a combination of the object having a raw quality to it but its design and patterning looks futuristic or science-fiction. This raw quality can be seen in the unglazed terra cotta surfaces to the influence of Native American / pre-Columbian pottery forms.
You have made several public art projects, for museums as well as participated in workshops and events such as the EP Craft fair. How does engaging with the public inspire or influence you?
Working on public projects is such an interesting experience – as the rules and guidelines are always set up in advance to meet the needs of a specific community or county and city arts agency. But it's so freeing to have those set guidelines and then stretch / play with them beyond their expectations. Having to negotiate with a new community directly and to research their culture in a thoughtful / celebratory way while not being apart form that community is a tenuous line to walk. But it's one that is very full filling – and very different than the often solitary way of working in the studio.
When setting up shop at the Echo Park Craft Fair – it so much different – and it's more about engaging with my design clients face to face, showing a new collection and selling product. And the wonderful social aspect of being a part of the Craft movement in LA.
How you find a creative balance within your various projects?
This is ongoing and never ending – do I have balance? I'd say no at this moment in the traditional way – but it all seems to work out as different deadlines approach, and family obligations/time is needed to nurture that personal life as well. Four years ago I consciously made a decision to focus on the design line getting off the ground and being sustainable. Now that the business is running well, I have some space to think about my fine art practice and produce new sculptures. It's a different mindset when thinking about making a solo sculpture show than working production. One is like a desk job and the other is like being in a research laboratory.
What is your favorite time of the day to be in the studio?
Late late evenings are the best but very rare these days with a toddler at home. It's great to see the accomplishments of the day on the shelves and the quiet of the studio with our assistants. A lot of my experimentation needs to be done alone with lots of caffeine and a full satisfying vegetarian meal.
Blaire Dessent
Blaire Dessent is an American in Paris working as a cultural writer, copywriter and translator with a specialization in the cultural and lifestyle industries including contemporary art, design, fashion and beauty. She is also special projects manager for American design at Triode, a leading design showroom located in the 6th arrondissement in Paris.