a conversation with janice poon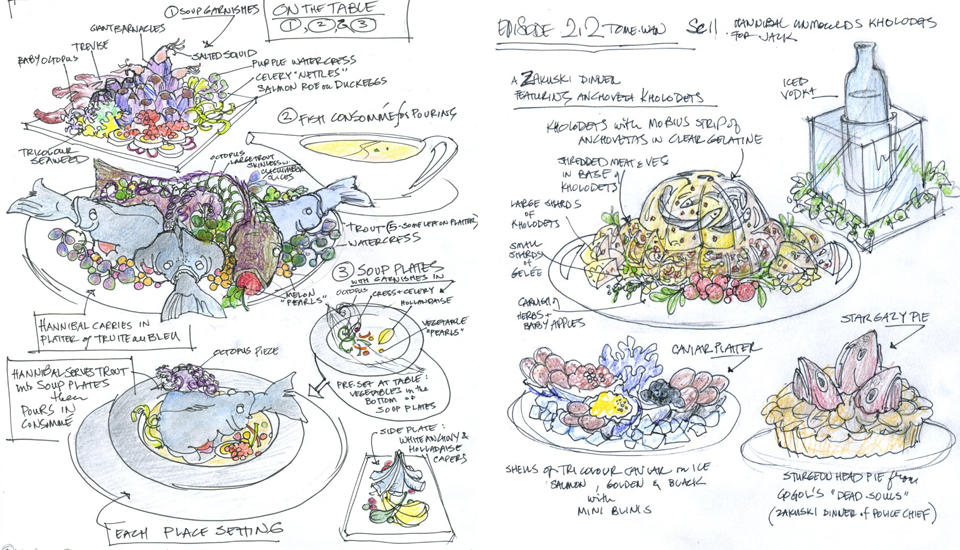 Food can be considered one of the most innovative and evolving industries of our time. The Internet and globalization can be thanked for that, with individuals having a wider and more exotic range of options to chose from. The popular media driven  "food porn" phenomenon is a perfect example of our society's approach to food. We eat with our eyes and consequently demand a constant flow of novelty and good aesthetics… when these are met, it's quickly documented  and dispatched across social media, allowing for a new type of promotion.
"The chefs are becoming improved masters in their craft, surpassing designers in their ambition with creativity" – Lidewij Edelkoort
Other industries have adapted to these movements and new careers are quickly emerging in the field. To illustrate this Chloe Sos from Trend Tablet got together with Janice Poon to get more insight into her work and on other phenomenons of our time.
Janice Poon's talented creations in the Hannibal tv- series have seen a fan base emerge, inspiring food lovers to mix food and art. Her designs go well beyond what you see on screen. A real community has been interacting, gathering new inspirational recipes and organizing "Hannidinners", blogspots dedicated to her creations and many more.
How did you get involved in food styling? Did you start off with a love of food or with a design background and later discover food as a raw material?
Love and respect for food was a constant context in my family background and art was always my personal preoccupation. It was natural to combine food and art in my everyday life but I didn't consider blending the two professionally until, as an advertising art director, I was exposed to food styling.
Your food styling has a painterly aspect to it, would you say that you are directly inspired by traditional forms of art, like painting?
The anthropological aspect of food has always fascinated me and art is a telling record of society's attitude to food. By emulating art of a period, one can project a visceral but subtle sense of this mood. For my work with Hannibal, I try to capture the lush, decaying eroticism of the still life oils of the Dutch Golden Age with its all self-conscious status symbols. In the upcoming season that tells of Hannibal's youth, I feel I will start leaning toward the emotional meat paintings of Francis Bacon for inspiration.
When you start a piece, do you have the end result in mind? How much of your work is on impulse or "feeling your way through"?

The sketching begins almost as soon as I finish reading the draft script for the episode in production. In series tv, we have to produce a new episode every 8 days so there is neither time nor budget to actualize multiple ideas. I work out my concepts in drawings until I arrive at what I think will be the most cinematic solution for the script. The "impulse" aspect of my design comes at the very last moment, as I am setting up the plates to go to camera and get my first look at any new elements the set decorator is using and the colors and textures the wardrobe master is using for the scene.

As the colors in your work are very complimentary, do you work with color palettes, and if so, how do you formulate these?

The Hannibal sets are done in a moody palette of burgundies, grey-blues and, of course, blood red. For the food, I tend to go with brighter version but I always have to soften the colours because my constant background colour – the plates – are bright white which, in digital filming, often overpowers. The apps for finding color palettes on your phone are fun but I prefer to go with my instinct – it's faster and I don't have to worry about dropping my phone in the deep-fryer!

How do you work with the textures in food, is it important to you? Do you manipulate or embrace them?

Colour, shape and texture are all that survives the translation from reality to the flat image so I need to really exaggerate these elements in order to achieve the appetizing (or in Hannibal's case – unsettling) effect the viewers would get if the real plates of hot aromatic food were placed before them.

Food has become art, and society has embraced it whole heartedly, what is your opinion on food porn? How did we get here? What can you see for the future?

For those who treat their life as their canvas, food has always been art. Now, this elevation of food has become so mainstream that media had to invent a term for it – food porn. This can only be a good thing. Especially in a coming age of population explosion and climate change. It speaks of a future where people have a greater respect for food, where it comes from, how it is produced and why we need to share it.