merveilleuses roulottes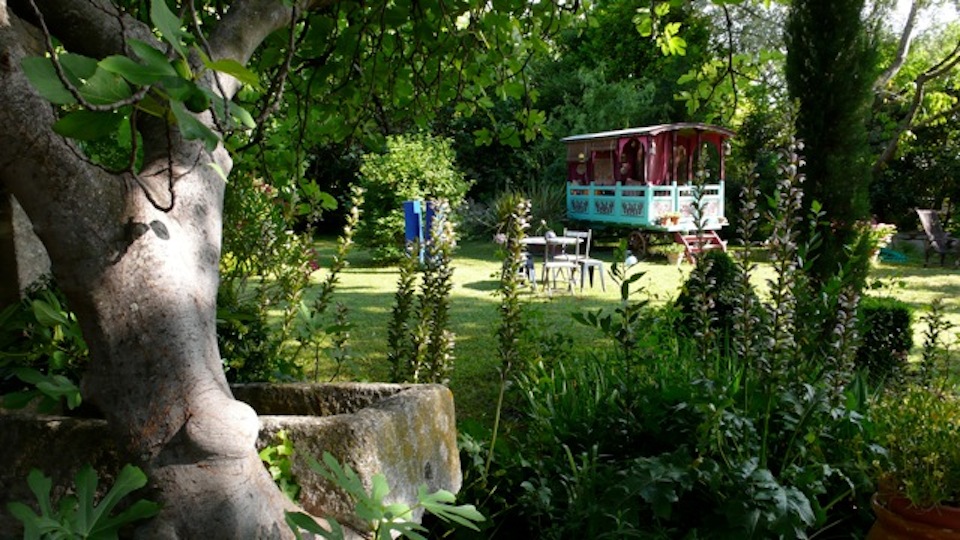 Let's travel to Saint Rémy de Provence one of the most beautiful village in the South of France and meet Jeanne Bayol designer and decorator but above all a magician with colours.
Jeanne cultivates a passion for sunflowers turned towards the sun, the energy that colour brings in your life, ornamental motives and many more! She restores and rebuilds quaint gypsy caravans. At Jeanne's you are in the middle of a colorful dream: in a meadow, surrounded by Cypress trees gypsy caravans form a timeless circle.
Bayol lives in a world surrounded by her passions, following her dreams and her fantasy. It all started in Paris for this southern girl, where she studied design and art. At the end of her studies she worked for a fashion house.  However, she missed Provence and on her return she ran a contemporary art gallery. She met the love of her life who is also a lover of gypsy culture. Together they restored their first little tinker's house.
Jeanne says "It's because of the memory of these trailers being pulled slowly along by horses and the fascination that these little wooden houses held for our imaginations, that we wanted to give them back their original splendor, so that they could once again regain the spirit of the proud nomads who once lived in them".
The caravans, called 'roulotte' in French  are also known by the name 'verdine', a name of Caucasian origin.The heyday of the living wagon lasted for roughly 70 years, from the mid-1800s through the first two decades of the twentieth century. This traditional horse-drawn wagon were used by Romani people as their home. Vardos were elaborately decorated, hand carved and ornately painted with traditional Romani symbols.
The concept of turning these vardos into mobile guest houses is a very recent development.These tinkers' homes, symbols of a perpetual invitation to travel and evasion, become in a new life guest bedrooms, offices, or simply a place where every dream is possible.