NOMADISM
glocal nomad
Informed citizens of the world are learning to admire the beauty of local products. A global wanderer brings home a new perspective on his own country, infused with tastes acquired abroad as well as nostalgia for what she missed while on the road.

Local movements fuel the popularity of labels such as Made in the United States and Made in France – even though an aspiration for global success remains in the zeitgeist. Fading cottage industries and crafts are nurtured by social entrepreneurs both to avoid losing them forever and to create new, innovative, responsible, and successful brands.
A high value is placed on ancestral skills – on heritage. But a branded spin on the deeply sincere is emerging. Hand skills are becoming the luxury of the moment, and signs of hand labour are justifying high prices. Craft and luxury may have been contradictory, but that is no longer the case.

Ritu Jadwani

Ritu Jadwani is a colour trend analyst and fashion entrepreneur, who loves to curate new lifestyle and fashions trend to compile colorful stories.

www.ritujadwani.com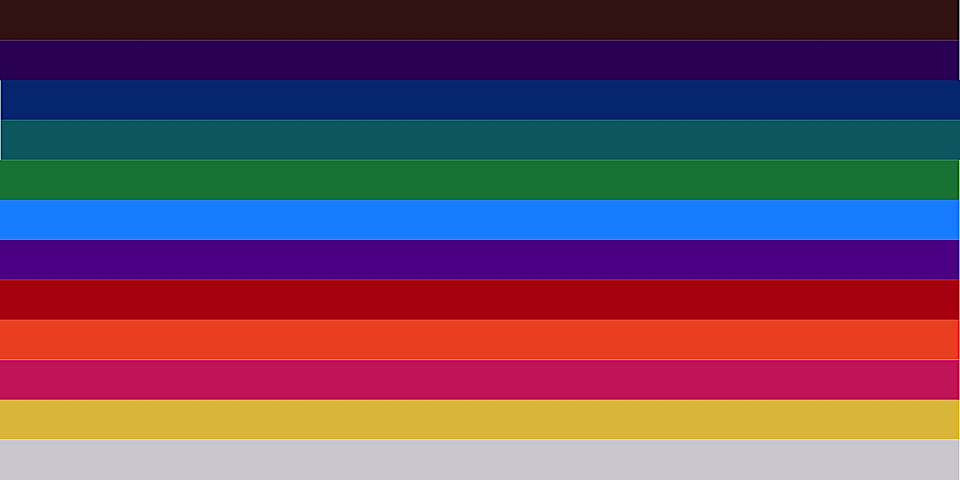 NOMADISM
merveilleuses roulottes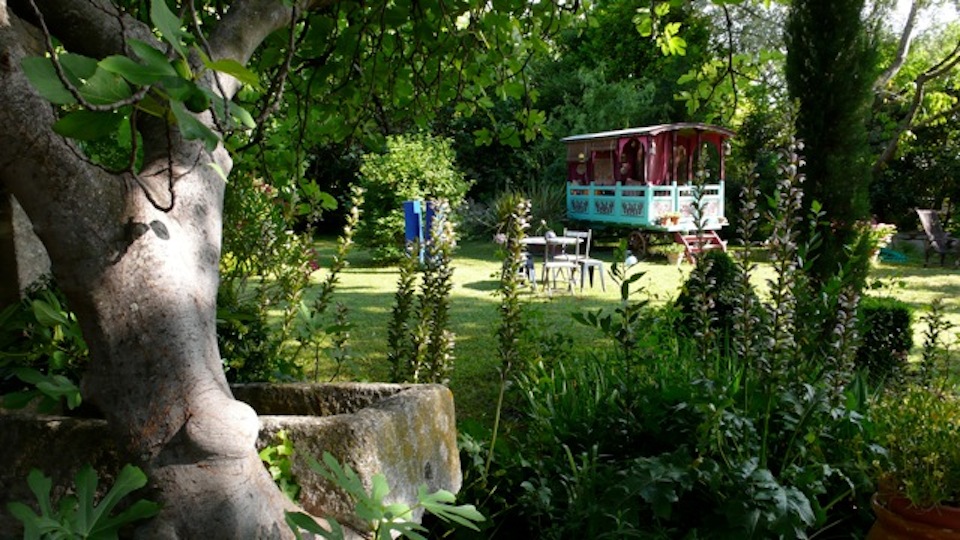 Let's travel to Saint Rémy de Provence one of the most beautiful village in the South of France and meet Jeanne Bayol designer and decorator but above all a magician with colours.
Jeanne cultivates a passion for sunflowers turned towards the sun, the energy that colour brings in your life, ornamental motives and many more! She restores and rebuilds quaint gypsy caravans. At Jeanne's you are in the middle of a colorful dream: in a meadow, surrounded by Cypress trees gypsy caravans form a timeless circle.
Bayol lives in a world surrounded by her passions, following her dreams and her fantasy. It all started in Paris for this southern girl, where she studied design and art. At the end of her studies she worked for a fashion house.  However, she missed Provence and on her return she ran a contemporary art gallery. She met the love of her life who is also a lover of gypsy culture. Together they restored their first little tinker's house.
Jeanne says "It's because of the memory of these trailers being pulled slowly along by horses and the fascination that these little wooden houses held for our imaginations, that we wanted to give them back their original splendor, so that they could once again regain the spirit of the proud nomads who once lived in them".
The caravans, called 'roulotte' in French  are also known by the name 'verdine', a name of Caucasian origin.The heyday of the living wagon lasted for roughly 70 years, from the mid-1800s through the first two decades of the twentieth century. This traditional horse-drawn wagon were used by Romani people as their home. Vardos were elaborately decorated, hand carved and ornately painted with traditional Romani symbols.
The concept of turning these vardos into mobile guest houses is a very recent development.These tinkers' homes, symbols of a perpetual invitation to travel and evasion, become in a new life guest bedrooms, offices, or simply a place where every dream is possible.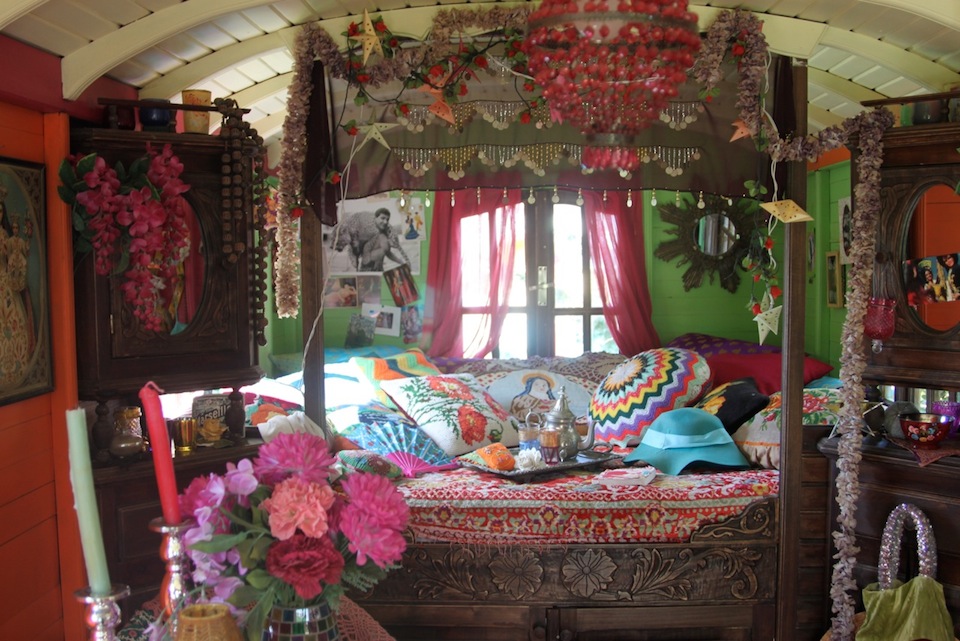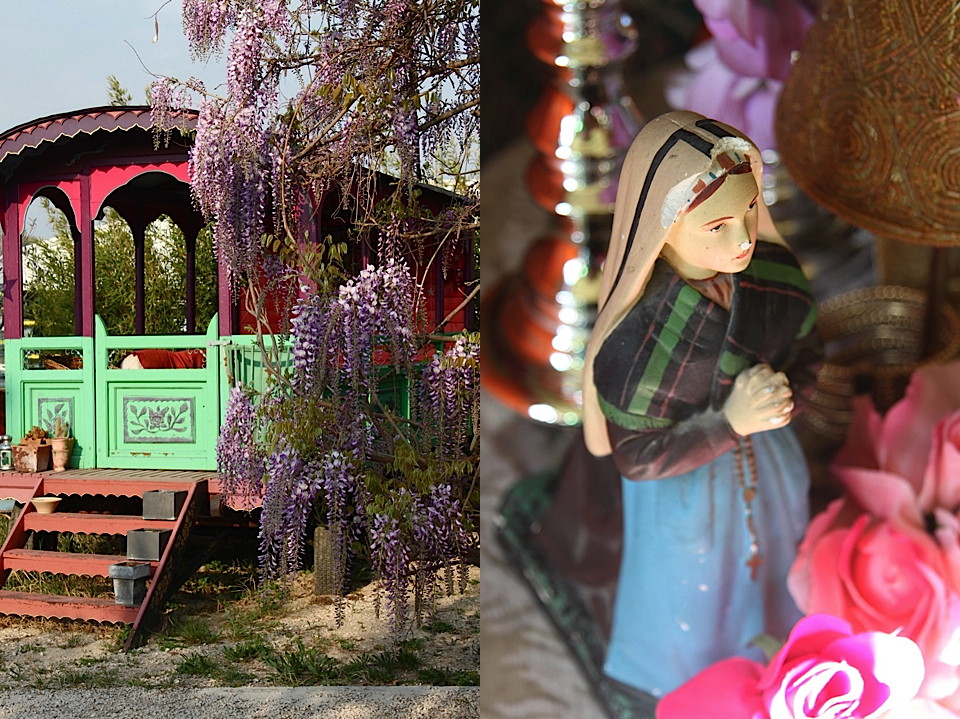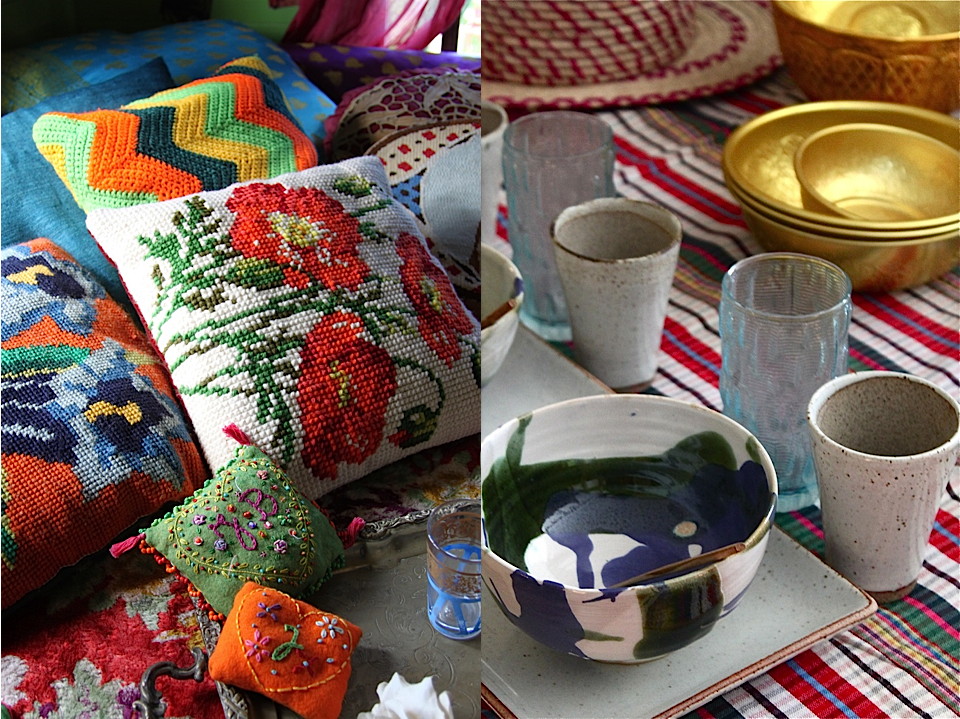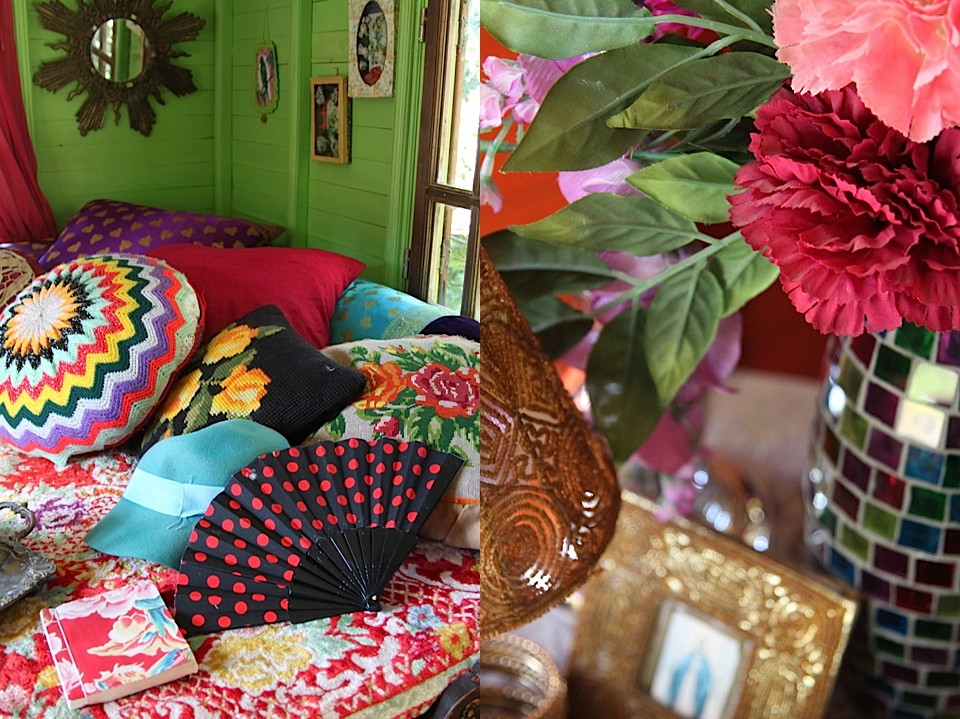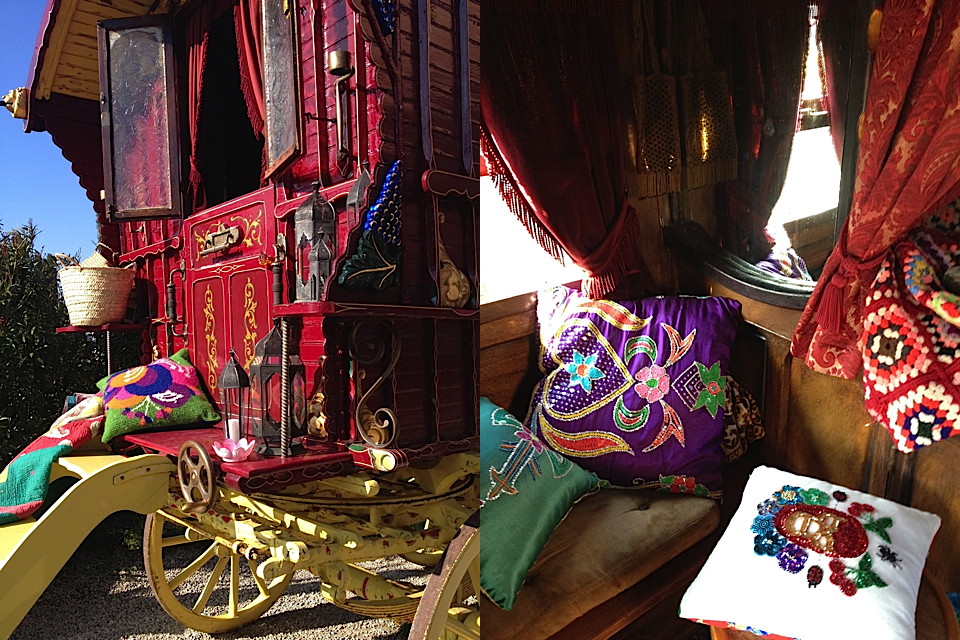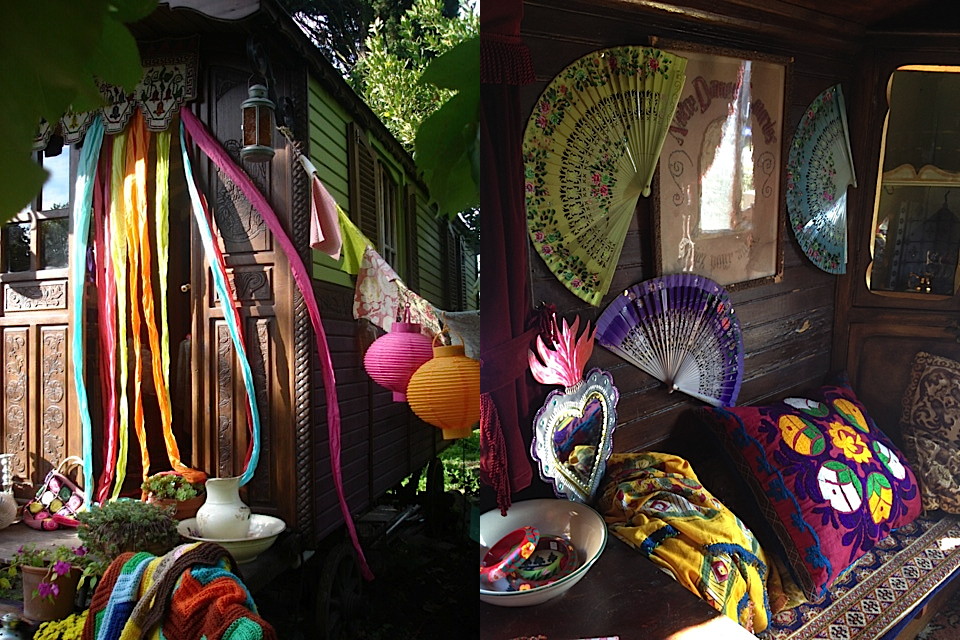 NOMADISM
on the road to fashion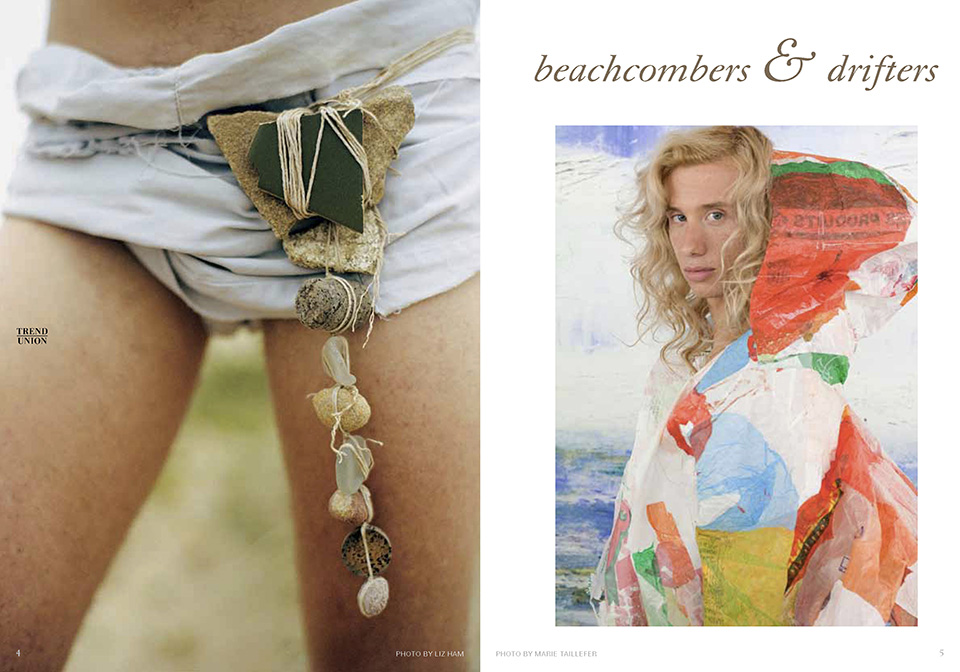 now that our smartphones and tablets and pocketbooks have made us wireless and have set us free we are able to work everywhere and anytime we want; sitting down in a café, laying still in bed, walking in the fields, doing shopping, in flight and in waiting or at the kitchen table to search for some recipes at the same time. as a result we no longer need a desk or an office and are able to completely reinvent our existence and timetables. borders of working time and leisure time have faded as we decide on our own timetables and priorities. we are free to roam and wander...
under this influence we will again become nomadic and are without knowing it going back to the beginning of mankind when our species would roam and wander, living off hunting and gathering; at times being pastoral shepherds and seasonal farmers.
the prognosis is that our species will in fact become super nomads with our world as their field of action, and maybe some other planets as our pastime pleasure. the fact that business has become entirely universal will make our work global, with many travels and short stays in other countries and city-states; and as always fashion and design sense the beat of these new nomads to come.
fashion will therefore become nomadic and go on the road for inspirations from all itinerate tribes and migrant movements in history; from the first pilgrims and pioneers to the most recent urban nomads, from the first adventurers to the contemporary campers and from the historical migrants to the futuristic mind travellers.
designers will be inspired by bedouin tribes and songline aesthetics to create moving and floating styles meant for a dynamic life amongst portable, flexible and multifunctional objects and electronics, living life with smart tablets and even smarter textiles to lounge in relaxing landscaped interiors.
the caravan is the icon of historical as well as contemporary mobility; it means freedom as well as comfort, signals adventure and safety all at the same time. therefore we see a revival of this compact dwelling in hotel design, food distribution and fashion retail. the relative costs of the cabin on wheels and the mobility it entails make the camper and caravan the newest asset of mobile living and working.
able to turn around a generation and to reinvent what again will become the marketplace; this time in the analog world!
the latest developments in social structures in the world at large resemble more and more the fluid and interactive groups of still existing nomadism, where we all become families of hyper nomads that are constantly on the move and thus discover that trust, cooperation and delegation, even at the distance and enabled by skype, are the secret ingredients for a new social order that believes in humans and their freedom to roam as long as the basic rules are so well written and understood that they become almost part of our dna, as if embedded in our being.
after a long period of mad mapping and super controlling of all information which has resulted in a world which is governed by data and stifled by statistics, we might read this trend as a return to a better and freer society in which the positive qualities of man will outweigh the negative ones.
drifting without purpose, the mind is invited and allowed to walk about and let go which helps to create space for new thoughts and ideas, focussing on new future plans; the aimlessness of wandering could be a newer way to create, going astray in extraordinary territories of the brain. recent studies have shown that the distracted wandering mind is enhances the working memory and is therefore extremely positive and maybe even vital.
wander!
paris 12/06/12
Lidewij Edelkoort