the art of knitting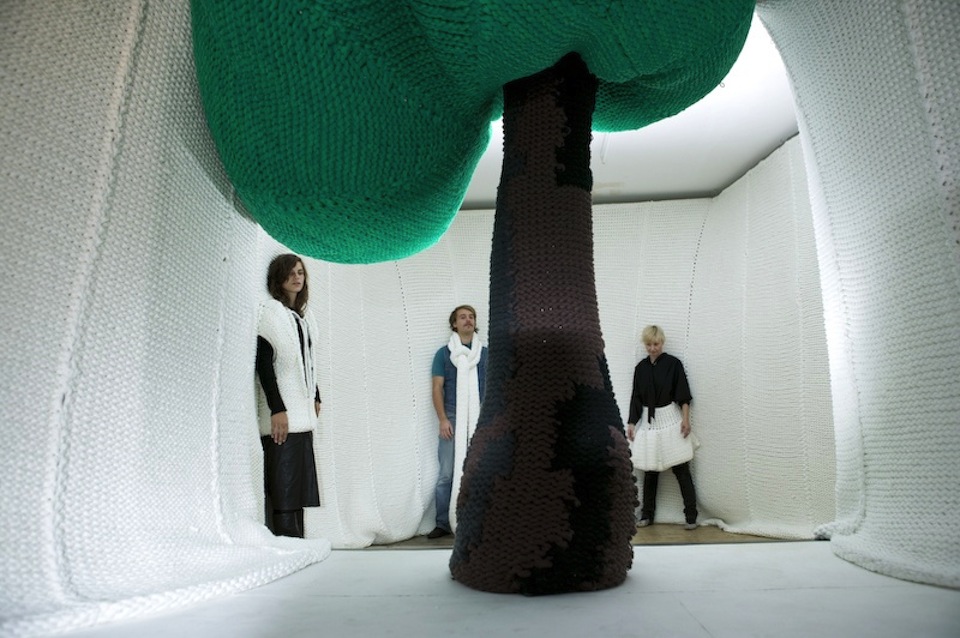 Sara Ingemann Holm-Nielsen gives us on a regular basis, chosen fresh news from Scandinavia. Sara is a very sensitive person , in love with trends and style, she is also a talented writer and the brain behind "Quote a Gentleman".
A home with a big green tree surrounded by white walls, a mint green "falling" person on a chair, a "closet knitter" and a "womanschair" are all objects made in yarn. The playful knit sculptures and installations relate to everyday objects by exploring the fine line between firm and fluid. By adding an unexpected twist to the work, the artist challenges the preconceptions of what constitutes the purpose of an object, also mirrored in the wordplay of the titles. On the one hand, the art pieces are tangible, because all viewers are familiar to the material wool and the art of knitting, but on the other hand, the objects are an image, a symbol, a comment to our perception of the reality we live in. A new reality focusing on the sense of playing and introducing the new human transition period being a kidult!
The art pieces are made by the Danish artist Isabel Berglund who skillfully knits her objects and installations. What starts off as an ordinary piece of knitting, takes on a new direction and transforms into unexpected forms, balancing between function and abstraction, hard and soft, the familiar and the unexpected. In the "Floating Pearls", a knitted collage hangs from the ceiling and spreads out on the floor – as a piece of knitted garment, apparently left behind by coincidence. One feels as if the garment was worn by someone with the pearls around her neck. The person has now dissolved and, in color and all, become one with the very objects that fashioned her or his appearance: the pearls and the knit garment. While one still has an idea of the initial function of the object, it soon becomes obvious that a transformation is taking place, and that we are witnessing an object in the state of transition.
The overwhelming knitted proportions, the borderline between playfulness and the ordinary, the exploration of the unknown dimensions of knitted yarn objects all creates a new and contemporary take on the traditional skills of hands. The artist thereby transforms the life we live through a world of wool. With a childlike curiosity Isabel Berglund creates artwork where the visual sense-experience is essential and underneath the surface, more is at play.
Isabel Berglund's knitted art installations made from one single yarn will spread as a spider web this coming year. The talented artist will display her art pieces at the Nordic House in the Faroe Islands in April 2013, at the "Wool Modern" exhibition at the Seoul Arts Center in Korea in October 2013, followed by an exhibition in Kobe, Japan and latest the exhibition Asia Europe II in the textile museum in Krefeld, Germany and Jean Lurcat & Tapestry Museum in France both in 2014.
Sara Ingemann Holm-Nielsen