roots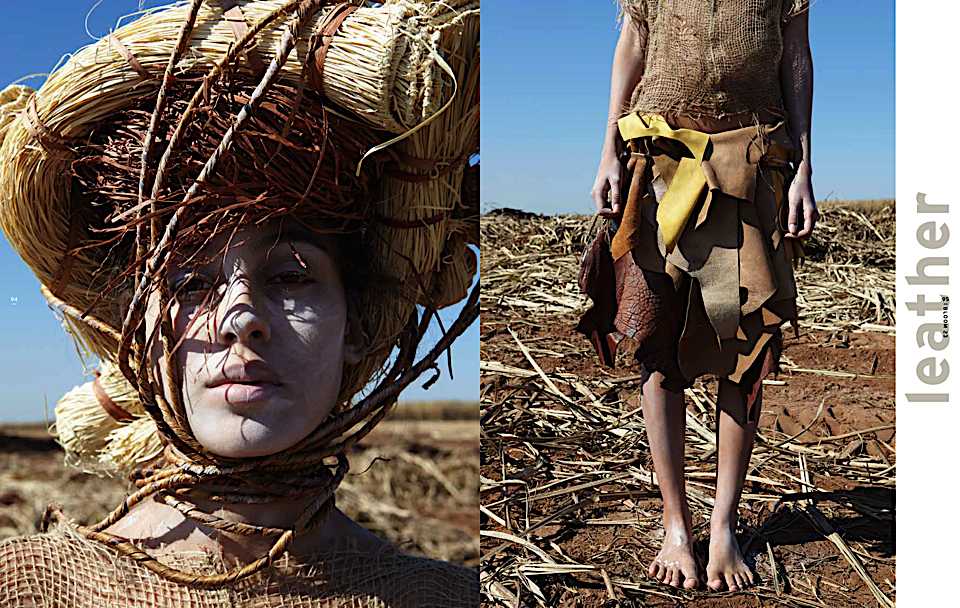 The sugarcane field is calling with its hot and humid environment, inhospitable, challenging, mesmerizing. The eye can see beyond the horizon, the ear can hear the echo of the faraway river, the skin can feel the cindering heat. The plane seems to vibrate and moves up and down in a ritual dance. The drum of the shaman reverberates from its dry stretched skin. Life is a matter of endurance. A creative survival mode made with a make-do aesthetic.
The grasses are waving and give the illusion of air, although the stifling heat is numbing the mind, reducing humans to primitive beings. Just thinking of water, dreaming of air. Contemplating the arid beauty of it all. These grasses become products of culture with baskets, roofs and habitats, plant fodder for miraculous indigenous fiber. Fibrous textiles are coming to the fore with waving grass skirts and grassroots design, making a primitive and archaic impression, steering fashion to an animistic core.
The grasses are multiple and represent an ecosphere that hosts many endemic eagles, macaws and toucans adding their strident song to the bewitching rhythms. Ants, termites and butterflies are busy building their habitats; a whole world concerned with the creation of life. As the creation of style it requests a sense of urgency, a fight for survival, a quest for derision. A holistic ecosystem that brings out the best in the human imagination and steers it to new heights, conceiving unknown territories of visual experiences.
The plateau is on a high altitude and makes people short of breath, feeling euphoric as if the grasses could be consumed as hallucinogens. A weird experience that reflects the amazing costumes that are born from fiber, generated by grass, consumed with human waste as well. Thus the natural and the artificial blend and become one, diluting the idea that everything needs to be from nature, including human nature as a source of synthetic grasses, made to wrap and protect.
Gathering fruits, fibers and firewood the nomadic ancestors would roam the grasslands living in survival mode, hunting monkeys, but hunted by jaguars and ocelots. Wading through the dense and dry grasses that have cutting edge properties, made to defend themselves, the loose hunting outfits are reflected in the gathered skins and protective armor made from dense textiles wrapped with rope. The head is covered for the punishing sun. The feet are wrapped in rope made from fat plants.
All matter is used for functional purposes, all matter is seen as decorative as well. The grass is woven and braided, the cloth is layered and stitched, the skins are tanned and rustic, the grass roots of Brazilian creation is in the abundance of its raw materials, its generosity of growing matter, its aesthetic.
Improvized as only Brazilian creation can achieve.
Lidewij Edelkoort
creative direction Sergio Machado styling Lucius Vilar photos Rogério Cavalcanti  photo assistant Jorge Escudeiro hair and makeup Raul Melo image treatment Iung Studio macramé Gabriela Santili models Amira, Lais Botelho, Mika Max, Rene Maximo, Sabrina Vieira, Samira, Sostenes, Thaina Pires