going for gold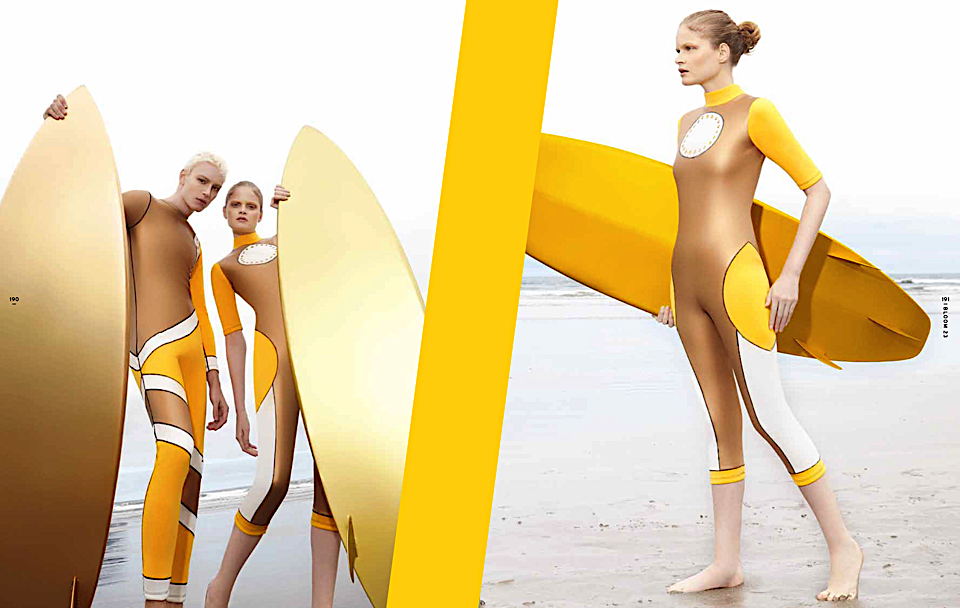 Surfing is a sport that requires determination, balance, strength and endurance. At one with the elements, surfers have an almost spiritual connection with the sea, in sync with its rhythms, trusting it, placing their lives in nature's hands. To be a surfer, one has to have a lot of faith: in the current, in timing, in intuition, and so why not in more daring fashion?
Inspired by activewear principles, items like bodysuits, vests and jackets could become a new style hybrid for surfing; seeing trends like hoods, neoprene, perforation and colour-blocking all turn aquatic.The muscular articulations of the legs and body can be followed, further emphasizing the movements and flexibility that surfing requires.
A new futurism announces a changing tide, with girls and boys hitting the beach like a troop of otherworldly aliens landing on the shore. Yellow will be uplifted by the use of gold, from wetsuits and swimmers to light-sheath rain coats as accessories. Matte metallic finishes that are a new way of standing out in the water and making a splash with spectators. And now that surfing has been approved as an Olympic sport at the 2020 Tokyo Games, there's no reason why pro surfers everywhere won't want to go for gold!