honoring cultural provenance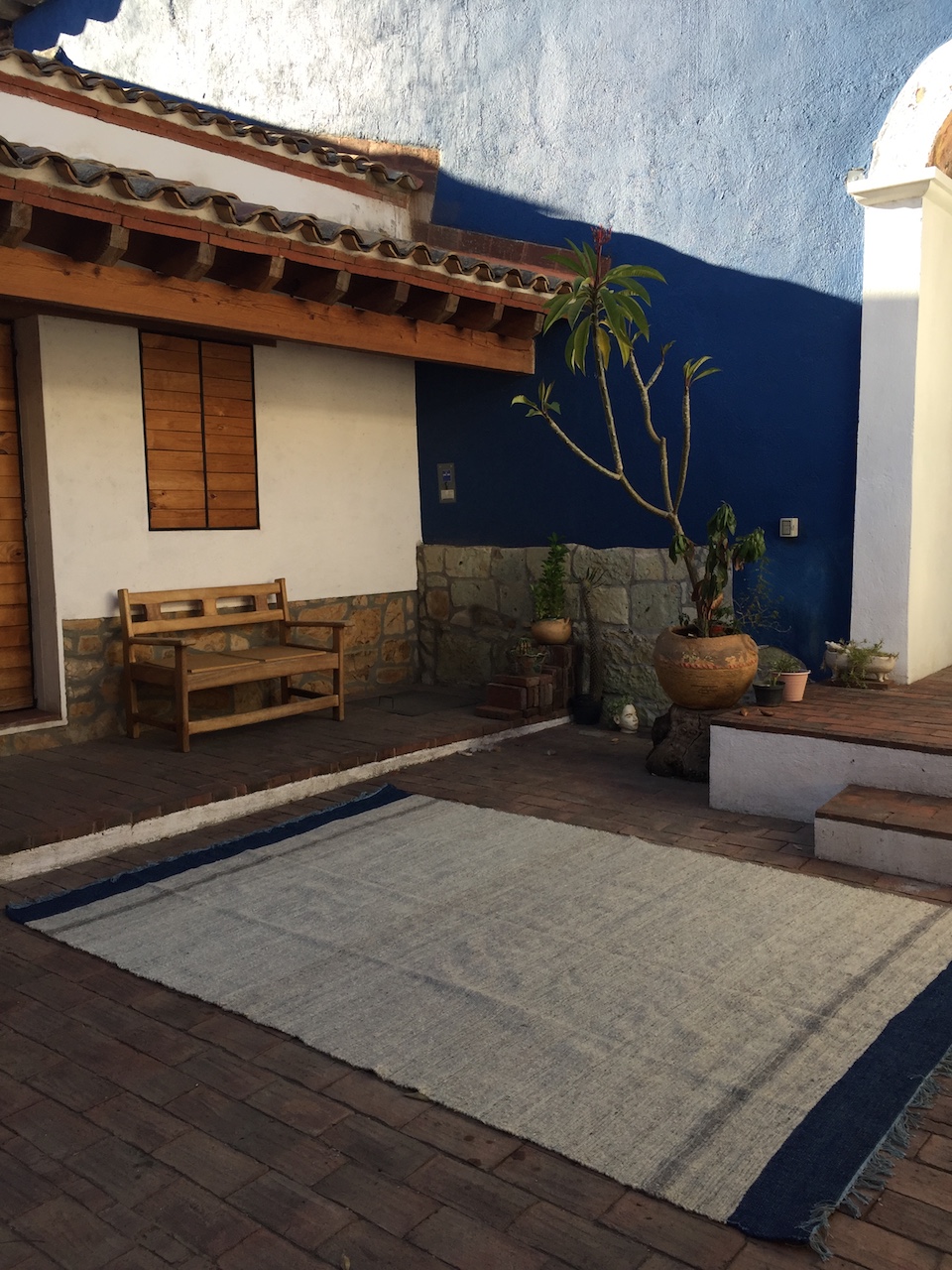 "I am fascinated by how a craftsman and an artist are able to shape their own world and feel fully aware in the moment of creation, outside the boundaries of time, conscious of their purpose in the world, if only for a moment."  Maddalena Forcella
Maddalena Forcella is an Italian designer who has been in Mexico for more than twenty years. Her first stop was Chiapas where she discovered the Chiapa sheep which is now one of her main raw materials for an exquisite collection of carpets and home décor with a distinctive alchemy of complex, subtle color combinations and incredible textures.
Chiapa is an evolved breed that resulted from a mestizo mix of European and local sheep, producing animals that are well adapted to the highlands of Chiapas.  Their wool is used mainly for the local dresses that help the communities cope with extreme weather changes. 
Maddalena became interested in the long fibers ideal for hand spinning, the natural grays, blacks, browns and whites tones, and the natural shine of the fibers. She was fascinated with the material, its rawness and its endurance as one of the very few local wool evolved over 500 years.
The wool is hand spun by Mayan women on pre-Hispanic drop spindles and is untreated, allowing for deep absorption and saturation of color.  This hand spun wool produces an irregularity to the yarn which gives each rug a special texture.
Maddalena is interested in processes as well as results and this Chiapa wool resonated with her because of its connection with the local culture and because its nature comes to life with very little processes that involve just washing the fibers with water and soap.  Her project is also a social one, involving local women who find an extra source of income by breeding the sheep they use for local purposes while remaining in their homes and continuing with the timeless space created as they hand spin day after day.
Now based in Oaxaca, Maddalena has a beautiful atelier where she personally dyes the lighter wool with local plants such as añil or local indigo, cochineal and marigolds which are also used for the altars.
Maddalena's designs involve techniques such as weaving on pedal looms and felting in Teotitlan and other villages around Oaxaca where the work of master artisans is part of centuries old traditions. 
With the same attention to detail, Maddalena also creates a Nuno fabric using a felting technique, melding the finest Merino wool or alpaca with luxurious silk.  Each fabric she produces – like her rug creations – is unique in its color, hand, and texture.  These fabrics are used to create pillows, throws and other interior accessories.
The Greige Design rugs were inspired by Maddalena's roots in Italy and her 25 years working with indigenous women in Chiapas, Mexico. The design has its origins in the rich textile traditions of Sardinia, where her mother was born. This elegant rug is a compound weave with hand spun wool from Chiapas, Mexico and cotton warp. Custom colors and sizes available.
"Maddalena's rugs, immediately recognizable for the delicate contrast of textures and the natural and well balanced colors, show that it is possible to distill long forgotten Mexican craft techniques into very contemporary and minimalist pieces." Enrico Bonetti, Bonetti/Kozerski Architects D.P.
Marcella Echavarria
Marcella Echavarria is a Mexico City based lifestyle specialist. She collaborates with designers and artisans around the world developing links that connect local knowledge with global trends. Her specialty is branding luxury and sustainability in a way that preserves cultures and traditions.