fafa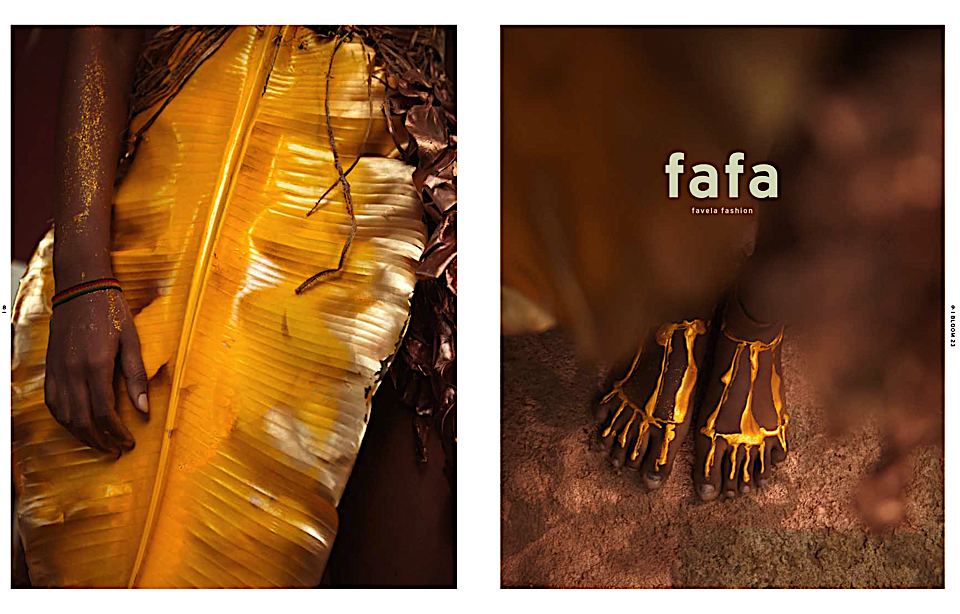 The favela is nestled between two luxurious neighborhoods, a sexy and dangerous place bustling with life, screaming with art, lamenting with songs and buzzing with its people. People of all colours and all genders live there, which is making it a dark place with rampant racism and threatening homophobia. The quartier of Vidigal is the navel of the gigantic Rio de Janeiro, and the meandering intestines of the place read like the brains of society, the bowel movements of its youth premonituous of another more creative and entrepreneurial future. Moving up and down over its hills is a patchwork of houses made of discarded materials and make-do design where people live and dance in the narrow alleys, creating a close-knit society of indiscernible inventiveness and power to adapt to new situations, to adopt new ideas, to improvise. No wonder therefore that fashion is born in this favela. Fashion design educated by a woman from France, a powerhouse. With courage and vision, she steers her students away from trauma towards a future of independence. She gives her life to her kids and guides them in all matters of life, including creation. Their education is free and open to all young Brazilians. Only twenty talents are selected from eighteen hundred portfolios. Each year, once a week the handpicked students learn how to conceptualize and design, also once a week how to make patterns and clothes and a third day is spent learning about marketing and branding, how to create images, videos, installations. During the other days, the students can earn some pocket money.
At the end of the second semester, a collection of five pieces is developed and shown at São Paulo Fashion Week, in the presence of the press and professionals. Widening horizons. The school of Casa Geraçao Vidigal is the students' home and castle, shielding them from the environment, presenting them with another existence, a possible future. In the second year, the young people (from 18 to 25 years old) are enrolled in the school's creative agency; they are oriented on how to work with clients, how to process information and how to think commercially. Acting as an incubator, this year is used to boost morale and learn the business end of creating a start-up, how to make one's own collection, how to find a placement in the industry.
The Moda Fusion association, which was created a decade ago by the formidable Nadine Gonzalez, has as vocation to identify, educate, promote and introduce the favela talents to the world. Thus, sweatshirts were painted by local women and sold by Colette in Paris, as well as decorative pareos conceptualized for the Bon Marche department store. A poly-sex perfume called "TRAME" was developed with the fragrance house Firmenich, and a street-wear trend book conceived for the Peclers agency. Winning the first prize for the decoration of a luxury hotel for the Accord Foundation gave the students the confidence to communicate with the creative industries.
The school has a modest annual budget of 150.000 euros. Unfortunately Brazilian brands are scared to be associated with the favela, and do not act as benefactors either, at least for now. Not even the school's reduced budget is capable of stopping the passionate Nadine. She is working on a new building to house the institute, with one floor for the local women producing special collections, one floor for education and one floor for the agency and incubators.
Her next even wilder plan is to move this genius concept to her mother country and locate the school in the out-skirts of Paris, at the commune of Pantin, where art galleries 13 and ad agencies are seeking solace from gentrification. Another hot spot to consider. Furthermore, another challenge to address the huge social inequalities of France.
Under the gifted and inspired leadership of Sergio Machado and art directing the students with a tough hand in a tender glove, we created these pages together. In the beginning the students didn't pay him much attention. After all, he is a white and, they think, wealthy man from São Paulo, living in Paris of all places! No respect was shown for fifteen long minutes of doubt (instead of fame!) and Sergio had to control his inner turmoil, not showing his disarray, stoically getting in touch with his inner self.Then the students turned to him and got involved, falling instantly in love. Soaking up his inspiration, relying on his intuition, learning from his prolific talents. In awe of their creative approach he gave the students the di cult task of imagining their vision for another, golden future. A dense and spiritual portfolio is the result, exulting the immense belief these young designers harness to move on from their beloved favela, to impress their wild style in a wider world. Some are minimalists; others are maximizing their inspirations to stand out in space. All are concentrated energy. With the Southern Hemisphere getting ready to take center stage, it is inspiring to have the privilege of looking into the minds of these young creative Brazilians. We wish them a golden future.
creative direction Sergio Machado photos Mariana Maltoni text Lidewij Edelkoort photo assistant João Julio Mello image treatment Doctor Raw in partnership with escola da Casa Geração Vidigal thanks to TekBond .