calla haynes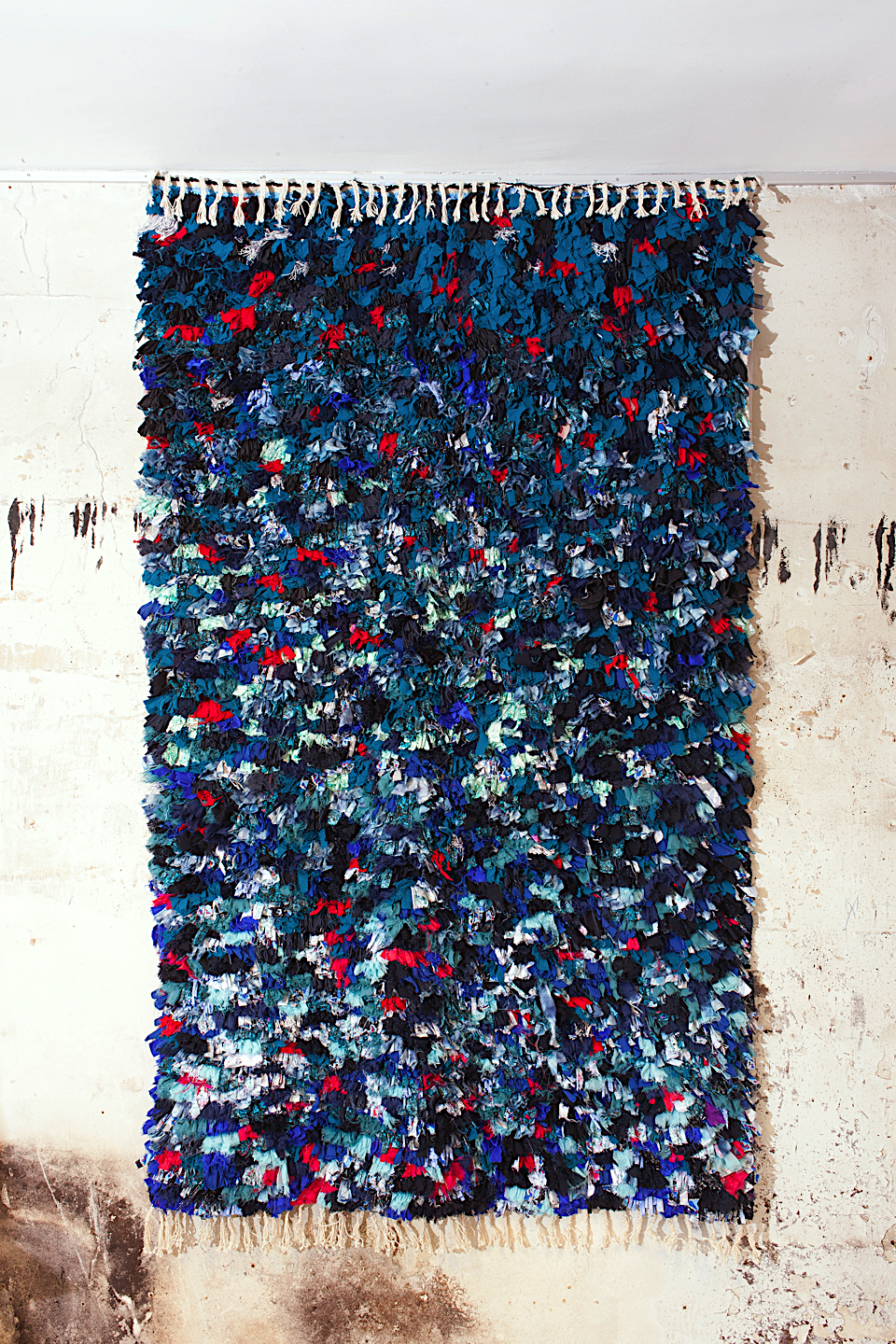 Calla Haynes is a Paris-based designer who launched her namesake fashion label in 2009. In 2015 she focusses on collaborations with diverse and high end brand around the world. This inspired her to explore the connection between European luxury and the Moroccan berber craft with as result 'The Boucharoite Project'. We asked Calla Haynes some questions about how she tuns her fabric archive into rugs.
Can you tell me about The Boucharouite Project? 
The Boucharouite Project is a collection of berber rugs made from fabric left over from my womenswear collection, CALLA.  When I put the collection on hiatus in 2015, I was left – like most designers – with a rather large stock of unused fabric.  Most of the fabrics were custom prints that I designed and hold a lot of meaning to me, so I didn't want to sell them off (at a loss) or destroy them (like many luxury houses do).  The idea to create boucharouite rugs just kind of came to me – I've long admired their designs and colour play, I just wasn't sure I would find the right artisans to weave the rugs but after a lot of research and outreach, I found a wonderful group of women.
How did you came to the idea to make rugs using your own fabric archive? What was your inspiration?
Paris and Marrakech are very connected cities.  The fashion industry here has always been inspired by Berber and Moroccan craft – just look at Yves Saint Laurent's deep connection with Marrakech – so Berber rugs have always been on my radar. I wanted to do something meaningful with the left over stock of fabric – something sustainable and beautiful.  
Can you describe your creative process?
The creative process is a true collaboration between myself and the weavers.  
The fun part for me is putting together 15-20 different fabrics that go into one rug – creating a colour story and mixing textures and patterns.  As I supply the material, colour is the one thing I can fully control.  In terms of design, this is where the true collaboration happens… through trial and error, I've learned to trust the women and just give them a general direction of design and composition.  I send them photos of vintage Berber rugs and hand sketches, and then let them run with it.  I'm usually surprised by every rug I receive, it's never exactly as I imagined but always more beautiful.  It's quite a magical process!
What is your goal with this project?
My goals in the beginning were 3 things: 
– recycle and reuse fabric thus saving it from winding up in landfill or storage
– support artisans and their crafts
– make something beautiful.
But I've realized the project is also spreading awareness about sustainability and circular economies.  It's making people think about their consumption of fashion and textiles, and also how they dispose of them.  The fashion industry is one of the biggest polluters in the world, and as designers, we need to make more effort to combat that.  The consumer needs to be more mindful about their speed of consumption and how they dispose of their unwanted clothing (millions of tons wind up in landfill each year).
Are you also developing new recycling project ? 
Yes, I've developed 2 new recycling projects:
The first is a collaboration with Toronto-based furniture designer Coolican & Company.  Inspired by the footstools commonly found in the Moroccan souks, we've designed furniture that incorporates hand-woven cord (made from recycled luxury fabrics).  The collaboration was launched at IFCC this week and we've already received orders!
The second is a line of Moroccan Babouches (slippers) made from up cycled vintage berber rugs. They're handmade in Marrakech and we give a second life to boucharouite rugs that are not necessarily in good enough shape to be resold for home use. These will be in store for Christmas time.
What does the future hold for you?
The Boucharouite Project is currently collaborating with H Project, the sustainable design department of Holt Renfrew, a luxury department store in Canada.  We have a Pop-Up in the Toronto store where clients can get involved in the design process by creating a custom rug – choosing the size and colours they'd like and then following along with the production.
As the stock of CALLA fabric dwindles, I've been able to recuperate fabric from other designers and help them in recycling fabric otherwise destined for landfill.  My hope is to develop personalized projects for luxury houses – finding design solutions for them to be more sustainable.
The rugs were first presented during Designer Days Festival in Paris in May 2017, and we are currently doing a Pop-Up in Toronto at H Project / Holt Renfrew.
Interview by Isabeau van Maastricht