vanessa barragao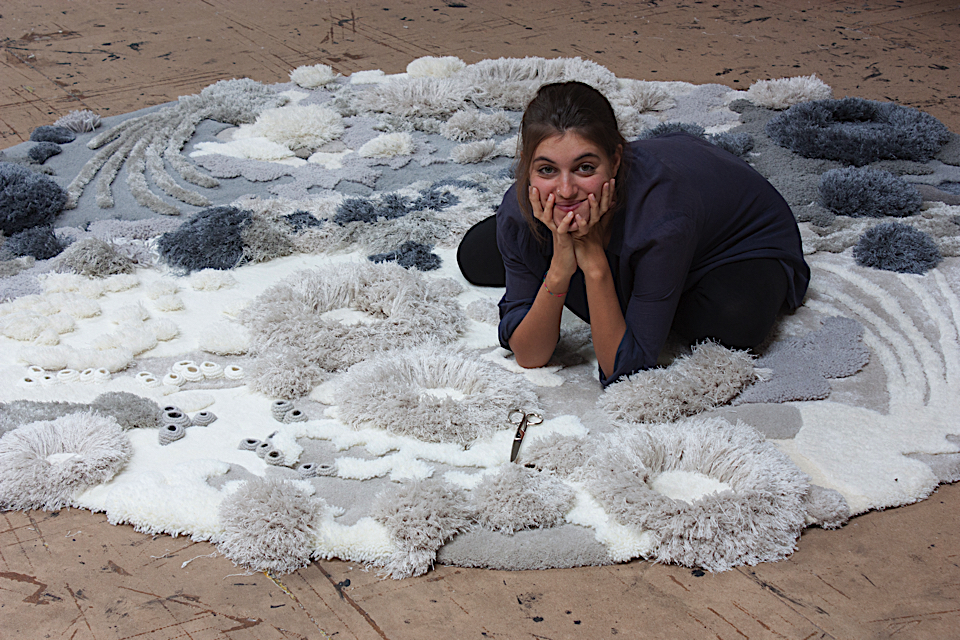 Vanessa Barragao is an all-ecological textile artist based in Portugal who after graduating from the Master Program at the Lisbon University in Fashion and Textile Design came to open her own design studio in 2014.
Her inspirations of the ocean are depicted in many of her art works, which is deeply connected with her growing up and living in the seaside in the south of Portugal. The design studio is best known for their work with artisanal techniques and for using recycled materials such as wasted yarns from the industry to create organic textiles and products for interiors. By using wasted yarns she reduces the leftover and spill of the industry while creating something new. Vanessa's artwork has a strong and clear ecological message for her audience that can be experienced through her different color shades and coral motifs.
Vanessa carefully observes the effects that human kind has left on our planet and rejects the very polluting textile and fashion industry of today. Instead she is an artist with a cause and aims to bring back the importance of artisanal and traditional techniques that today unfortunately are fading out. 
For you to know the artist better, we asked her some questions.
When did your passion for artisanal techniques first emerge and why?
Since my childhood I was in contact with artisanal techniques, my grandmothers are knitters and do a lot of crochet and this influenced me so much. When I started the university in Fashion Design I decided to focus on handmade and artisanal techniques to produce and create my collections.
After completing a Master Degree at the Lisbon University in Fashion and Textile Design what made you want to start your own textile studio?
After I finished the Master Degree, I realized that fashion wasn't really the path in which I wanted to focus my career. Being an artisan and craftsperson, I love to experiment and textiles were definitely the field I wished to develop.
Why do you choose to work mainly with recycled materials?
The textile industry is one of the most polluting in the world. In almost everything process, chemicals are used specially when it comes to the fibers treatment and dyeing. All the machinery used requires tons of energy while producing a lot of waste and disposable trash. It is extremely harmful for our world and it affects all of its different natural environments, particularly the ocean which absorbs 90% of the atmosphere pollution, warming up itself to the point that so many species get threatened, being the corals, who sustain so many other creatures, one of the most endangered ones
I truly believe in an up cycling effort towards the right way to try to fight this kind of negative mindset described above. All the materials used come from the deadstock of several local factories which are first cleaned and then selected to be reused in my projects.
Where does your biggest source of inspiration come from?
My biggest source of inspiration is the complex structure of coral reefs, which are truly cities of the bottom of the sea, which are the most impressive thing that I have ever seen.
What is your favorite stage in the crafting process?
For me every stage has its own importance and I enjoy each step of the crafting process mostly because there are always infinite possibilities to be discovered which at the end turn out to be a wondrous journey.
Could you explain why some of your environmental works are crafted with very rich colors whilst some remain muted and restricted?
While trying to replicate abstractly the coral reefs as they are in our present time, my goal is to give a chocking contrast between the colorful and the colorless because while the former means life, the latter is indeed the representation of the coral's bleached effect and therefore its death.
Being an all-ecological textile artist what is the main message that you want to portray to your audience?
My ultimate goal with my artworks is to raise awareness of the dark consequences that our footprint is causing on Earth, particularly in the water habitats, and hopefully, this way, I can contribute on giving a more clear and bright perception towards a cleaner ecological path.
Interview by Amanda Andersson