native chic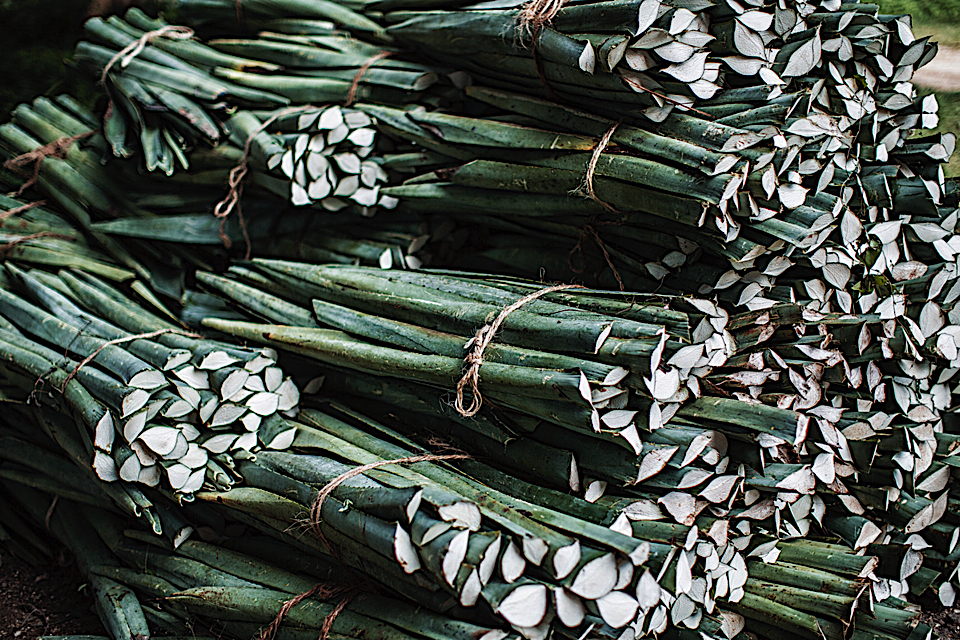 Imagine one day you decide to take your kids and husband in search of a precious fiber that grows in the Yucatan Península in México. This fiber is called Henequen (Agave fourcroydes) and it is responsible for the immense fortunes built until the mid-20th century when it was a major agricultural and industrial activity providing packaging for the newly industrialized world (pre-plastic).
In 1898, when the Spanish–American War broke out, the price of fiber advanced rapidly. The supplies of Manila hemp were interrupted on account of the war conditions in the Philippine Islands, and that caused an advance in the price of henequen. That sudden advance in the price brought great wealth to Yucatán and it immediately became the richest state in Mexico.
Angela Damman arrived in 2011 from The United Stated when this boom was a chapter in history books and the only remnants were old ruined haciendas turned into luxury hotels.  The fiber of her dreams was there and Angela had fresh ideas: "my story is simply this obsession with designing products and experimenting with the plant fibers and ancient artisan techniques of Yucatan. I wanted to push the envelope on what is possible with these techniques and fibers to see if we can reach new markets and a new respect for artisanal talents."
Besides Henequen, she also experimented using sanseviera thread dyed with handcrafted colors from tropical tree bark and oxidized tin cans recycled by artisans in the village.  She is also making super fine woven henequen textiles embroidered with the pattern from native pollinators. Color are made from a combination of tropical tree barks using ancient recipes. Both Henequen and Sanseviera grow naturally and sustainably, without the help of fertilizers and irrigation. The fibers from these plants have been used for centuries by artisans to produce crafts as well as utilitarian products for daily life.
Besides her home and fashion collection under her name, Angela is also involved in many interior design and hospitality projects  that stand out particularly because of her long fringed hammocks made of extra long henequen fiber, harvested from very old henequen plants which bear the longest leave.  "For me this piece is a symbol of Yucatan, its culture of hammocks and its fields of henequen drying out in the sun", affirms the artist.
Inspired by ancient Mayan weaving techniques and use of plant fibers for textiles, Angela collaborates with local artisans to fuse their traditional methods with her contemporary designs. The process begins with hand-harvesting the plant, extracting the fibers, and weaving or hand-spinning fibers for use into their final design. This all happens in an old hacienda where she now lives with her husband a two kids.
Many of the artisans Angela recruited came out of retirement to help start a new generation of craftsmanship in Yucatan. The goal is to create new and higher value textiles and products from plant fibers using their traditional techniques with the aim  of improving the economy in rural communities and preserving traditions that are at risk of disappearing.
Her techniques include weaving with the backstrap loom, hand spinning, crochet, macramé, knitting and braiding. These techniques have been used for generations and some cases, centuries. "The use of henequen and sansevieria fibers in the communities of the Yucatan Peninsula has gained importance in recent years because they represent not only an economic activity, but also a unique cultural and artisan manifestation of the region. However, the artisans who have the knowledge of how to use the fibers are growing older, putting at great risk the future of these traditions in Yucatan. The younger generations do not have interest in carrying on the tradition of what is a considered a peasant's work. Therefore, it is upmost importance to inspire the youth through new designs, resulting in creating new markets and new value for products made from the natural plants of Yucatán"
Marcella Echavarria
Marcella Echavarria is a Mexico City based lifestyle specialist. She collaborates with designers and artisans around the world developing links that connect local knowledge with global trends. Her specialty is branding luxury and sustainability in a way that preserves cultures and traditions.