fruit woman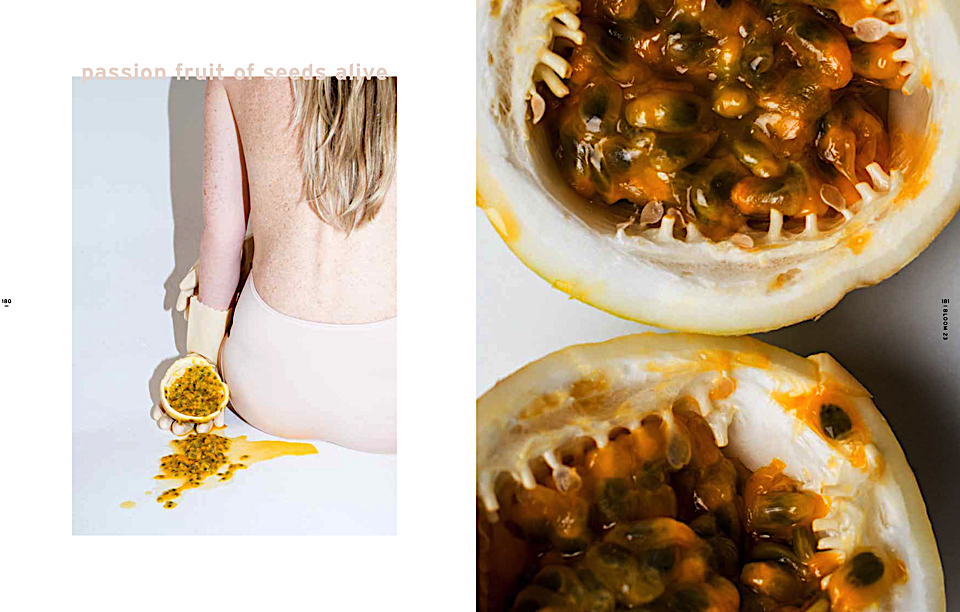 The pulp runs through the fingers, adhering, integrating, involving every type of feeling, including tactile, visceral and emotional ones. In a chromatic and kinesthetic meeting, the pigmentation and the perfume of peeled elements entangle in a web of intense vitality.
Succulent and savory fruit, in all shapes and sizes, grow here. Some harder and with firm and tense skins, and others, on the contrary, brighter and more viscous. When they shed the peel, the foliage and the layers, they acquire even more beauty and naturalness. It is possible to feel the loving call for an embrace. Palpate it or go further, slowly squeeze it to see the energy flow in a powerful juice, rich in vitamins and for the organism.
From honey to fibers, fruit can be manipulated to give new life to skin, mind and existence. Their fresh juices are widely consumed. They have a high antioxidant content and are a source of dietary fibers that clean the body and activate cellular regeneration, with diges- tive and stimulant properties. From them, essential oils are extracted, which are valuable to the cosmetic industry because they enthusiastically regenerate and produce enchanting aromatic notes.
Additionally, some wilder species have an ornamental use. They grow in the forest and also on city streets, feeding the passers-by.
While they fruitfully spread, renovating the environment, they seem to enjoy overexposure and indulge in being decorative. In the hot and humid tropical zones germinate seeds of intriguing and seductive design, the pineapple, which majestically bears its green crown, the passion fruit, which keeps seeds alive in its dented shell, the hermetically sealed banana, which can be served at any time due to its well designed packaging.
During cultivation, a large part of the species grows like climbers, either clinging to vines or linked to shrubs and trunks, multiplying in bunches and clusters. They sometimes emerge from the earth, filled with determination and personality. The harvest ritual starts early, with the first sunrays, demanding delicacy and physical care of long hours in the orchards. Their very existence confirms a complete cycle of life, triumphal. Then, successively, come fecundation and recommencement. Insisting on freshness, on repeating the cycle, just heading towards the glorious moment of reaping, of harvesting, when, finally, the liquid of life is free to flow.
creative direction Bianca Nabuco / photos Demian Jacob / text Maria Rita Alonso / producer Manuela Padilla / model Mariana Antonini