fashion is political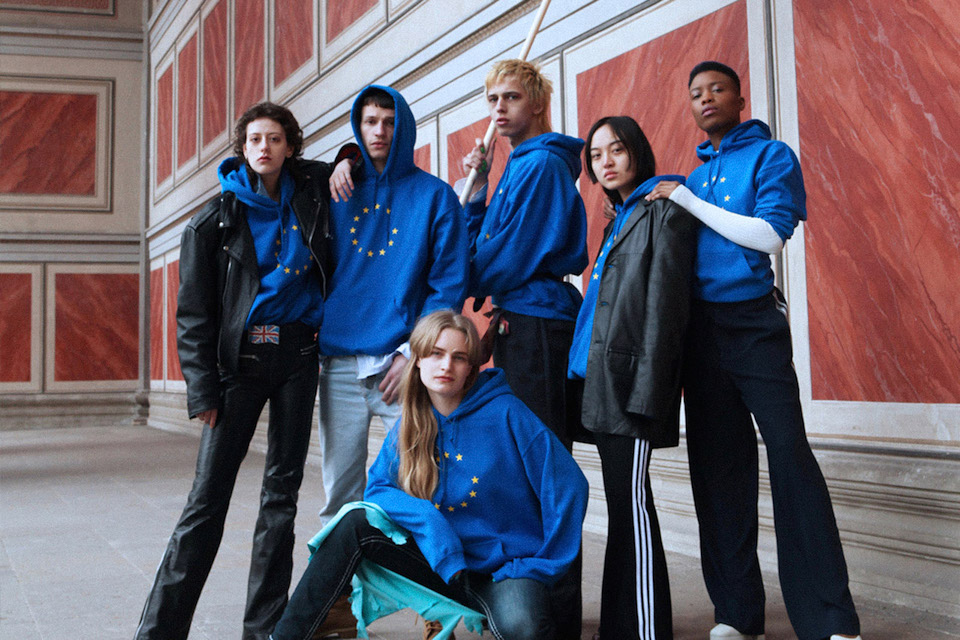 As the world tumbles from crisis into crisis – think Trump, think Brexit, think extreme social divisions and uncertainty – a few people lift the spirits and try to find a renewed awareness within our generation. One of these few people is Johann König, who founded the König Galerie at the age of 20 immediately after moving to Berlin from Frankfurt in 2002.

On the day of the 60th anniversary of the signing of the The Treaties of Rome – which laid the foundation for today's European Union – a special pro-Europe event was organised at the König Galerie in Berlin, raising the question what every one of us could do to contribute to a new European identity. The evening included a light installation spelling EUROPA on the galleries' facade, talks with actress Sauerbruch Hutton, politician Klaus Lederer, artist Wolfgang Tillmans and architect duo Matthias Sauerbruch and Louisa Hutton as well as the launch of the movement's own fashion item.

This special items forms a part of the König Gallery's own merchandise line, 'König Souvenir,' which is currently making waves in Berlin and far beyond. Its key piece is as democratic as you can get: the bright blue EUnify hoodie with 11 golden stars, basically a wearable European Union flag.

One star is missing – this gap represents UK's exit from the EU and under the hood, the phone number of the EU hotline recalls a unique resource of political education.

The collection of König Souvenir also features 'The Norbert Bisky Beach Towel' in support of LGBTQ culture and 'The Issie Energie Longsleeve' which celebrates the life and work of artist Isa Genzken.
Arthur Groeneveld

koenigsouvenir.com

koeniggalerie.com
Arthur Groeneveld (1986) is the co-founder of creative consulting collective 1kg as well as one half of photography duo Arturo Bamboo