Indian Summer in Lower Normandy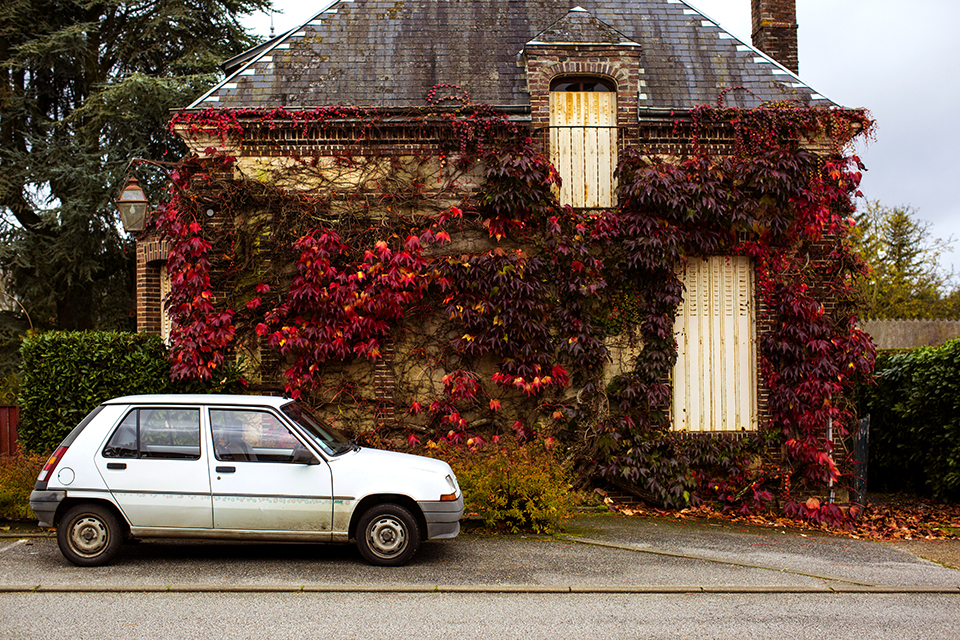 Autumn is our favorite roadtrip season riding through melancholic colors, from pine green, mustard yellow, orange terra, wine red to deep browns and the scents that seem to belong to a forest that slowly falls asleep after this Indian Summer …

We discovered parc de la Ferté-Vidame by chance, with the magnificent ruin of the castle that appears to be made of cardboard when you look at it from the side. The castle is mirrored in the surrounding lake; a facade of lost romance perfect to celebrate the melancholy of the season. You can't help yourself fantasizing about the rustling of leaves and skirts strolling in the park in a secret rendezvous after the ball …

Time seems to go slower in small towns like Bellême where the benches on the village square are overgrown by ocher-yellow mosses surrounded by a magisterial forest domain of more than 2400 hectares in the Perche Natural Park.
The domain seems to stretch as far as Rémalard, you can sleep there in the middle of the forest at a charming former woodchopping village turned hotel 'D'une Ile' run by Sofie and Michel, a magical place with unique sleeping places that each have their own touch.

The food in the woodfire warmed five table restaurant comes straight from the kitchen garden and from surrounding producers who often deliver their regional dishes exclusively for their kitchen.

The best news is that this place is to be visited until after the New Year's Eve while the rest of Basse Normandie seems to be hibernating…

Tatjana Quax

Photography family of Studio Aandacht; Ben + Raf Lambers + Zara Arif + Tatjana Quax

www.studioaandacht.nl

www.duneile.com