Anni Albers "On Weaving" Book Launch and Design Conversation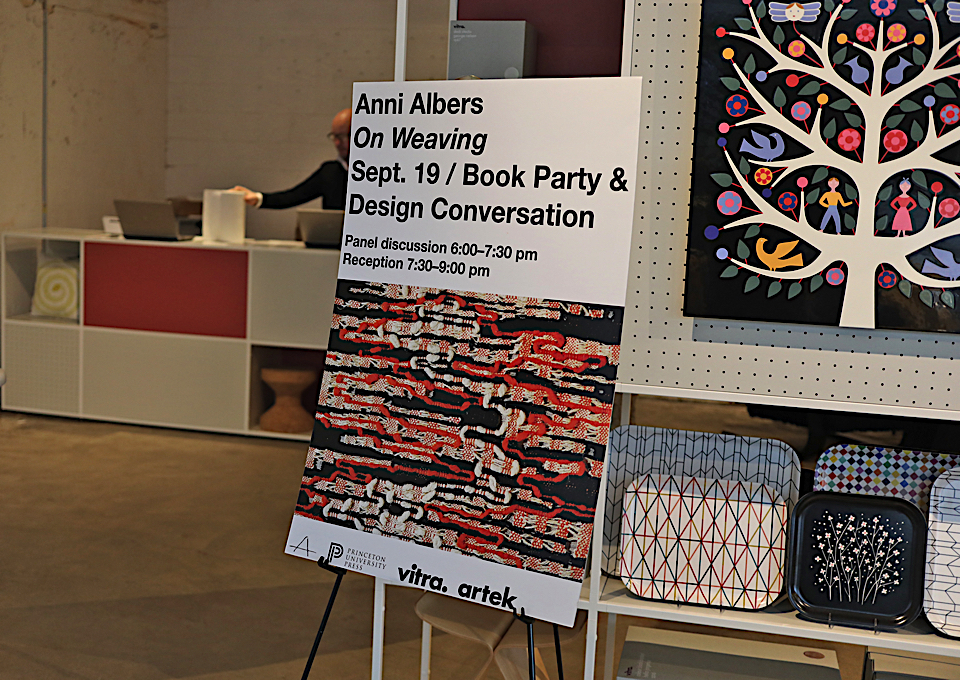 During the second edition of the New York Textile Month the Anni Albers Foundation hosted a launch party and design conversation in occasion of the launch of the new, expanded, full-color edition of Anni Albers's "On Weaving" book published in collaboration with the Princeton University Press.
The conversation was moderated by Brenda Danilowitz, chief curator of The Josef and Anni Albers Foundation and the panelists were Glenn Adamson, curator and theorist across the fields of design, craft and contemporary art; Christina Kim, artist, textile designer and founder of the Los Angeles based clothing brand Dosa; and Billie Tsien, architect and partner at Tod Williams Billie Tsien Architects.
A reception followed the discussion, allowing all participants a chance to speak with the panelists and the Josef and Anni Albers Foundation members to discover "the event of a thread" in Anni Albers's own words.
Anni Albers was one of the 20th century's most innovative and influential textile artists, with her subtly abstract works of art, bold wall hangings, articulated architectural fabrics and experimental jewelry and prints. 
On Weaving collects her wide knowledge and observations on the art of weaving and its implications in modern design.
The second, newly published edition of "On Weaving" features renewed photography and outstanding full-color illustrations, keeping the original book's design intact while completing it with new essays by Manuel Cirauqui, T'ai Smith, and Nicholas Fox Weber.
This updated version of the pivotal 1965 book confirms the fact that "there was only one way to present her text, and that is her way", as Brenda Danilowiz affirms during the conversation in front of an audience composed by designers, architects, weavers, artists, curators, admirers and friends.
It was impossible for the panelists not to mention how intentional and inevitable every word feels, how well the strong personality of Anni is portrayed by her words, how the rhythm of her writing as well seems to mimic the shuttle going back and forth on the loom.
During the conversation the speakers gracefully celebrated the work and research of Anni Albers talking about the importance of slowness, the relevant role of tactility, the art of creation in weaving, writing and architecture, the meaning of past and present technologies and the idea of individuality for a collective vision.
The entire event was a testimony of the enduring legacy of Anni Albers, whose work and ideas continue to inform and inspire even after 60 years from its first publication, confirming the importance of keeping the conversation about textiles and weaving open.
Laura Sbaragli