At Six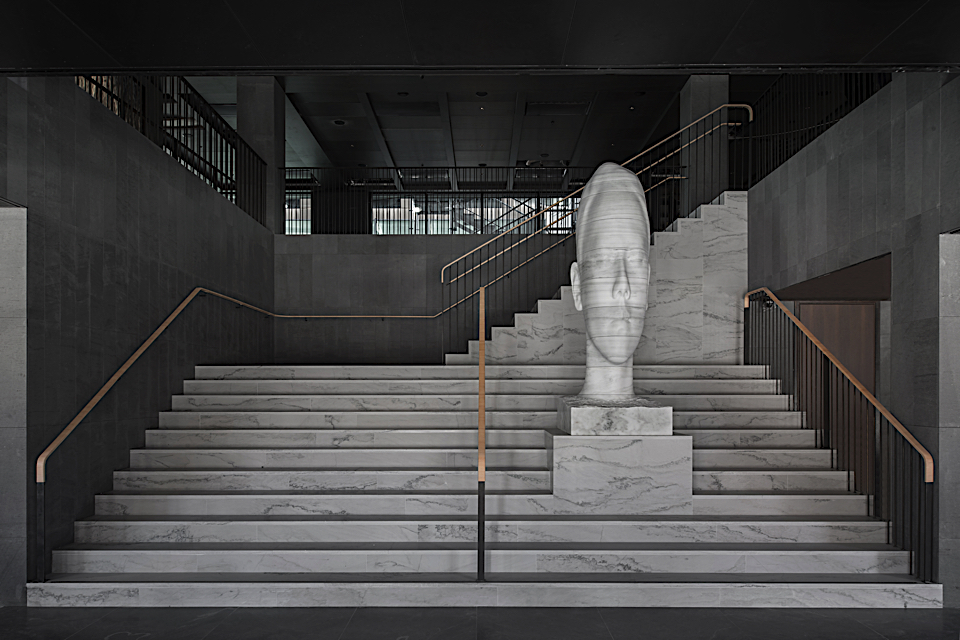 Contemporary art, classical Scandinavian design, and sophisticated, thoughtful interiors all come together at Stockholm's newest luxury hotel, At Six. We spoke with Hannah Carter Owers of Universal Design Studios about the design motivation for the brutalist space, how they redefined the grand hotel concept for modern life, and how Stockholm and its citizens play a central role in its grand designs.
What was the brief for At Six Hotel's interiors?  And how did you implement this?
The brief asked us to create a desirable, vibrant destination, appealing to both locals as well as international guests, with the aim of becoming the best contemporary luxury hotel in Stockholm.
The building, a brutalist high-rise structure, was originally designed in the 1970s by Swedish architects Boijsen & Efervgren, and in our design we tried to humanise the imposing architecture, while also making its unique qualities part of the project. We wanted to make a hotel experience  that feels unique, distinct and memorable and but also at ease in the building and in Stockholm.
The hotel is large – 343 rooms in total and so the brief also asked us to look at a number of typologies and colour ways to create contrast and variation across the floors. We also had the existing building and a new rooftop extension to work with where the quality of spaces were really quite different demanding room concepts that could flex, scale and be modified to suit various architectural scenarios.
When we got into the detail we had to work though requirements for each room type, incorporating a mixture of traditional luxury elements (for example a wardrobe long enough to house a Nobel-prize gala dress) contemporary art (hand picked by curator Sune Norgren) and a mix of local and international elements and design.
We wanted every room to feel like a suite so even in the smallest of standard rooms we have clear hallway, sleeping and living zones. All standard rooms incorporate a full length marble credenza that doubles up as desk with a lounge seating area comprising a custom designed sofa and well stocked minibar and drinks area.
Universal Design Studio specializes in materials – research and experimentation – and crafted details. What materials were used in the hotel? And what is the motivation behind these choices? 
Working within a period building we felt it important to establish an interior that felt authentic in character and felt like it was built to last. The 'grand hotel redefined for modern day life' was a theme running throughout the design process and because of this we want the hotel to feel like it has a legitimate place in the lives of Stockholm's citizens and visitors. It's a contemporary space, with an international outlook but we strongly felt that elements of the interior needed to draw their cues from the building and square.
In keeping with the period of the building, we specified lots of 20th century furniture pieces including re-editions of classic Scandinavian pieces (chairs by Nils Otto Moller, Poul Kjaerholm alongside other classic European design: Perriand, Albini, Scarpa) . We also commissioned or customized a number of pieces including a bespoke table hewn from a single tree trunk, bespoke lighting by Atelier Areti and Rubn and a customized marble Tobo Ishi table by our founding Directors Edward Barber and Jay Osgerby.
Our starting point for the Lobby, restaurant and bar interior architecture was the stone cladding on one of the other buildings in the square (Peter Celsing's Riksbank). The monochrome interior contrasts shades of warm grey and highly textured natural materials (sawn stone, blackened steel, fine timber and polished granite) as  soft furnishings and classic furniture editions. The aim was to reinterpret the brutalist aesthetic of the building and the immediate architectural landscape of Brunkebergstorg Square in a way that felt relevant, comfortable and contemporary.
Upon first look, you can see that art clearly plays a big role in the space.  What was your role in the selection of the pieces? Did you work closely with the art curator? How did the interiors and artwork interact?
We kept a pretty constant dialogue with Sune Nordgren the curator* throughout the design process as we both wanted to build in a range of opportunities to showcase the art collection. Collectively we agreed on ideas for the larger scale pieces in the lobby and public spaces as we needed to make sure the architecture was accommodating but as far as the actual selection of specific works went, it was all on Sune who did a brilliant job. With the large sculpture on the staircase there was a fair bit of coordination as we needed to make sure that the materiality and detail of the staircase worked with the head (there was structural plinth cast into the stair to take the marble case of the head) and that the art lighting was correct. We also needed to consider the scale of the head which was a special commission – making sure that it worked for people viewing the piece from the ground floor, the first floor and how it felt to move around as people ascended the staircase.
All of the pieces are by artists already represented in the collection of Petter Stordhalen, the hotel owner so there is a personal connection.
Sune Nordgren has worked as a cultural commentator and art curator for over 40 years. He was Founding Director of BALTIC, the Centre for Contemporary Art in Gateshead, England and Director of Norway's National Museum of Art, Architecture and Design. Since 2006, he has been running Strawberry Art + Design, Petter Stordalen's ever-growing private art collection, and was responsible for sourcing the art for AtSix.
Do you have a favorite piece of art from the collection?
We are very proud of the hotel in general. Even the simplest of standard rooms feel luxurious, considered and detailed. We have also managed to balance diversity and coherence in the public spaces so the experience as a whole feels tied together all the while offering variety and contrast.
I also really like the calming influence of Mar Whispering, Jaume Plensa's 2.5 metre high marble head situated on our grand staircase. She brings a serene mood to an otherwise dynamic and bustling lobby, reception and restaurant.
What makes At Six special is that it stands out from the usual "Scandinavian design" interiors prevalent in Stockholm. It's very refreshing! It has a more "global" look, so to say.  Is this a conscious decision? What are your thoughts on this?
We find the Scandinavian design aesthetic very seductive and we certainly researched and referenced the work of Scandinavian architects and designers in preparation for creating the concept. However right from the start we focused on building a hotel that had it's own unique aesthetic and in terms of design felt befitting for an international city which Stockholm is. We've been told that there is nothing that comes close in terms of contemporary luxury hotels in the city which we are proud of but by the same token we feel we have successfully created a place that Stockholmers feel very at home in.
You mentioned this concept of bringing together an international outlook and attitude while creating an experience grounded in the local area. Can you tell us more about the Stockholm elements in the design?
Some elements tie the hotel to the city and local area more literally – For example the Swedish leather from the Tarnsjo tannery to the north of the city wrapped around the staircase handrail and on the restaurant banquettes, the bespoke lighting by Swedish lighting company Rubn whose standard range of contemporary fittings evoke a sense of quintessential Stockholm design and the commissioned table in the wine bar carved from a single Stockholm Elm tree by local artist Lies Marie Hoffman. Where possible we used local suppliers and makers from the city. We also drew inspiration from the existing architecture of the square, in particular Peter Celsing's stone clad Riksbank, and the ancient geology of the city when it came to selecting stone types for the floor and wall cladding of the public spaces.
In terms of function we wanted to public spaces to serve the local community of Stockholm workers/ creatives as much as hotel guests and tried to make the public spaces flexible, diverse and comfortable morning to night.
Angel Trinidad
Angel Trinidad is the founder of Keen on Walls, a website featuring inspiring interiors, design and spaces. She is also the author of 'Scandinavia Dreaming: Nordic Homes, Interiors and Design', and co-author of 'Night Fever 5: Hospitality Design'. Based in Amsterdam, she works as a freelance editor, writer and creative strategist and have worked for clients such as Gestalten, FRAME Publishers, Victionary, Holland Herald KLM and Holland.com, among many others.