flaka jahaj x bonne reijn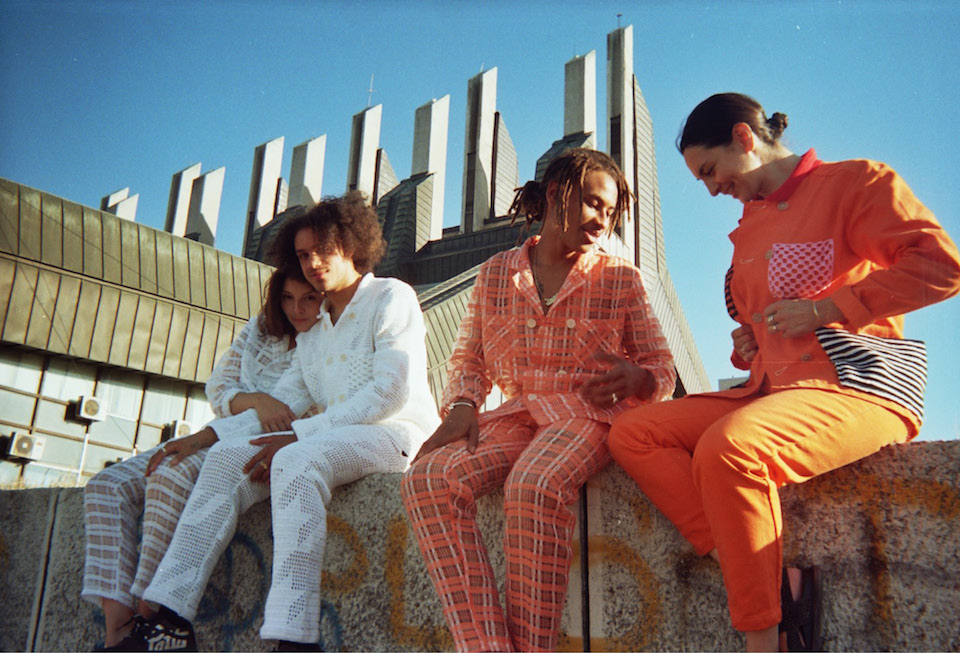 The Fashion & Textile Industry is currently reinventing itself – going from out of fashion into fashion, trying to find ways to bring it into the 21st century.
Whether with recycling materials, sustainable textiles, handmade items, seasonless collections, genderless approaches – finding its way back to the root of analyzing the garment itself.
Iahai International x Bonne Life two experts in their own field, coming together to develop a future recipe.

Chloe Sos: You both seem to explore the "labour of love" within the garment. Flaka, you from the exploration of materials and handmade traditional crocheting, working with Ateliers in your home country where you employ Kosovar Women to preserve traditional knitting techniques and Bonne, you from the volume perspective of reimagining the workers suit and genderless shapes. Was this where this collaboration initially originated from?
Flaka: It started out when I discovered Bonne's suit and orderded one. I have 6 by now….
Already there I realized that Bonne was interested in much more than fashion. I saw he's doing art projects & music, fading the boundaries of singular disciplines, empowering the youth. I researched and read all his interviews. In one interview he mentioned Rick Owens and Issey Miyake to be his favorite designers, both brands I have worked for. I liked his approach of going back to uniform. I was at the same point in a different field but with the same mindset.
Last year I did a pop up shop in Zurich on the prestigious Bahnhofstrasse and invited Bonne to send me some suits to sell, he didn't only bring the suits but came along with Smib a punk/rap collective from Amsterdam and Bonne's inner friend circle/family.
We celebrated the opening together and decided in Zurich to do a collaboration.
Bonne: Yeah, so we try to do 4 drops of the normal suits but in different colours and 4 times a year a collaboration with an artist who uses my pattern but can do anything he or she wants. Flaka was the perfect fit and we've known each others since the brand started. Flaka's suits fit perfect with our collaborative philosophy and truly reimagines them in addition puts everything in an amazing new perspective.

The Knotty project by Pawel Lasota & Madga Mojsiejuk, one of our Talking Textiles Talents translates the knitting technique into the language and movement of a robot. Flaka, preserving traditional techniques is key today for any brand to survive but with new developments in the textile industry and the binary approaches of high-tech / low-tech, where do you see the traditional crocheting techniques influence the knowledge of potential machines? Would you ever consider exploring experimenting with it? If yes, how so if not why?
My favorite technique is crochet because until this day there is no machine able to recreate this textile or the possibilities of within this technique.
I'd love to sit together with a machine engineer and nerd around trying to figure out a way. But I think I prefer to preserve the artisanal handicraft rather than forcing it into technology.
Certain things can not be created by machines and shouldn't. I like the human error for example. I like perfection within finishing and details but I love when somewhere in between a tiny little error appears making it human.

Locally sourced materials and production is a treat with all the outsourcing surrounding the industry. You decided to build your atelier in Kosovo, to slow down fashion and preserve and readapt.
How does it work in terms of production? It of course allows you to provide jobs to a neglected atelier but also how to do you see the production developing over the next years and how will you adapt to the potential growth? What are the key struggles and how could we get more brands to produce in Kosovo?
Flaka: The structures of my atelier are quite loose. The women pick up the work and mostly work at home. Being able to take care of their children at the same time. They decide themselves how much work they want to pick up.
Artisanal Know-How is spread throughout the whole country because they value cultural traditions to this day. So I have no problem finding women who excell in handcraft.
The only problems I have for example are finding local organic yarns or having it shipped to Kosovo. Because of the war any infrastructure of the technological textile industry is shut down plus the know-how disappeared. The country is closed up from Europe and does not appear on the maps of UPS or DHL which is really annoying for the production to run smoothly.
For everything to work better everything is needed.
I guess I have an advantage to be able to live in Europe and proclaim the beautiful heritage and meticulous arts and crafts of my country of origin. So I see it as my responsibility to spotlight it.
Bonne,You focus more on the question of a 9am to 9pm uniform, providing a solution to the fast pace lifestyle we live today, for every individual. How are you rethinking the measurement process and the approach to a genderless brand? Why is it more important now than ever?
My whole approach with starting my own brand was that it should be for everyone. I wanted to start a new way of approaching a garment. I think a lot of the ways we've been perceiving fashion the last let's say 50 years, is overly complicated and laced with too many assumptions (or is it forced assumptions?) about what peopled want/need. To me clothing should be simple. Cheap, long lasting, and for everyone, so for me making a gender less brand feels like logic. I would never make a garment that's only for certain people let alone one gender. It not only messes with your money but it also makes other people feel left out. A product should be available for everyone.

Your suits are made to work and live in – following your previous collaborations they become a blank canvas for creatives to express themselves. It seems that you are testing the waters in the art world as well, which is crucial as the new fashion inspirations happen at art fairs and designers bringing art on the runway. Will you consider focusing on building a sub world of art where textile art could grow?
Bonne: For me it's already an art form. If you look at for example the starting of hip hop. It's all about expression really. I don't really know about the fashion inspiration at art fairs. I think it's pretentious. My opinion is that it should be done effortlessly. Not as a marketing tool but as a pure expression. With starting Bonne Suits I felt the need for it. It think expression is best when somebody truly feels the urge.

Having experienced the fashion industry first hand – collaborations and capsule collections are currently playing a big role in todays fashion world. Withal it creates a base where expertises come together to build a better product. Will you continue with collaborations and will you see it being part of the 21st century fashion industry?
Flaka:
I'm happy we reached a point where we won't compete with each other but unite what each can do best. I think this should happen all the time and much more.
It's a win-win really for all the collaborators in every aspect.
Bonne:
Collaboration for bonne suits is key. We need it to grow and see our product in a different light every time.

Last but not least Flaka x Bonne: What new developments are you looking into and why?
Flaka:
I'm moving cities from Zurich I'm relocating to Amsterdam. I got to experience this city while working on the collaboration with Bonne Suits and I love it. There I will be focusing more on little series of handmade items like a limited series of my pompscarfs and jumpers, little series of knitted jumpers and textiles rather than working on seasonal collections. I want to enlarge my field of work and horizon. I'm also working on a collection with my sister Bleta Jahaj, who's an artist and another collaboration with my best friend from high-school Nina Job who is also a fashion designer. I'm so exited.
Bonne:
We're doing a complete new suit. It's gonna be the same price but a bit more dressed up. Also we're doing a big collaboration with Irma Boom which is crazy for I've been her biggest fan for a long long time.