santa fe folk art market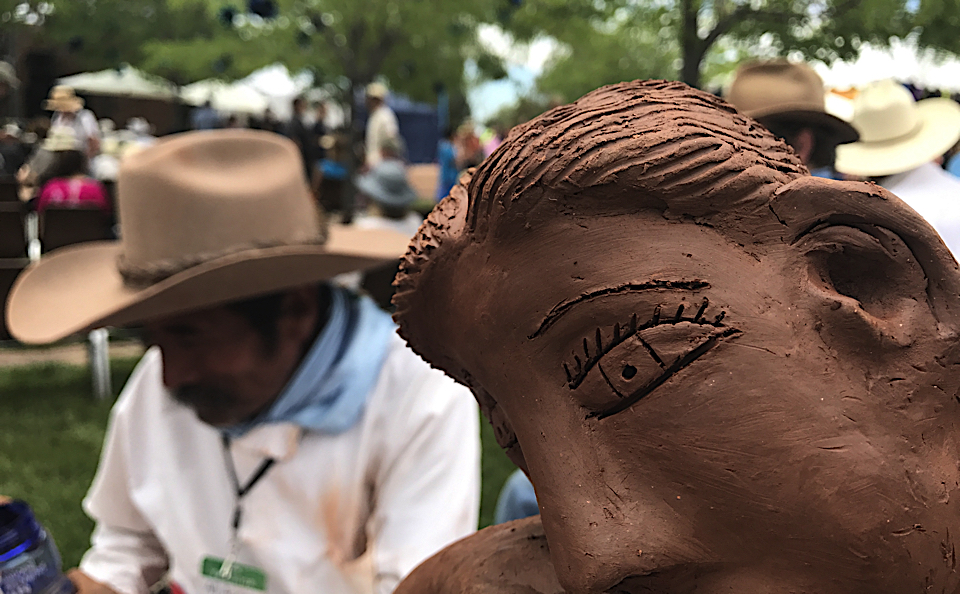 Jose Garcia Antonio, blind master potter from Mexico and one of his seductive clay mermaids, made onsite at the market
There are incredible markets around the world and then there is the International Folk Art Market in Santa Fe, New Mexico, an event that has been happening every July in Museum Hill since 2004. Named the face of peace and the number one arts festival in the US by USA Today, this is the biggest global gathering of its kind. This year, 25,000 people from all over the world came, including 2,000 volunteers, thousands of travelers, shoppers, collectors and, most importantly, 160 folk artists from 53 countries.
The market starts with a parade of the artists welcomed by the city of Santa Fe as they gather in the main plaza welcomed by a Cuban live band. Li Edelkoort, the honorary chair for 2017 and Keith Recker, the creative director, read the names of each country and cried when Syria was called. "This market is humanity, humanity at its core" said Li to an audience of culture bearers who blur borders with an eye-dazzling convergence of handmade forms, textures, and designs—textiles, jewelry, beadwork, basketry, wood carvings, ceramics, rugs, glass and metal work, sculpture, mixed media, toys, and more. "In these turbulent times, it's an amazing experience to be part of something based on beauty and respect. Face to face with artists from over 50 countries, there to explain what they do, to invite you to know something about their lives and traditions — my faith in what we can accomplish as a species is restored. As one of the 154 artists who participated this year said, "The market is everything that's right with the world" affirmed Keith Recker, IFAA Creative Director and board member.
Kavita Parmar from IOU Project was a first time participant in Innovation Inspiration, a special exhibition area featuring works by 30 artists who are reinterpreting time-honored materials and techniques into innovative works that express new meaning in the modern age. "I have had the opportunity as a designer to present my work in many shows and fairs around the globe including fashion capitals like Paris, New York, Florence, Milan etc. but I have never encountered such a strong sense of community and an incredibly beautiful empathy within the artisans, the clients and the many staff and volunteers of the IFAA. The client response I have had even after coming back from the show has reinforced my belief that the customer is looking for authenticity and a direct dialogue with the craftsperson and this is one of the answers to the future of a true luxury shopping experience. Carla Fernandez, from Mexico and also a first time participant, said that she was very surprised to encounter a spiritual experience sort of a boot camp of the positive, the possible and the future where sharing is the currency. She has been to many shows around the world just selling her products but this is the only time where she has felt a real support, a real sense of community. The show reaffirmed her belief that the future is handmade, that this is a possible and relevant future that can be a sustainable thriving business. She also said she encountered the real America, one that favors diversity and culture and a very different one from the one in the news.
Porfirio Gutierrez from Oaxaca who participated in 2013 and 2017 says this is a unique show because it caters to people who know and appreciate folk art. To be accepted means to receive a special recognition and be the beneficiary of all the knowledge and care by a pull of top specialists in different areas such as branding, entrepreneurship, marketing etc. Porfirio was very proud to be chosen as a mentor this year, helping first time artisans to get around.
Somporn Intaraprayong from Thailand, represented by Chinalai, has participated 8 times at the market. Her booth is the first stop of any serious textile collector and one of the first to sell out. This year she was invited as a panelist where she spoke from the heart about her community of seamstresses and sewers who use stitches to tell stories of the rice fields and their daily lives. She includes everyone who needs and wants to work, they all have a chance and get the most important teaching of all: there is also beauty in imperfection, beauty in every process, beauty in every stitch.
Olga Reiche from Guatemala has been to the market 8 times representing pik'bil textiles from the Queckchi ethnic group of Coban. These lace type textiles were nearly extinct with all the Chinese imports. Olga, the daughter of a German and an indigenous woman from Coban, remembers visiting her grandmother and being mesmerized by her silver jewelry and intricate white lace dress made using one thread hand spun cotton, back strap loom and white on white. Eight years ago, Olga saw the market as the perfect place to present to the world this technique and to use this as an "excuse" to rescue the knowledge and convince the artisans that there is a market that appreciates their heritage. "I have the highest respect for the show, I know I will be surrounded by the best of the best, all chosen carefully according to principles of ethics, respect, tradition, heritage and culture. There is no place in the world where artisans are respected and honored like in Santa Fe". Olga travels to the market with Amalia Gue, a weaver from a remote village who at 36 has 6 children, one of them born during the market four years ago to everybody's surprise, including Olga's. Fe Francis is the name of Amalia's baby, named after the patron of the city and the market. Indeed, this is not a market, this is a miracle, as one of the slogans claims.
The Santa Fe Folk Art Market is a community of ideals around sustainability, entrepreneurship, empowerment, diversity, well being and cultural preservation. Artists go home with 90 per cent of the sales. This impact is especially great for disenfranchised women and artists from developing countries, where artisan work is second only to agriculture and daily income averages less than $3.10 per day. "For both consumers and artists, the most positive path to the future is handmade." Affirms Keith Recker. "Seeing these cultural treasures and meeting the artists creates a connectivity that stirs the heart, opens the mind, and invites us to speak a single language," says Judith Espinar, a co-founder of the Market. "Through folk art, hope grows and understanding spreads across the world."
Marcella Echavarria
Marcella Echavarria is a Colombian-born, Mexico City based lifestyle specialist. She collaborates with designers and artisans around the world developing links that connect local knowledge with global trends. Her specialty is branding luxury and sustainability in a way that preserves cultures and traditions.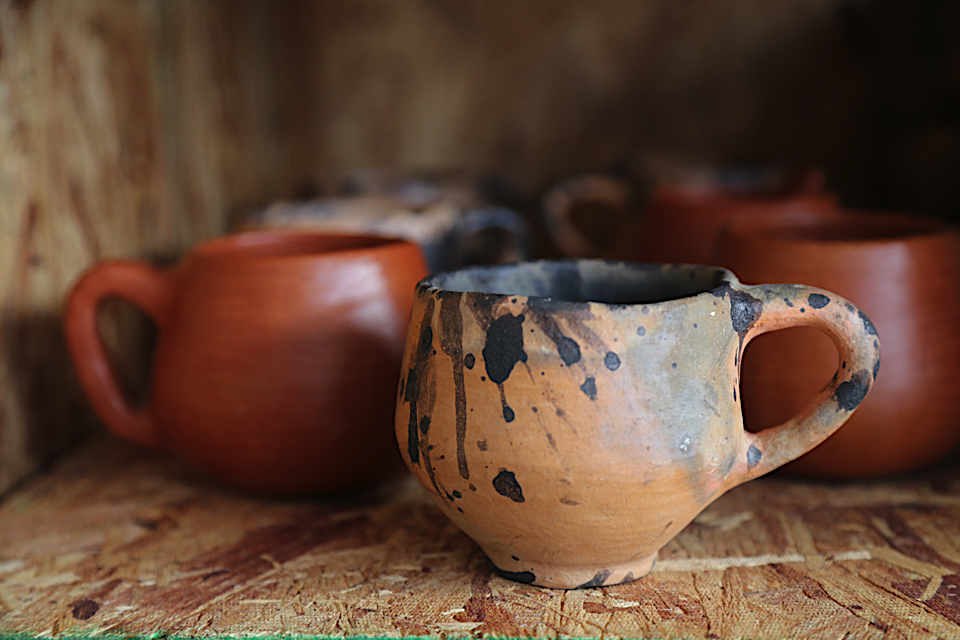 Collectivo 1050 Grados, a collective of Mexican potters, makes modern forms using traditional methods and finishes.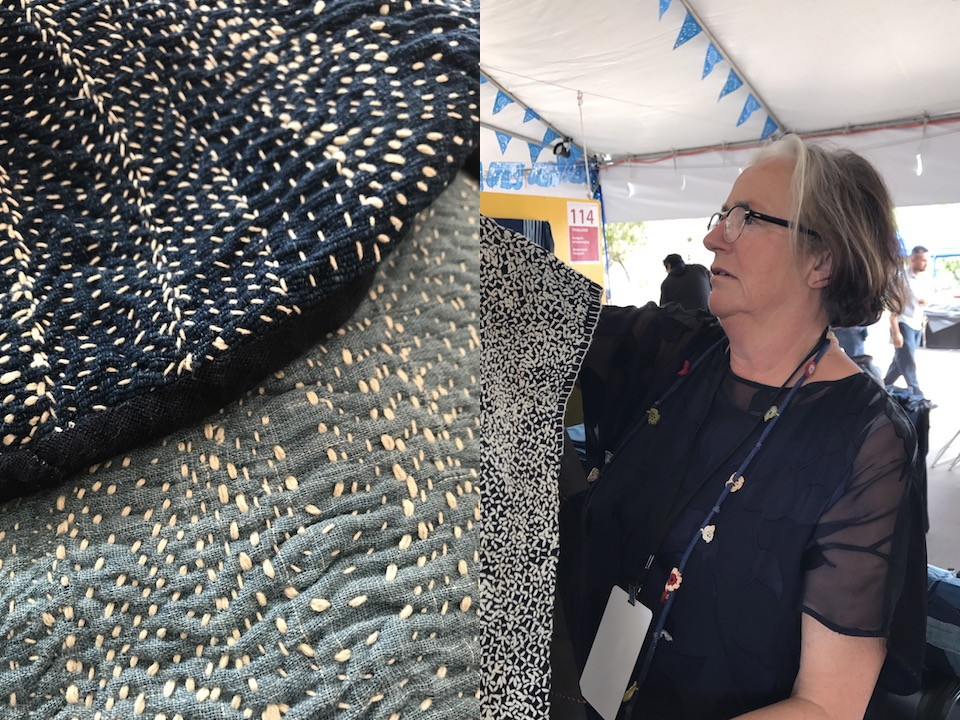 Left: Densely stitched indigo textiles by Thailand's Somporn Intaraprayong  Right: Li Edelkoort shopping at Somporn's stand.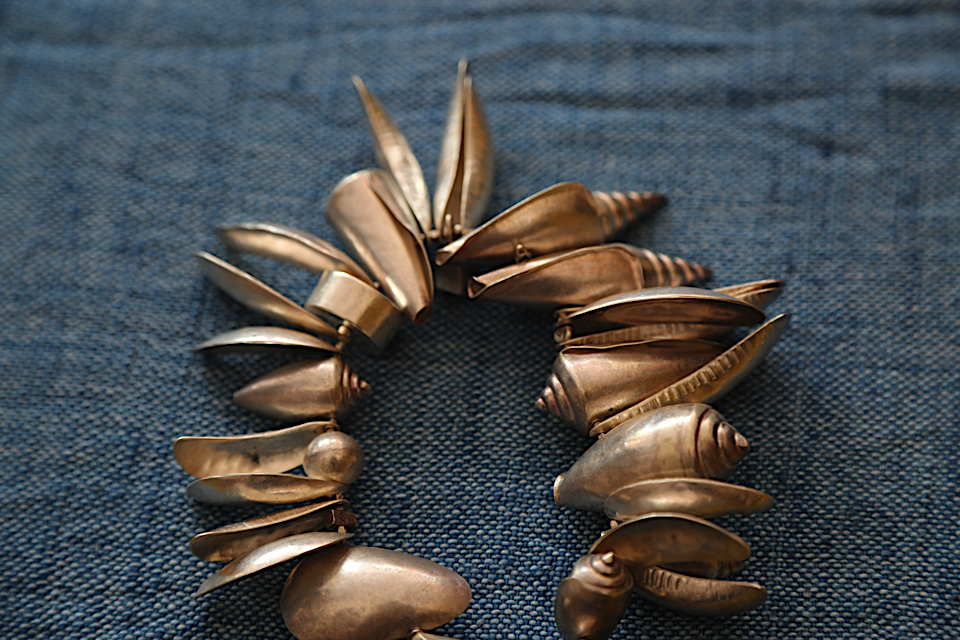 Generously scaled Thai tribal silver jewelry was included among the textiles at Somporn Intaraprayong's stand.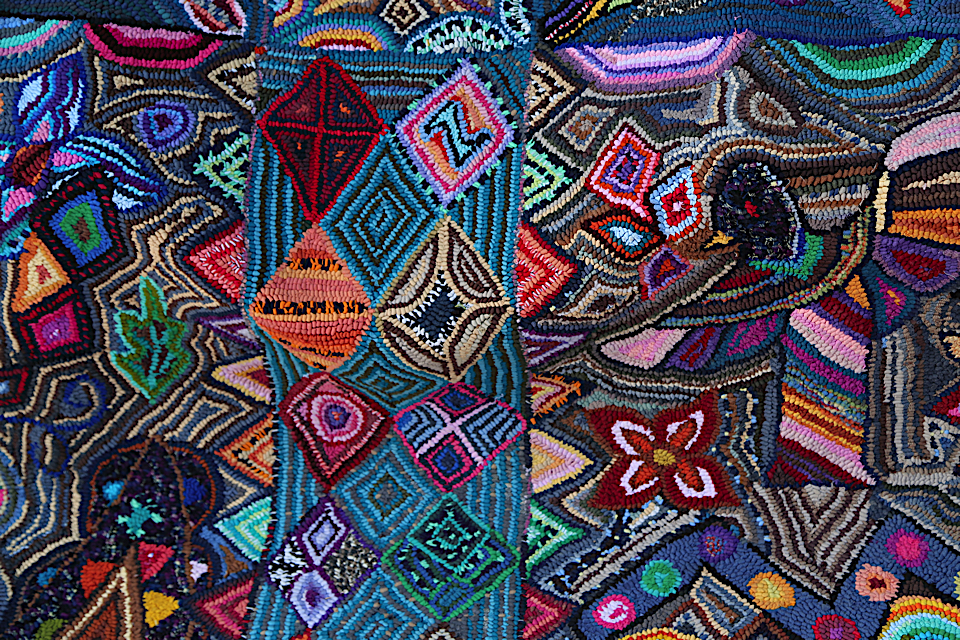 Detail of a hooked rug made from recycled clothing by Cooperative de las Alfombras de Mujeres Mayas de Guatemala, a group of over 60 indigenous women adapting motifs from their traditional clothing into a vibrant new art form.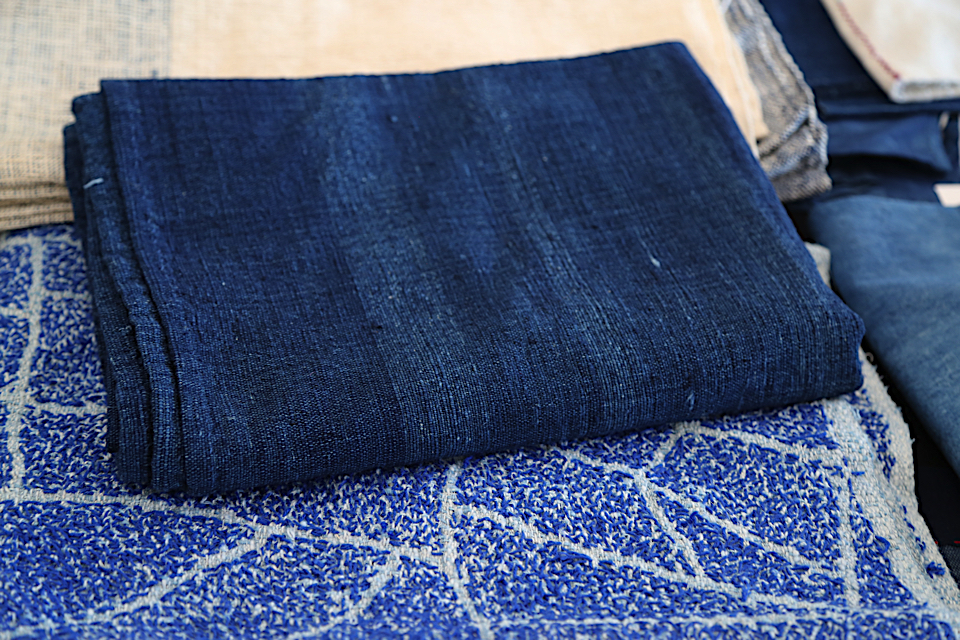 An array of indigo and natural cotton textiles by Somporn Intaraprayong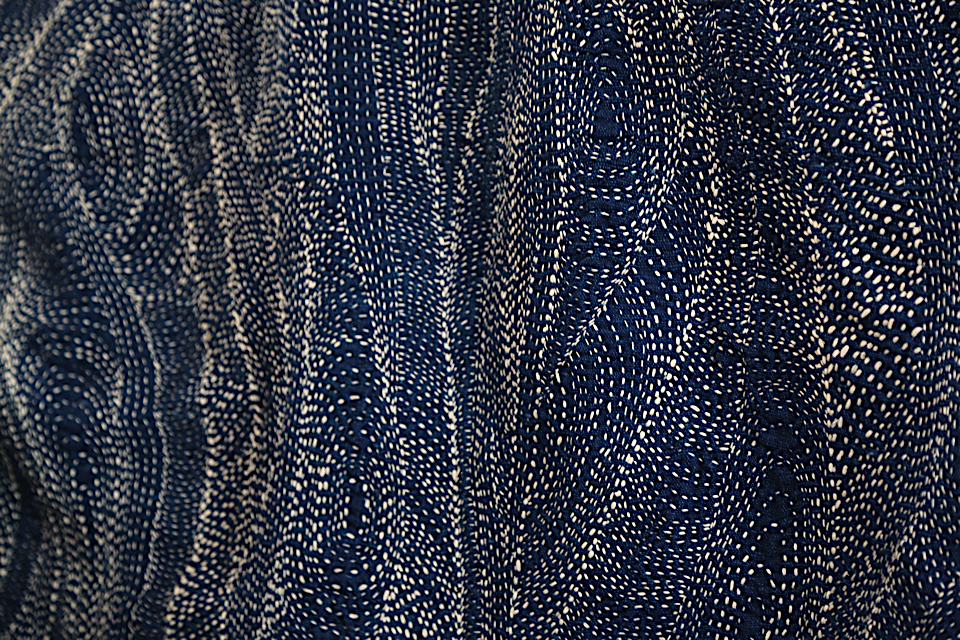 Detail of the sensuous stitchery of Somporn Intaraprayong
Detail of the recycled running stitch quilts of India's Siddi Quilters, an African diaspora group whose work combines Indian and ancestral influences.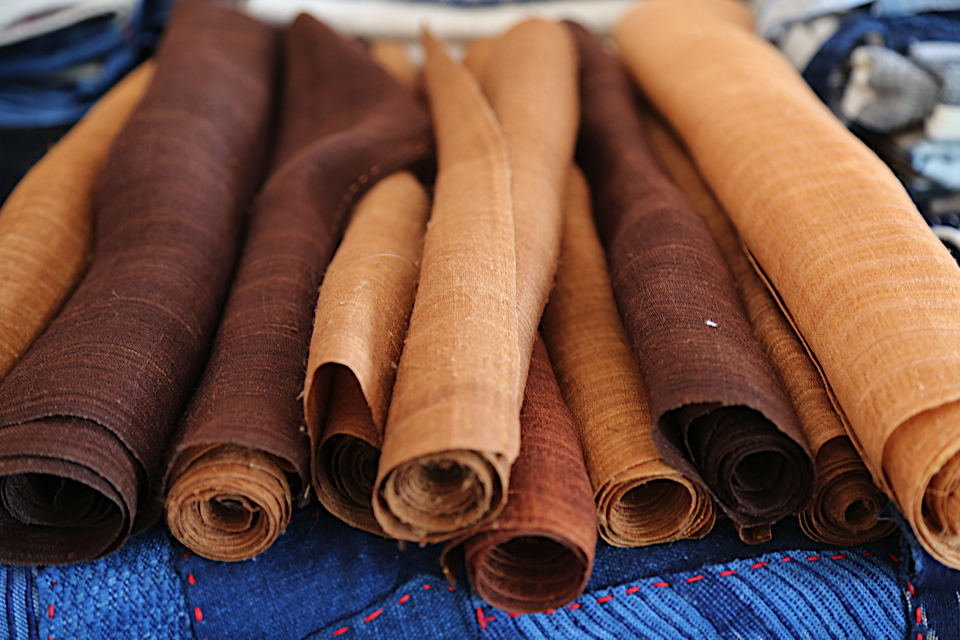 Naturally dyed silks by Somporn Intaraprayong.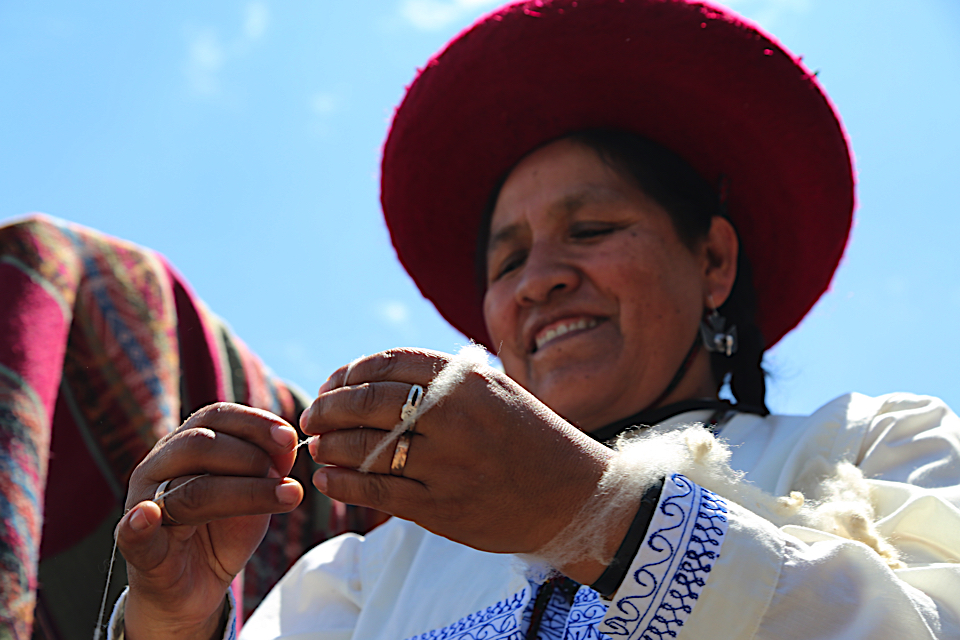 Peruvian textile artist, author, and community organizer Nilda Callanaupa demonstrating the basics of hand spinning the Incan way.
Details of hand-sewn, hand-embroidered, and hand-trimmed traditional Mexican blouses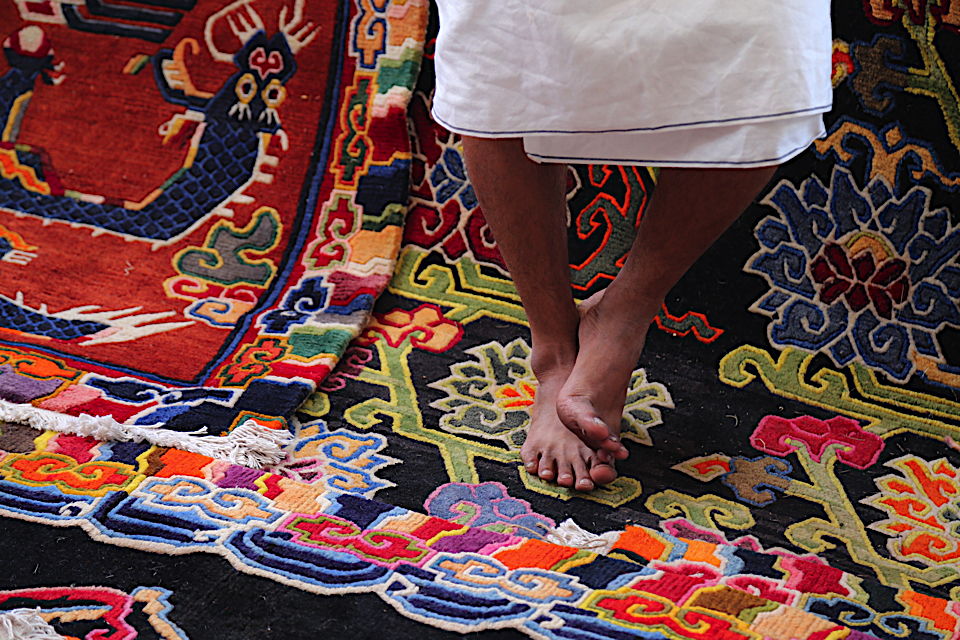 Nepalese carpet weaver Sandeep Pokhrel shows off the lush tactility of his work.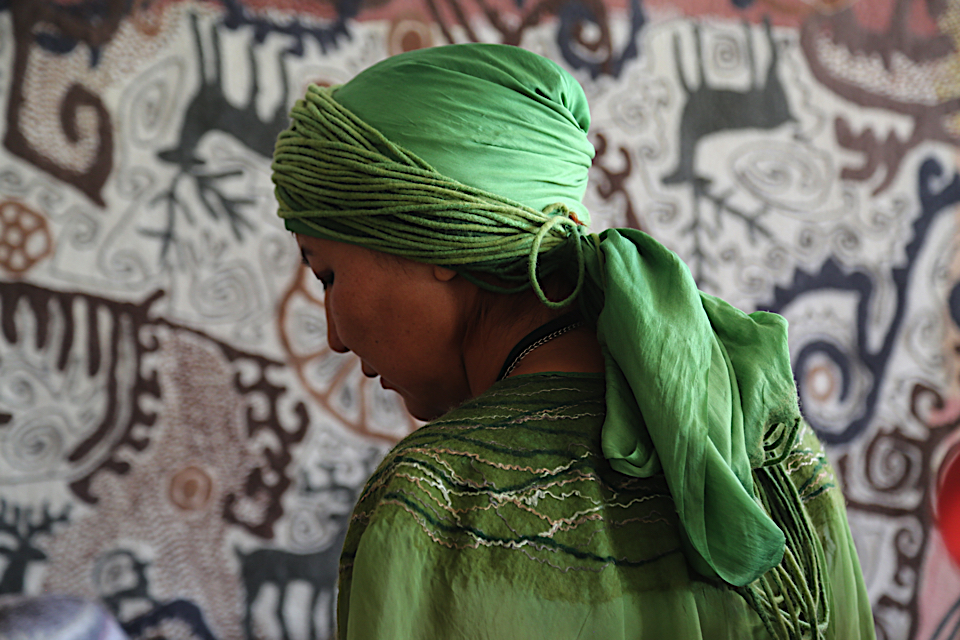 Kyrgyz felter Fariza Sheisheye stands in front of a massive, masterful felt carpet that sold moments after the opening bell.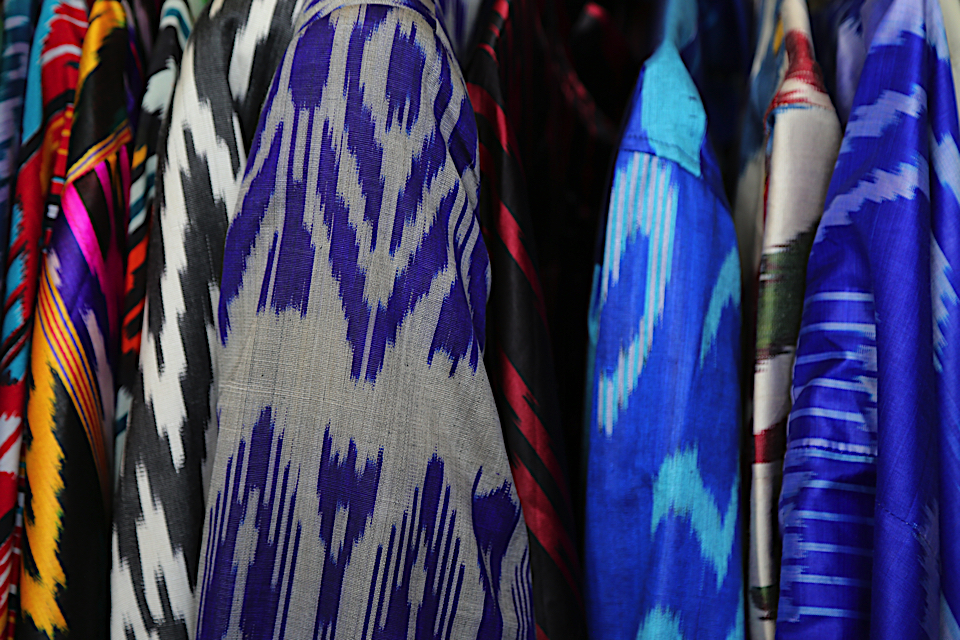 Details of jackets and tunics from the workshop of Uzbek ikat master Fazlitdin Dadajonov, who learned his skills from his father and grandfather.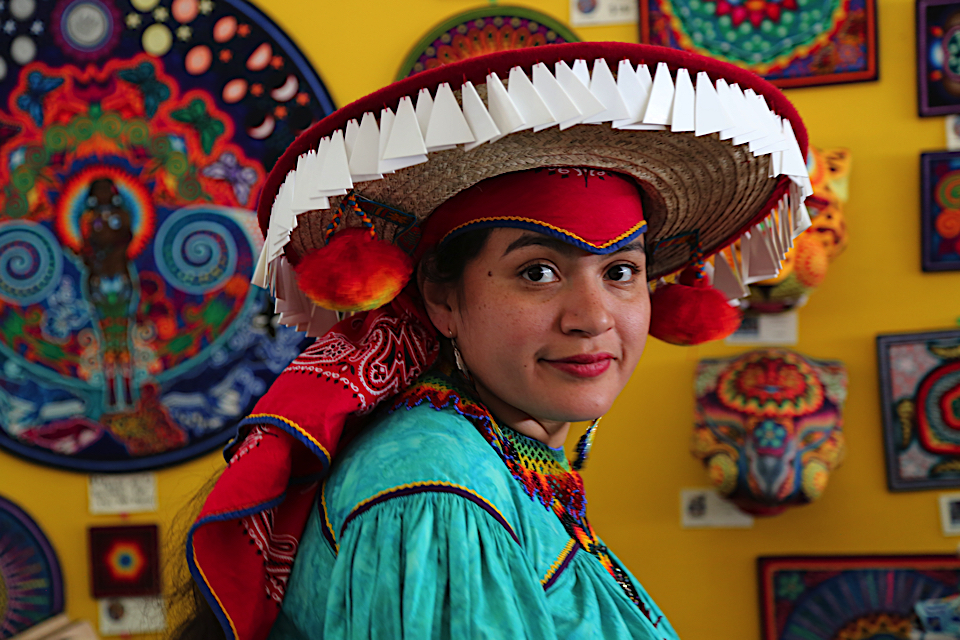 A member of the Valadez family, whose Huichol yarn paintings and beaded objects are market favorites for over a decade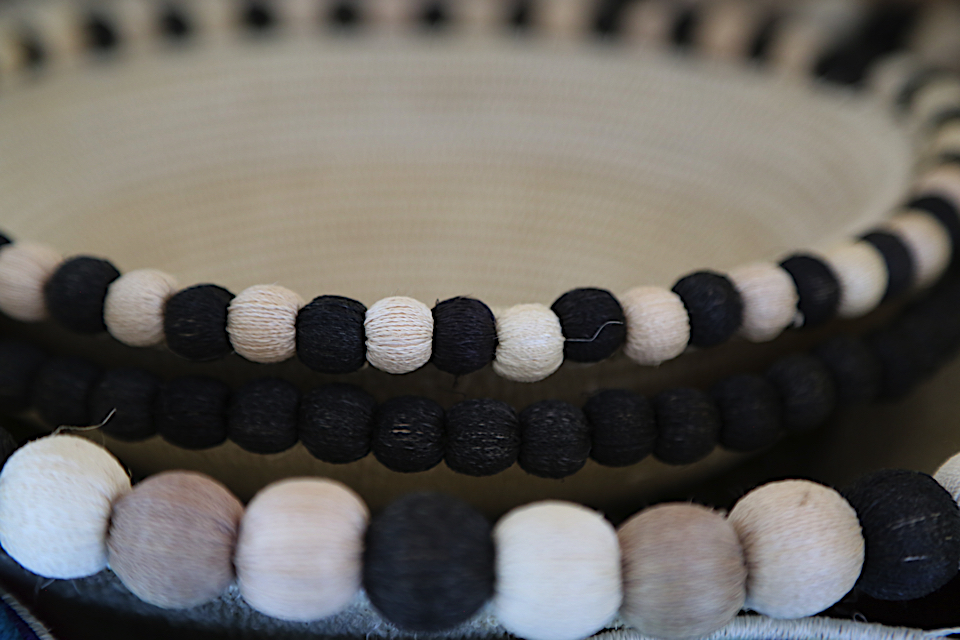 The sisal-beaded edges of Tintsaba baskets from a women's cooperative in Swaziland.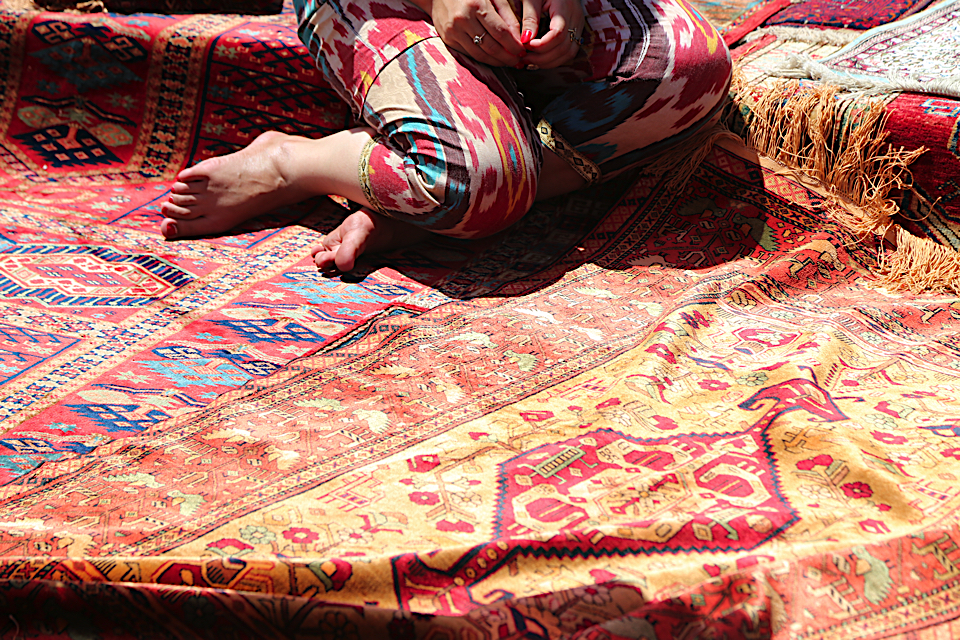 Rushana Burkhanova sits atop a luxuriant pile of intricate Uzbek rugs from the Bukhara Carpet Weaving School.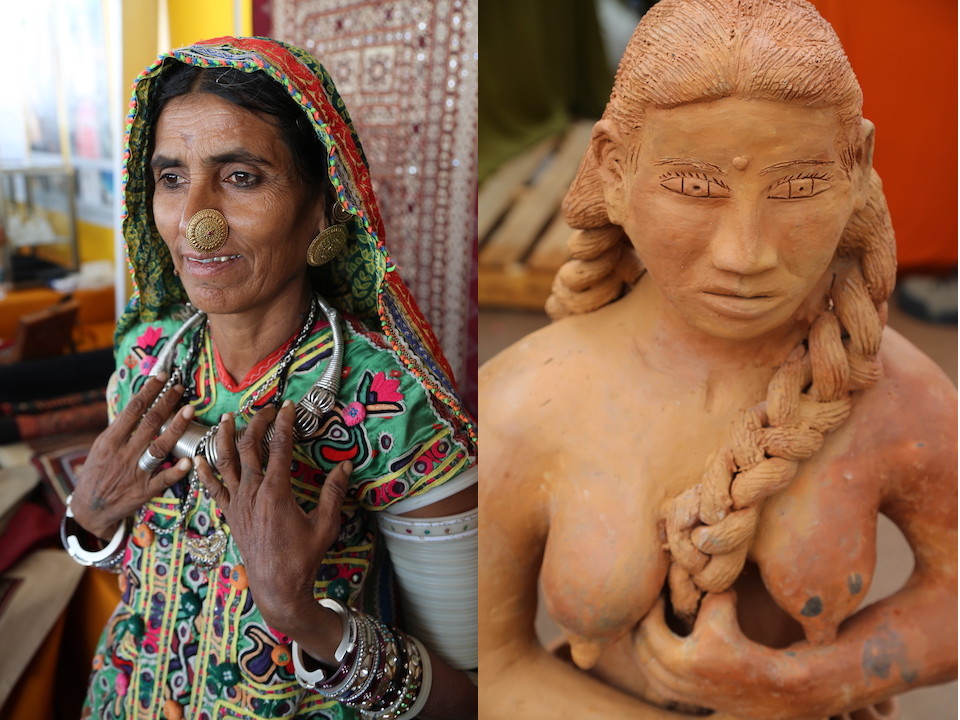 Left: an embroidery artist from Qasab Kutch, whose revival of 19th century clothing motifs produced some of the loveliest textiles of the 2017 market. Right: a sculpture from Mexico's Juan Garcia Antonio