vetements x saks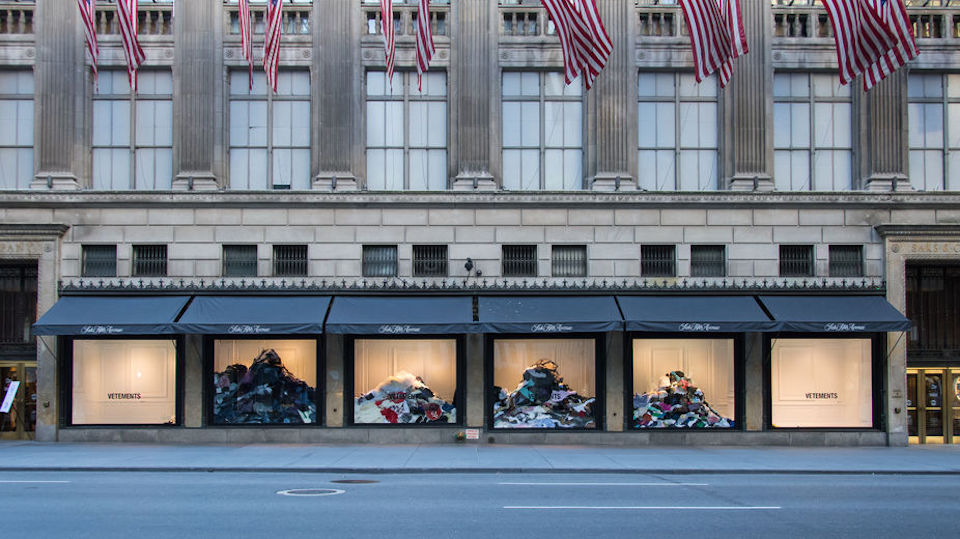 French for "clothing", Vetements was founded by Demna Gvasalia, a graduate from the Royal Academy of Fine Arts in Antwerp, Belgium. The first collection was launched in March 2014. Vetements focuses on what the name stands for, by delivering closet staples excluding the excess trimmings. Ultimately, the design approach is to create clothes that are appreciated for their unique creative and technical qualities.

Saks NYC joined force with Vetements to take position : « Using unwanted clothing, our windows are a bold statement by Vetements  calling us all to offset the excess in our lives. At the end of the installation, Saks will donate the textiles in our windows to RewearABLE, a clothing recycling company designed to provide sustainable employment for adults with developmental disabilities. »

On Vetement's Instagram account the words are very clear « Fashion is a very dirty industry. Deadstock in the US amounts to $50bn every year. After the oil industry, fashion is the second-biggest polluting industry in the world. Fashion chief executives scream about sustainability, and how they plan to cut carbon emissions by 40 per cent and reduce environmental impact by 50 per cent in every interview. But none of those brands seem to understand that a much easier solution is just in front of them.
Preventing overproduction in the first place would have an immediate effect on reaching those sustainability goals. The industry talks about conspicuous consumption — buying for the sake of buying — as the reason behind the growth in the luxury segment. But brands are producing more product than there is demand for. I call it conspicuous production, producing for the sake of producing and artificially inflating the numbers." #VETEMENTSxSAKS

Vetements

RewearABLE

Saks