stitch by stitch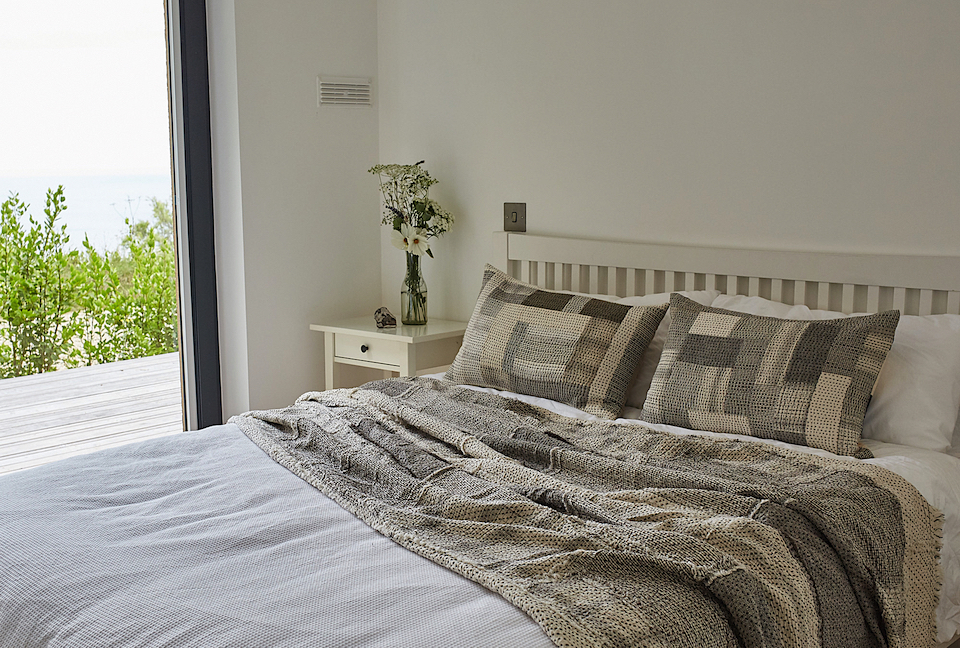 Stitch by Stitch founded by designer Graham Hollick is run by Graham and Karen Sear Shimali. They work with embroiderers and textile artisans in Gujarat, India to create hand crafted contemporary textiles for the home.

After several life-changing trips to India, Graham admits to feeling as though he must have lived in India in a past life. "One of the things that really excites me about India, is the visibility of craftsmanship everywhere you go: statue makers, weavers, kite makers…people who paint rickshaws!  This is lost in our culture – it's just not an everyday thing." says Graham.

On one of his first trips to India, Graham had the opportunity to work with embroiderers from the remote Kutch region of Gujarat, an area famed for its textile crafts. Their skill and knowledge of complicated embroidery stitches, passed by women to their daughters over the generations, inspired Stitch by Stitch's first collection of home textiles.

In 2010,Graham exhibited this first home textile collection in Paris and London during Design Week. 'The response was very encouraging. However he realised that he needed to join force with others. He shared his thoughts with Karen Sear Shimali, his friend and classmate from art school, and she agreed to get involved in his initiative.

The brand has evolved over the years to work with groups of hand weavers and a master quilt-maker, as well as with embroiderers, all based in Gujarat and Kutch. Graham's travels have also taken him into the Himalayas of Nepal where he developed a relationship with weavers of traditional Radhi.

Graham and Karen design the collections of home textiles : cushion covers, throws and quilts – in their London studio and then work out the product range with a design and production studio in Ahmedabad.

To better understand Graham, his motivations and the creative process Cecile Poignant met him for an interview :

When and how did you start Stich by Stich ?
In 2009, I  was invited by a friend at the Alliance Française in Ahmedabad to participate in a project with SEWA (the Self-Employed Women's Association), which represents thousands of women embroiderers living in the remote villages of the vast Kutch region of Gujarat.  SEWA are dedicated to empowering women home-based workers by helping to develop a market for their artisan skills. Out of this project came the idea to launch my own line of textile products utilizing the ancient embroidery skills. Stitch by stitch was formed in 2010 and I was joined 4 years later by Karen Sear Shimali who was an old friend from art college, and has experience in selling and marketing.
How would you describe yourself ?
I am a creative person who has always had a passion for artisan and folk crafts. I love the element of mistake and error that machines can never replicate, the wobbly line, the unevenly spun yarn the raw edge.

What is your personal connection with textile?
I trained in textile design and have always had a passion for textiles but it was only about 20 years after graduating that I had this chance to launch my own collection.

What fascinates you about India and Nepal ?
I love India and Nepal because of the artisan techniques that are all around and their unique creativity.

Could you describe your creative process ?
I love to immerse myself in the craft process and adapt those skills to create something new. I want to put their work into a new context

Is ethical production something meaningful for you ?
Ethical production is very important I want people to invest themselves in what they are doing and have a pride in it, therefore people have to be treated well and paid fairly.

Do you think you are giving a modern twist to a traditional heritage?
I don't think of this as a modern twist more a personal interpretation of traditions . I prefer the idea that our products have a timeless quality.

What are your plans for the future?
We would like stitch to grow slowly and steadily to gradually add new products and work with new artisans. We are just beginning to sample a new cashmere blanket with a group of women weavers in Afghanistan.

Cecile Poignant

stitchbystitch.eu