Waxman Textile Prize – Finalists #2017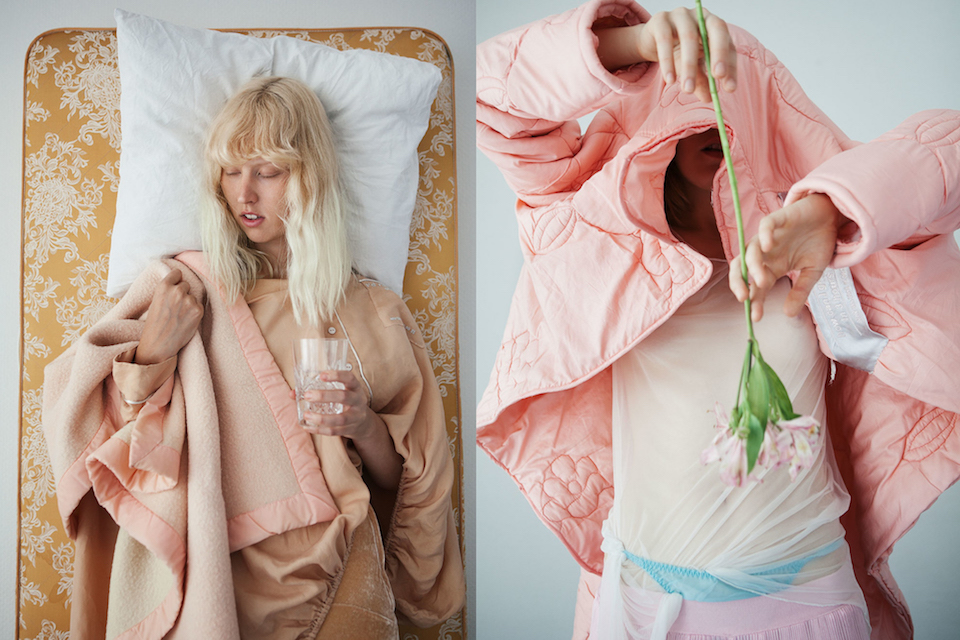 Aamu Salo (Finland)
Aalto University of Arts, Design and Architecture
Fictional Functions, 2016
The bed is a place where our minds are active while the body rests. It's a shelter of comfort as well as where we are the most vulnerable. The framework of this project is around the bed, which refers to the usage of objects, textiles and rituals surrounding it as references.
 Inspired by these references, the work envisions different scenarios involving these everyday life objects while speculating on their usage and meaning. Alike her other work, Aamu Salo seeks to find new angles in perceiving objects by deconstructing and questioning our environments.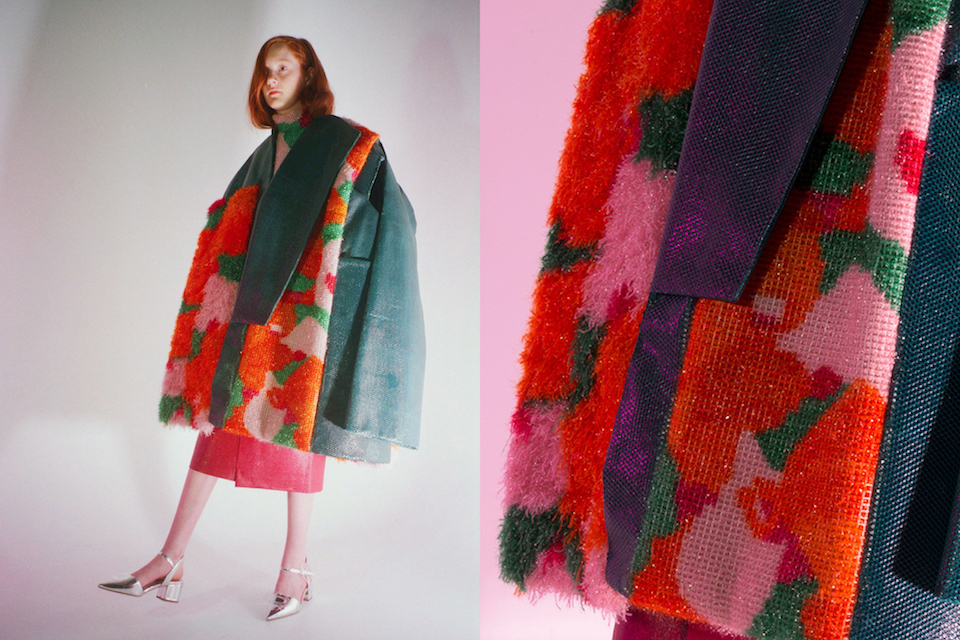 Stephanie Frig (United States)
The New School, Parsons School of Design
The Pepa Shaggy Flower textile, 2016
The Pepa Shaggy Flower textile was created via the techniques of hand dyeing and hand latch hooking. The synthetic Lurex yarn was hand dyed into their vibrant colorways, fire orange, burning magenta, forest green and rose petal pink. The pattern for the latch hooking aims to be one that is abstract and was formed through colour blocking flower shapes. Both the furry side and flat side was applied to the front and back panels of the enlarged coat.
Inspired by the over adorned and excessive nature of the 1980s films created by Spanish film maker Pedro Almodóvar and elderly women in their Sunday Best. This visually dynamic tactile-print led womenswear collection embraces an over embellished aesthetic where the lavish style of 'dressing to impress' is seen via structural box silhouettes saturated in immoderate textures and contrasting sickly sweet primary colours. 
 The dismissal of flat two-dimensional print making, encouraged a new form of print making that involved tactile unstable surfaces. This lead to the exploration of hand made techniques such as latch hooking and hand dying, relating back towards Pedro Almodóvar's interior spaces of shaggy rugs, preserved furniture and wallpapers that match the curtains. There is an emphasis on hand made textiles to demonstrate importance towards traditional artisanal techniques as well as contemporary techniques such as laser cutting. Typical interior imagery such as floral and washing baskets were abstracted and redeveloped. The collection takes elements of everyday clothing and imbues them with a theatrical, exuberant aesthetic, reflecting feverish desire unleashed.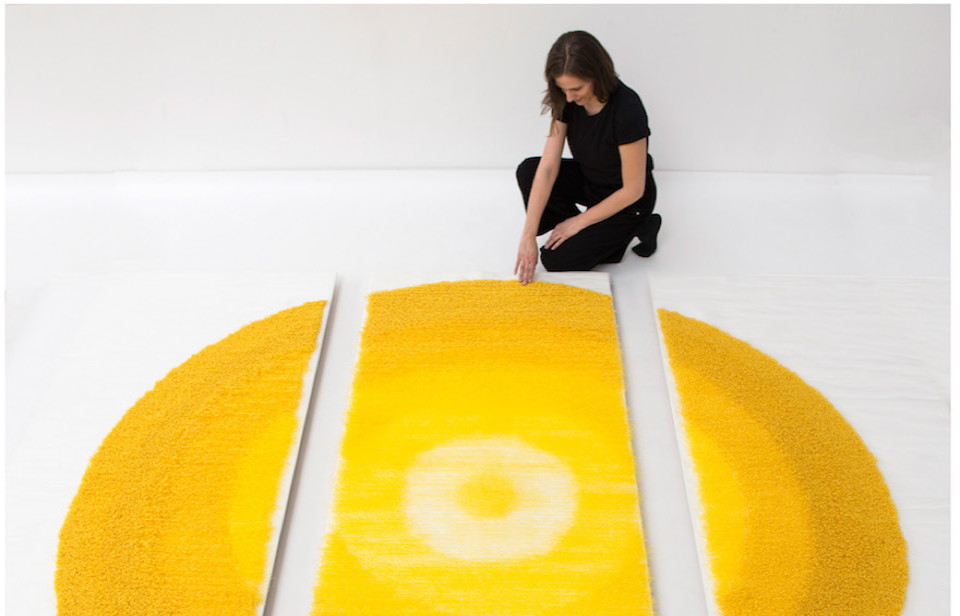 Agata Ciechomska (Sweden)
University of Boras, The Swedish School of Textiles
Colour in Loops 2017
The work consists of hand-tufted textiles performed on mainly transparent, woven on 16-shaft loom, backing. The base material in all of the pieces is monofilament, both, transparent and coloured, however to enhance its properties or strengthen the expressions, it is often combined with other kinds of yarns – cotton, wool, linen, synthetic yarns, as well as various effect yarns.
The motivation for this work is based on the challenge to the preconception of hand-tufting through material, colour and light.  When imagining a rug, a very specific image appears in our mind.
 Some details of that image could vary from person to person, but what is almost certain, dense and heavy,  probably made out of wool,  woven textile will pop up in front of our eyes. This work explores new expressions of hand-tufted textiles achieved by the material driven research. The investigation proves that qualities of monofilament yarn have a great ability to enhance colours as well as add certain kind of lightness to the hand-tufted piece. Furthermore, the transparency of monofilament yarn allows an interplay between the loops and the woven backing, opening up for new patterns and changes in colour perception.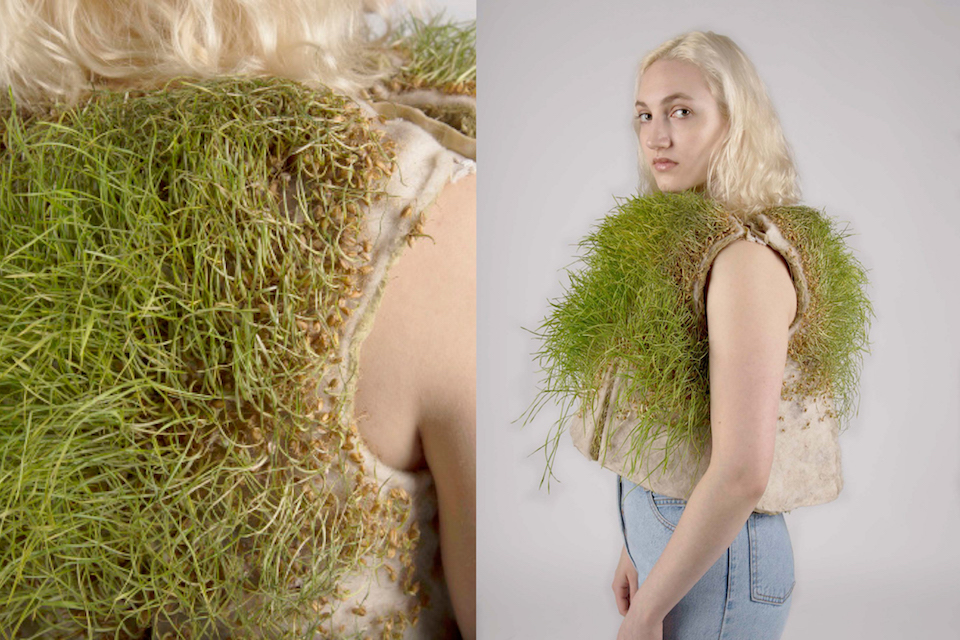 Jacob Olmedo (United States)
Parsons the School of Design
And The World Will Be As One., 2016-17
This textile is a hydroponic growing textile (a textile that supports and promotes plant life.) This textile is a compound of three different layers, the first being the un-dyed organic cotton twill (sourced in the United States) treated with beeswax (Sourced from hives in New York City) to make a water proof layer, the second is a strong compound of materials that holds all the moisture for the plants. The third is a biodegradable wood pulp felt that is soaked in nutrients- this layer is important once the seeds are layered on top of it. The top layer is wheat berry seeds (Wheatgrass) these seeds are finicky but are great in term of longevity. All of these layers are hand sewn together pattern piece by pattern piece.
 We are currently in a new era, combating mass species extinction and climate change. This thesis explores the political and social implications of the environment through the eyes of a bee while also exploring the meaning and practice of guerrilla gardening. With the last intention to bring humans and the natural world together as one, this thesis is an expression of growth, change, activation, and participation.
The first act is three wearable garments that conceptually act as environmental armor made of a hydroponic textile that speaks closer to the natural world and humans coming together as one. I went through scientific experimental research to engineer this hydroponic growing textile, where I utilized and modified already existing hydroponic systems and technology to create this textile that supports and promotes plant life.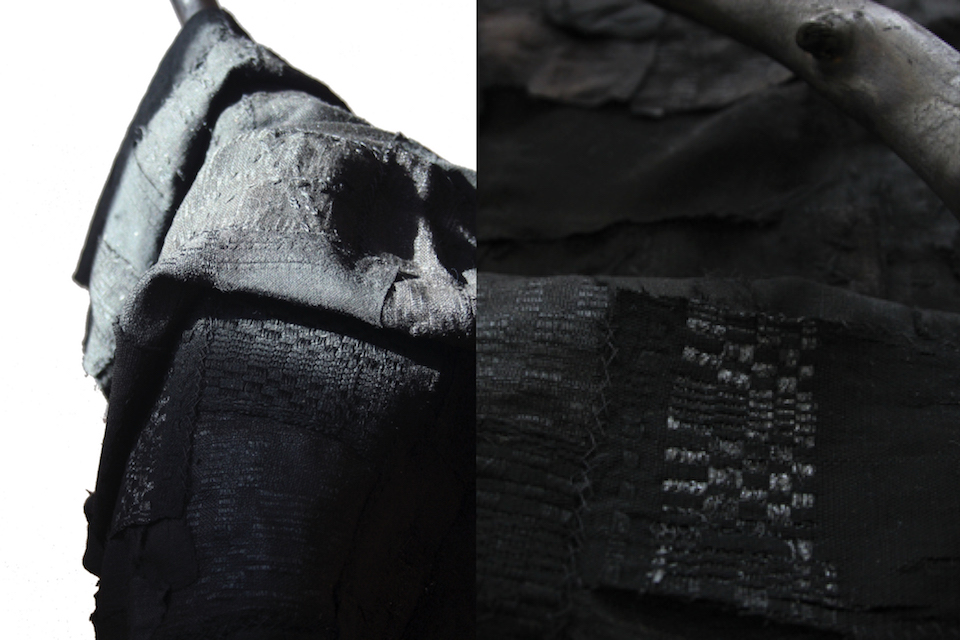 Laura Kunciūtė (Lithuania)
Vilnius Academy of Arts
Charcloth, 2017
Charcloth: carbon-linen fabric; personal technique of charring, weaving, needlework; 35×110 cm. Textile Charcloth is a state of transformation, capturing the moment before fabric burns completely and only ashes are left behind. With my personal technique of charring or burning with smoke (similar method as the one used for black ceramics), I managed to create a unique fabric-like carbon. Previously qualifying as pure white linen, old scraps of fabric that I have once woven or gathered from my relatives or friends over the years, through the element of fire, revitalised as an extremely flammable different kind of material. Over the transformation, composition of the fabric has changed from linen to carbon (coal). Yet, the initial memory of the material, its weaving patterns or symbols, have remained.
Fabric Charcloth is based on aesthetics the of the materiality itself.
The driving force behind the textile was the memory of the material. I was mesmerised by this intuitive thought that the materials have memory.
 Therefore, I focused my research on grasping the answer whether materialities such as simple home textiles, wood, wax, etc. can retain memories. In a nutshell, do materials remember themselves or others interacting with them. No longer identified as linen, with its structure changed to coal, through the process of charring, Charcloth still retains the memory of itself – the woven patterns, symbols remain. It being the proof of the hypothesis, that material remembers itself and has its own memory, is of great importance to the landscape of creative textiles' future. If the matter has memory, as a consequence, it would imply the existence of high energy places (such as religious architecture, nature's landmarks, etc.) as well as metaphysical pollution. With a vast increase of public spaces (such as shopping centers, night clubs), there is an urge to design energy filters. Charred linen cloth concentrating vast energies of warmth becomes extremely flammable and fragile, yet retains vibrancy of a memory. Having filtering qualities of coal, Charcloth, is a step towards filtering and revitalising spaces, as energy pollution has become more obvious in the era of globalization.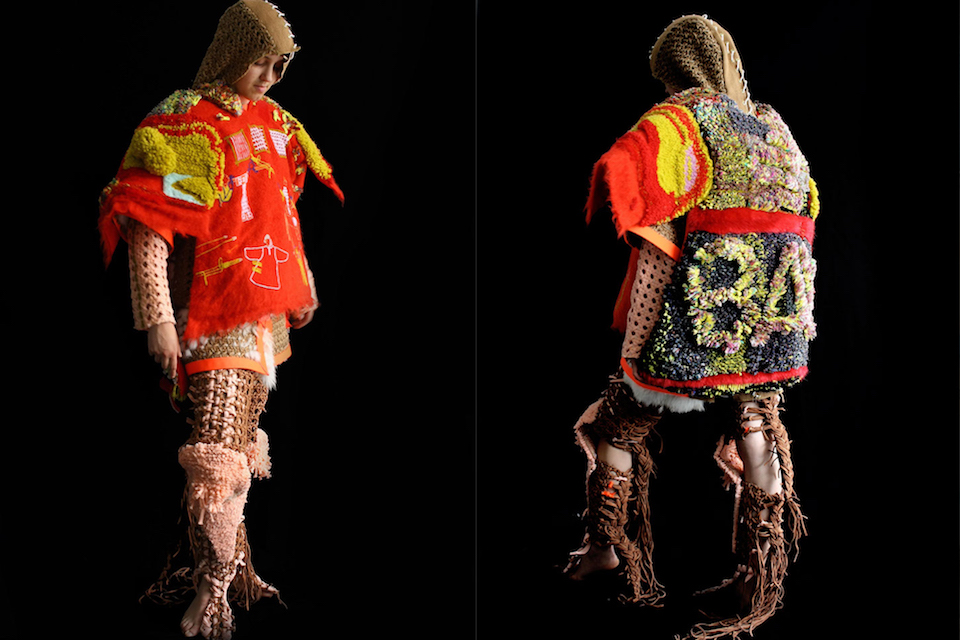 Sanne Bax (The Netherlands)
Gerrit Rietveld Academy
The Battle of the Tapestry, 2015
A woven, tufted and embroidered costume that links the technique of making a tufted carpet with a medieval battle : Wool, mohair, cotton, leather, jute, rabbit fur, metal and nylon. It starts with the preparations, the backing fabric on which you are going to tuft needs to be strong. Strong like the chain mail of a soldier, impossible to pierce. After the chain mail is made it will be stretched on a frame, the harness. The munition consists of wire or something similar, ribbons, strips or treads will soon be the pile. The act itself is one of pure violence.  
 This is why you use a gun to shoot the pile. You need a lot of force, otherwise it misses its target and remains stabbing halfway. In a relatively dense surface, a lot of chain mail per centimeter in combination with a relatively thick wire you can probably imagine that this is tough work. Many piles close together will form a phalanx that protects each other and is able to win.
Who remains is the rightful winner and will be rewarded.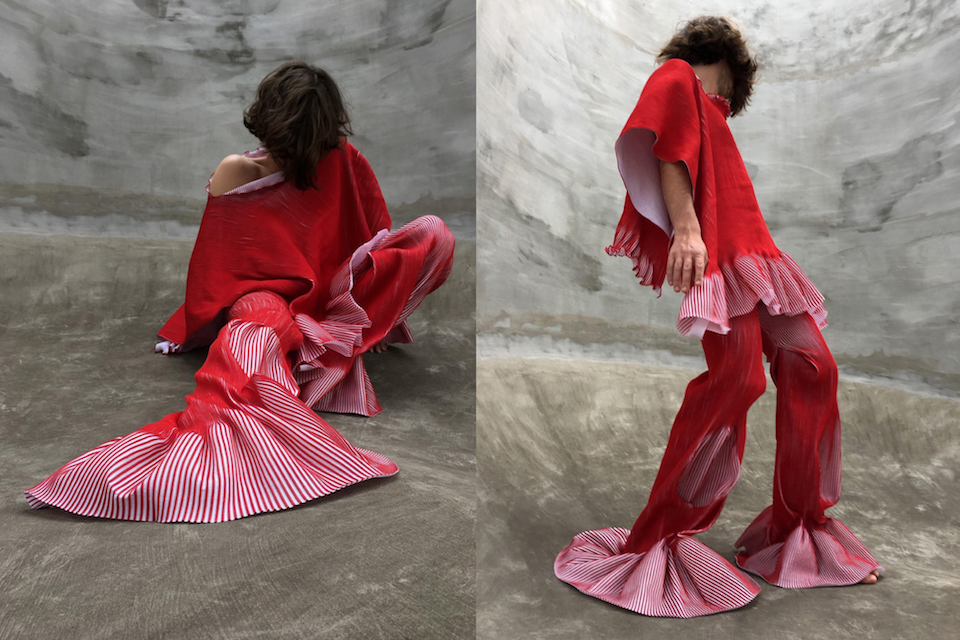 Dana Jasinkevica (Sweden)
University of Boras, The Swedish School of Textiles
Motion Capture, 2017
Taking materiality as the starting point of the design process, knitting jacquard rib material on the industrial circular machine. Using yarn combination of polyester/lycra/cotton. Manipulation of a jacquard rib material by gradually stretching and coating it into various shapes in different scale. Draping the created material on a body while allowing the coated shapes direct the garment silhouette and to interact with the perception of a body. Shapes – Most of the shapes were achieved by stretching the material around using tubular objects, during the process were used also round and angular shapes. The fixating was done by using coating CB21. My focus points were mainly on stretch ability, redefining knitwear, the motion capture which evokes an optical illusion and the perception of the body. Curving or bending of structural lines. The intention in creating this textile is to explore extremely stretchy jacquard knit material in relation to stretched and coated shapes that could lead to an unexpected strong visual expression.
  Three finished outfits in my experiments tested an array of aspects connected to the methods to prove, through practical applications, experimentation and multiple results the strength of methodological framework, technique, concept/idea and possible applications. For the first experiments, I used red and black polyester and white cotton with the possibility to apply digital print on it. The knitted and coated material shows a lot of potential and the future applications may include more developed interaction between the body and material, exploration of other materials that act in a similar manner as the knit, for example, pleating. If experimenting further, next steps would be combining different printing techniques with the knit (and other materials). Issey Miyake is an important reference for my work – if I could do a contemporary take on his work and to build on his findings how would that materialize?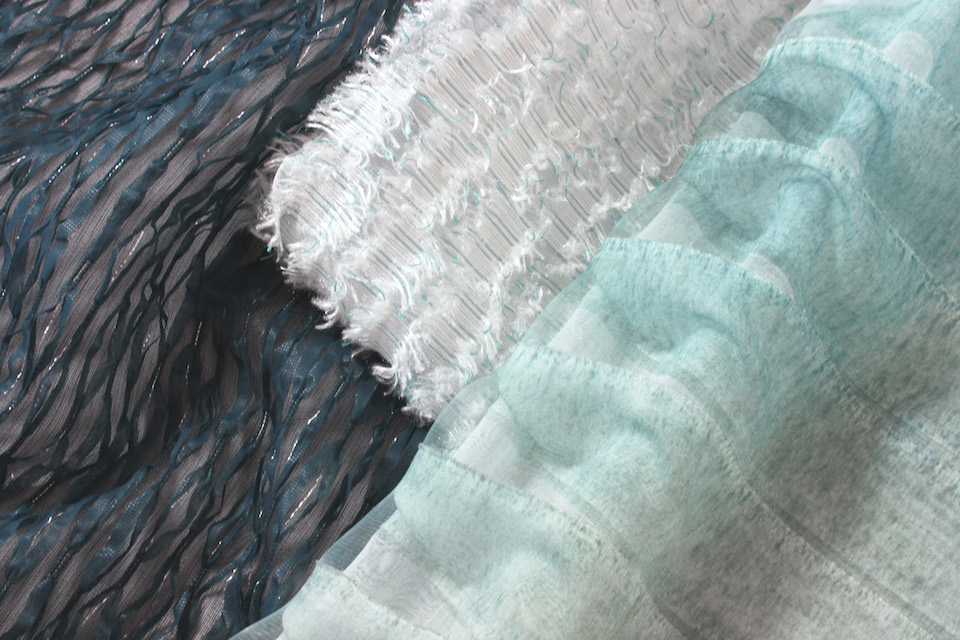 Tiina Paalivainen Frig (Finland)
Aalto University
Floating & Clipping, 2015
In this study, I have applied a practice-led research. I chose practice-led research as my research method because I was not familiar with the industrial production and constructions of clipped designs. By creative practicing I gained a deeper under-standing and new insights into the technique of floating and clipping. The creation of an idea port-folio by using various sketching methods and the development of the designs for production, represent an instrument in this research. In this study, creative activity meets theoretical background. Floating & Clipping collection provides new approaches of thinking when it comes to the clipped textile designs. The practice-led research method used in this Master's Thesis develops sketching methods in designing of clipped fabrics and creates an idea portfolio in order to demonstrate the appearance of this type of cloths. The idea portfolio supports the dialogue between the designer and the technician in a design case in collaboration with the Italian weaving mill Lodetex. The Floating & Clipping collection is produced through the ideas evolved from the technique and the sketches.
 The topic of my master's thesis evolved not only from my own interest and fascination of jacquard weaving. A little bit of luck contributed to the final outcome of this study as well.  At an early point of my study, I wanted to discuss the material and col-our design of woven textiles. I considered various ways on how to approach the subject from a fresh and meaningful point of view. In the beginning of the spring of 2014, I spent three months on an internship at the Italian weaving mill Lodetex. Lodetex is specialized in the production of jacquard fabrics for furnishing markets. I decided that doing my thesis in collaboration with Lodetex would be a viable continuum after working in the company as an intern. I discussed the matter with owner Luca Farhanghi and he agreed that a thesis collaboration would be interesting and beneficial for the both of us. He informed me about a few production lines that the company planned on developing. One of these lines related to clipped designs. To me, the development of clipped designs seemed like a fascinating and interesting topic to research. Since I had already designed two clipped designs during my internship, I realized that the weaving process of these fabrics required more advanced technical understanding in interwoven structure of cloth. Therefore, this project gave me a chance to improve my skills in artistic expression as well as develop my knowledge in designing, weaving and finishing of clipped cloths.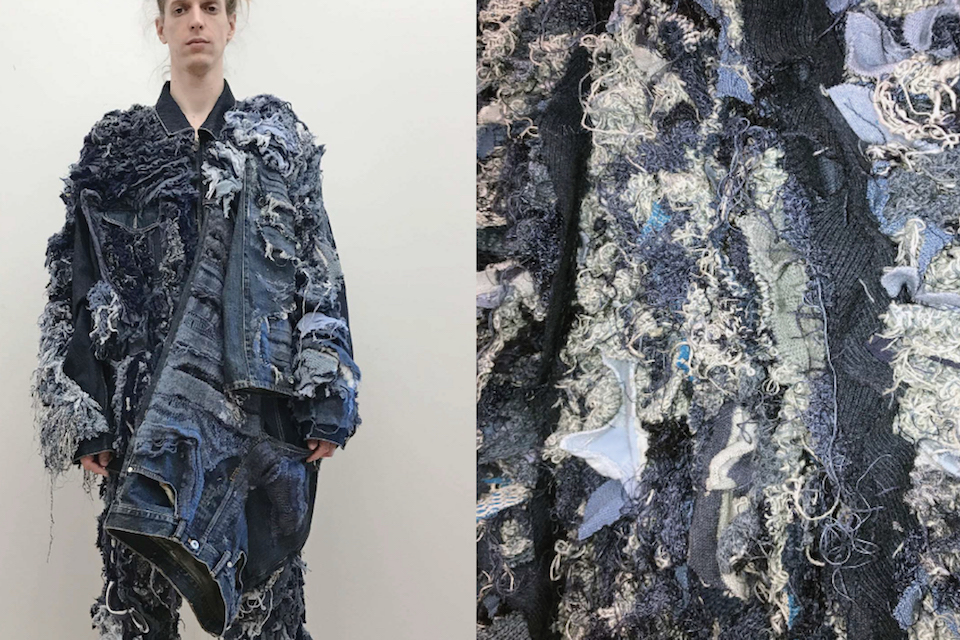 Venus Lo (United States)
The New School, Parsons School of Design
Hoarders, 2017
Machine needle.12.unching, knitting and hand felting with unwanted garments, yarns and scra.12.es
I want to celebrate the inside beauty of a hoarder's room. This is the key message I want to express through my work. Inspired by my experiences living with my father, who is a hoarder! felt embarrassed and misunderstood his behavior when young. However, I realized hoarders collect items instead of relationships because they lack security. Even normal people think they are imperfect, everything they collected bring back memories from what they experienced.
  In order to celebrate the one man's trash is another man's treasures, I translated the idea by collecting all the unwanted yarns, scrapes and donated garments in NYC, and using my own textile techniques to create new born fabrics. Playing with a big pile of yarns and recycle garments through needle punching, machine knitting and felting! I enjoyed the moment how I deconstructed, tearing, recombine the stuffs in my own way. I believe the vision of luxury is in spending time making for the wearer, not only purchasing expensive items blindly.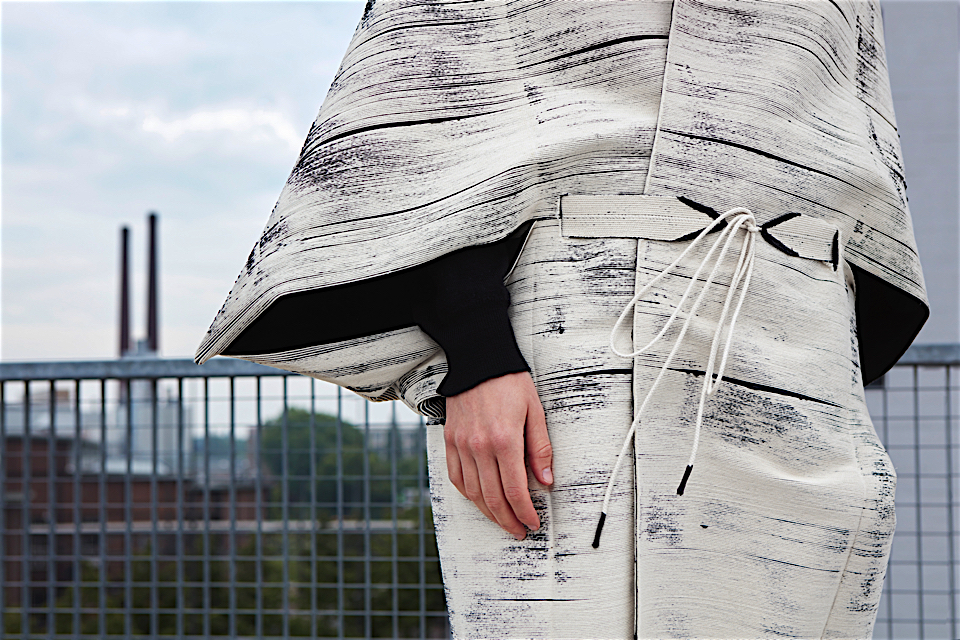 Wendy Andreu (Netherlands)
Design Academy Eindhoven
Regen, 2016
The textile Regen is made with cotton rope and latex, it is neither woven or knitted but glued. Wendy Andreu has devised a system for producing water-proof fabric. She makes these items of clothing without sewing or cutting patterns. Called 'Regen', the fabric is double-sided with water-repellent latex on one side, and cotton rope on the other.
  Regen products are made by coiling the rope around a laser cut steel mould and covering it in latex. Where the dark latex seeps between the light rope it creates shading and textural detail that make each item unique. All the molds can be used multiple times without any loss of quality, adding to the value of this innovative sustainable tool and material.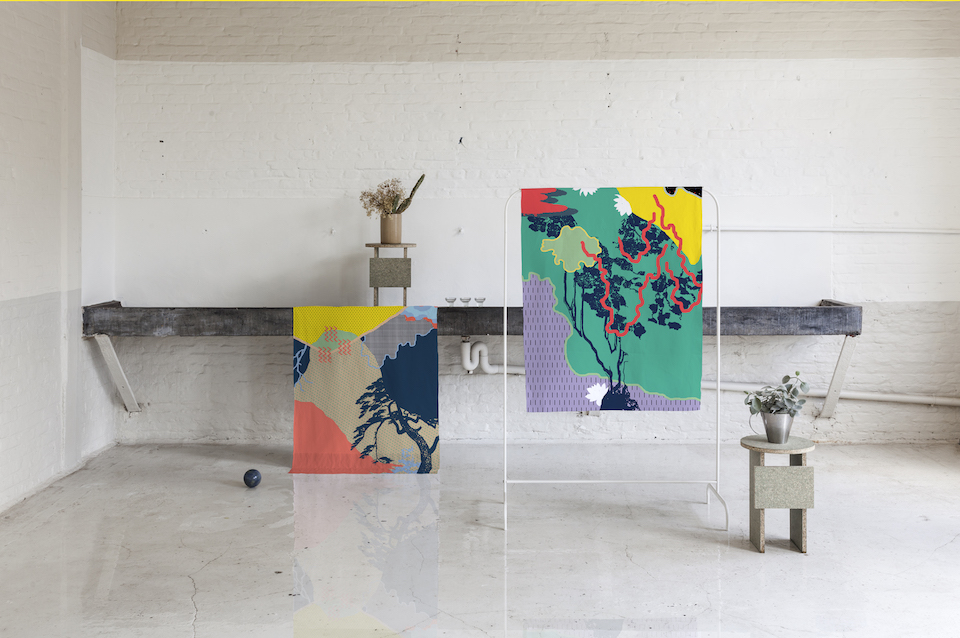 Mathieu Jauze (France)
ENBSA Lyon
Japan 80, 2017
In order to create a motif under influence, I choose to have two very different universes coexist in the same print: the Japanese landscape pattern and the Memphis style of the 80's. One difference concerns me particularly in this confrontation:
  In Japan, the landscape print handles voluptuous and sinuous shapes with shaded hues. An atmosphere that evokes slowness and silence. The 80s combine sharp and random shapes, vibrant frames and saturated, noisy colors.
An atmosphere full of energy, speed and noise. This leads me to design patterns that combine these ingredients, balancing their differences.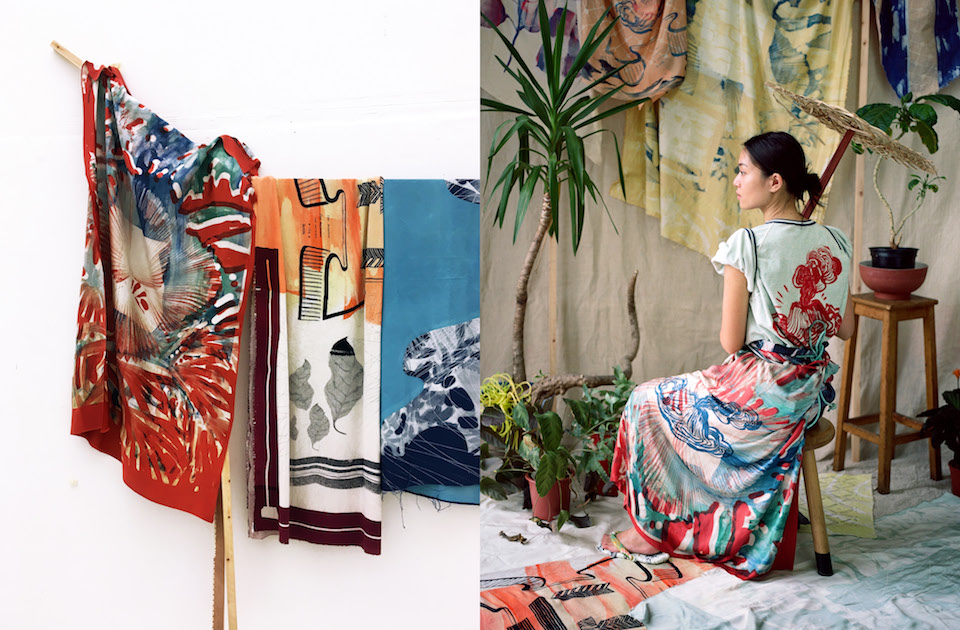 Marta Velasco Velasco
Royal College of Art
Pulau Banda,2017
Nutmeg was once considered the "Holy Grail of Spices"; worth its weight in gold, it was a symbol of luxury and prestige. Until the 19th-century, the world's only source of nutmeg was the Banda Islands —a tiny archipelago in today's Indonesia— imagined by Europeans as a luxuriant tropical Eden.
In the 17th-century the Dutch controlled all the islands except one, Run, an islet claimed by the English.
 In their urge to keep the nutmeg monopoly, the Dutch agreed to cede Manhattan (back then called New Amsterdam) to the English in return for Run. After this hype, the spice started loosing its value and Banda got forgotten. 'Pulau Banda' is a collection of textiles and wall hangs inspired by this story and influenced by contemporary Indonesia. It plays with fact, fiction and storytelling to represent that world. The work integrates silk, bamboo and recycled plastic to comment on changes of material value while transporting us to the islands.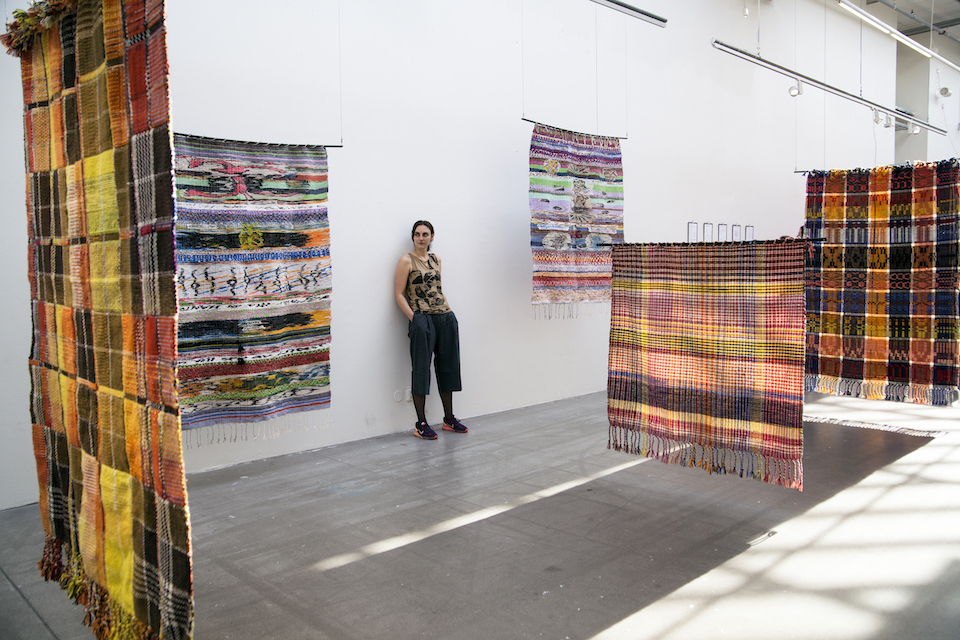 Josefin Gafvert  
Konstfack University of Arts, Crafts and Design.
"A rug like me" (En matta som liknar mig) 2017
"The hopeful impossible" (Det hoppfulla omöjliga) Handwoven wool rug with hand dyed yarns. 136x 167 cm (93 cm with fringes)
The project 'A Rug Like Me' is a study of the history and present of weaving and women. I ask how the social situation of women has affected how the aesthetics of weaving. I try to understand why tradition pervades the craft, while in my own experience I can only weave abstractions of myself.
When a woman is forced into a structure where she is meant to please, she weaves what is expected of her. If the mind has been limited by visible and invisible power structures, that is reflected in the weaving. Does the piece become what we want to be or is it impossible to hide who we are in the work? What do we pass down and why?
During my time at Konstfack I have focused on weaving rugs. I always want to do something new, so my rugs are like large samples where careful planning meets the unforseeable. My intention is to get people to see handwoven rugs as something more than a design object, to ask Why? instead of How?
'The hopeful impossible' illustrates the energy and stress that come with being a woman today, especially as an artist and mother of young children.
Hanna-Kaisa Korolainen
Aalto University School of Arts, Design & Architecture
The House of Play and Rain, 2017
"Ansa and Amur is a pair of hand-tufted rugs. They are part of a bigger exhibition entirety called The House of Rain – Exercises of water, that includes various textiles products from woven jacquards and printed cushions to silk shirts and furniture. Designs are inspired by watercolour paintings of German expressionist Emil Nolde and textile designs by French artist Raoul Dufy. I wanted to see how sketches made with water could be developed into textiles and how would my sources of inspiration influence the process and the outcome. Artworks are surrounded by feeling of nostalgia, Paris of 1920's, the golden era of Raoul Dufy.
The starting point for Amur was a water colour painting that I made with wet–on–wet technique and the original sketch for Ansa was a flower pattern realized with ink. Surface resembles thick, dense fur where original subjects almost disappear, because of the richness of the material. When brushed open the mohair becomes organic and almost animal-like, it even feels warm. The three-dimensional surface seems active as if it was alive and reaching out. Rugs have been lined with soft wool, and can be worn as blankets when the heat is needed. I design my rugs to be touched."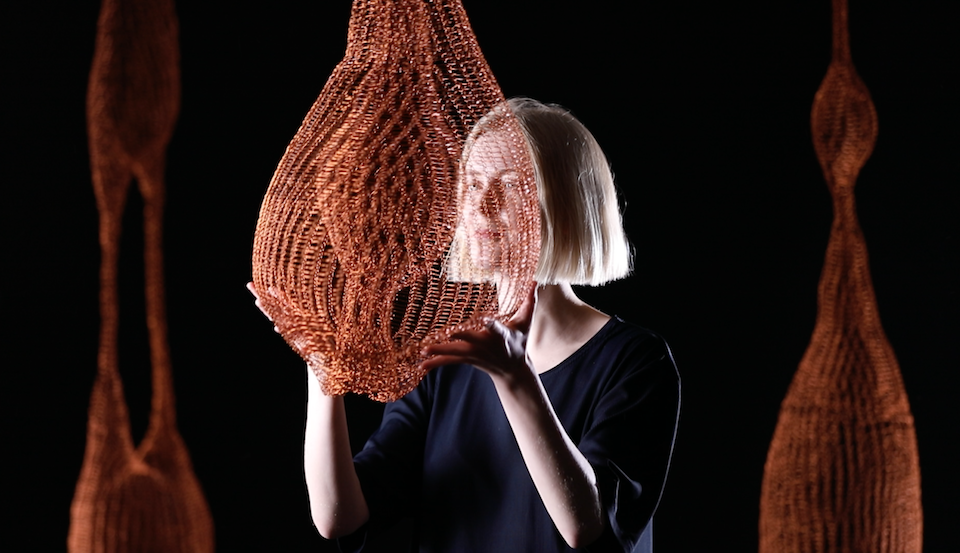 Pawel Lasota & Magda Mojsiejuk
School of Form Poznan
Knotty 2017
Knotty states that even if we don't realize it, the world senses us and reacts to our presence. It means that it is not constructed from fixed modules with predetermined place and role, but it is rather an open process in which the matter (however we choose to classify it) enters continuous interaction with itself. Knotty is a project that translates the knitting technique into the language and movement of a robot. The resulting series of material copper wire structures displays the capabilities of this technology. Combining the properties of knitted fabric (constructing the material from a single line) with the properties of copper wire enables the structures to sense, react and produce sound.
Let's imagine a future where our surroundings constantly detect our presence and react to it. Building no longer need windows and doors, since—just like living organisms—they have cavities and orifices that can open when necessary. Knotty encourages interaction: let's think about a soft future and share ideas as to what it could look like.

Antonia Sedakova (Russia)
Aalto University
Communication Tube, 2017
18 pieces (6 looks) in the collection, that were made with different textile technics: printing, weaving and knitting mostly using natural fibers.
"communication tube" fashion and textile based menswear graduation collection. The concept behind it is the story of the creative individuality in the 80s Russia, who does not want to follow any rules of society, but bound to be affected by them. Very artistic interpretation of the traditional image of the uniform mixed with an edgy style of the youth. An alternative view on the symbols and the silhouettes of that time. The main inspiration for the prints was the overall image of the lifestyle of the soviet banned underground music scene. Victor Tsoi – _is the lead singer of the rock band "Kino", which was and still is one of the most influential band in Russia.
He was always very honest and open-minded about what he thinks about people and society. Eventually he became the idol of his generation and his style and attitude is forever admired. On the other hand, there were people, who followed the concept of the soviet government, and supported the limited way of thinking, promoting specific image in lifestyle, clothing and culture. This collection is an artistic interpretation of understanding those two contrasts in the society at that time.

antoninasedakova.wix.com/antoninasedakova