exploring the clothing of Pal Offner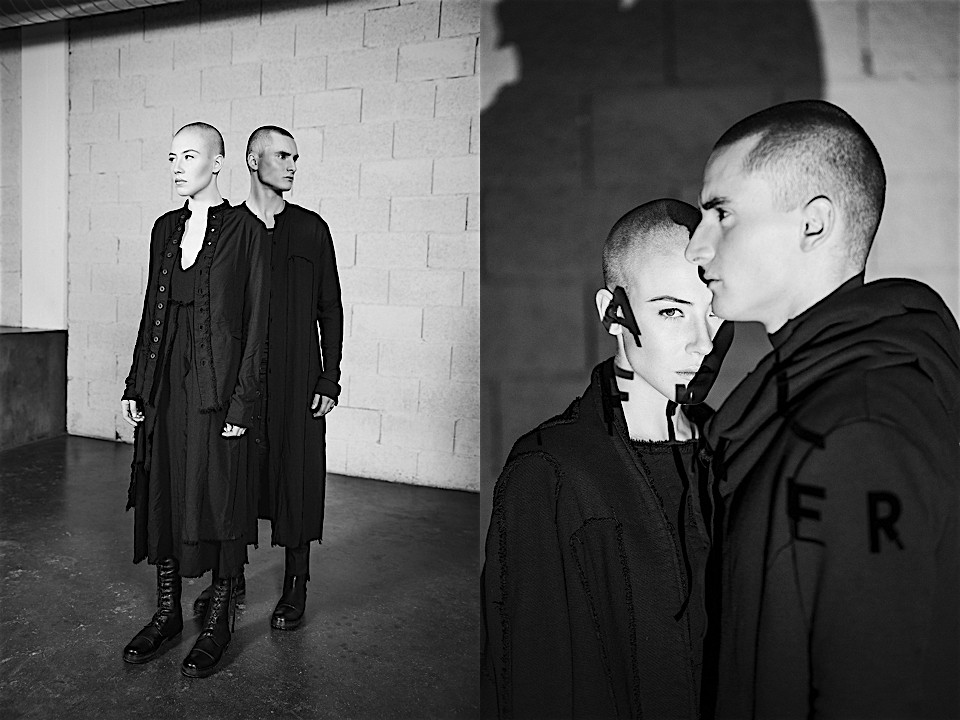 It's a specific kind of pause. The moment between undress and dress; the lapse amid the state of nakedness and that of becoming clothed. Some orchestrate their attire consciously, hands grazing the garments that hang quietly in their closets, eyes interrogating each cuff, hemline and stitch. Others pay no mind, stepping out in a far more subconscious style. But to get dressed is never an act unto itself. Rather, it is a gesture of who we are, or at least, of whom we'd like to be.

Two women who appreciate the power of this sartorial symbolism are Sabina Pal and Nele Offner. Inspired by their shared desire to perfect the look of imperfection, the duo founded Germany-based PAL OFFNER, a label designed for those interested in defining their own limits, unimpeded by the cultural restraints of gendered fashion.

From a small studio located by the woods on Bopser Hill, south of Stuttgart City, the duo work in close tandem, remaining hands on from the very first design to the very last fitting—Offner as the creative heart; Pal the strategic head. In a purposeful disruption of strict design disciplines, the label's collections are characterised by the use of cut edges, creased materials, and handmade finishes, the art of deconstruction juxtaposed against more classic tailoring; an experimental play on polarity.

Made in Europe from singular, high quality materials—sourced from Italy and Ireland—each piece is designed for neither man nor woman, but rather, for a collective of individuals united by a similar state of mind.

« We are addressing people who are free spirited…and independent from social constraints. People who know who they are and feel good about it. We like strong personalities who impress others by being true to themselves, rather than trying to fulfill expectations. »

For Pal and Offner, nothing is more appealing than those shamelessly at ease with who they truly are, a trait achieved not by dressing how you've been told to dress, but by dressing how you feel. Their clothing honours individuality, allowing for an authentic aesthetic as opposed to a style that is highly staged and, consequently, completely superficial. Comfort is thus a crucial component to each design, seen in the versatility of every collection.

« Everyone should – be able to- dress the way that is closest to what the person feels, and that means making the wearer comfortable… we try to offer a range of cuts and designs that allows you to alternate between what are socially called 'feminine' and 'masculine' designs. »

In a time where personal style is too often dictated by external influence, it's never been more important to consider why we dress the way we do. While it's no sin to obey the tacit dress codes of conventional men's and womenswear, it is sometimes worth questioning the authenticity of our allegiance. By pioneering gender-neutral clothing in the 1980s, Japanese designers Yohji Yamamoto and Rei Kawakubo did just that; their collections a symbolic challenging of old organised sartorial systems.

PAL OFFNER's work encompasses a similar philosophy, one that invites the wearer to decide how masculine or feminine they would like to be. When asked about the advance of the gender-neutral fashion movement, and what it says about the world we live in, Pal and Offner praised the digital revolution, and its role in the emancipation of gender equality.
« It strengthened authenticity, honesty and straight-forwardness in our society… It's great to see how people make use of eliminated demographic boundaries to find like-minded people; this helps our society to evolve in a more and more open-minded way. Because a world lead by rules in the wrong sections can be very wrong, and is definitely boring. »

Distinct from "on trend" offerings featured in the pages of glossy magazines, PAL OFFNER garments can be more easily likened to blank canvases, typified by greys, blacks and whites. For Pal and Offner, this neutral palette draws attention back to the design, and to the person. The generous nature of muted hues allows the wearer greater freedom to mix and match each piece, to better achieve the look that they feel suits them best. In the words of the designers themselves: there is nothing that doesn't express something.

« – Even – If you put up a blank canvas on your wall, you are still expressing something… »

The important thing is not what you have expressed, but rather, the freedom you had to express it at all, unswayed by industry trends and societal expectations. Perhaps this is why the anti-fashion movement appears to be the driving force behind Pal and Offner's process. When asked what most influences their work, the duo admits that Yamamoto and Kawakubo have provided ceaseless inspiration. It makes a lot of sense. The clothing first shown by the controversial Japanese designers in the 1980s represented a departure from all long-held Western conventions of fashion; PAL OFFNER has unapologetically done the same.

« This new – anti-fashion – approach to design, meaning to make yourself free from the usual shapes, gender aesthetics and trends, created the basis for what our brand is built on…Yamamoto and Kawakubo are very inspiring designers and thinkers for us. »

This affinity with the avant-garde is evident in Pal and Offner's artisanal process. The intimate nature of their operation allows for designs uninfluenced by global seasonal trends or commercial agendas. While many labels play it safe within the confines of forecast colours and standard silhouettes—doing what has already been done before—Pal and Offner's designs are informed by a far more organic source.

«- We're inspired by – life. Holding eyes open when you are outside. When you ride the bus, walk the streets… or see the growing shadow of a bridge that looms on the rough surface of tar streets. It's observing. »
Every PAL OFFNER collection is the result of this cultural osmosis, each stitch sewn from the remnants of a purposeful daydream. Their garments summon that specific kind of pause; the one that rests amid the state of nakedness and that of becoming clothed. To get dressed in PAL OFFNER is not an act unto itself. It is a shameless gesture of who we are, an effortless statement of who we'd like to be.

Kathryn Carter

Photos by Marija Heinecke

www.paloffner.de

Kathryn Carter is a writer based in Sydney, Australia. Favouring inquisition into contemporary fashion practices, Carter employs investigation that is based on human character and unique artistry.