dosa by christina kim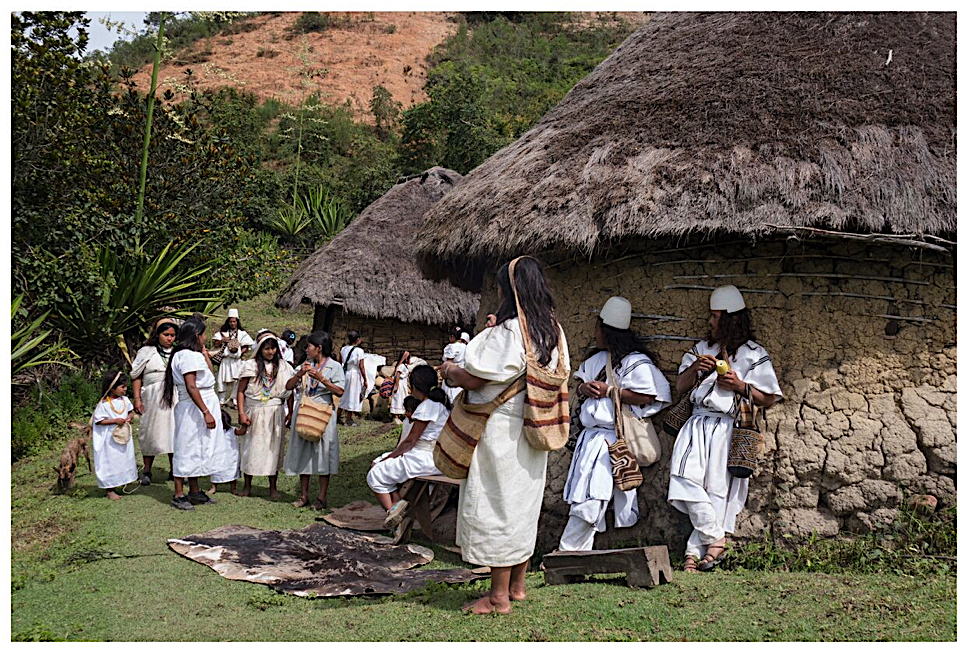 Dosa, Christina Kim's brand. is a simultaneously gorgeous and sustainable fashion brand, a unique concept rich with the heritage of many artisan partners from around the world whose cultures are treated with respect, empathy and joy. Christina Kim is a thinker and a philosopher of conscious consumption who for more than three decades has researched materials and traditions– always artisan-made.

Her creations are limited editions of precious pieces that tell stories made to last. The journey took her recently to Colombia and more specifically to the Sierra Nevada de Santa Marta, the only snow peaked mountain next to the ocean in the world. It is also the home of various indigenous communities that continue living in the old ways.

The Kogi live on the top of the mountain and are the shamans, then come the Arhuacos and the Kankuamos.
All of them are known for the tutus/mochilas or circular shaped bags made with wool, sisal or cotton following ancestral rituals and meanings.
Christina Kim visited the Kogis and Arhuacos recently and worked with them on a collection of bags that are now sold a her boutique in New York and through her retail clients in Japan. I had the chance to ask Christina a few questions .

Why Colombia?
In 1990 in NYC, I bought a book called, "Tropical Bamboo" and ever since then I have been wanting to go there and see the way handwork is employed on different scales, from functional objects to architecture.

How is your experience having visited Colombia, different from your perception before?
I went there with complete openness to experience what ever came my way. The warm and passionate people and the flora and fauna are just out of this world! Exotic fruits with unusual fragrant tastes…..

How did you discover the tutus (circular shape traditional bags)?
Again, in the early 90's in NYC… I bought a few pieces of geometric designed wool Tutus from a Colombian craft store and sold them at the dosa store in NYC. The customers noticed them right away and we sold them rather quickly.

What is so special about the tutu?
I find the shape to be beautifully sculpted and each is unique using quite a simple technique with minimal tools. I can see and feel the hand of makers as well as the materials used. Sisal, wool and cotton….

How have your clients reacted to this ancestral product?
We presented them as a group of sculptures. The clients just gravitated toward them and we explained the story of the bags with images of Arhuacos and Kogis.

Do you do any design intervention to the tutus?
How can you modify a design that has been tested and used for thousands of years?
Can you share some of your learnings/experiences working with the arhuacos?
It is too early to say specifically but I am very interested in spending more time with them to document and learn the process. Hoping to share this documentation with future generations of Arhuacos and Kogis.

Any plans to work with other techniques or materials in Colombia?
My eyes are wide open!

Christina's methodology goes for the long run. She always tries to work with a group for a minimum of five years. "Our intent is to help keep different traditions alive and to broaden markets for the goods. To this end the production process is more labor intensive than resource intensive. In this way, we are investing the human hand with more or as much value as the material itself."

Christina says that working with artisans around the world is a cultural learning experience for her. "First, I see what they do, what traditions or skills they may have and then, I use their skills and resources as a point of departure. As a designer, I bring new ideas and materials to them, but I carefully consider what I bring into their world….Before we begin any project, I consider what the potential impact on the artisan's own tradition will be. My original intent is to help keep the artisanal community's traditions alive so I am very careful, almost hesitant to bring materials from outside their culture."

Christina's journey in Colombia is just beginning. She is setting a standard for a respectful and sustainable relationship between design and the handmade world.
Marcella Echavarria

@dosaflyingfish

Marcella Echavarria is a Colombian-born, Mexico City based lifestyle specialist. She collaborates with designers and artisans around the world developing links that connect local knowledge with global trends. Her specialty is branding luxury and sustainability in a way that preserves cultures and traditions.