what makes an american?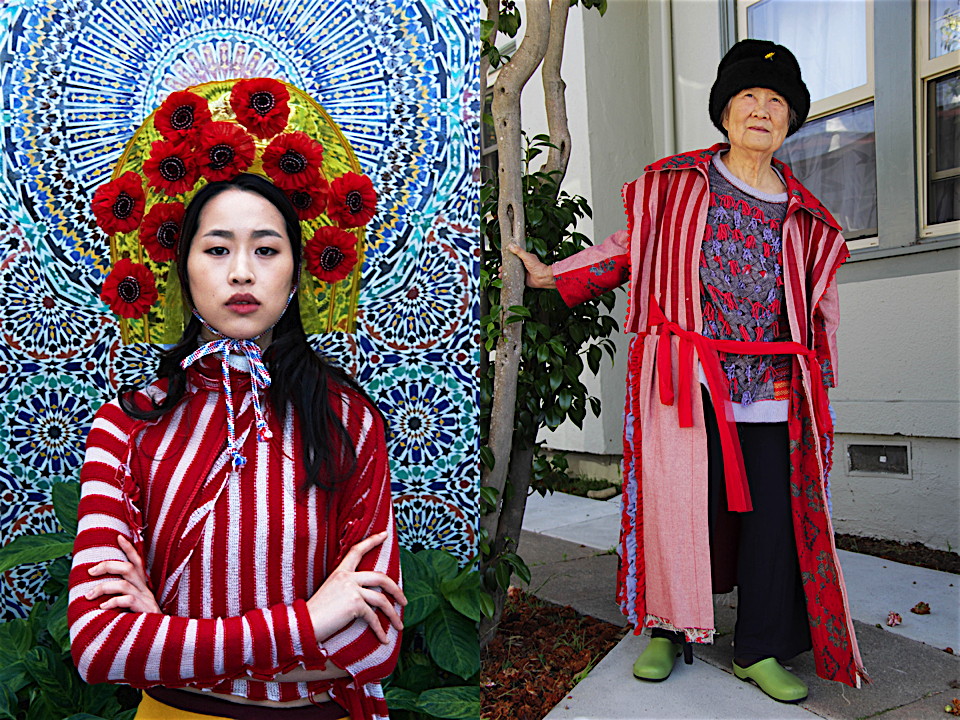 Sana Aloui has recently graduated from the School of the Art Institute of Chicago. Her latest collection What Makes An American creates a very sensitive and delicate atmosphere we can all relate to. Working with her grandmother for the photographic documentation of her work Sana creates an affectionate presentation of her collection worn by her unlikely muse.
Sana has lived in several different countries while growing up and has been influenced by many cultures. Her latest project is a starting point for exploring her cultural identity. Talking to Sana we learn a lot more about what is behind her work, her material manipulation and her cultural experiences of living overseas.
Tell me a little bit about your self.
I am a Chinese-Tunisian American, but I consider myself a citizen of the world. My parents work in the Foreign Service so I grew up in The United States, Benin, Macedonia, Egypt, Bangladesh, and Zimbabwe. These places all hold a part of me, but I now call the Bay Area of California home. Trips to the bay every summer and visits to my Grandmother became an important connection to my Chinese heritage. Growing up in diverse international communities gave me a deep sense of responsibility to learn about their textile histories and the talented artisans behind them.
When I was in kindergarten I rejected the Land's End leggings my mom bought me and insisted on wearing bright and frilly sundresses. I was always interested in creating art and gravitated towards expressing identity through dress practice. I studied fashion and textile design at the School of the Art Institute of Chicago, where I learned what it means to make clothing and grew my love for creating textiles rich with cultural significance. Chicago was the first place I chose to live as an adult and it was the longest I had lived in the US. I thought I was going home, but found myself disillusioned from the dreamy American vacation of my imagination. It was not a melting pot in which all cultures united in harmony, but a nation constantly questioning the identity of its peoples. I became deeply interested in issues of cultural appropriation, nationality, identity and race in America.

What is the inspiration behind your project 'What Makes an American'?
My thesis collection, What Makes an American, arose from meditation on what an American is made of, if anything concrete. It began with my grandmother, Cheng, a strong-willed Chinese woman who has been living in the United States since 1971. She eats grapes with chopsticks, makes green jello at 1 am, keeps the volume of her Chinese drama shows at intolerable levels, and is thrilled by the four dollar turkey sandwich from Costco. Her homemade food traditions, babaofan and the best pot stickers, are contrasted by new habits, minute-made rice and instant ramen. Her new, old, and truly unique American lifestyle inspired me to think of this project not as a means to find definitions or separate one identity from another, but as a celebration of a new kind of Americana.
I found further inspiration in family photos of my grandmother and aunts from the 70's and 80's when they were young and living in the United States. There was an irresistibly charming quality to their thrift store clothing, paper mache creatures, and fishing trips. Many of the garments in the collection began with my manipulation of American classics like denim jackets and jeans. Through these histories and family traditions I began crafting a way for myself to relate to an American identity.
The photo documentation for What Makes an American began as a collaboration with my sister, Ranya Aloui, and my Grandmother, but took on a new life of its own. We were invested in showing my Grandmother in the spaces she lives, at her desk, in the garden and her bathroom. It became about creating a portrait of her, a strong Asian-American woman, and being empowered by the magical world we found in everyday spaces.

What are the key material manipulations in your work?
I work intimately with textiles, which is often the source of inspiration for larger pieces. For this body of work I made many paintings with gouache and watercolor, as well as drawings that I transformed into screen-prints. One print of a Chinese soup bowl became a wonderful symbol for my Grandmother's culinary traditions and for the illusion of the American melting pot.
I created all the knitwear by hand on a manual knitting machine. Knitwear makes up more than half of the collection and was essential in expressing an intuitive process of creation. Much like integrating into a new place, the process was at times technical and intense, and at others free flowing and instinctive.
I became fascinated with the aesthetic of the Fourth of July, streamers, fireworks, and festoons, and loved thinking of the red and blue ruffle dress as a huge celebration cake.

How strongly connected you feel with your roots?
I believe the ideas of home and where I came from are fundamental in my work. As I learn, investigate new things, and create, I have the ability to gain insight into the past and transform my understanding of self.
Have you explored different cultures through your design development?
I believe the ideas of home and where I came from are fundamental in my work. As I learn, investigate new things, and create, I have the ability to gain insight into the past and transform my understanding of self.
I am very fortunate to have traveled so much in my life thus far because it may give me ideas to explore for years to come! Early in school I investigated the Ndebele peoples of South Africa and Zimbabwe as I sought to relate further to the place where I graduated from high school. In honor of the intricate geometric patterns and shapes of their beautiful art and traditional dress, I created two dyed and hand woven garments with beading designs. Seeking to explore my traveled childhood I later created a three-look collection that explores nomadic sensibilities, feeling in between places, cultural histories, and identities.
Textile and material histories as well as cultural understandings are a huge source of inspiration in my work. Two years ago I had the wonderful experience of traveling to Fujino, Japan to study traditional indigo dyeing and katazome printing. The adventure left me with a great appreciation and sense of respect for textile traditions and the art of making things by hand.
Any future work or exhibitions we should expect to see your work?
I have several new concepts in development and am excited to continue this exploration outside of school. Please keep an eye on my website and Instagram for coming interviews and project details!
Melissanthi Spei
"All the photos of my grandmother, Cheng Borchert, were taken by my sister Ranya Aloui as a collaborative project directed by myself.
The photos of the younger woman, Stephany Lee, were taken by the photographer Marc Moran."
Melissanthi Spei is an Athenian born fashion artist based in London. Her heritage in combination with her creativity inspires her to create contemporary and sculptural garments. Part of her identity as a designer is to use industrial materials for something historical and old through the exploration of traditional arts and crafts and their projection to contemporary aesthetics. Melissanthi has taken an interest in exploring different parts of folklore culture around the world and ways to revive them within the fashion context.