berlin & refugees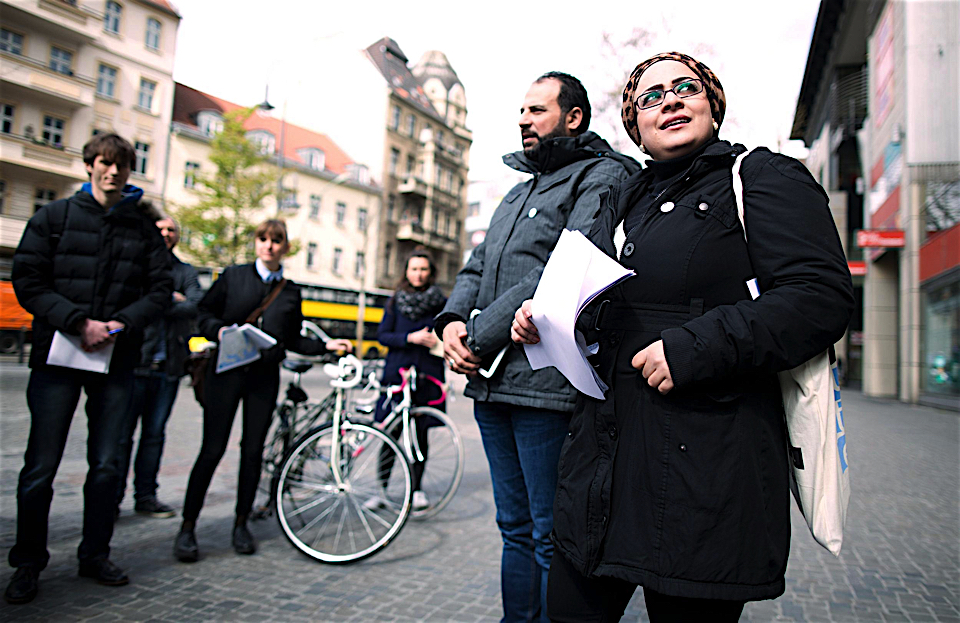 This year, Germany saw up to 1.5 million asylum seekers to arrive in the country, a significant number ends up in the capital Berlin. Its population reacts in its own particular way: open-minded, creative and pro-active. Various groups, communities, renowned artists and companies organize all kinds of activities in effort to support the newcomers whether through music, classes, food, workshops, or other social happenings. These are some outstanding examples of the many, many initiatives happening in Berlin:

Last summer, renowned photographer Wolfgang Tillmans dedicated his project space 'Between Bridges' completely to the ongoing European migrant crisis. Goal of the artist was to start a forum, a dialogue from within the art community in order understand how the arrival of asylum seekers has provoked such polarization among the European population. With 'Between Bridges' Tillmans wanted to offer a space where people could get to know each other again, in real life.

The 'Welcome Festival' is another great example of how Berlin copes with the current crisis. Volunteers created a festival where cultures from all over the world come together in a safe space to talk, learn, make music, dance, eat and drink. In addition to this, there's a more serious side to the festival: a legal council and translation services were also to be found within the premises. The organisers are convinced there must be a more harmonious future possible: cultural exchange and mutual enrichment instead of creating more differences and barriers.

The other way around is also possible: newcomers take Berliners on a tour to show them 'their Berlin'. Arij and Samer, both from Syria, show seemingly insignificant places such as supermarkets and mobile phone shops which actually play a crucial role in their new life. During the two hour tour, they share stories such as their escape route, former place of residence and everyday challenges in the world of a refugee.
Another big-name artist who drew attention to the crisis was Ai Weiwei, recently relocated to Berlin. He produced a five-column installation on the facade of Berlin's concert hall, a collection of 14,000 life vests from refugees who landed on the Greek island of Lesbos. These life vests form only a small percentage of the thousands of jackets that remain on the shores of the island – symbolizing the total number of refugees who try to find their way to the European mainland.
Arthur Groeneveld
.

tillmans.co.uk

aiweiwei.com

givesomethingbacktoberlin.com

querstadtein-gefluechtete.myobis.com

betweenbridges.net

refugeevoicestours

A Guy Named Arturo, the alias of Amsterdam/Berlin-based creative consultant Arthur Groeneveld (1986), is an interdisciplinary one-man-show offering brand support, communications, art direction, trend forecasting, and creative research. Also, he forms part of creative duo Arturo Bamboo.

arturo-bamboo.com