Body Electric by Clara Daguin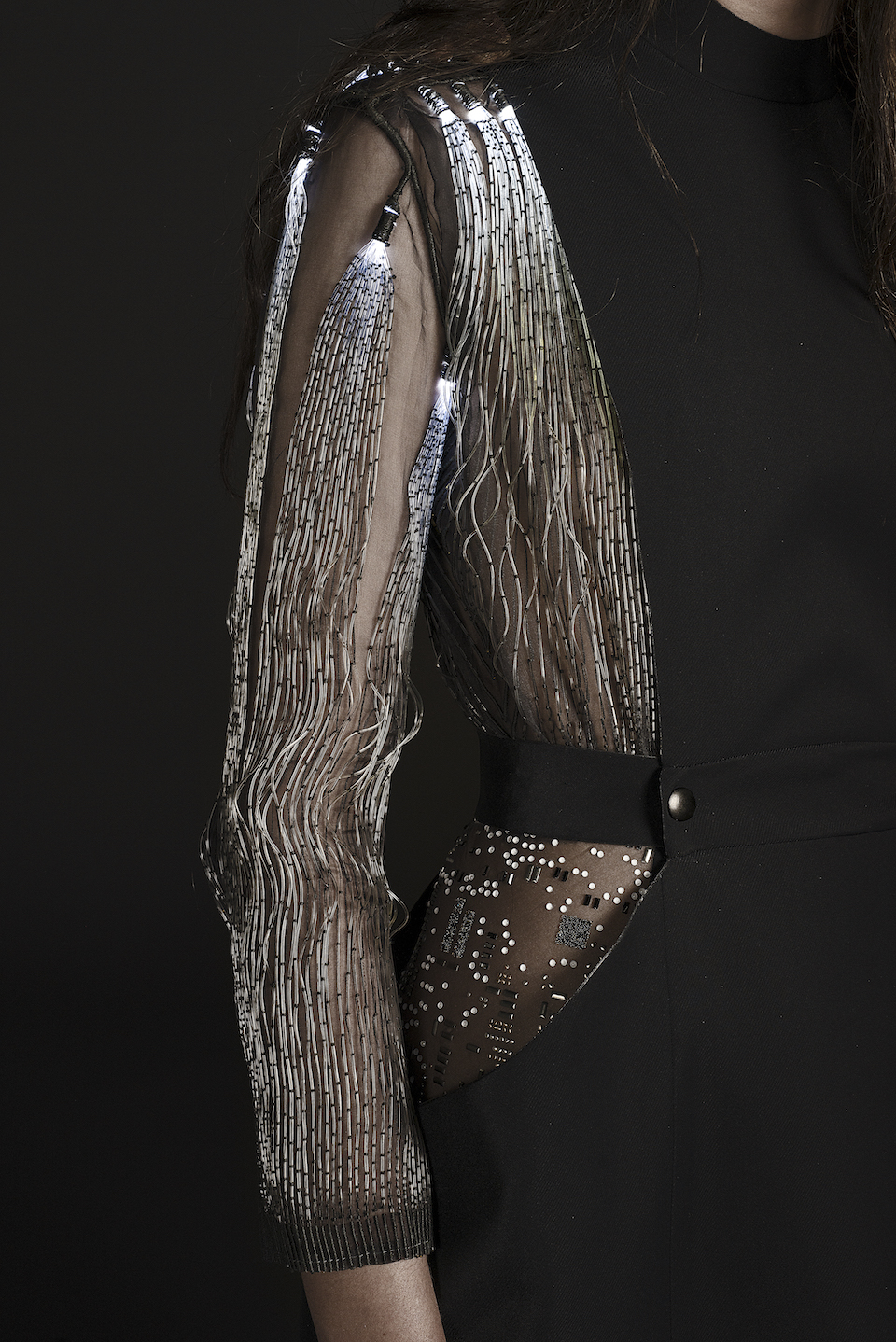 As one of the ten Hyères International Festival young designer finalists this year, Clara Daguin presented her Body Electric collection this April. In addition to a Masters of Fashion Design at ENSAD in Paris and a Bachelors of Fine Art in Graphic Design from CCA in San Francisco, Clara has previously worked for Margiela, Alexander McQueen, Hussein Chalayan or Iris van Herpen. She grew up in the Silicon Valley and thus has integrated its culture into her creative process.

She believes it is essential to keep manual savoir-faire alive while embracing technology as both a creative inspiration and a solution-provider. Noémie Balmat sat down with her to learn more about her creative process and get her thoughts on mixing fashion with technology.

Could you describe your creative process?
It all begins with a thought or feeling, and a need to express it. It is paramount to begin by synthesizing the idea into a single concept, a sentence that can serve as a reference if the research leads me astray. Visual inspiration and experimentation with materials work in parallel with finding silhouettes through moulage. The technical/sometimes electronic aspect is very much a part of this exploratory phase. Sometimes it appears in the piece as a texture, or it can inform the shape of the garment directly. In the « body electric » collection the strict uniform pieces are marked by cut-outs which act as windows to reveal technical embroidery. The patterns of the complex garments underneath are directly based on the cut-outs of the uniforms. All in all it is mostly an evolution, developing aspects that resonate, pushing aside discordant elements to create a coherent whole. And of course hoping to surpass one's original intentions and be surprised by the end result, because that is what's most exciting.

How did you learn to code/the technical parts of your work?
I have always made clothes, but my first professional interest was graphic design. I learned code to make websites, the interactive aspect was what really pulled me into that medium. When I began studying clothing and fashion design I participated in a workshop with the MIT high-low tech group where we transformed basic IKEA chairs using simple sensors and motors, circuits and code to alter our relationship to them.
This idea of integrating circuits into things other than computers peaked my interest and I continued with a class called « augmented objects ». After that I was obsessed and every chance I got I experimented with different sensors and simple ways to integrate electronics into clothes and textiles. It helps that my father is a computer engineer, that I grew up in the Silicon Valley and that I am visually inspired by all things technical!

What did the Hyères festival bring you?
It allowed me to create a new collection, to work with a panel of professionals who helped showcase it beautifully, and brought visibility to my work. I have been asked to share the pieces for various photo shoots, a music video, to exhibit at D'Days and Tranoï Paris and Premium Fashion Tech Berlin among others, and am collaborating with an artist on a soirée for Lacoste. What is great about Hyères is that it is really a jumping off point for meeting interesting people, and these new connections branch out to new projects and collaborations.

Noémie Balmat

Photos: Alice Brygo
 – Make up artist: Roussi Li, Vincent Brière 
- Models: Lydia Ragot (brunette), Elise Speicher (long red hair), Flora Marchon (short red hair)

claradaguin.com

Interested in the future of fashion through innovation, Noémie Balmat has a valuable four-year experience in international advertising agencies and works with brands as a fashion tech consultant. Currently working for Soon Soon Soon as an Innovation consultant, she launched Clausette Magazine in November 2014 to gather cool projects linking fashion & innovation in one place. Sensitive to the technological and scientific evolutions, Noémie often speaks at international events, such as the Hyères International Fashion Festival.

clausette.cc