the secret garden of karuna balloo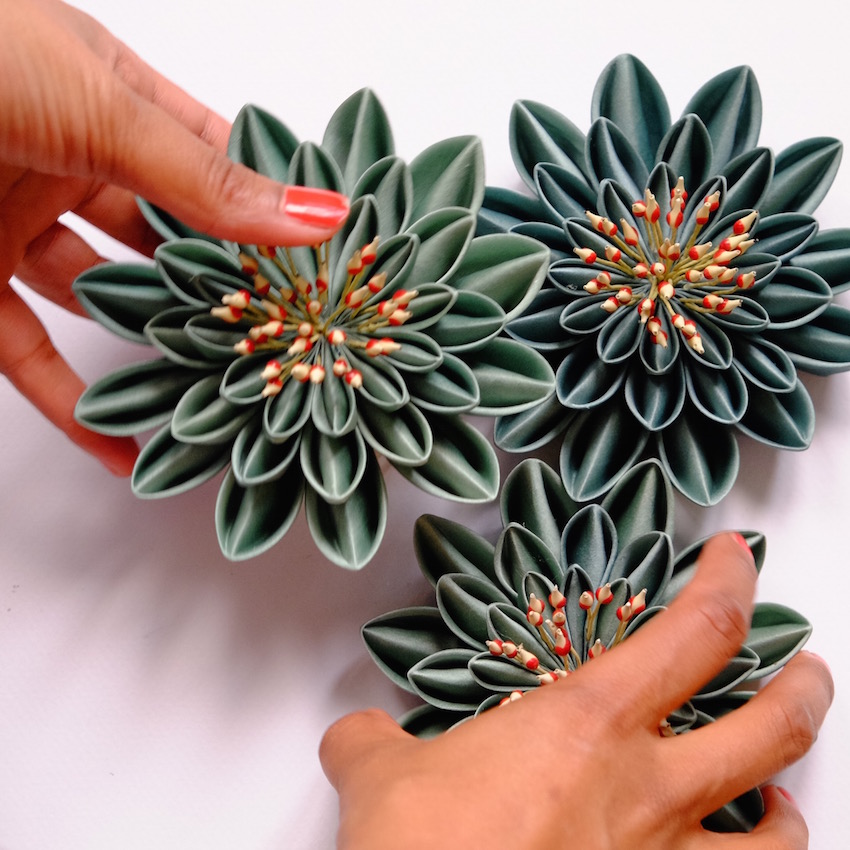 Short, obscure winter days make us dream about springtime. This most desired time of the year is now officially here and along with it, there is a growing necessity to express happiness. Little handcrafted textile flowers by the Paris-based textile artist Karuna Balloo seem to be the best way to show ones' vibrant feelings.

The story behind Balloo's designs is very simple. After accomplishing both her History of Art and Fashion studies, she devoted herself to textile and costume design. Whenever she went out with her friends in Paris, she wore a colorful flower made of fabric as a hairpin. It is not hard to guess that after some time some people started requesting about it and made orders. Today, her horticulture textiles became a burgeoning business.
Her designs are not only about the final product – Balloo produces each design just as she was giving a new life to each flower. The base is made from carefully selected fabrics, which she often dyes herself. The perfectly sharp shapes of her flowers are the outcome of precisely folded squares of clothes – the artist admits that origami technique is one of her main inspirations. The center part of these gentle little art pieces is finely decorated with vintage stamen and pistils. If that was not fascinating enough, even the names of each design are unique – Balloo names them after her favorite songs. With her honest devotion and personal input, these little blossoming accessories will soon bloom on every corner of the street, and not just in Paris. It's spring; let's dress for it!

Kamila Garczyńska

www.karunaballoo.fr