5 moments of serendipity in ceylon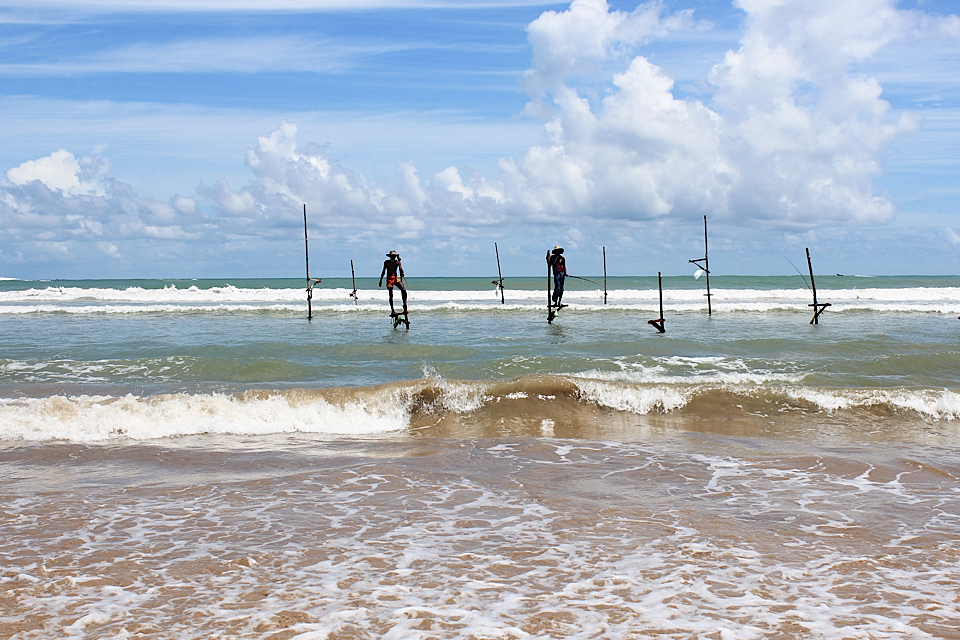 Do you know the meaning of "Serendipity" ? Of course you do … but do you know where this word comes from, who was the first to use it, when and why?
I found answers of all these questions this summer, during my "solo trip " in Sri Lanka.
As Wikipedia says "The first noted use of « serendipity » (meaning pleasant surprise) in the English language  was by Horace Walpole. In a letter to Horace Mann  (1754) he said he formed it from the Persian fairy tale The Three Princes of Serendip, whose heroes « were always making discoveries, by accidents and sagacity, of things they were not in quest of. The name stems from Serendip, an old name for Sri Lanka  (aka Ceylon)"

In this trip, indeed, I had a lot of pleasant surprises, unexpected situations, and some moments of pure wonder.
So this post is clearly not a guide to visit Srilanka, but it's a short story in 5 chapters about travelling in a different way, without making plans, trusting instincts to find the magic.

Serching for Stlit Fishermen…
One of the most popular postcard of Srilanka is a photo of Stilt Fishermen (Steve McCurry shot a famous one). Fishermen in Sri Lanka use stilts to catch fishes: this is an old tradition practiced in southwestern-most Sri Lanka, near the colonial city of Galle. After a short research guided by a tuk tuk driver along the coast I found some fishermen. I was disappointed by the fact that they asked for money to "perform". Maybe I chose a bad timing or maybe this is a kind of tourists trap (after 2004 Tsunamy Stilt Fishermen decreased a lot). I arranged to exchange a photo for a lunch of roasted fish in their makeshift "restaurant" on the beach. While complaining with my driver I saw a group of old women crossing the street, carrying pillows. I decided to follow them. I was really impressed to find the same kind of artisanal work that I found one week earlier visiting Aveiro (north Portugal) Indeed, Lace making was introduced to Sri Lanka by the Portuguese who colonized the island in the 16th century. This women had super fast hands and a big desire to tell about their work and their country. No tourist traps here! Only a bunch of good time to spend learning something.

A night waiting for sea turtles
When I was younger I used to spent summer nights on the beach with friends, watching at the stars so this experience reminded me a lot my youth but, instead of waiting for a fallen star I spent my night waiting for sea turtles. In Tangalle there is a Rekawa beach, about 10km north-east of Tangalle where the Turtle Conservation Project works. This is one of the most important turtle nesting beaches in Sri Lanka, where five of the world's seven species of marine turtles come year-round to lay their eggs. I waited with almost twenty people that I didn't know before, in the dark of the night (every light was forbidden, even the phone light), and after two hours we were losing the hope to see one of this giant turtle coming out from the water. But one came slowly on the shore, and started to search a place to lay eggs (a lot of … ). This was really emotional because it's becoming so rare in our daily life to observe how the nature works… and understand how much this processes are in danger.
For evident reasons no photos for this chapter.
A train to Kandy
Travelling by car with a personal driver could be the best option to visit the country without big efforts but choosing local transport is absolutely necessary to experience local habitudes. The buses are often crowded and noisy (local music all over the time, high volume), trains are cheap but very slow. I took the train from Ella to Kandy. It took more than 6 hours to reach my destination but I really didn't get bored. The main pleasure is to watch out the window to admire the incredible wild nature interrupted by tea plantations. The difficult part is to conquer a window seat! The tasty part is that every 15 minutes someone try to sell you some fried food made by rice, fish and spice, and It's impossible to resist.

Esala Perahera
The Kandy Esala Perahera (the Esala procession of Kandy) is a big festival  celebrated with elegant costumes and is held in July and August in Kandy, Sri Lanka. This historical procession is held annually to pay homage to the Sacred Tooth Relic of Lord Buddha, which is housed at the Sri Dalada Maligawa in Kandy. The procession consists of traditional local dances and elephants adorned with lights and rich garments. After my long train trip I decided to visit the temple: visiting time was ending but I insisted to enter because I had only one day to stay in Kandy. "Be quick, they said, the procession is starting in an hour!" I answered " Ok ok, I will be quick" running inside where the first thing that I saw was a huge elephant being prepared for the "show" .. and then thousand of young boys getting dressed, a lot of people working and testing their dance steps. I was so fascinated by this spectacle of "backstage" that I barely visited the temple.
Sigiriya
In the internet era we think we know quite everything about everything. Being surprise is rare and exiting. Well I was very surprised when I first arrived in Sigiriya: I thought "how comes that I didn't knew anything about this place?"
Sigiriya is an archaeological site located on the top of a massive column of 200 meters high rock. Crossing the gardens (the oldest landscaped gardens in the world), the rock appears so high that It seems quite impossible to climb in only half an hour. Surrounded by buddhism monks, cingalese students and some tourists I started to advance trough this enchanting ancient garden, to climb the stairs in a row, trying not to think of the fear of heights. In the middle of the climbing It is possible to visit a cave decorated with 1600 year old frescoes representing beautiful women of king 's harem. Going on the top finally the scenario leaves everyone breathless: the ruins of a real king palace and a spectacular view of the area from the top.
Don't' allow to any stupid tourist armed with a selfie stick to ruin this moment. Find a quiet place to sit and observe the horizon before getting down.
Find your personal serendipity…
Chiara Apperti

Fashion Designer and trend researcher, Chiara lives trying to catch every kind of inspiration. Based in Milan, four years ago she founded a lifestyle magazine with her best friends.