grafted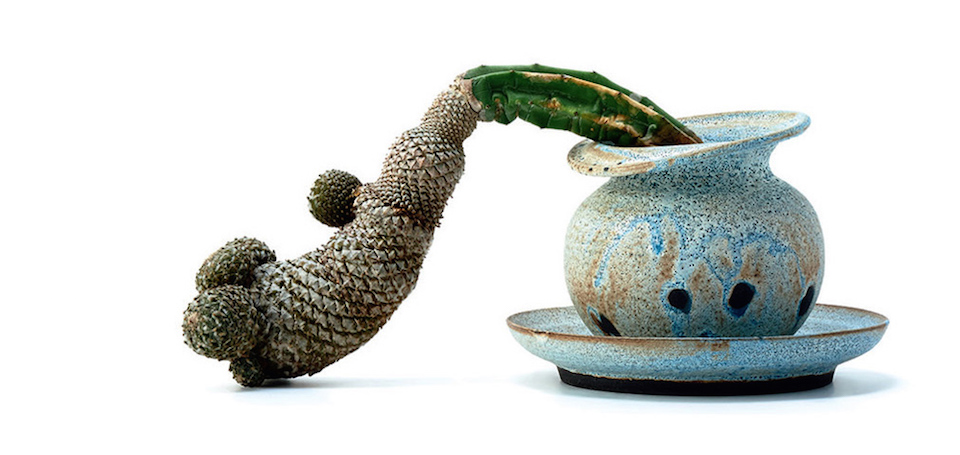 Since plants started to play one of the leading roles in our interiors they have come a long road from minimalist expositions to much wilder and more expressive configurations. Nowadays, we plant them anywhere and any ways using both traditional pots and less conventional objects like glass boxes and even teacups. And just when we think we know everything about this ongoing trend, a unique project pops up bringing a fresh view on plants and their display. These irregularly formed succulent hybrids planted in wildly textured pots are the outcome of the collaboration between Japanese plant whisperer Kohei Oda and American ceramicist Adam Silverman.
Kohei Oda is a well-known Japanese plant artist specializing in plant grafting. In his experiments he frequently uses damaged and unwanted plants, and connects their tissues together so they get a chance to grow as one compound plant. The results are stunning – new and unexpected forms are being born. It was Orina Reich and Ritsuko Yagi, the owners of a tiny shop in LA, who brought together Oda and Adam Silverman, LA based ceramist with passion for erratic forms. Silverman gathered a lot of experience travelling across many parts of Japan, working and taking lessons from local masters. There is no doubt it affected his work, but in contrary to the minimalist style his ceramics are much more sculptural and experimental. The result of the first collaboration between Oda and Silverman, "A Tale of Plant & Pot" exhibition, took place in this little shop in LA. The spectacular art pieces displayed were very expressive – giving a real personality to each cacti.
Their partnership took another step further – a second exhibition together took place in Kyoto. This initially skeptical idea of collaboration resulted again with little art pieces; multiple hybrid plants growing in uncommonly shaped pots. It is the idea of hybridization that makes it such a fresh concept. The plants grafted together are one of a kind and almost appear to be from another planet – they become desirable not only because it is nothing we have seen before but also because of the new life they represent. That effect would not be so expressive if not for the bizarrely textured vessels which underline the uniqueness of the plants. In the end the impression we get is a hybrid of magic and craftsmanship.
Even though Silverman himself did not believe that working with Oda would get him to the next level as an artist, the book released displaying their works called "Grafted" proves he was wrong. Throughout the 160 pages of this carefully edited book we get a new, wider view on these stunning plants and pots. Thanks to the photographs made by Shuji Yoshida and Joshua White we get a chance not only to admire the whole compositions as they are but also to take a closer look at the details from a new perspective. The whole publication was designed and edited by Tamotsu Yagi and published by August Editions, apart from numerous photographs it also contains an essay by Glenn Adamson. Bad news is that it is a limited edition of only 1,250 pieces. No time to think – go grab your own copy!
Kamila Garczyńska