sebastien courty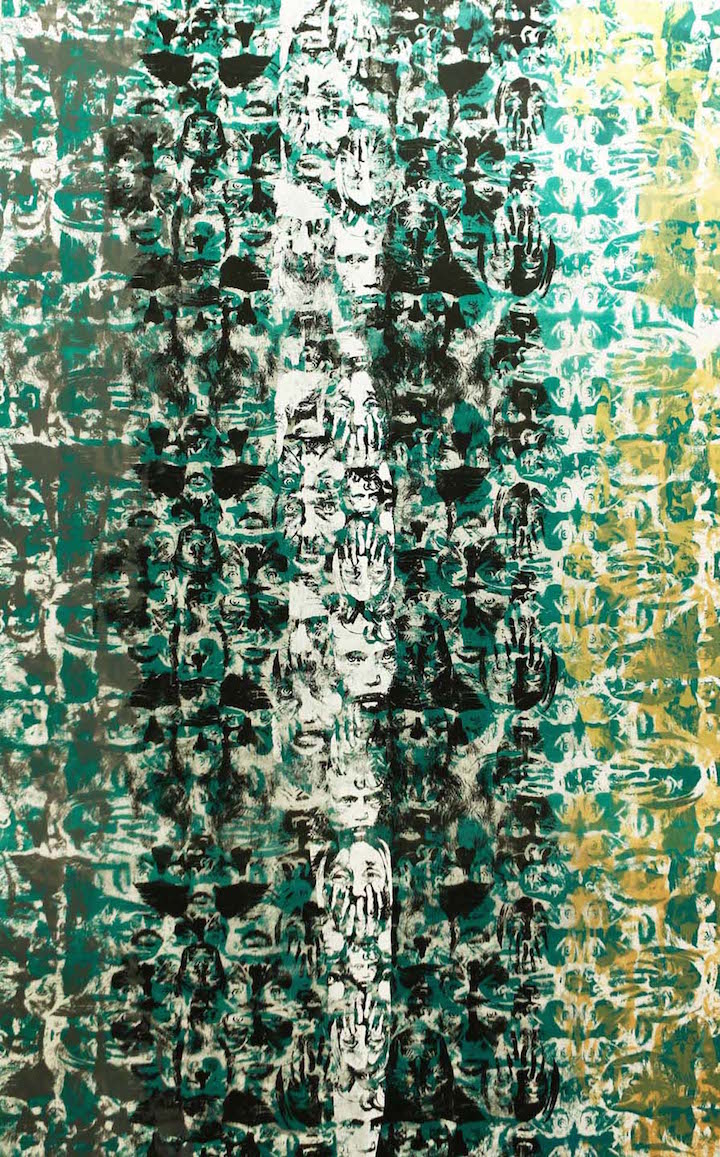 « Angels and Demons" – perhaps an inelegant way of describing Sebastien Courty's artwork but it works. And buying one of his canvases, much like most things in life, is all about the mood you find yourself in. His 2015 Non-Washable show at Bespoke Studio Gallery in New York was a textured introduction to the art scene of this adopted city; a young Frenchman originally from the City of Lights – Paris after all is also a place with an acquired taste for art.

Sebastien paints on three-dimensional surfaces while screen-printing on silk organza and other high-end fabrics. The result is an artistic mirage; layers of images that blend together, leaving one intrigued by the depth of the work's character and the artist's research. His inspiration in one piece is faces, and a lot of them: Renaissance, Beethoven, masks from the Mayan era, homeless people. He captures expressions that demonstrate his eye for the different strands of what could be deemed powerful. When he paints on silk, we find bright colours and bold lines that break from the darker, more mysterious faces that often scream back at you.

Sebastien was raised in Limoges in the west of central France, a city well known for its 19th century porcelain and oak barrels that make Cognac. At 5 years old his uncle taught him how to combine his vivid imagination with whatever he could find and that planted a creative seed. By 17 and against his parent's wishes, he moved to Paris to attend the École nationale supérieure des Beaux-Arts where he found his artistic freedom.
As the artist puts it, "you could do whatever you wanted", but by wanting to forge a more predictable career path, he shifted into fashion and textiles, yet while bringing his first love, painting, along for the journey. One that would lead him to New York's renowned Fashion Institute of Technology and his second solo exhibition.

Textile allows Sebastian to work on a surface like a canvas but allows for great practical use of the work – so rather than just hang on a wall, he wants to see his creations in as many forms as textiles allow themselves to be transformed into. A nuanced sense of creativity… Sebastien has a unique ability for translating the ideas of ancient civilizations or the images of a 'current living' into ambidextrous fabrics that, depending on one's mood, could work well as a stretched canvass on a wall or produce an interesting exchange about the couch one might be sitting on. Says C, "it's important nowadays that an artist is able to propose their work on different surfaces."

Sherwin Bryce Pease