fashionable fibres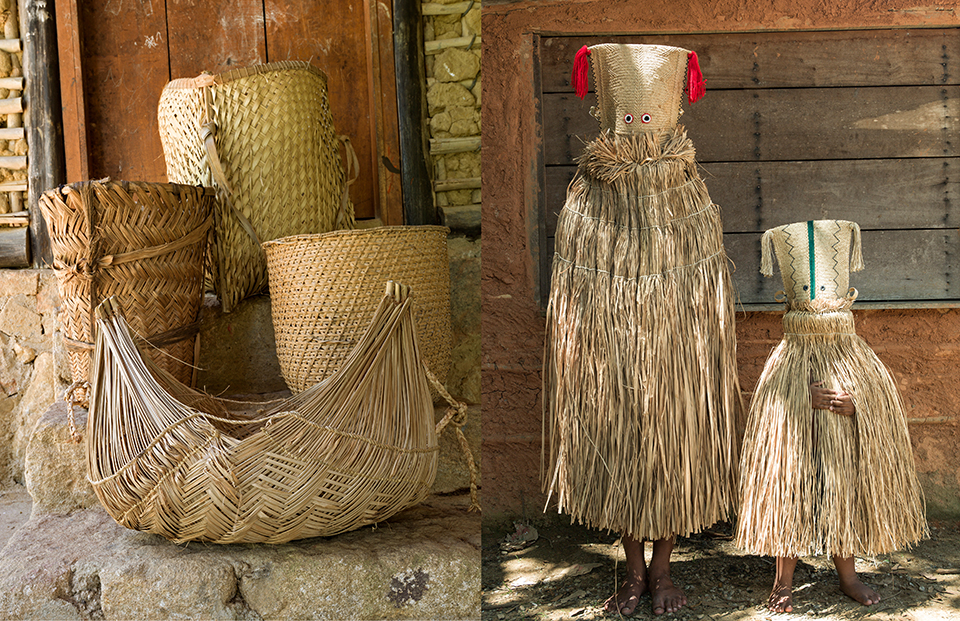 Left : basket (triangular), Suruí ethnic group, state of Pará; (left, braided) Cargueiro Basket, Kayapo ethnic group, state of Mato Grosso; (right) Basket, Yanomami ethnic group, states of Roraima and Amazonas, and basket, Xavante ethnic group, state of Mato Grosso all from Armazém Paraty – Right: within the Kaiapo ethnic group from Xingu, state of Mato Grosso, the men braid the baskets and make the weapons.The women produce the straw masks, bracelets, ribbons and ropes from Armazém Paraty
The burgeoning use of natural materials for garments and interiors is reflective of consumers with a discerning eye for sustainability and ethically made and traded products. Cottage industries and artisan crafts are abloom. Woven wicker, grass and other organic ingredients have awoken a taste for drier tactilities and coarser materials. At the same time, different species of grass are flourishing in newly landscaped gardens, a horticultural trend that brings the savannah to the city or to the contemporary public park.
Brazil's fibre weaving heritage is engrained in its culture, tracing back to its indigenous roots. Since time immemorial, dried leaves, grasses and malleable reeds have been used to create functional baskets for fishing, hunting and gathering as well as decorative ritual costumes. Each group uses different materials that are native to their diverse local environments in a variety of techniques.
Deforestation for farming and other destructive expansion has endangered many fibre species as much as it has threatened the survival of the tribes. An sos for fibre, people and culture. In an effort to preserve woven crafts, some local governments protect the over harvesting and export of certain plants. Golden Grass (Syngonanthus nitens) is one such example, yielding a fine shiny fibre that resembles metallic thread. Native to Jalapão in the northern state of Tocantins, it was originally used by the Xerente people and is embraced today by craft artisans. Palm leaves from the Buriti (Mauritia flexuosa) produce a silk-like material that is used for basketry and textiles. It is endemic to Brazil's Cerrado plains in Goiás and Minas Gerais and even lends its name to Brasília's governmental headquarters, the Palácio do Buriti.
Brazil has recently established itself as a centre for sustainable progress, notably influenced by Osklen, the country's first truly global fashion retailer. Founded by Oskar Metsavaht, since 2000 the company's E-Institute has researched and developed ecologically-correct fabrics that are adept for mass-production, including a canvas woven from natural fibres as part of a collaboration with Alpargatas, Brazil's largest footwear manufacturer. The institute has also developed sustainable fish leathers, Amazonian latex and silk, organic cottons and recycled PET yarns.
These newly-advanced natural materials make it an exciting time for creative products. Guinea Grass, banana fibre and carnauba are braided into enticing multi-dimensional forms. Coconut fibre is intertwined into beautiful bloom stems, often in oversized proportions as a more generous welcoming gesture. Sisal is woven into modern mats to bring an aesthetic organic presence direct from the looms to our living rooms. Be it hanging as an admired artwork or sweeping up as a humble broom, fashionable fibres are becoming sustainable elements fit for the future of craft and design. A movement to watch and to be continued.
art director: Sergio Machado
photography: Ruy Teixeira
text: Philip Fimmano
BLOOM Luscious is available for purchase: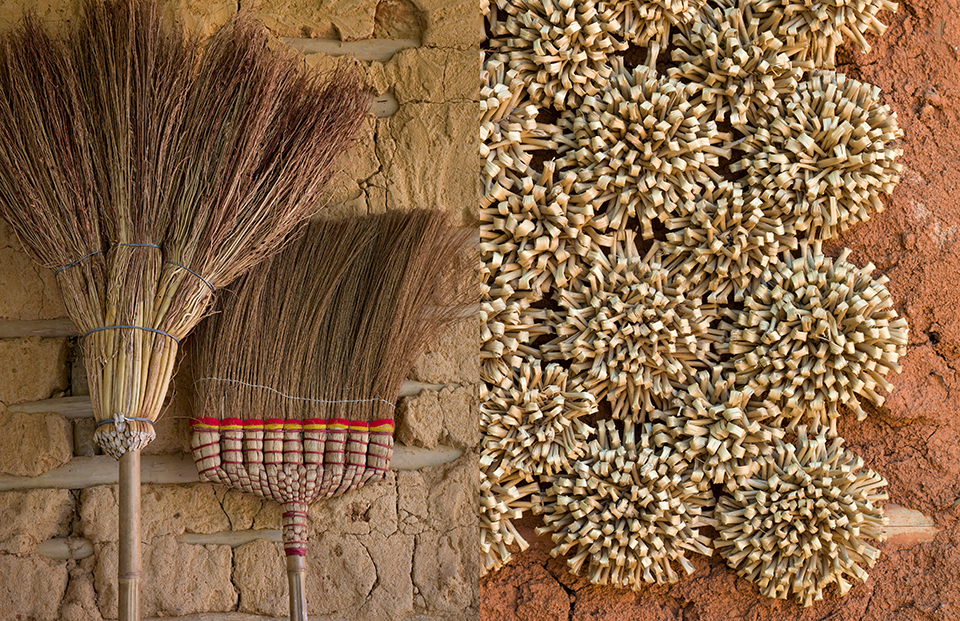 Left: straw brooms with bamboo handles, state of Minas Gerais from Oficina de Agost – Right: braided panel made from dyed Guinea grass, Juão de Fibra, artisan from Brasília by Arte Sol.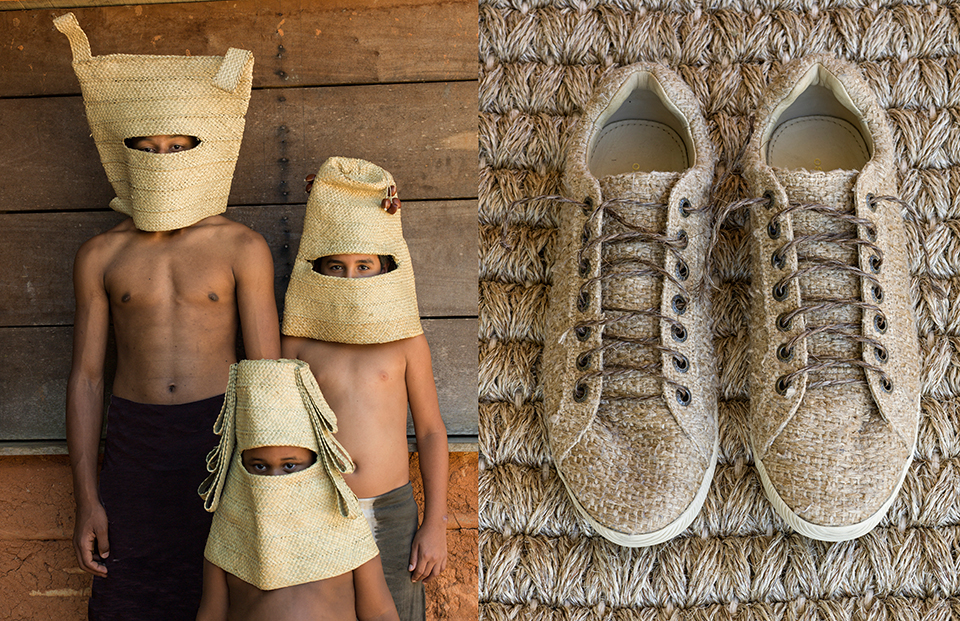 Left: indian boys play with woven straw masks at AGT Várzea Queimada, Piauí – Right:linen and straw footwear and sisal loom rug footwear by Osklen, rug from By Kami.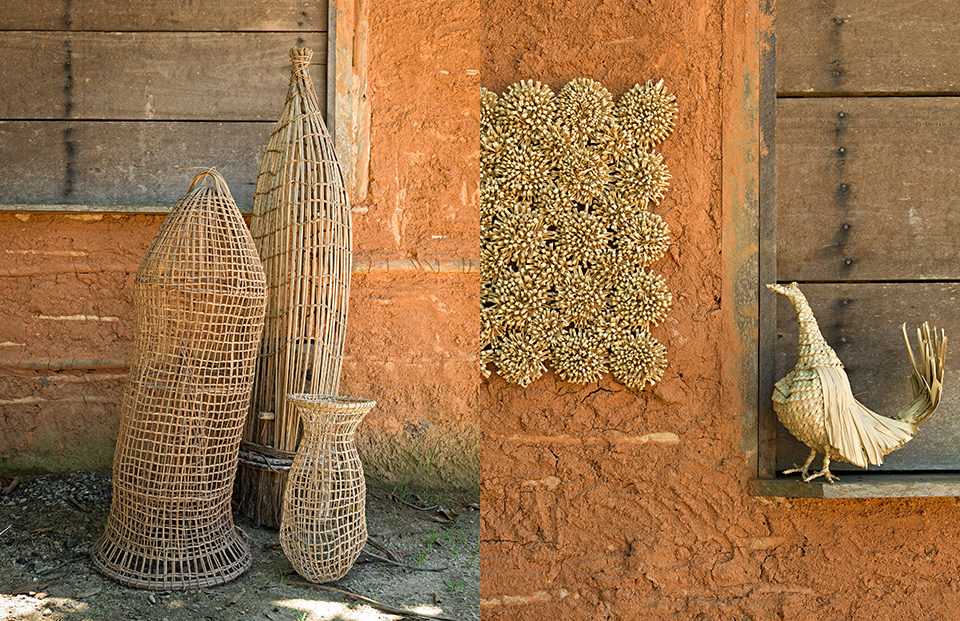 Left: fish traps made by the Enawenê-Namwê Indigenous group, from the region of Mato Grosso, and two fishing baskets from Xingu in Mato Grosso, as crafted by the Mehinako from Armazem, Paraty – Right: braided panel made from dyed Guinea grass, Juão de Fibra, artisan from Brasília and braided rooster made from carnauba straw, handcraft from Ilha Grande de Santa Isabel in the state of Piauí both from Arte Sol.