weaving a home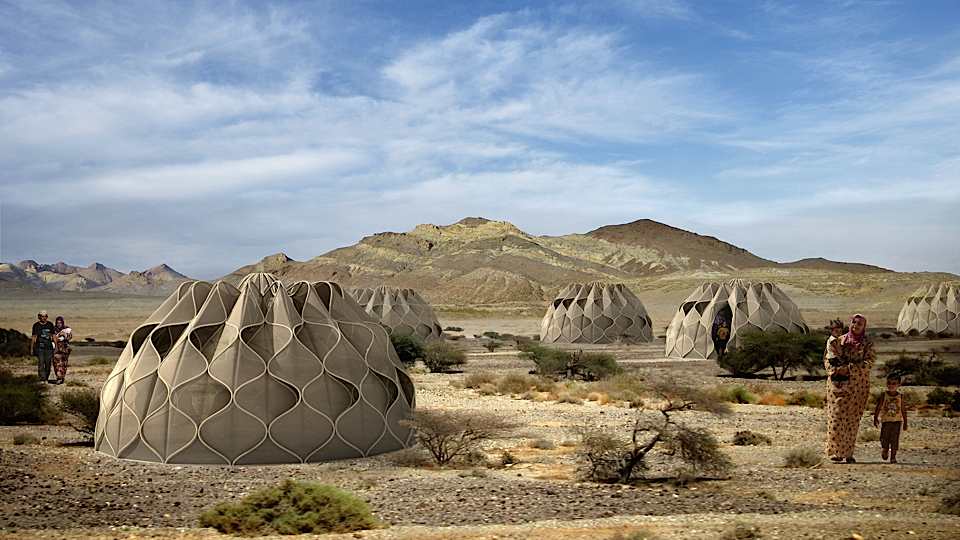 "Nature uses only the longest threads to weave her patterns, so that each small piece of her fabric reveals the organization of the entire tapestry." Richard P. Feynman

Human life throughout history has developed in alternating waves of migration and settlement. The movement of people across the earth led to the discovery of new territories as well as creation of new communities among strangers, which eventually formed towns, cities, and nations. Navigating this duality between exploration and settlement, movement and stillness is a fundamental essence of what it means to be human.

Over the last century, in the aftermath of global wars and natural disasters, the world has witnessed the displacement of millions of people across continents. As refugees seeking shelter from disasters (natural and manmade), they carried from their homes what they could and resettled in new lives, in unknown lands, often starting with nothing but a tent to call home. This project reexamines the traditional architectural concept of tent shelters by creating a technical, structural fabric that expands to enclose and contracts for mobility while providing the comforts of contemporary life (heat, running water, electricity, storage, etc.).
The concept behind the structural fabric is the timeless tradition of weaving members into lightweight forms that easily collapse into flat surfaces for transport. The various threads of the weave accommodate different purposes, for example: mesh for windows and storage, a stretchable solar fabric for sustainable energy, which feeds flexible pipes for water, heat, and electricity.

The structural fabric functions on multiple scales from the scale of the aperture to the scale of a tent city, a landscape of domes that facilitate community and transcend the basic need of survival and instead a place where community integrates, heals, and renewal thrives. A nomadic urbanism that physically and metaphorically weaves a community, service same day payday loans, functional design and beauty.

In this transient space, the nomads find a place to pause from their turbulent worlds, a place to weave the tapestry of their new lives.

Abeer Seikaly


www.weavinghome.php