vlieland / into the great wide open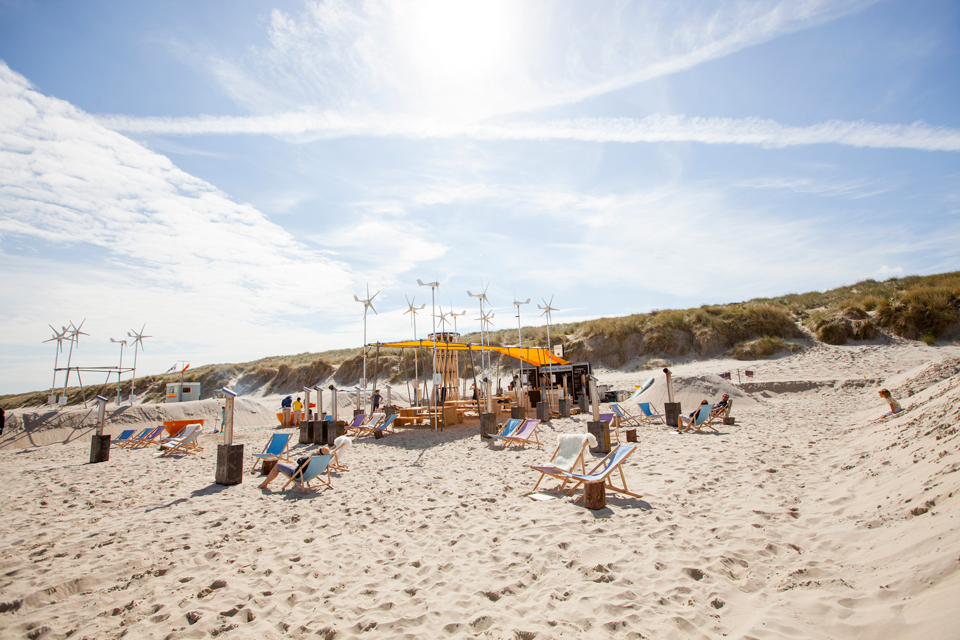 If you have planned to visit the Into the Great Wide Open festival on Vlieland this weekend it's hard to miss the Strandtuin (beach garden) from Weltevree, a pop-up pavilion that is completely self-supporting:

– Groundfridges for fish-bars and beer-cooling facilities,with this design art-director Floris Schoonderbeek is nominated for a Dutch Design Award…
– Where you can prepare your own meal (fresh from the sea) in the outdoor ovens.
– And if you can find a spot in one of the Dutchtubs filled with salt water and heated by fires from driftwood or locally cut timber,you can enjoy your drink looking out over the waddensea.
– Energy from wind and sun for lighting and music.
– Sand landscapes that offer privacy and shelter from the wind

We predict that the strandtuin wil be THE place to be on Vlieland…
Extra special this sunday 6 september the Strandtuin will host a alternative church service 'Welcome to Tomorrow',were several well known speakers will tell about the future and their vision on it.

Floris Schoonderbeek (about the Strandtuin), Tijl Couzij (Lab Vlieland), Bas Heijne about 'the perfect human' and Pauline van Dongen about Wearable technology.
Photos: Tatjana Quax & Ben Lambers /studioaandacht.nl
Studio Aandacht is styling director Tatjana Quax, art director Ben Lambers and the people they surrounded themselves with since they started their studio for 'commercial culture' back in 2001. Both national and internationally reknowned museums, publishers, magazines, brands, designers and manufacturers choose to hire this creative couple to do their creative work. Studio Aandacht is sharing with Trend tablet's community their latest travel and « coup de foudre »