emilie roche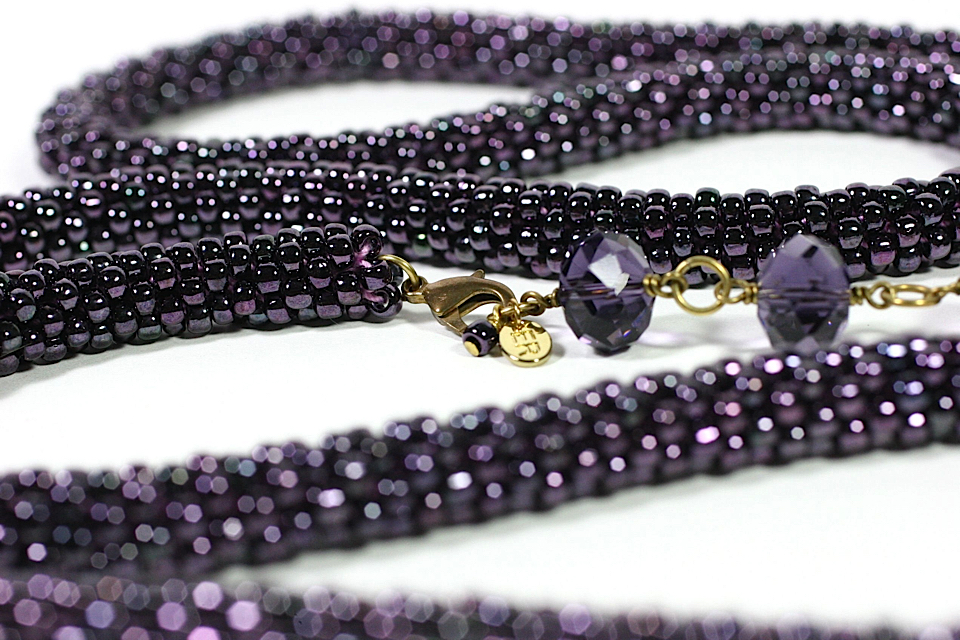 Flowing and supple, Emilie Roche's creations dress the skin as fine fabric would. Their bearing lends them a surprising presence considering their featherlike weight. Cool at first, the glass snake coils itself around your neck, curls up on your wrist or underlines a waistline that shies away from the constriction of a belt. Little by little, your fingers invite themselves on its moving body, stroke it and lose themselves in highly sensual games of chance. Handcrafted but not plaited or stiff, these smooth jewelry bestows your skin with an incredibly relaxing sensation. Spontaneously, your fingers play with the material and loosen up.
Bead crochet is Emilie Roche's technique. The first pieces of work using this technique date back to the mid-19th century.
Purses, little bags, bell-ropes or children's bonnets were then made by idle upper-class ladies.
Curiously, the same technique was found in the Balkan villages and… in the Ottoman Empire's jails!
To stave off boredom, Turkish prisoners crafted snakes and lizards with bead crochet to give as presents or to sell as a means to better their daily lives. During the First World War, many of them made dozens of bead reptiles, some of these up to 1.50m long!Imported from Japan or Bohemia, the beads come in an endless number of shades, transparencies and shimmers. Matt or shiny, smooth or faceted, they play with light like a stream's water with the sun's reflections.
The story started in the corner of a dark shop in Alexandria, Egypt. There was a shambles of items straight out of the One Thousand and One Nights. Emilie spotted an orange necklace, made of tiny beads, took it in the palm of her hands and stroked it. This tiny snake of living light was about to change her life.

The orange necklace remained an enigma for a long time. No matter how much Emilie studied it, analyzed it and dismantled it, she could not penetrate the mystery of its manufacture. Until the day she understood that it had been made by a right-handed woman… From that moment on, left-handed Emilie began to redesign the whole technique the other way around.
When the beaded ropes were first shown to friends and family, the response was unanimous: she could not stop there! Emilie had to set up a production unit and put her creations on the market. Admittedly, she was trained in jewelry and had just left Fried (the Parisian bead and trimming manufacturer and wholesaler), but she simply could not picture herself going to China and looking for a factory to manufacture her jewelry… At that point, a journalist friend told her about the small Moroccan oasis of Figuig, where the women knew how to work with beads.

Once in Figuig, Emilie Roche explains she can only train three women, due to the technique's subtleties. On the first day, ten trainees turn up, around fifteen the next day and about thirty in the following days. Emilie finds herself alone facing these women dressed in haïk, whose ways and language are not her own. Yet the magic happens: after all, isn't Emilie herself a woman and clever with her hands?

Having developed her own teaching technique (for the right-handed!), Emilie began training the women.With much patience and humor, she transmitted, showed and joyfully explained the know-how that had taken her so long to make her own… After several visits and dozens of hours of training, Emilie Roche can now count on a team of about fifteen "beaders", all members of women's organizations based in Figuig.
Ultimately, Emilie's idea is to ensure that the women in Figuig take up the bead crochet technique to create their own models, adapt them to Figuigi culture and add to the range of handcrafted goods marketed in the oasis.

You can find Emilie's creations in France, Japan, UK , Spain …
She will also be at Premiere Classe in Paris Sept 4-7 2015