abstract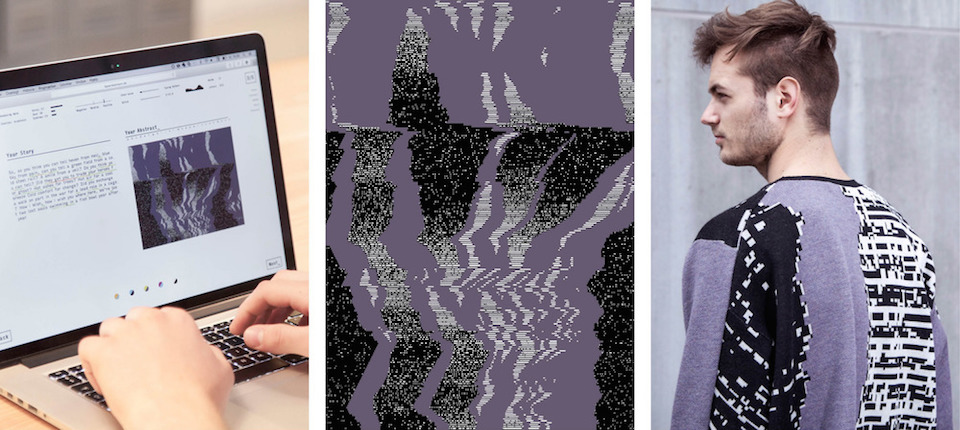 "Use the best possible materials and reveal the qualities of those materials and the craftsmanship their assembly". One of the most prestigious German architect and designer, Karl Friedrich Schinkel said exactly that. If it wasn't for the fact that he lived in the 19th century, one could have thought he was speaking about a design project called ABSTRACT_.
ABSTRACT_ is the latest project of an ambitious Danish collective of future thinking designers. Bjorn Karman (technology), Kristine Boesen (textile) and Julie Hells Eriksen (fashion) developed ABSTRACT_ as a co-creation between fashion, textile and technology. Although the excellence of this project might make you expect differently, ABSTRACT_ is actually a collaboration between three design students as part of their Bachelor education.
This customizable fashion project, where by software program transforms text and emotion into textile patterns, creates the ultimate personalized design pieces. The vision of the three young designers behind this endeavour holds that they believe nowadays consumer's interest lies in unique and personal products in combination with authentic experiences. ABSTRACT_ offers his users these sole experiences by letting them personally connect to clothing.
The software can process and analyze the rhythm and meaning of what the customer writes on their keyboards. The facial expressions are being analyzed by webcam before these personal emotions are being translated into design. Users get their own emotion as a pattern in a piece of clothing and therewith can tell their own story making this piece of fashion of very high personal value.
Our appearance is on of the most important ways of externally express who we are, our personality and our style. It is our way to stand out and to tell our story and ABSTRACT_ offers a stunning way of truly telling it. Moreover, the designers believe that this personalization of products could lead to more sustainable use of materials as people might care more about their products if they have an emotional connection with it.
ABSTRACT_ is an absolute stunning collaboration focusing on the different strengths all the professions have to offer. Answering to our current personalization trend perfectly while embraces our emotion economy by giving consumers the opportunity to add value to their garments. This project shows us that it is not so much about the products we buy but about the story it can help us tell, and that is absolute priceless.
Cecile Cremer
Extremely curious and always searching for little weak signals that tell us things are changing. Cecile is a trend researcher and creative concept developer with the wanderlust of a cosmopolitan.Her aim in life is to develop things that matter to others and to help others change their strategy to be ahead of the future. Because she believes "The future is ours".