to catch a dream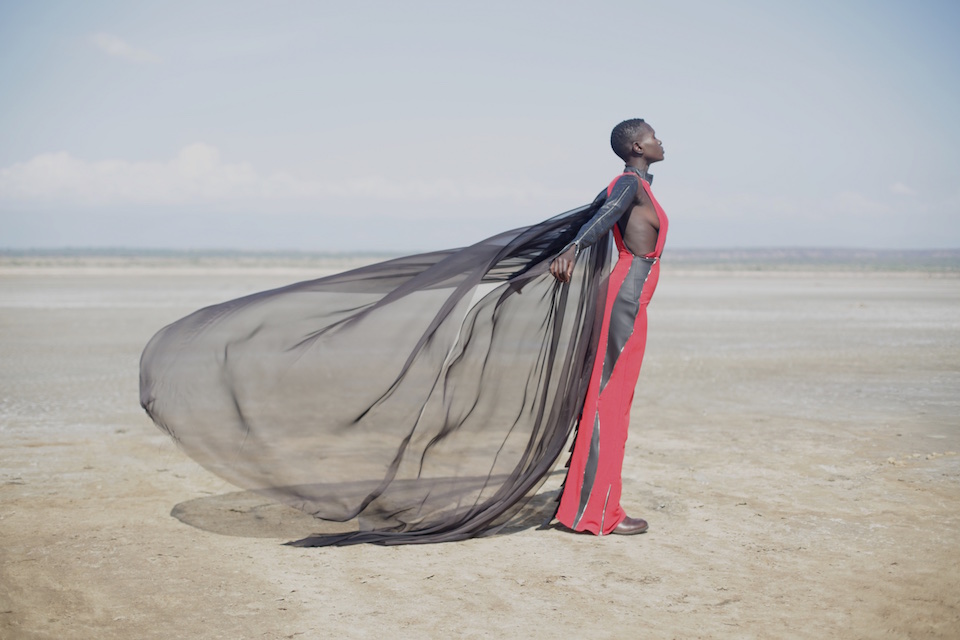 Based in Nairobi, Kenya, NEST Collective is a group of artists who aim to "explore [their] troubled modern identities, re-imagine [their] pasts and inhabit mythical African futures." The surreal fashion film 'To Catch a Dream,' which was released last month, is a result of a collaboration with their Chico Leco Programme, which generates cross-disciplinary work between fashion and other creative disciplines. The short film was written and directed by Jim Chuchu, who has recently been praised for his powerful film 'Story of our Lives' which recounts stories from the LGBT community in Kenya, where homosexuality is illegal.

In 'To Catch a Dream,' Chuchu tells the story of Ajuma (embodied by iconic Kenyan model Ajuma Nasenyana), a widow whose sleep keeps being disturbed by a recurring nightmare. As medicine is no help, Ajuma follows a friend's magical remedy and finds herself in the Land of Dreams where she is to get rid of the nightmare, guided by a set of ethereal characters along the way. The remedy used in the film was made up by Chuchu, but it sounds familiar enough that he keeps getting asked which particular tribe he borrowed it from:

"I was surprised that it is possible to construct fables that are seemingly indistinguishable from the untouchable canon of Kenyan/African mythology,' he says. 'This has reaffirmed my interest in the idea of remixed pasts. I suppose people who have had their pasts erased can make up their own pasts."

Chuchu embraces the African ancestral oral tradition but modernizes it with a grace and a surrealism reminiscent of Paradjanov's 1969 chef d'oeuvre 'Sayat-Nova'. While the beginning of the film is set in a stylish if international-looking contemporary house (showing magic is relevant in all contexts and epochs), the second part is set in Kenyan landscapes whose dream-like beauty never seems to phase any of the characters – on the contrary, they fit perfectly in their magnificent surroundings.
Like 'Sayat-Nova', 'To Catch a Dream' features striking costumes whose sculpturesque elegance and simplicity lends all the characters a regal presence. As it happens, each costume showcases designs by eight fashion houses based in Kenya, an excellent opportunity to see what's happening outside of mainstream fashion circuits.
While it may sometimes seem canonical and fixed, folklore is something that is deeply alive: the traditional costumes need to be worn and performed in, the stories need to be told, listened to, believed and retold. Chuchu recognizes this and adds to rather than borrows from a rich mythology he and his audience are familiar with. With this visual variation on African mysticism and a strong use of storytelling, he successfully embeds the contemporary designers' clothes within an authentic and evolving local tradition.

Mathilde Leblond
Nest Collective. Written and directed by Jim Chuchu, produced by Wangechi Ngugi, with creative direction and styling by Sunny Dolat. Designs by Namnyak Odupoy, Ami Doshi, Kepha Maina, Jamil and Azra Walji, Katungulu Mwendwa, Ann McCreath and Adèle Dejak.

Mathilde Leblond is a trendwatcher based in Buenos Aires with a passion for creativity, beauty and the future. For Trend Tablet she contributes posts about some of the most arresting artists and creators which she scours the internet to find out about.