kenny dunkan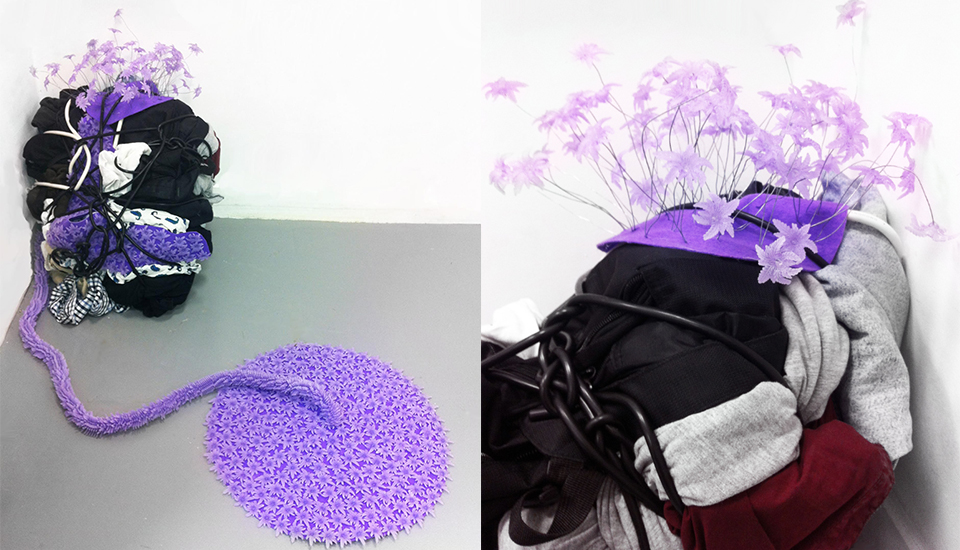 Kenny Dunkan is a Guadeloupean Paris based artist that belongs to a category of transversal cultural dreamers. A recent graduate from the École Nationale des Arts Décoratifs in Paris, he breathes art and aestheticism, and this shows in both his physical appearance, environment, language and work. He documents his visions in a blog where he creates collages using his body as canvas.
One can immediately understand the artist's vision by looking at his living space. An all white laboratory where minimal design objects interact with tropical plants and Guadeloupean inspired coloured decorations. With a similar approach to researchers, he observes and explores his surroundings to then "sample, analyse and transform" them into sculptural collages and objects.

In "Knife Just Do it" (2014) for example, he hijacked a Nike logo to transform it into a rustic knife, combining two of his passions: craftsmanship and fashion.The artist has what can be considered as a fetishist obsession with small manufactured objects, that he accumulates to create "organic textured furs".
Combined with his childhood explorations in the Mardi Gras parades of Guadeloupe, his sculptures are filled with movement and eclectic colours.
In "Frustrations #1" (2013), hundreds of plastic purple flower petals were glued together into a base like circular shape that then evolve into a tube. The tube then leads to a plant like construction; compiled by clothes wrapped with electrical wire. Resembling a tropical plant of our time, he was able to ensemble together opposing objects and to capture the essence of stuff we often consider as trivial.