peripheral consciousness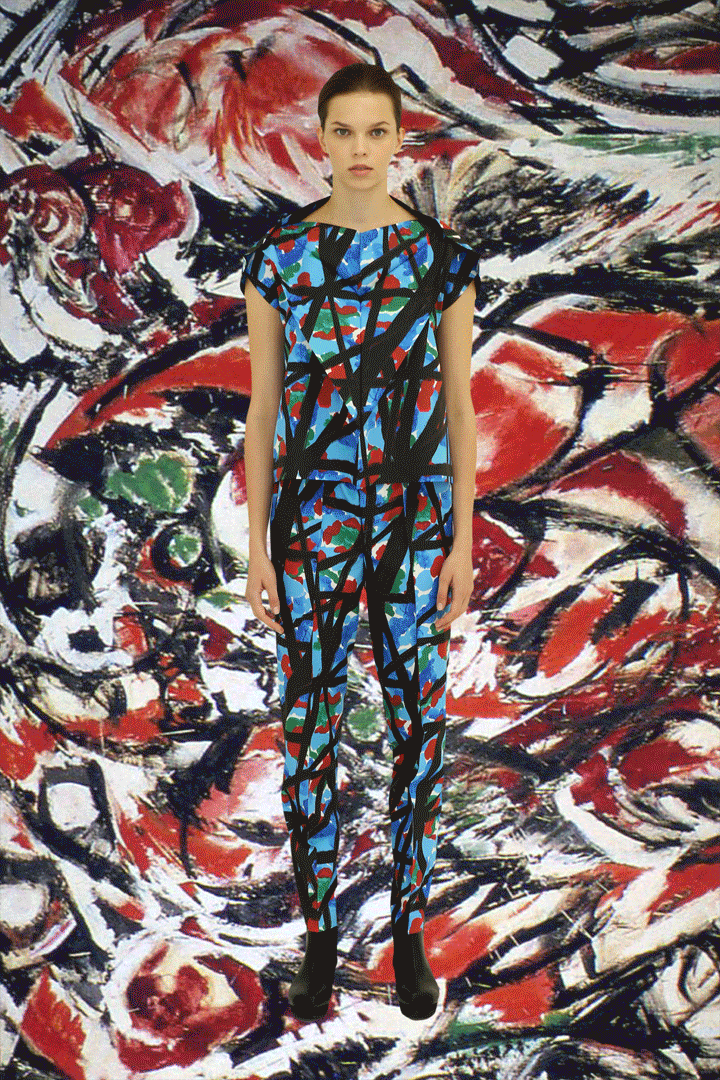 The format of this presentation is meant to touch on the thematic concepts of the 132 5. ISSEY MIYAKE collection while commenting on the peripherality of the collective image consciousness we share as a visual culture.
As our digital horizons expand and access to informational databases increases across the globe, so does our collective bank of referential imagery and shared cultural memory. Our wealth of parsed meta-citations (à la Google image search) can now be used (with increasing regularity) to paratactically form conclusions or summations about an object or idea.
Utilizing speed, SEO keywords and visual obscurity to flatten the concept of the foreground with its referential background, we can create a meditative space for the viewer to experience pieces from this collection together as one visceral, subconscious impression before they begin to seek out meaning in each of the images and thus the collection as a whole.
When looking at pieces from 132 5. ISSEY MIYAKE, images of modularity and modernity come to mind along with those of gestural enthusiasm, culminating in an almost scientific yet fervent exploration of form.
Paul Wagenblast

www.paulwagenblast.com
CREDIT : © Paul Wagenblast, 2014
Fashion Photography: Frédérique Dumoulin Models: Grace Bol @ Oui Management, Olga Butkiewicz @ WOMEN, Xiaomeng Huang @ Viva Paris, Olga @ SILENT & Sinara @ WM
Artworks cited by slide number: 
1."Celebration" by Lee Krasner; 2. "Mire g42 Kowloon" by Jean Dubuffet; 3. "Abstraction (1939-44)" by Ad Reinhardt; 4."Green Confluence" by Bryan Wynter; 5. Graffiti tags; 6."Untitled (Bat Cave)" by Tony Smith; 7. "Empress of India" by Frank Stella; 8. "Orange, Black and White Composition" by William Scott; 9. "Berlin Blues 4" by William Scott; 10. "R69-32" by Jan Schoonhoven; 11. Ocean waves; 12. "Ocean Park 115" by Richard Diebenkorn; 13."Uphe" by Tomma Abts; 14."Cold Stream" by Cy Twombly; 15. "Untitled (Roses) Gaeta" by Cy Twombly